As a trail runner, I know how important it is to have a good running belt or hydration pack that delivers on the promise of convenience, comfort, style, and ease of use while running.
A top-tier option that I've found to meet these criteria is the Arcteryx Norvan Running Belt.
This is a premium belt that promises a comfortable, lightweight, and efficient solution for carrying your essentials during your runs.
In this review, I aim to share my personal experience with the Norvan Belt and hopefully guide you in making an informed purchase decision because running belts aren't going to be for everyone, where some may prefer to opt for a hydration pack instead.
This Arcteryx Norvan Belt review will share my experience with this running storage belt, and ultimately whether I think it's worth the money, because it's certainly one of the more premium running belts on the market.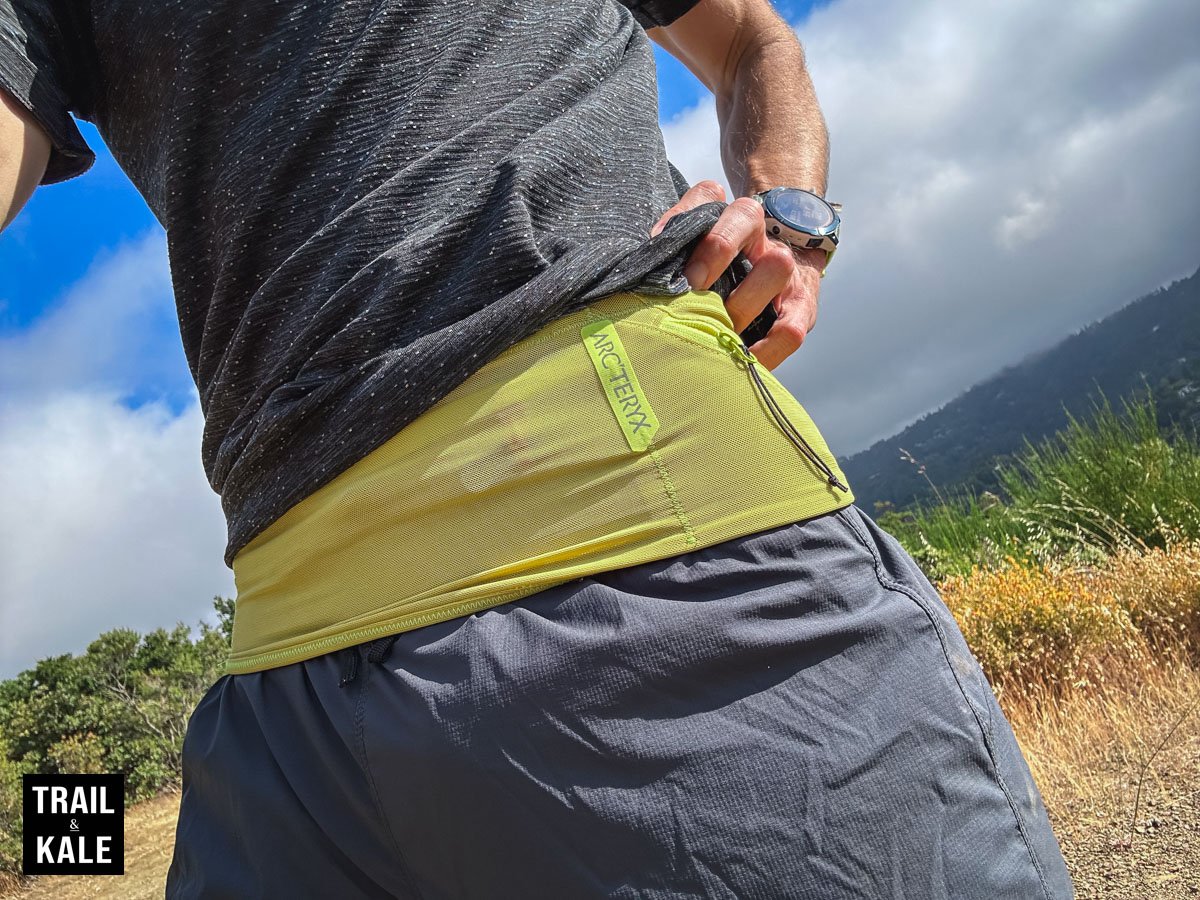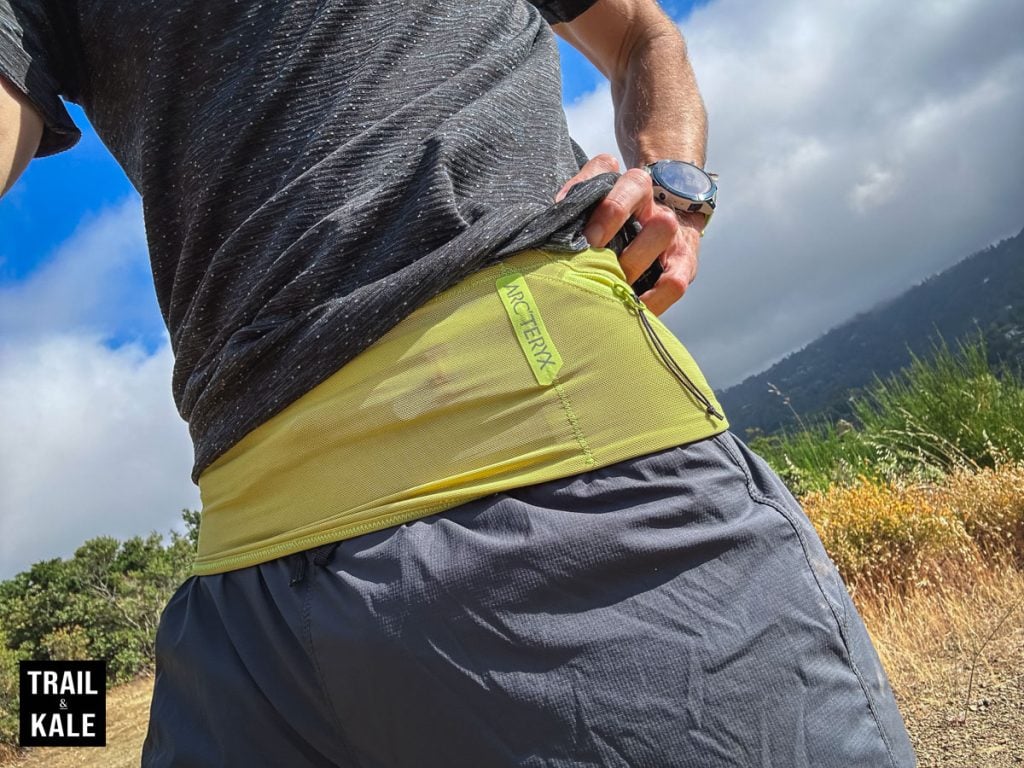 The Norvan Belt from Arcteryx has been designed with convenience and functionality in mind.
It's a streamlined, efficient solution for carrying essentials such as your phone, a 500mL flask, an ultralight shell, and energy gels during your trail runs.
The PowerNet nylon fabric ensures a secure, snug fit while minimizing bounce during runs, and you'll get 1x 500mL soft flask included, further enhancing its value.
The belt offers a number of storage options, including a large front pocket, two side pockets, and a rear pocket, and weighing in at only 2.9oz, it's an impressively lightweight option for those who want the best.
The Norvan Belt is available in five sizes and two color options: black and yellow.
The Key Specifications of the Arcteryx Norvan Belt
Here are the key specifications of the Arcteryx Norvan Belt:
Size availability: XS, S, M, L, XL
Weight: 2.9 oz (81g)
Can be used for: Running / Training / Fitness
2 color options: black and yellow
Running with the Norvan Belt
As a trail runner with a 29-inch waist, I opted for the XS size of the Norvan Belt, and upon trying it out, I was immediately impressed by its comfort, which I attributed to the stretch weave nylon/elastane material that conforms to your body without feeling constrictive.
It's a comfortable, lightweight solution that can be worn low over the hips or around the waist.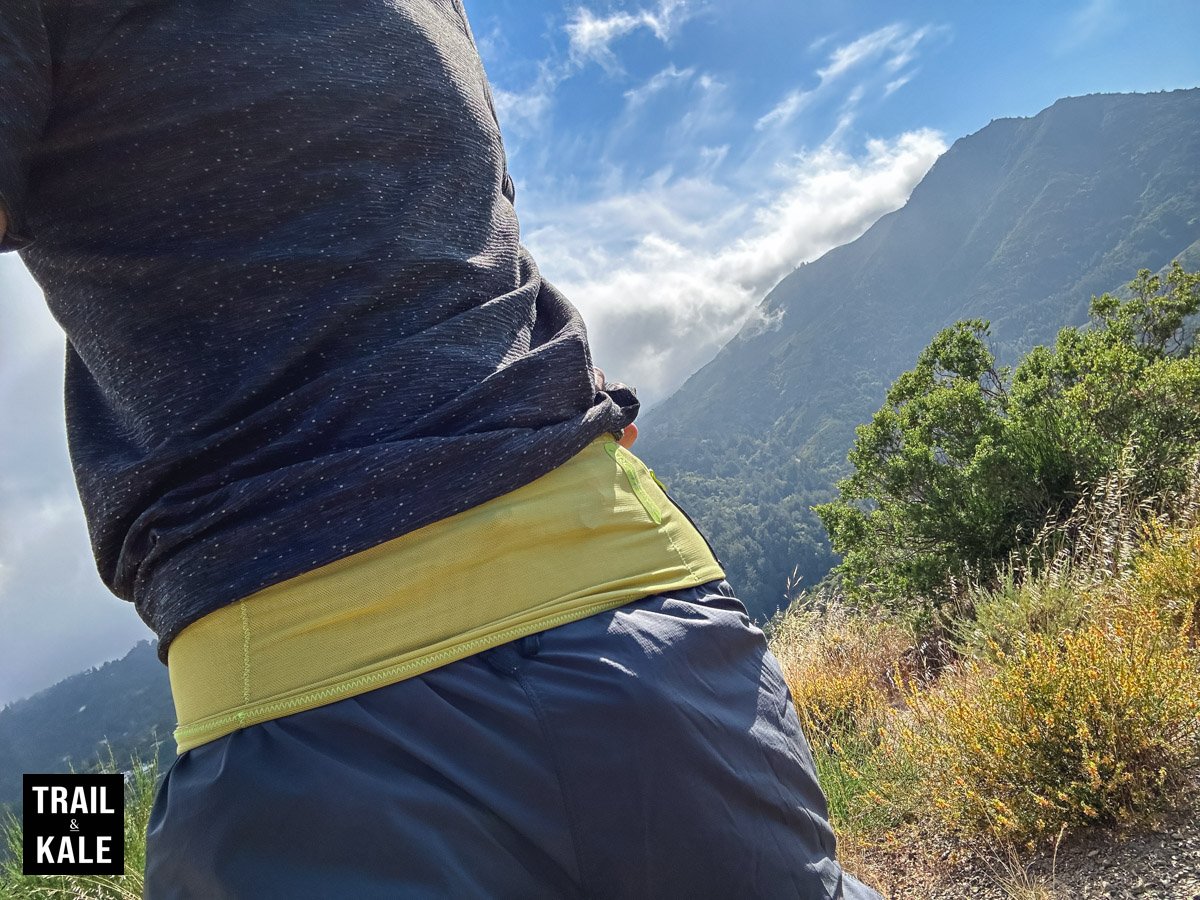 One aspect that stood out was how the belt secures around the body. Unlike other belts that use elastic at the top and bottom, the Norvan Belt offers a full surface area grip.
This ensures it stays in place throughout the run; It's a refreshing design that offers a more secure, comfortable fit.
The Norvan Belt offers ample storage too, which is another feature I really appreciate.
There's of course a limit to how much weight you would want to add to a running belt, so I wouldn't recommend filling it up to max for all your runs, unless you want to look like you're wearing a tire around your waist!
If you're running an ultramarathon then you'll likely want to opt for a hydration pack like you see me wearing below, during Matterhorn Ultraks in Switzerland.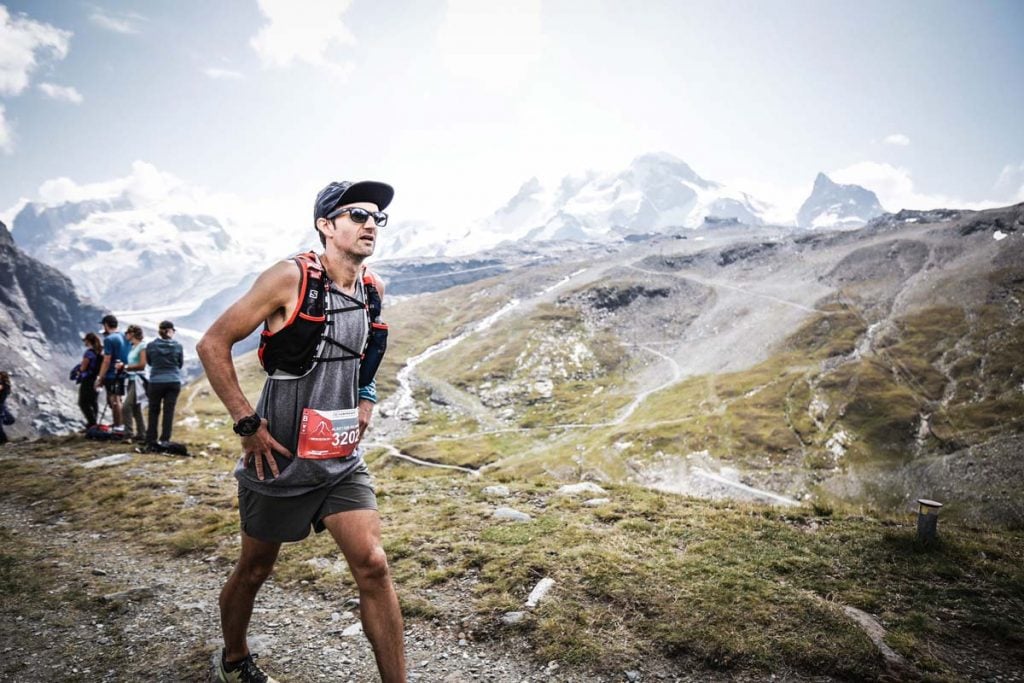 It accommodates all the essentials, from a phone and soft flask to a running jacket and your favorite energy gels. The secure zipper pocket is particularly useful, as is the provision to carry trail running poles at the rear.
Sizing and fit advice
The Norvan Belt comes in five different sizes: XS, S, M, L, and XL.
This range makes it accessible for all runners, no matter your size. I have a 29-inch waist, the XS size provides a snug, comfortable fit that doesn't feel restrictive – a small probably would have also fit me.
The key features worth knowing about
1. It conforms and stretches to your body shape
Arc'teryx has chosen a blend of stretch weave nylon/elastane for the Norvan Belt, creating a design that wraps around your body much like an item of compression clothing does.
This blend of materials provides a fine balance between flexibility and firmness, securing the belt around your waist or hips without causing discomfort. It also stretches the pockets away from your body very effectively when you stash things in them.
2. It has full surface compression which makes it more comfortable than some alternative running belts
One of the standout aspects of the Norvan Belt for me is its full-surface compression design.
Unlike other belts that only have an elasticated band at the top and bottom, this belt's entire surface conforms to your body. This full-surface grip ensures a more secure and comfortable fit while reducing bounce during runs.
3. There's plenty of storage
Arc'teryx has clearly prioritized practicality with the Norvan Belt.
Along with a secure external zipper pocket that can safely hold essentials, the belt also features a range of pockets at the front, sides, and back (4 in total).
This allows for efficient organization and easy access to your items on the move.
There is also a small plastic clip on this inside of one of the pockets to securely hold your house/car keys.
4. There are two loops for your running / hiking poles
Adding another dimension to its storage capabilities, the Norvan Belt is designed to carry trail running poles too.
Situated at the rear of the belt, this feature is extremely handy for trail runners who prefer to run with poles and need a convenient storage solution during their run.
5. It's very breathable and lightweight
The Norvan Belt is very breathable and lightweight, making it an ideal choice for long, strenuous runs.
The PowerNet stretch nylon fabric allows for air permeability, keeping you cool during your run and with a weight of just 81g/2.9 oz, the belt also ensures it doesn't add much weight to your outfit.
Being lightweight is of course a big win for anyone who loves long runs, marathons, or ultra-trails, where less weight means less fatigue. The band can be worn under my tee, blending into my running outfit, giving me that stealth look come race day.
6. There's a reflective Arc'teryx logo for visibility at night
Safety is a crucial aspect of any running gear and Arc'teryx has added a reflective logo to the Norvan Belt to enhance your visibility during low light conditions – provided the logo is facing the side you need the reflectivity to be on.
This gives me an extra element of confidence if I ever find myself running close to dusk with the potential of being caught in low light conditions.
If this sounds like you too, make sure you've got yourself a lightweight headlamp to keep with you in your running belt so that you're prepared to run in the dark.
Another option to consider for additional visibility when running would be an illuminated or reflective running vest.
7. It comes with a 500mL soft flask included
The Norvan Belt also includes a 500mL soft flask which is a very thoughtful addition for runners, providing easy access to hydration during longer runs. It's an expensive running band however, so I would expect a soft flask to be included.
The flask is conveniently held in place, ensuring you stay hydrated without the need to carry a bottle in your hand or stop for water breaks.
Features That Could Be Improved
While I love the Norvan Belt's functionality and design, I did notice one minor inconvenience.
The pockets can be a bit tricky to access while on the move, especially since there are no toggles to grab onto when opening them.
However, with a little practice, accessing the pockets for gels whilst running becomes easier.
Is it Worth Buying?
The Arcteryx Norvan Belt costs $80, which on the outset does seem very expensive – but you have to realize this is a very premium high quality product; like every item of gear that Arc'teryx produces.
From my experience, it is worth that money because it's such a highly functional piece of running gear that gets a ton of use.
The lightweight design makes it feel almost invisible, and its storage capacity provides more than enough space for my running essentials. Its reflective detailing is nice to have when running at night (although I would like to see reflectivity all around the band).
The Norvan Belt is a simple yet well-crafted, high-performance running accessory that I'd recommend to runners looking for a minimalist, non-restrictive, durable and functional gear storage solution for their runs.
It simplifies what can be a cumbersome aspect of running – carrying essentials. Give it a try, and you might just find it as essential as your favorite pair of trail running shoes!
---
Arcteryx Norvan Belt review summary
Arcteryx Norvan Belt review
PROS
Unlike most other running belts, the Norvan Belt's entire surface area conforms to your body, reducing bounce and increasing comfort during runs.
With multiple pockets, including a secure zipper pocket and specific storage for running poles, the belt offers ample space for your running essentials.
The belt's PowerNet stretch nylon fabric is breathable and lightweight, ensuring you remain cool and comfortable during your runs.
The belt includes a 500mL soft flask, convenient for hydration during longer runs.
A reflective logo on the belt improves visibility during low light conditions, enhancing safety. It could be better if it wrapped around the whole band though.
The Norvan Belt comes in five different sizes from XS to XL, ensuring a good fit for most people.
CONS
While the storage options are ample, the pockets can be a bit tricky to access while running as there are no toggles to grab onto.
As a high-end product, the Norvan Belt comes at a premium price, which may not suit all budgets.
While the two color options - black and yellow - are nice, a wider variety could have been provided for those who like to match their running gear.
---
Arcteryx Norvan Belt review photo gallery