Before we get into this 2xu compression running tights review, let's cover off what compression tights are and why you may want to wear them during or after running.
Put quite simply, compression running tights are running tights that are engineered to provide compression to your lower body when worn during your runs. Good quality compression running tights like the well-known 2xu brand produces aren't just 'tight tights', they are leggings that should offer graduated compression focused on the areas that will benefit from the additional support – otherwise you're just wearing tight tights and probably not benefitting from wearing them at all.
2XU is a technical sports apparel company which started out in 2005 as a specialist running and triathlon brand, focused on developing the most technically advanced compression gear on the market, with the goal of helping athletes multiply their performance ('2XU' stands for 'two times you').
2XU's proprietary compression fabric ('PWX' – or power, weight, flex), is scientifically engineered to be the world's lightest, most powerful and most flexible compression, and they're known for making premium compression running tights and workout leggings. Intrigued? Read on for my 2XU compression tights review, which focuses on their running-specific Light Speed compression running tights – available in men's and women's specific designs (formerly known and still sold in some place as 'Elite MCS Run' compression running tights).
---
2XU Compression Running Tights Review – Table of Contents
---
Stated benefits of wearing 2XU's compression running tights

The benefits of good quality compression running tights include:
Improved running performance (in both power and speed)
Reduced risk of injury through reduced muscle oscillation
Increased recovery speed – increased blood lactate removal and reduced swelling
I've long been a fan of wearing compression gear to aid my running performance and recovery. Wearing compression 'calf guards' was a key factor in keeping shin splints at bay when I was a new runner struggling with that injury.
2XU compression running tights are proven by independent, scientific research to deliver real physiological benefits to athletes of all abilities. For more on this you can read about them on 2XU's website. The studies and claims provide confidence in the product and its effectiveness, and 2XU is widely recognized as a leader in the sports compression gear field – although, as with pretty much everything, we like to get hold of the products and see for ourselves if we can notice similar benefits.
---
How do 2XU's compression running tights differ from other 2XU compression tights available?
When you first start researching compression running tights, it can be overwhelming knowing which type of tights will be best for you, what brand, and whether the more expensive compression tights are worth the money – because we're talking in excess of $100 in most cases.
The first point to note is that, in general, you can either wear compression tights for running in, or you can wear them for post-run (or other workout) recovery – you know, while drinking a protein shake, sat on the sofa with Netflix on 😉
Secondly, you can get different 2XU compression tights for different types of workout. Being runners primarily, we want to wear compression tights designed for runners. But it's worth noting, if you do other types of workouts, you can also buy compression tights designed to provide additional support to different sets of muscles that may be worked more intensively/in a different way to running.
2XU's flagship running compression tights are called 'Light Speed' (renamed in 2021 from 'MCS Run'), which are featured in this 2XU compression tights review. Both Alastair and I are wearing them in the photos and video review here – he is obviously wearing the men's version, and I have the women's-specific version. MSC stands for 'muscle containment stamping' – and we'll go over what this means in the section below.
2XU Compression Tights Review: Key features of the 2XU Light Speed compression tights for running
Ok, so what does 'muscle containment stamping' mean?
Essentially, the technology used in these 2XU compression running tights includes specific, focused compression, targeted on your quadriceps and calf muscles. The purpose of this is to support major muscles against fatigue and strain during intensive exercise.
The fabric of these 2XU running leggings is therefore thicker and more compressive in the thigh and calf areas – you can see how this looks in our photos, and for a video of how they look, check out our video review below.
Lightweight and flexible supportive fabric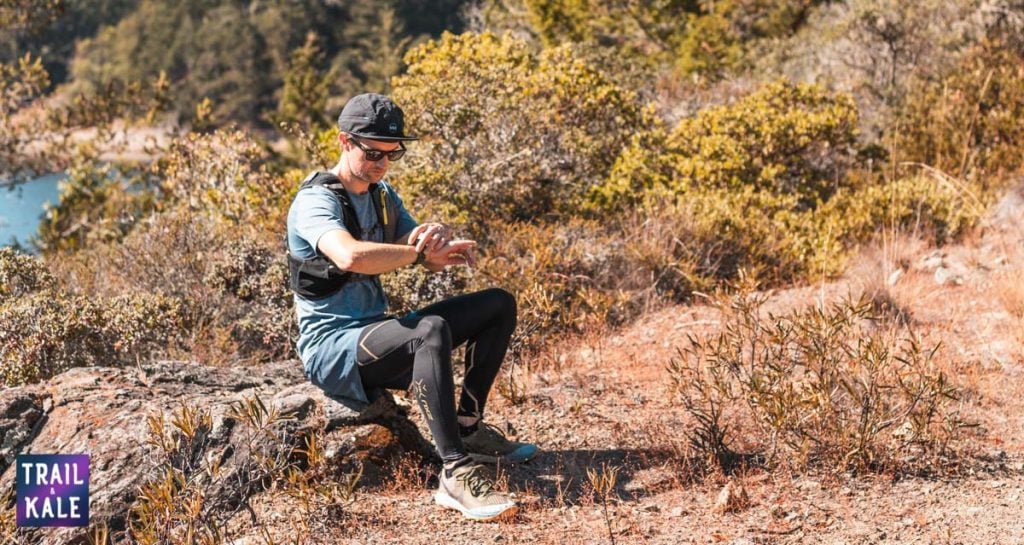 The fabric is also very soft, and smooth-woven (your skin/pet hair, trail debris don't tend to catch on it) – you get a better idea of how it looks and feels in our video below. For the amount of compression you get, it really isn't very thick, and is sweat-wicking and quick-drying. It gives good coverage (isn't transparent even when you bend over/stretch in them), although being compressive you can't get away from showing your underwear outline… assuming you wear any underneath, that is.
Reflective details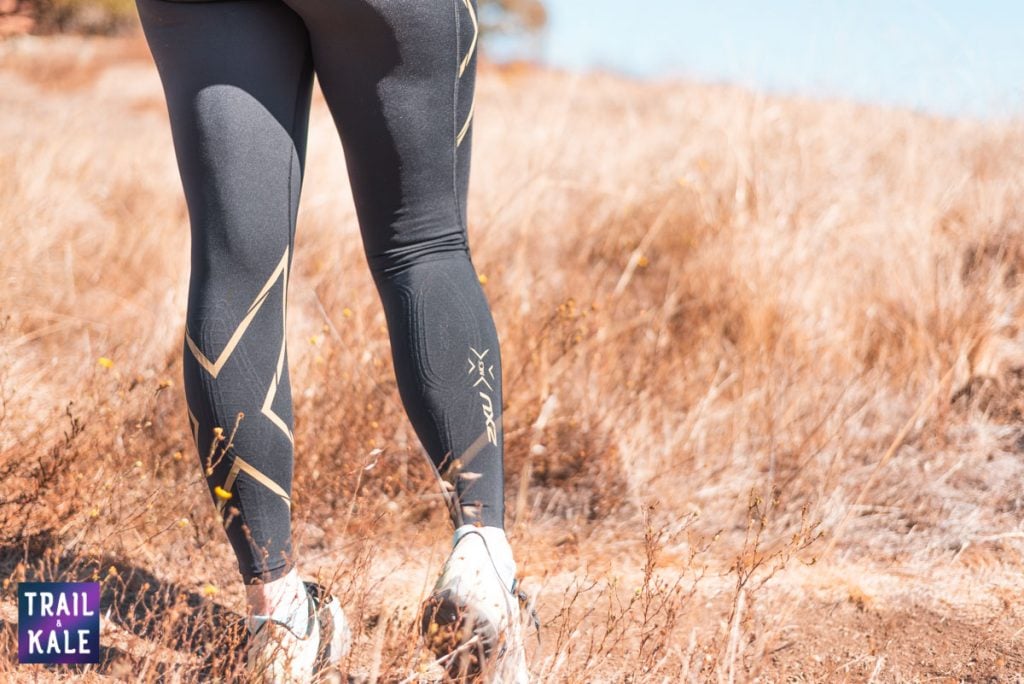 It makes sense for most running tights to be black in color. It hides dirt, is flattering, etc etc. But it's not great for running in the dark or low light. The large stamps of gold text on these 2XU compression tights are reflective for night-time / early-morning runs. The Light Speed compression tights are also available with silver, and pink instead of gold, highlights.
Waistband storage
A pet peeve of mine is running tights being sold with no pockets whatsoever! So it's great to see that these 2XU compression tights have good storage – a mesh pocket for gels, etc, a larger pocket for your phone, and a small zip up pocket for your key, credit card, etc. I'm actually impressed that despite the tights being compressive, these pockets are pretty unobstructive, and sit nicely in the lower back area, so the contents don't bounce or move around when you're running.
---
How do you know what size compression running tights to wear?
First and foremost, getting the right fit is very important when it comes to buying compression running tights, both from a comfort and functionality perspective. You don't want your compression tights to be so tight so that they (especially the waistband area) cut in to you, but obviously they need to be snug enough to actually provide the compressive benefits you're looking for.
2XU's sizing chart on their website allows you to determine your ideal size compression tights based on your gender, height and weight. I was a little between sizes and the guidance provided in the sizing tool was that:
a smaller fit will better support your muscles, so if you're specifically buying 2XU recovery tights it's recommended to choose a smaller size
if you're looking to do high or low impact activity they recommend a larger size for fuller coverage, more flexibility and greater performance.
On the basis of this guidance I chose the larger size leggings and was pleased to find that the size was perfect for running in.
Many many years ago (as in more than 10 years ago) I had a pair of 2XU compression recovery tights, and struggled to keep them up. I've been really pleased with how well the 2XU Light Speed compression tights stay put. They have a much wider waistband than the old tights, which sits at my waist when tied in place with the drawstring.
It's important that the compression tights sit high enough and actually on your waist, and not your hips, otherwise you're not going to get the full coverage of your glutes/hips area, and will most likely have them slide down or cause a case of 'muffin-top', which is not a look or feeling I would choose!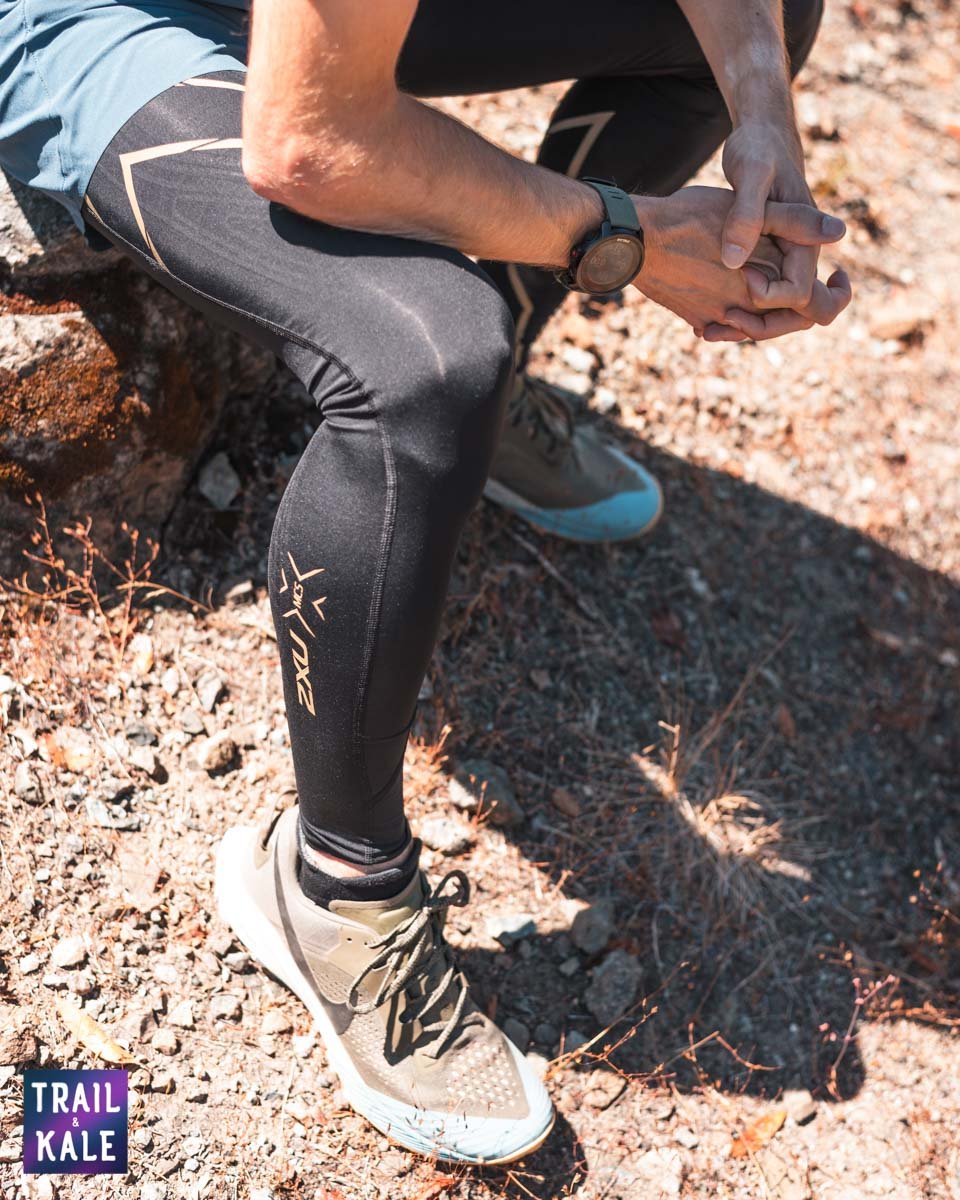 2XU offer their Light Speed compression running tights in both men's and women's versions. In the photos and video review Alastair and I are wearing the men's and women's versions respectively. He likes to wear shorts over the top whereas I'm showing off my panty-line proudly.
You can also get these compression leggings in shorter (e.g. cropped) lengths, however in my opinion, if you're going to wear compression running tights to reduce the risk of injury and aid in a speedier recovery, then it is more beneficial to get full leg coverage that includes all of your calf muscles and down to your ankles.
Of course, if you want to run in compression running gear somewhere hot and don't want or like to have full coverage, you can get cropped and even shorts versions, but they won't compress where they don't cover 🙂
---
Running in the 2XU compression running tights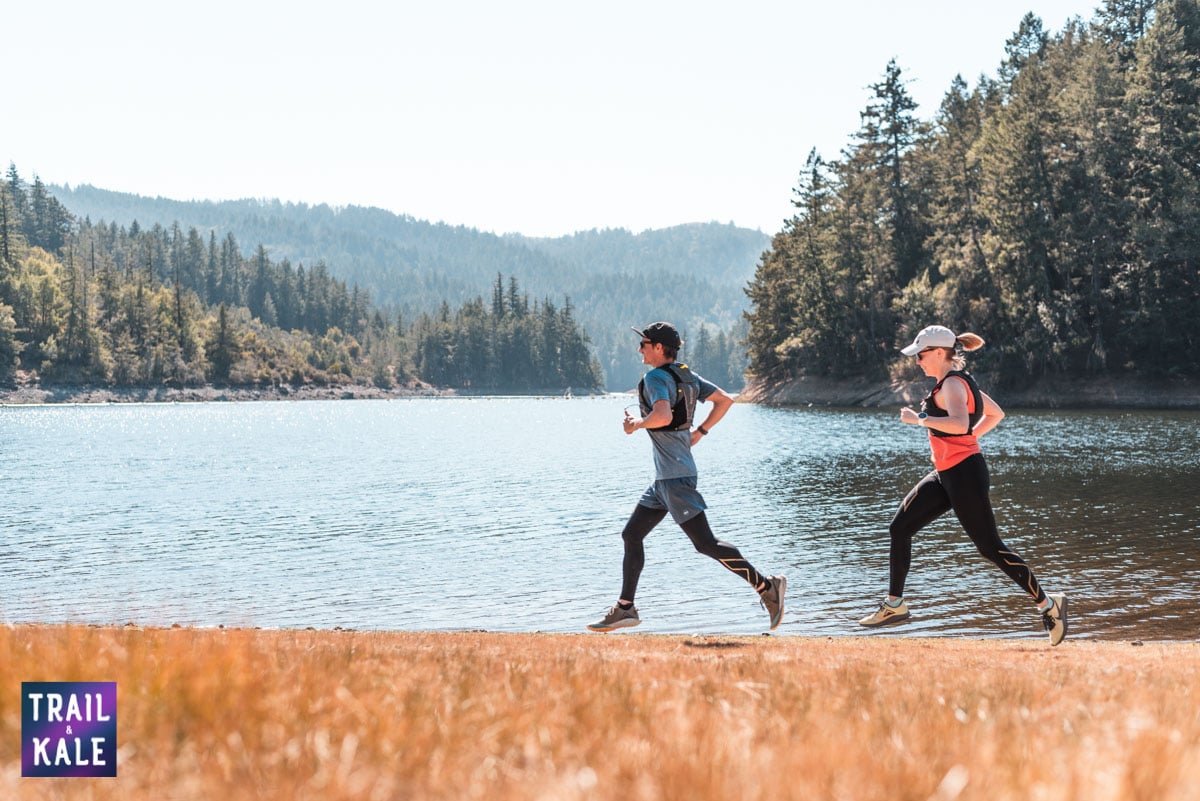 As noted above, I've been really pleased with how well these compression running tights stay put, even on long runs. I think that if you're wearing them on long runs then the fit actually gets better as you get warmer, your body tries to swell a bit, and you get a bit sweaty!
I personally prefer to wear these tights for running in colder weather, or if I am somewhere where I want to protect my legs from undergrowth and other trail obstacles, ticks, etc. To learn more about ticks, the dangers they can pose, and how you can easily prevent, and remove them read this article. I also find I get the most benefit from wearing them on my longer runs – those runs where I'm going to do the most 'damage' to my muscles through a long, hard running effort, and so will benefit the most from compression to reduce muscle oscillation and my risk of over-use injuries, as well as hopefully reduce my recovery time.
When I get tired, my form starts to suffer, and so the most significant benefit of these compression running tights that I have noticed from wearing them is that because I have reduced fatigue when I'm running, and I feel 'held in place', my posture and running form stays better for longer… in turn, this hopefully means I am reducing my risk of running overuse injuries ( – for more on reducing running injuries through improved form – read this post.).
Reduced recovery time, unless you're going to do a scientifically controlled study, is pretty subjective, and I will need to do some serious long-run training over a longer period of time with and without these compression running tights on to assess whether they reduce muscle soreness and recovery time.
I will say though, that generally feeling fatigued on my runs goes hand in hand with subsequent muscle soreness and therefore longer recoveries, so by feeling less fatigued than I may have otherwise been, I am probably reducing my recovery time. I believe the studies and evidence, as I have experienced first-hand how much compression technology helped me overcome the muscle strain and oscillation in my shins, as mentioned above.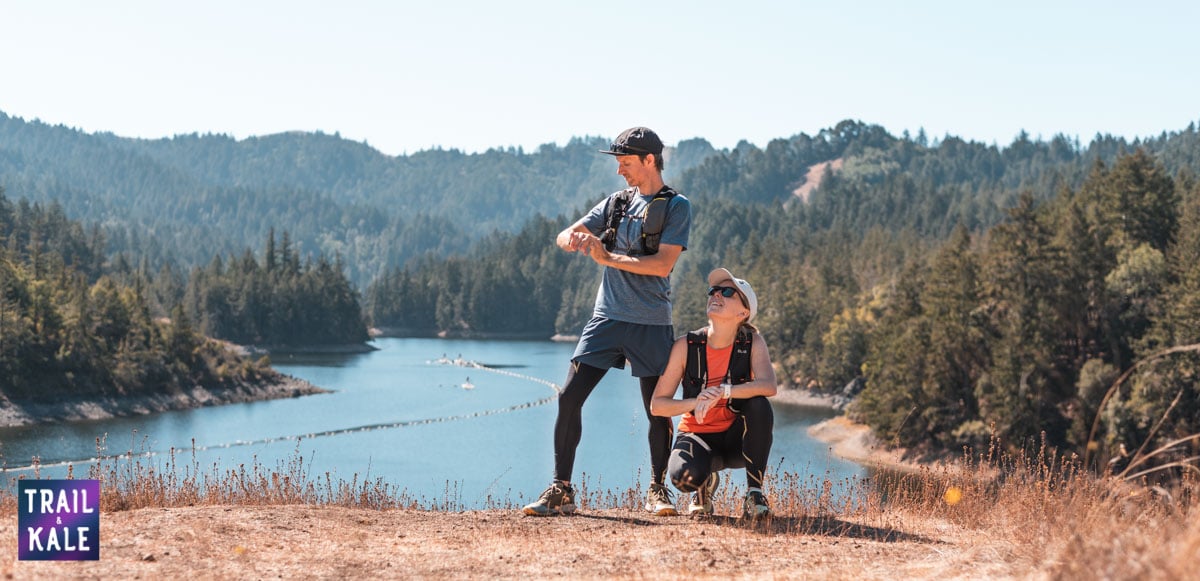 I generally don't wear these compression running tights for short runs, or when I want to do speed workouts. Although there is a stated benefit in performance from wearing these 2XU tights for these types of training session, I like to let my legs be free! I also don't wear running tights when it is warm as I prefer shorts and staying cool, and also just on days when I feel a bit bloated and don't want to be compressed!
---
Where to buy 2XU's compression running tights
Most reputable running and triathlon stores should stock the 2XU compression running-specific tights. There's also a dedicated 2XU 'store' on the Amazon website which sells these specific Light Speed ('Elite MCS Run') compression tights. To shop at the Amazon store, click the buttons below:
---
2XU Compression Running Tights Review: Video Review
2XU Compression Tights Review Summary
2XU MCS Run Compression TIghts Review
PROS
Noticeably reduced fatigue during runs
Comfortable, sweat wicking and quick-drying fabric
Targeted compression supports often-overworked areas
Great flexibility and range of motion for running
Good sized waistband and well planned-out waist pockets
CONS
Full length tights are too hot for warm weather runs
Not everyone will enjoy being compressed
Only available in black (with either gold or silver details)
---
2XU Compression Running Tights Image Gallery
---