I'm Helen, a trail runner and one of the founders of Trail & Kale. Having spent time adventuring in the mountains all over the world, I know first-hand about the benefits and challenges of training and racing endurance events at altitude.
In this post, I explain what elevation training (aka high altitude training) is, the benefits for endurance athletes, the disadvantages, and how to effectively train for high altitude races and competitions, even if you don't live at higher elevations as many elite athletes do.
What is elevation training?
Elevation, or high altitude training, is where athletes train at high elevations, typically at least 7,000 feet above sea level (around 2,100 meters).
There's less available oxygen in the air at higher elevations, which is why it's often referred to as thinner air.
This means your body has to work harder when you're doing aerobic workouts at high altitudes, and when you're new to training or competing at higher altitudes, you're more likely to get out of breath and tired more quickly than you would at elevations closer to sea level.
This experience gets even more intense the higher up you are. For example, one of my favorite trail running races in the Swiss Alps travels up and over the Gornergrat mountain near Zermatt, which sits at over 10,000 feet (3,100 meters). Here's Trail & Kale co-founder Alastair working hard to get enough oxygen in on the climb up there!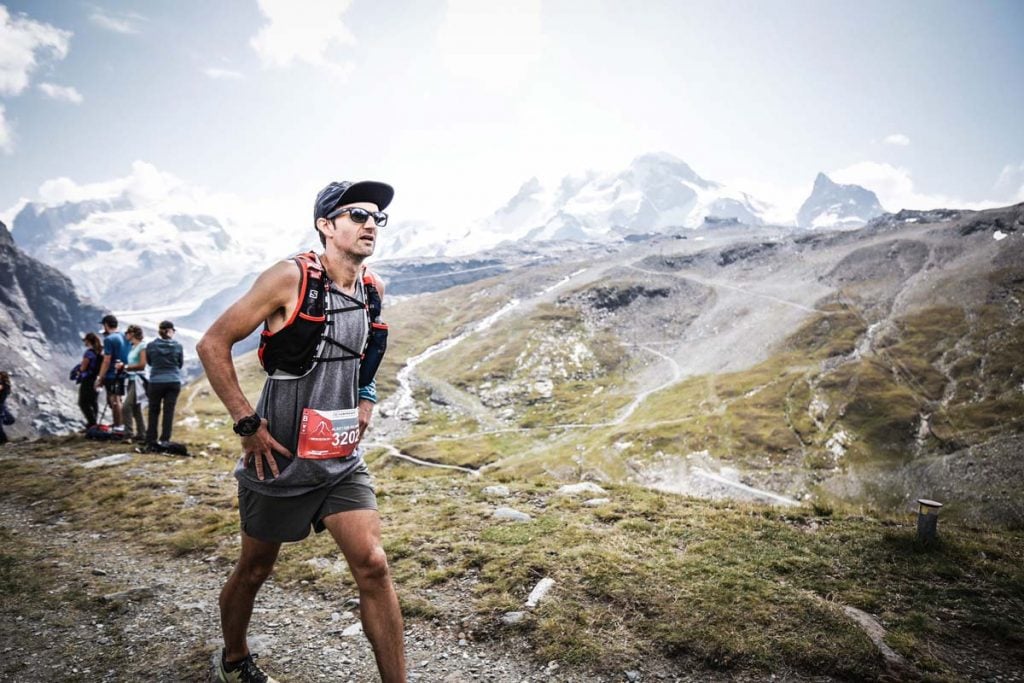 Many people will start to notice the effects of less oxygen in the air at lower altitudes than 7,000 feet.
For example, because in my run training, I spend time listening to my body and monitoring it through metrics such as my breathing rate and heart rate training zones, I can feel the difference in my training performance, when training at altitudes as low as 3,500 feet (around 1,000 meters).
As well as tuning in to how my body feels when running at altitude, my GPS running watch also helps with tracking these metrics as well as my training performance, recovery status and even tells me how acclimated I am to the altitude and heat!
Common initial effects of spending time at high altitudes
When you first reach this elevation, you may well get out of breath simply walking around. This is because there's a smaller amount of oxygen available and your body is working harder to bring in enough oxygen to supply your body with what it needs.
You may also be more likely to get dehydrated because of your increased breathing rate meaning you're breathing out more moisture, as well as the air generally being 'drier' at those higher elevations.
The increased breathing rate and dehydration may also contribute to disrupted sleep in the first few days until your body starts to acclimate and you get used to breathing "thinner" air.
Types of endurance athletes who may benefit from elevation training
Any athlete involved in endurance sports is likely to benefit from spending some time living or training at higher altitudes.
This practice is popular among athletes such as:
Runners, including ultramarathon runners
Triathletes such as Ironman competitors
Road cyclists and mountain bikers
Swimmers
Cross-country skiers.
The benefits of high altitude training for endurance athletes
The primary concept of this training approach is that high altitude training increases your exercise performance.
If you live, or spend significant time training at altitude, then over time, your body will start to adapt to the lower oxygen levels, which includes developing an increase in your red blood cell count, which in turn improves your body's oxygen delivery.
Your maximal oxygen intake, or VO2 max, should also start to improve after a week or more at elevation.
This is supported by various studies such as this study which looked at elite athletes' VO2 max while they completed a 28-day 'live high, train low' training arrangement, which is described below.
Higher VO2 max is linked to improved athletic endurance, and many elite athletes, including runners, skiers, mountain bikers, swimmers and road cyclists benefit from this as a result of choosing to 'live high'.
The real benefit of high-altitude training for endurance athletes is therefore experienced when entering competitions at lower altitudes.
This is because when you return to lower elevations closer to sea level your body still has the benefit of those improved oxygen delivery adaptations, and there's more oxygen available, which gives a competitive edge in terms of the efficiency of the body delivering oxygen to your muscles.
The live high, train low approach
You may have heard of what's referred to as the live high, train low approach, which is popular among elite runners and other elite athletes.
This involves living at higher altitudes, where you can also lightly train, however the majority of the more intense training you need to do is done at lower elevations.
The principle behind this approach to training is that by living high you can benefit from the associated physiological adaptations such as increased production of red blood cells for oxygen delivery improvement, but don't put your body through the strain of tackling high-intensity training in those conditions.
Disadvantages of altitude training for runners
It will take time for your body to adapt to living and training at elevation.
Most people may find themselves experiencing headaches, dehydration and difficulty sleeping for the first days at altitude, which can be worse at higher elevations and affects people to different degrees.
Importantly, if you over-do your training in your early days of living at altitude then you put yourself at risk of altitude sickness, so initially, most people find that simply sleeping, moving around and taking it easy in the first few days should help with acclimatization while reducing your risk of feeling unwell.
How to effectively train for high-altitude races and competitions
Because of the training benefits of choosing to live high, places such as Boulder, Colorado, Flagstaff, Arizona, and the Swiss Alps are very popular places to move to among elite endurance athletes including trail and ultrarunners and Ironman competitors.
However, for many recreational runners and other endurance athletes, it may not be practical to move to live at higher elevations or spend significant time training at high altitudes.
So how can you mimic altitude training while training at sea level (or close to it)?
This is a training challenge often faced by runners (myself included) and other endurance athletes when we're training for a race in the mountains, whether that's California's Sierra Nevada mountains or places such as the Swiss Alps, where I've raced on a number of occasions.
If all you do is sea level training and you do no preparation for running at altitude then you'll find your heart rate and breathing rate will be significantly faster than they would at sea level, for a similar-paced run. It basically makes you feel abnormally unfit!
If you're serious about preparing for a competition in the mountains but live at a low altitude, here are a couple of options that can help:
Spend time (ideally, a week or more) in the 2-3 weeks prior to your race at high altitudes.
This could involve spending a week or long weekend in the mountains a couple of weeks before race day, and doing some light, low intensity high elevation training while you're there.
Sleep in an altitude tent, or hypoxic tent.
This may help increase blood oxygen saturation, although it won't help with VO2 max gains as you're simply sleeping in those conditions, not training in them.
Do elevation training masks work?
While some people also attempt to simulate the effects of altitude training by training at sea level wearing an elevation training mask, these don't offer any real altitude simulation, as they're simply restricting the flow of air in as you breathe.
However, they can benefit your athletic performance in other ways by strengthening your respiratory system, which has to work harder to get air into your body while you train.
Other ways to prepare for running at higher elevations
Intensive anaerobic training such as sprint intervals and hill repeats can help improve your VO2 max and your body's ability to process lactic acid.
Spending time working on breathing techniques while running can also help improve the efficiency of your oxygen intake.
In general, it pays to look after yourself by eating well, getting plenty of sleep, drinking plenty of water and avoiding salty foods and alcohol, to help your body recover from the effects of altitude, such as fatigue and dehydration.