Shortly after I started running, in my mid-20s, I was faced with the 'big' decision of how to track my running distance and pace.
Should I set my new running watch up to track those runs in kilometers or miles? How should I think about the running distances I'm covering (and how quickly I'm doing it)?
I was in the UK, where the road distances are measured in miles, many people still think and talk distances in miles, but there's a flavor of kilometers as a distance metric due in part by the country's proximity to Europe, where they use kilometers and the metric system to measure distances.
So, what was it to be? I chose kilometers, for a number of good reasons, and it has served me well, even after having lived in the USA for many years now – where all distances almost without exception, are measured in miles.
All my running distances are tracked in km rather than miles, my pace is recorded in minutes per kilometer (not min/mile), and my elevation gain and loss during those hill-packed trail runs and ultras are tracked in meters, not feet.
However, if you're contemplating a similar choice, read on, and I'll explain the pros, cons and reasons why (and why not) kilometers may be the best option for you – plus I share some tips on how to easily convert from miles to km (and back again).
Should I track my runs in kilometers or miles? What to consider
Here are the main things to consider that should help you decide which distance measurement is going to work best for you when it comes to tracking your runs – metric (kilometers, meters and minutes per kilometer), or imperial (miles, feet and minutes per mile).
The country you live and run in
There are only a handful of countries in the world that still use miles as the main distance measurement, most notably that includes the United States and the United Kingdom.
The road distances in these countries, and speeds when you're driving, are measured using miles and miles per hour, respectively.
Running races, at least on the roads (as opposed to trails), will have mile markers, and many other runners around you will talk about their distance and pace in miles and minutes per mile.
So, it may make sense to you to measure your running distance in miles, too, if you live and spend most of your time in one or both of these countries.
That being said, just because your country isn't going to change from imperial (miles) to metric (kilometers) for measuring driving speed and distances that doesn't mean you have to stick to tracking your runs in miles, and recording your pace in minutes per mile.
The (running) culture you identify with
So, even if you live or spend a lot of time in the UK or United States, you may have grown up, or spent significant time in, other countries that use kilometers as the measure of driving and running distance.
That includes countries such as Australia, New Zealand, Canada, most of south and central America and Asia, and all over Europe.
Perhaps you also plan to spend time in those countries in future – whether that's to live there or simply to visit for a race, such as any of these epic European mountain running races.
Regardless of your chosen race distance, whether you're running a 10k, marathon or 100k, the race routes, distance markers and 90%+ of the other runners will be thinking, tracking and running using kilometers rather than miles.
So, it will pay off for you to be familiar with that measure of distance so it's not all new (or even a surprise) to you when you arrive the day before your race.
Your running background
If you run track, those distances are measured in meters. The beauty of the metric system is that it's very easy to calculate distances, after all, 1000 meters in a kilometer is a lot easier to scale up to apply to longer distances than 5280 feet in a mile.
It may be an easier and logical step if you start to run longer distances to continue to think of your running distance and pace using the metric system.
If you run short endurance races such as 5k or 10k, it's neat if you can measure and time your run as either 5x 1km splits or 10x 1km splits, rather than 3.1 and 6.2 miles respectively.
Equally, if you step up to ultramarathons, many of those races are measured in km. Think 50k and 100k races.
Which running race distances are measured in kilometers rather than miles?
Track races, plus 5k, 10k, 30k, 50k, 100ks – the clue is in the name, although in the US especially you'll probably find mile markers along the way.
Any races outside of the US and UK, even marathons and half marathons, will have the distance markers in km.
Pros and cons of tracking your runs in kilometers rather than miles
More splits to check off during your run or race
Using KM to track your run can make long runs easier to mentally check off the distance you've covered.
One kilometer is around 0.6 of a mile, so you're going to have many more km splits during your run or race than you would with miles.
With more frequent splits, you are getting more frequent pace per km updates that you can use to gauge pace and adjust to your target race pace, if needed.
European races won't confuse you
Understanding the ratio between miles and kilometers (even if you don't track runs in km) adds to your cultural awareness and won't leave you confused or with too much homework to do if you choose to run a race in Europe, Canada, Australia or pretty much anywhere else in the world other than the UK or USA.
You can absolutely ignore the race organizers' km markers and continue to track your runs and pace using miles, but if your GPS running watch lets you down, or you ask someone how long to go until the race finish or next checkpoint, you may want to know quite quickly what they mean when they say there's 8km left and 1000 meters of ascent to go.
That's around 5 miles and 3,300 feet, by the way…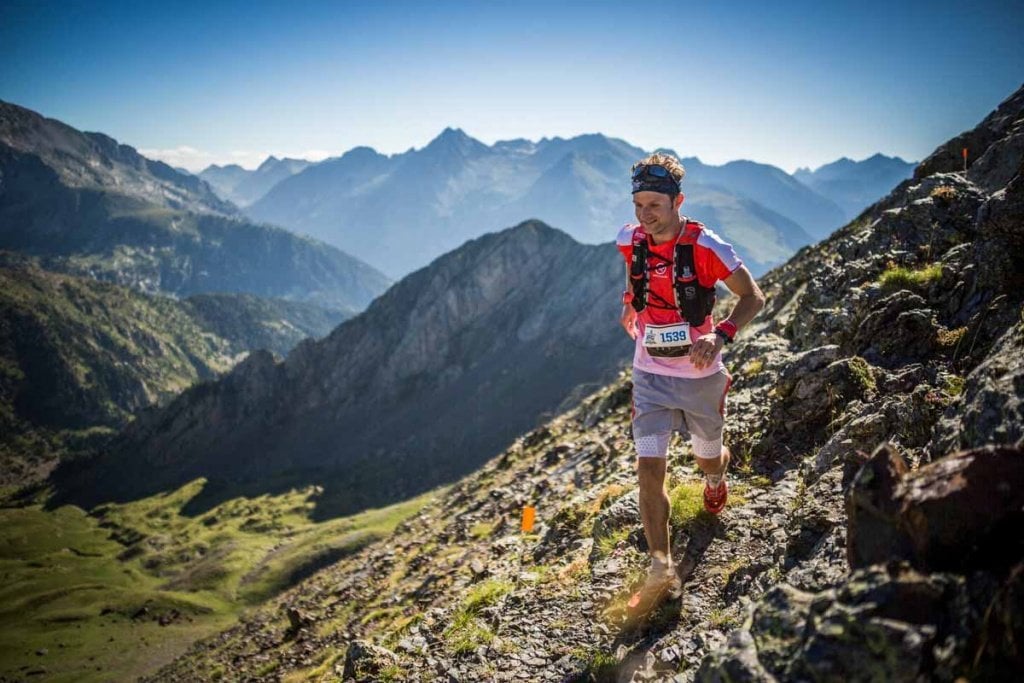 How to convert miles to kilometers (and the other way around)
So, with all that said, my recommendation is to pick the measurement that feels best to you, based on the factors above, and stick to that as your primary method for measuring your running, speed, distance and elevation gain.
However, sooner or later you're going to want to get reasonably good at understanding approximate conversions between miles and km, and back again – it will make your life a lot easier and not leave you stumped if you run a race internationally.
It's also useful when you're planning a running route, reviewing a race map or elevation chart that uses the other distance measurement as its key, or simply if you're running with people who prefer to track their runs using the other distance measurement.
Common distance conversions
Don't worry if math is not your strong suit.
You can absolutely do some basic math in your head, but otherwise, there are a few key conversion points you can remember (write them down, if needed) that you can scale up or down from as needed.
I personally don't get too hung up on rounding differences, and suggest you don't either. These conversion ratios will get you close enough for most purposes.
The most basic of conversion ratios to know are:
Converting kilometers to miles:
1.6 km = 1 mile
Converting miles to kms:
1 mile = 0.6 km
I know, wouldn't it be nice if it was a simple 0.5, rather than 0.6. For this reason I suggest remembering common conversion points, especially if you run longer distances of half marathon, marathon and beyond.
5 miles = 8 km
When doubled… 10 miles = 16 km. You can even scale that up and consider than 50 miles is around 80 km.
When converting the other way around then:
5 km = 3.1 miles
10km = 6.2 miles
So thinking about ultramarathon distances, you can see that a 50 km race is around 31 miles. Plus, hey, most ultras (or any trail running races, for that matter) are not strictly accurate down to the nearest meter or foot.
I once ran a 50 km race that was 56 km long, and yes, those extra 6km were a surprise and not necessarily a good one after so many hours of running!
If you have your sights on running your first (or next) ultra, there are loads of great tips in our popular (free) 50k training plan guide.
Converting meters to feet (and back) for elevation gain and loss
Having done most of my early mountain running and races in Europe, I've always used meters as the measurement of elevation gain or loss I'll be running.
In the US, and frequently in the UK, many people use feet to measure elevation gain and loss.
Whichever measurement you use, my general rule of thumb is to remember that there are around 3 feet for every meter. Ok, so it's actually 3.3 feet or so, but 3 will get you close enough.
So 1,000 meters is around 3,300 feet. 1,000 feet is around 300 meters. Multiply up or down as needed.
So, should you track and think about running in miles or km?
Ultimately, it's down to personal preference, but whichever you choose, it pays to have some awareness of the relative distances – at some point, you'll find this is very helpful knowledge and help you make approximate conversions on the fly!