I always enjoy testing and reviewing new running shoes from 'On', the Swiss running brand, and when it's a trail running shoe, then even better because I get to thrash them on my favorite local trails. Interested in getting up to 40% OFF On running shoes? Visit On's Classic range page to see their latest deals.
The On Cloudultra is a totally new model in the On running range which makes it all the more interesting to dissect and determine who exactly the shoe has been designed for.
In this On Cloudultra review, I'm going to shine a light on the key features that I love (and one that could be improved), how well they perform while trail running, how they compare with the other On running shoes, whether they're worth buying, and finally a rating out of 10 with my pros and cons.
---
On Cloudultra Review Table of Contents
---
General fit and comfort
Let me start by saying the sizing and fit of the Cloudultra trail running shoes are consistent with all other On running shoes I have tested and other brands including Nike, Hoka One One, Inov-8, Adidas, Brooks Running, and much of the Salomon running range.
NOTE: On recommends sizing up half a size on their website, but in my opinion, this is not necessary.
If you run in a brand I haven't listed here, drop the brand you use in the comments below, and if I'm familiar with them I'll let you know how they fit relative to them too.
The On Cloudultra is a very comfortable shoe out of the box but I needed to run 10km or so in them to soften them up and 'break in' the midsole flex somewhat.
It's very unusual to have to 'break in' On running shoes but I guess the Cloudultra shoes are a little different from all the other On running shoes.
These trail running shoes appear to be for those who need a shoe that will support them over long distances, with very generous cushioning and a speed board that will help propel them forward, even when their legs are feeling tired towards the end of a long run or ultra marathon.
To find the best trail shoes for running right now, read our trail running shoes buyer's guide next, and if you like to run on the road too (variety is the spice of life!) here's our road running shoes buyer's guide too.
This is normally where I say which other On running shoes the shoes I'm reviewing feel like, well the Cloudultra is very different to other On running shoes.
In fact, the design of the upper, and how the shoe wraps around your foot is totally unique to the On Cloudultra – more on that when I talk about the upper in just a bit.
I have to say, the Cloudultra feel incredibly comfortable while running on very hard surfaces, like tarmac, concrete, buffed trails, and rocky terrain, fire roads, and gravel surfaces.
This comfort is 100% down to the double layer Helion superfoam midsole which provides very impressive cushioning underfoot.
The grip on the outsole is also noticeably good on hard surfaces too.
The On Cloudultra is neutral in its support type, with an arch that will suit most runners with average arches, and this is actually consistent with all the other On running shoes, I have tested to date.
The toe box and shoe, in general, is of medium width.
---
On Cloudultra Key Specifications
Weight
The On Cloudultra weighs around 10.41oz / 295g, so it's not the lightest running shoe you'll find however it does run like a lighter shoe.
This is the trade-off between shoes that offer lots of midsole cushioning, support, protection, and durability with others that are super minimal underfoot and offer less protection.
The choice comes down to the ability level of the runner, and personal preference to some degree.
An advanced runner with great running form will be able to run ultra marathons in some of the most minimal shoes out there, and not even feel tired afterward.
This is due to experience, biomechanics, strength, and of course pure mental grit of the runner.
Here is the weight of some other popular On running shoes to compare to:
Drop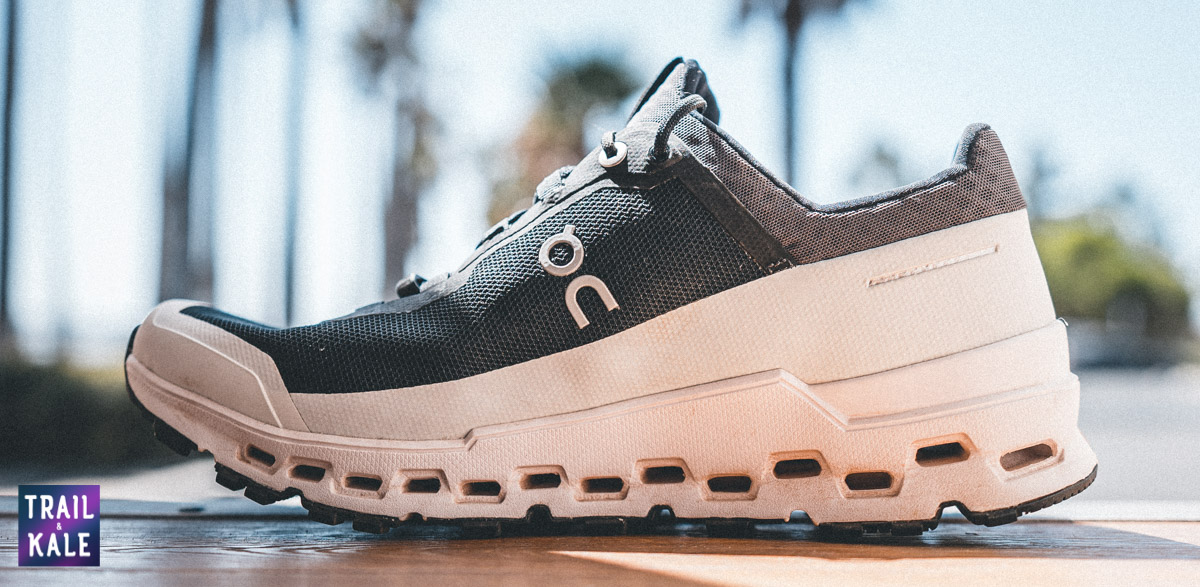 The On Cloudultra has an 8mm drop from heel to toe, and I really like 8mm on this shoe. An 8mm drop puts the runner in a subtle forward-leaning stance while running which helps with proper biomechanics.
Support Type
There's moderate cushioning in the midsole and a neural footbed. So if you have average arches and feet then these should fit perfectly for you.
Shoe Width
The On Cloudultra fits true-to-size relative to other On running shoes I have used, and the style of fit in the toe box and upper is of medium width.
---
Design features that stand out
1. Double layer Helion Superfoam midsole
We have seen this sandwiching of two layers of Helion superfoam in a few On running shoes now – the Cloudstratus and Cloudboom shoes come to mind, and this technique really does give a pretty special plush and bouncy sensation while running.
If you're unfamiliar with Helion, it's On's cushioned yet responsive midsole foam, that is appearing in many new On designs as of late.T
his is a running shoe built for going long distances over mixed terrain but mostly hard ground, and forested trails and it's clear that that is On's intention due to this double layer Helion midsole.
2. Upper mesh construction
The upper mesh is a two-layer construction reinforced with lightweight TPU for durability. The interior wall is soft to ensure your feet feel comfortable throughout long runs.
The construction has some breathability but not a huge amount which means the Cloudultra would be a great shoe for winter runs where your feet may have a tendency to get cold – as they should keep feet warm.
On Running has introduced their new FlipRelease system on the On Cloudultra which exists to help you find the perfect fit much more easily.
It's a pretty simple yet effective system that allows you to flip the switch upside down to give your feet extra room, instantaneously.
The purpose of this is so that you can quickly give your feet more room to breathe during a run, as feet tend to expand and contract depending on their temperature – feet get warm during running.
So halfway through a hot long run, you may notice your shoes getting a little tighter, well with the Cloudultra, you can quickly flip that switch and give your feet extra space to breathe – pretty smart! Time will tell if it's a gimmick or not, but I have to say it does work as intended!
On extra cold days, these shoes will be great for keeping your feet warm out on the trails.
3. A new outsole grip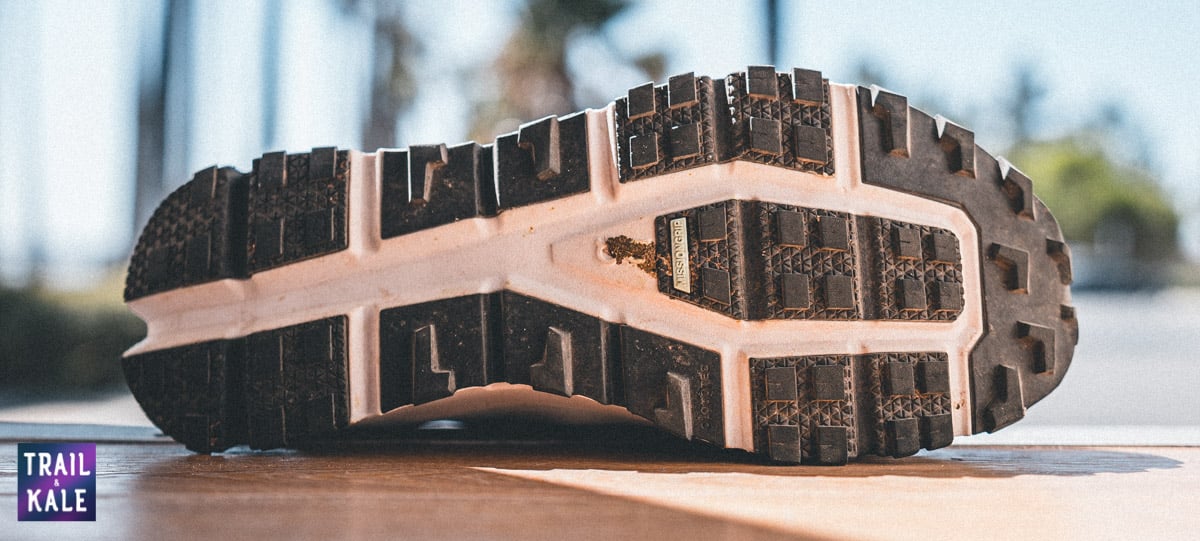 The On Cloudultra outsoles feature a brand new closed-channel construction outsole that stops stones from catching and provides better grip than the Cloudventure.
It has the same great Missiongrip as the other On trail running shoes, which gives good traction over mixed trails. You can see more images of the outsole in the image gallery below.
4. Tongue
There's no real tongue so to speak of as On Running has gone all out in making this a sock-fit construction, which wraps around your foot very nicely but it can be a bit of a squeeze to get your foot into initially.
Once your feet are in, however, they are very secure and locked in place very comfortably.
There is a good amount of padding around the rim of the opening, as you can see in the image above, and there's just enough stretch in that opening for it to expand freely with the biomechanics of your feet as you run.
---
On Cloudultra trail running performance
The On Cloudultra has been designed for trail runners who love taking on long distances, so that's endurance runners, marathon runners, and ultra runners – and the On Cloudultra hits it out of the park for delivering on its promises.
As mentioned earlier, it does take 10km or so to soften up the flex in the midsole and upper, but after that, the support and cushioning underfoot is very much worth it.
Where you'll really notice the performance in these trail running shoes is underfoot. The cushioning makes running on hard surfaces like packed trails, gravel roads, and concrete a real pleasure.
The footbed doesn't have the greatest flex but what that means is that when it does flex, there's good spring-back in it which helps propel you forward, saving your legs over long distances.
Overall the Cloudultra is a solid trail running shoe that will appeal to beginner and intermediate runners looking to increase their distance on the trails. It offers really great cushioning, support, and response.
A tip for improving 'foot lock' in the shoe is to lace up the shoes all the way to the top holes.
ARE YOU NEW TO TRAIL RUNNING OR WANT TO TRY IT? — Have a read of our Ultimate Beginner's Guide to Trail Running – it will get you up to speed on all things trail running! 🙂
---
Are they worth it? | Where to buy
Absolutely, Yes! If you're looking for highly cushioned shoes to run long distances on the trails, the On Cloudultra is most definitely for you. The On Cloudultra are in my opinion, the best On Running shoes for trail running.
---
How do they compare with other On Running Shoes?
The On Cloudultra feels fairly similar to the Cloudventure but in my opinion, has better cushioning underfoot and feels more responsive as a shoe overall.
The outsole is definitely improved over the Cloudventure too, due in part to the closed gully that runs down the middle of the shoe.
The much deeper gully on the Cloudventure had a tendency to leave you with an unpredictable footing when running over technical terrain.
On has done a great job with the Cloudultra and it's currently my favorite trail running shoe and sits in the top spot of the trail running shoe section of my On Running Shoes Buyer's Guide.
---
On Cloudultra Review Summary
On Cloudultra review
PROS
Excellent cushioning for long runs on hard terrain and fast running downhill.
Outsole and new grip is huge improvement over the Cloudventure
They climb very well
Sock fitting secures feet really well for a controlled ride
Very durable construction
Addition of the FlipRelease lock is a nice touch
CONS
They need 10km to soften up
Could be a little lighter in weight
Could be more breathable in the upper
Jump over to our Best On Running Shoes Ranked and Reviewed buyers guide to find out how well the On Cloudultra ranks against other On running shoes, HINT – They're rocking it!
---
On Cloudultra Photo Gallery
---
I hope you enjoyed this On Cloudultra review – if you have a question about these trail running shoes, feel free to drop it in the comments below and I'll get back to you very soon 🙂 -Alastair.