The lululemon Scuba Hoodie has been one of their most popular items of women's athletic apparel for years – it's their signature hoodie, that has been available throughout the 10+ years that I've known the brand and loyally worn their apparel.
ADVERTISEMENT
This review covers the key features of this hoodie, what makes it so popular, pros and cons, and – of course – plenty of photos of it up close so you can see the finer details.
---
lululemon Scuba Hoodie Review – Table of Contents
Key features of the lululemon Scuba Hoodie
Style, look and feel
What are the best Scuba Hoodie colors?
How to choose the right size
Cost and where to buy
Review summary
Image gallery
---
Key features of the lululemon Scuba Hoodie
The Scuba Hoodie is somewhat of an athleisure classic. lululemon basically reinvented your average, baggy cotton-based hoody, and created a flattering, form-fitting yet cosy hoodie that has style and will last you many years.
READ NEXT: Lululemon running shoes compared (with reviews)
As lululemon now offers a few variations on their Scuba Hoodie, I'll point out that the hoodie featured in this review is the classic full zip scuba hoodie.
You can find half-zip and oversize versions, too, which fit very differently – this page lists all styles of lululemon's Scuba Hoodies currently available.
The key features of this hoodie that differentiate it and make it something to rave about include:
High zip, 'scuba' neck that comes up to your chin when zipped-up
Large hood with lululemon logo (you can fit even the largest bun/updo underneath this hood, its huge!)
Cosy thumb-holes in the cuffs
A hip-length, slim fit lululemon women's hoodie that is flattering and curves in below the bust
Fleece-lined arms and back area
Warm front pockets – the right pocket has an interior 'media' pocket you can keep your phone or mp3 player in, with a pass-through hole for headphone cords.
Unlike previous older styles of this hoodie, there isn't a large stitched-in lululemon logo on the front across the zipper.
While I miss that detail on the new hoodie, I do like the large logo that features on the hood itself, and that just about makes up for it.
---
Style, look and feel
The Scuba Hoodie is designed to fit curves. I particularly like the hip length and the shape of the neck area, when it's zipped up. I also think all long-sleeve sweaters and hoodies should have thumb-holes like this one does.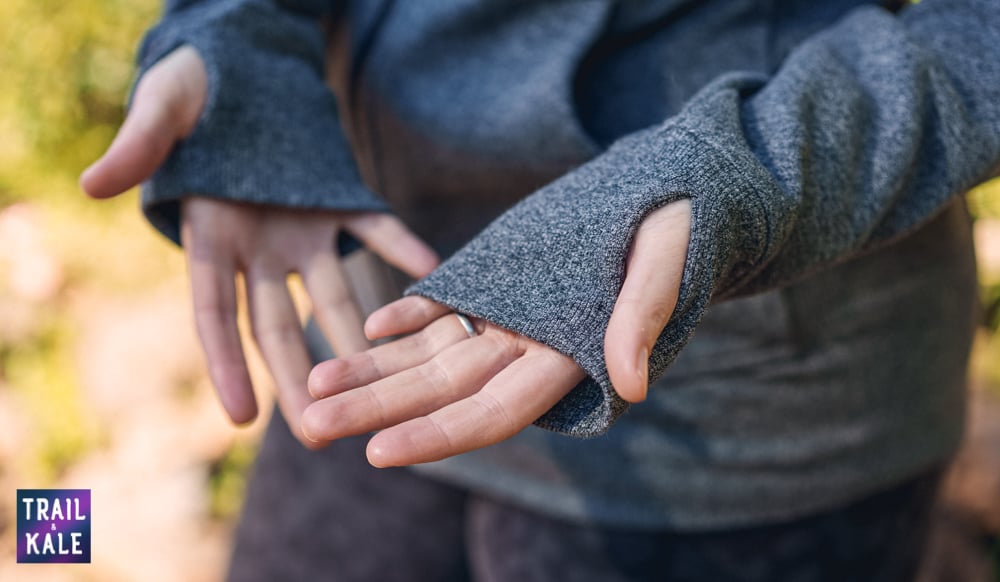 Such a great way to keep your hands warm but still have some function to hold onto your phone, dog's leash, coffee, etc etc. Because it's designed this way, it's also worth noting that the arms are longer than you may find on your average hoody.
The fabric used to make the hoodie is a cotton-blend fleece fabric. It treads a fine line between being chunky, cosy and warm, while still being flattering and looking good on.
As would be expected from such a warm top, when you're not wearing it, it is quite bulky, so it's best to wear it when you don't expect to need to peel off the layers and end up carrying it around with you.
If you're looking for a thinner, more lightweight lululemon hoodie, also check out the hooded version of their Define Jacket, which is made from a thinner, stretchy 'Nulu' material, and may be another good option for you.
The fleece blend adds to the warmth and heat retention properties, but it looks like a cotton hoodie and doesn't cling to dirt and pet hair as regular fleeces can.
That being said, I've owned a black Scuba Hoodie in the past, and it never looked black because there was always some of our cats' hair on it (our cats are light cream-colored so their hair always stands out on darker clothes).
---
I don't have the same problem with the heathered grey hoodie pictured in this review (the actual color is called 'heathered speckled black'). Heathered colors are great for hiding pet hair and also any dirt you may accidentally get on your lululemon zip hoodie.
You can wear this hoodie anywhere – mine gets a lot of use and still looks new. As with all my lululemon apparel, it's well-made, with quality zippers, materials, and stitching.
It's great for pre-workout warm-ups, cold morning dog walks with Kepler, post-run chilling, as well as generally running errands, working from home and traveling.
It's a great vanlife companion in our campervan, and also something I highly recommend for air travel.
Once in your plane seat, you can zip the hoody up, pull down the sleeves, put the hood up and get a great mile-high nap when you have that huge hood covering most of your face and blocking out the movements and light around you 🙂
---
What are the best Scuba Hoodie colors?
---
As mentioned above, I'm a fan of heathered colors for my apparel. The color texture is appealing and it makes this lululemon grey hoodie look timeless. It also hides pet hair well.
Black hoodies are also popular, although it's worth noting that the lululemon black hoodie I had was never really dark black, it's more of a charcoal color, especially after a couple of washes.
Speaking of washes – like all my lululemon gear, I machine wash my hoodies (as recommended by the company) on cold, and hang them out to dry – never tumble dry them as this can adversely affect the product's fibers and elasticity – and therefore shape and function.
Aside from the classic greys and blacks, lululemon regularly changes other color options available for the hoodie, so if you see one you like, it's best to buy it before they run out of that color.
Some favorites of mine are the camo hoodies and deeper bolds such as green and blue.
---
How to choose the right size
This style of lululemon zip hoodie, in my experience, fits true to size. For reference, I'm a US size 8 normally, and the lululemon hoodie I'm wearing in this review is also a US size 8.
As you can see from the photos, there is a small amount of room underneath the hoodie that can accommodate a couple of thin layers of clothing. I'm wearing one standard-thickness t-shirt under this hoodie.
If you're a particular size in other lululemon tops and sweaters, then you should find that the same size works for you here.If you prefer a looser fit or want to wear long-sleeve layers underneath, then you could also consider getting a size up.
The product page also includes other wearers' reviews and a sizing scale, which also indicates that it runs pretty much true to size, if not slightly larger (likely because of the longer-than-average arms).
---
Cost and where to buy – is the Scuba Hoodie worth it?
The Scuba Hoodie typically costs around USD $118 at lululemon.
As with most of their apparel, in my view it's worth the price given the expectation that the product will last you many years and the enjoyment you'll get out of wearing something so well-designed over that time.
Sometimes there are variations in styles on offer that may have different pricing.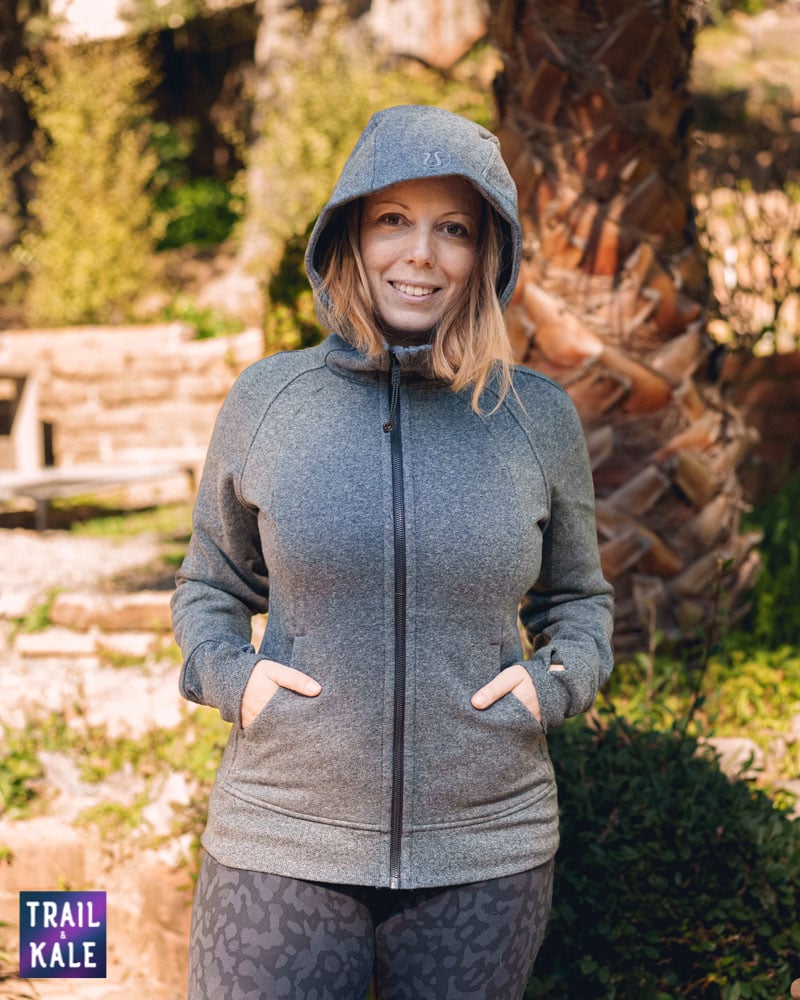 To see the current range of colors, including any current limited edition style hoodies and the modified half-zip, oversized and crop versions that are sometimes also available, hit the button below to head over to see them on lululemon's website:
---
lululemon Scuba Hoodie Review Summary
lululemon Scuba Hoodie Review
PROS
Soft, cosy and with an oversized hood
Well-made with thoughtful design details such as the large hood and thumb holes
A rare find - a figure-fitting women's hoodie
CONS
Sometimes limited color options available
Chunky to carry when you're not wearing it
Not everyone will love the relatively long arms
---
Image gallery