Instead of walking around barefoot and allowing our toes to splay (spread out naturally), most of us are walking and running around with shoes on throughout the day.
While wearing shoes protects your feet, cramping your feet into shoes every day can cause foot pain and overlapping toes, which can lead to foot health issues such as callouses, bunions, and hammer toes.
This is where toe spacers (also known as toe separators or spreaders) come in, and our list of the best toe spacers will help you find the right ones for your feet.
Wearing toe spacers is an easy and inexpensive way to encourage healthy feet by encouraging more natural toe spacing because they're designed to realign toes and help your feet function in their natural position.
Regularly wearing them can help prevent foot injuries and pain associated with crowded shoes and tight toe boxes.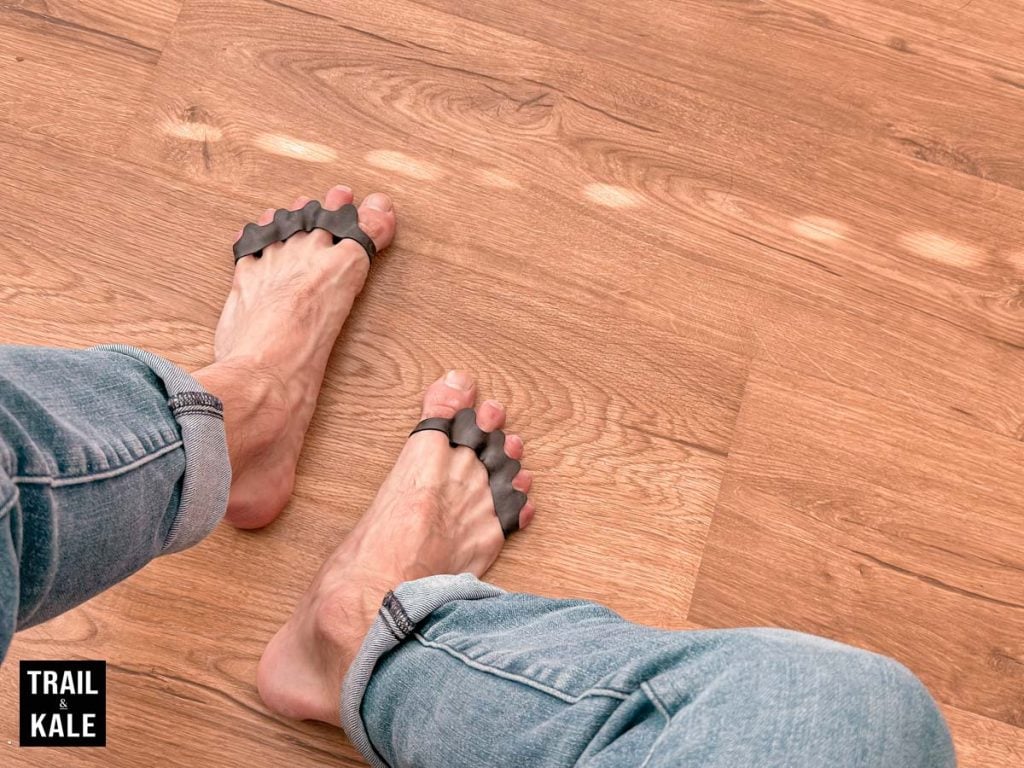 What are toe spacers?
Toe spacers are simple devices you fit between your toes to help spread them out in an anatomically-appropriate way.
They're usually made of a soft medical-grade gel or silicone material that is comfortable to wear between your toes without pain.
How do toe spacers work?
Although these gel toe separators may look like the foam toe separators you'd wear to get your nails painted during a pedicure, they function and feel very different from those foam pads.
A toe spacer works by gently stretching your toes and encouraging them to align into a more natural position.
Wearing toe spacers can help undo foot issues caused by wearing tight shoes, long runs with hot, swollen, sore feet and simply spending a lot of time on your feet while wearing shoes, including pain, issues with flexibility, and general limitations in your foot function and mobility.
By the way, if you think your running shoes don't fit you properly or are old and in need of replacing, read our road running shoes buyer's guide and trail running shoes buyer's guide to help you find your next pair.
Particular benefits of toe spacers for runners and other athletes
If you are a runner, hiker, practice yoga, or enjoy other activities involving spending time on your feet and balancing, then you should also know that using toe spacers can specifically benefit you and your performance in the following ways:
Improved blood flow and recovery – Toe spacers are also known to help encourage blood flow in your feet, which can aid with post-run recovery.
Balance improvement – Having a more natural toe splay can aid proprioception and stability, as well as overall foot strength as your feet are encouraged to move in a more natural way.
Better movement – improved range of motion in your feet, starting with your toes, will help encourage a more natural running take-off and shock absorption when landing.
They've even been known to help alleviate other types of foot pain often experienced by runners and hikers, such as plantar fasciitis and Achilles tendinitis.
This isn't surprising; after all, your feet are a complex part of your body that we runners ask a lot of, and all of these joints, muscles, and tendons are connected and need to work together to allow for good foot mobility so you can walk and run comfortably and pain-free.
There are different types of toe spacers available depending on your need. Hopefully whichever one you choose, after a period of using them you'll have awesome toes and happy feet!
Which are the best toe spacers for your feet?
The most popular type of toe spacers (aka toe spreaders) will separate all of your toes to encourage a more natural toe splay.
Generally, you will wear toe spacers of this type for shorter periods of time (typically 15 to 30 minutes) on your bare feet. While many toe spacers are not generally designed to be worn inside shoes, some can be, and others also work well with socks, barefoot shoes or sandals.
A great time to wear toe spacers that won't fit inside your shoes is when you put your feet up at the end of the day, such as while watching TV or relaxing in bed before going to sleep.
There are also types of toe spreaders that are specifically designed to alleviate issues such as hammer toe and bunions, which tend to affect people's big toe the most. Correctly aligning your big toe can also help resolve issues associated with flat feet, which can be exacerbated when your big toe is misaligned.
These toe spacers fit between the big toe and the second toe, to help straighten out the big toe. Some of these single-toe spacers are designed to be worn all day, inside shoes if you wish.
As many toe spacers are recommended by podiatrists if you're unsure about which style or brand of toe spacer will be best for you, consider speaking with a podiatrist about your foot issues and they will help you find the best solution.
The Best Toe Spacers For Runners & Other Athletes
These are the best toe spacers designed to help improve your foot health.
Earth Runners Mobility Toe Spacers ($23)
Earth Runners' toe spacers are podiatrist-recommended, made from medical-grade silicone and are different to other toe separators such as Correct Toes as they are designed to wear on four toes (all except your big toe).
Earth Runners toe spacers will appeal to runners and active people, like ourselves, wanting to improve the splay of their toes (rather than to specifically straighten the big toe).
They're also a good choice for those who want to wear toe spacers with lightweight sandals because having four, rather than five toes means you can wear them with toe post shoes.
The Mobility Toe spacers from Earth Runners cost $23 per pair and come in a range of sizes, making them a cost-effective alternative compared to the more expensive Correct Toes option below.
---
Ritoyl Toe Separators ($9)
Ritoyl's toe separators are made from a stretchy gel-like rubber that stretches to any sized toes or feet. This makes them a great option for couples with different-sized feet, who may just want to share a pair, rather than pay for two unnecessarily.
These toe spaces help to reset your toes to their natural state over time, creating more stability throughout your feet's biomechanics.
They're small enough to wear under socks and in shoes with a wide toe box but we don't recommend wearing them for more than 15 to 30 minutes per session as you may start to feel discomfort.
Using toe spacers is a process that if done correctly over time, and by not wearing them too often too soon, can really benefit your foot health, especially for runners who tend to pick up common running injuries that affect the feet like plantar fasciitis and Achilles tendinitis for example.
I like how these ones are black, and can be cleaned very easily by rinsing them in water.
---
Correct Toes Toe Spacers ($65)
Correct Toes are probably one of the best-known toe separator brands.
They're designed by a sports podiatrist, to provide toe spacing, balance, and improved movement and circulation in your feet.
Correct toes toe spacers are made from medical-grade silicone that is soft and flexible. You can wear these toe spacers barefoot, on top of toe socks, or inside most shoes that have a wide toe box.
Correct toes cost $65 per pair and are available in a range of sizes.
---
Yoga Toes Toe Spreaders ($36.95)
Yoga Toes toe spreaders are also made from medical grade materials, and feature an innovative easy-on system with openings at the big and little toe sides.
They're bigger than other toe spacer options, and not designed to wear inside your shoes.
As Yoga Toes are recommended to wear for short periods of 10-15 minutes at a time initially (building up to an hour), most people find that they're ideal for putting on your feet while for a good stretch, you put them up to watch TV or otherwise relax at the end of the day.
Yoga toes cost $36.95 per pair and are available in men's and women's versions and sizes.
---
ZenToes Toe Separators ($12)
If your main concern is reducing the onset of foot deformities such as bunions and hammer toes then these ZenToes toe separators are specifically designed to wrap around the second toe and encourage the big toe to straighten up.
Made from a soft gel and sized to fit small feet as well as large feet, these toe separators are suitable for wearing inside shoes with a sufficiently wide toe box, and many people find them comfortable enough to wear all day.
ZenToes toe separators cost $12 for a 4-pack, available in a range of colors (one size fits most people).
---
Injinji Socks – A Toe Spacer Alternative (From $12)
If you don't necessarily have pain or issues with your toes, but you are considering toe separators to help encourage an everyday stretch and more natural splay as you walk or run, then also consider getting toe socks as well as, or instead of, toe spacers.
Injinji socks provide a compartment for each toe, so your toes don't rub on each other and can stretch and flex more naturally.
Injinji socks have a large following among the trail running community, especially among people who love wearing low or zero-drop running shoes that have a nice wide toe box to allow toes to spread out naturally.
They're made from polyester and Merino wool, which (unlike regular socks), wick sweat away from your feet, helping them to stay comfortable and dry.
Injinji socks cost from $12, including running, hiking, and socks for everyday wear.