Stepping into the realm of lightness without lightening your wallet too much, enter the Brooks Hyperion Tempo. With a regular price tag of $150, currently slashed down to a tempting $90 (yeah, that's a neat 40% off), these shoes have found their stride right into my regular running shoe rotation, especially when it's time to pick up the pace alongside the On Cloudflow 4 (another excellent tempo running shoe).
Now, when Brooks labels a shoe as their "lightest training shoes," they're setting a certain expectation. The Hyperion Tempo lives up to that label, not on the racing tracks, but during those grinding training sessions where every ounce makes a difference.
In this Brooks Hyperion Tempo review I'm going to be sharing why these running shoes have made it into my running shoe rotation, and why I believe they are Brooks' best running shoes for tempo training.
These shoes aren't about the flashy aesthetics or fancy gimmicks; they're about getting down to business. The DNA FLASH foam is a feature worth mentioning – it's nitrogen-infused to ensure a blend of lightness and responsiveness, which is exactly what you want for those fast-paced runs.
I appreciate a shoe that doesn't scream for attention but rather, earns it by enhancing my run. The breathable stretch-woven upper is a simple yet effective design choice, allowing a snug fit while letting my feet breathe, mile after mile.
In the subsequent sections, I'll delve deeper into how the Hyperion Tempo performs on the run, and why they've earned a spot in my regular rotation. It's not just about the specs, but how they translate to the road, offering a reliable option for those tempo runs that demand a bit more from our gear without necessarily draining our wallets.
Brooks Hyperion Tempo at a glance
Sizing & Fit
True to size.
Weight
7.3oz (207.0g) for a size US(M)9 – thats super lightweight!
Drop
8mm
Width
Medium.
Support
Neutral, meaning there's no additional support included.
Cushioning
Firm and responsive, yet with an underlying softness aiding in quick recovery.
Price
$150 at brooksrunning.com (Currently discounted to $90).
Key Features, PROS & CONS
🟢 Affordably priced, especially with the current discount.
🟢 Ultra-light at 7.3 oz.
🟢 Responsive DNA FLASH foam cushioning.
🟢 Breathable stretch-woven upper.
🟢 Ideal for hard workouts and training to race.
🟢 Built for speed with a performance fit.
🟠 Laces are a little long.
🟠 Tongue can slip a little.
🟠 Not specifically designed for support.
🔴 Might not be the choice for those seeking plush cushioning.
Usage
These lightweight, firm cushioned running shoes are crafted for the fast-paced workouts, tempo runs, and racing simulations. They are a great companion for those looking to push the pace on the roads while training for the next big race.
Closest competitors
---
I hope this review answers all your pre-purchase questions about the Hyperion Tempo but if I missed something, please drop any questions in the comments section down below and I'll get back to you soon.
Brooks Hyperion Tempo sizing and fit
When it comes to finding that perfect fit, the Brooks Hyperion Tempo makes it a straightforward affair. They fit true to size, aligning well with the standard sizing metrics we're all familiar with. So, just pick your regular size and you're good to go.
Now, the medium width is a sweet spot for many, providing ample room without feeling too roomy. Most people should have that space for your toes to do their natural splay as you run.
The design here is neutral, focusing on natural foot movement rather than extra support, which works well for those with a standard arch.
The breathable stretch-woven upper is a notable feature, adapting to the foot's shape and movement. The material is forgiving, allowing some stretch, yet holds well where needed.
The features that I love and how they benefit performance
Here are some features of the Brooks Hyperion Tempo that have particularly caught my attention during testing.
Below is my video review on YouTube which shares additional insights – subscribe to our YouTube Channel for more running shoe reviews just like this one!
1. The midsole DNA FLASH foam, which has a firm yet responsive feel
Both the DNA FLASH foam and the overall cushioning character of the Hyperion Tempo contribute to a ride that's suitably energetic for those tempo runs and hard workouts.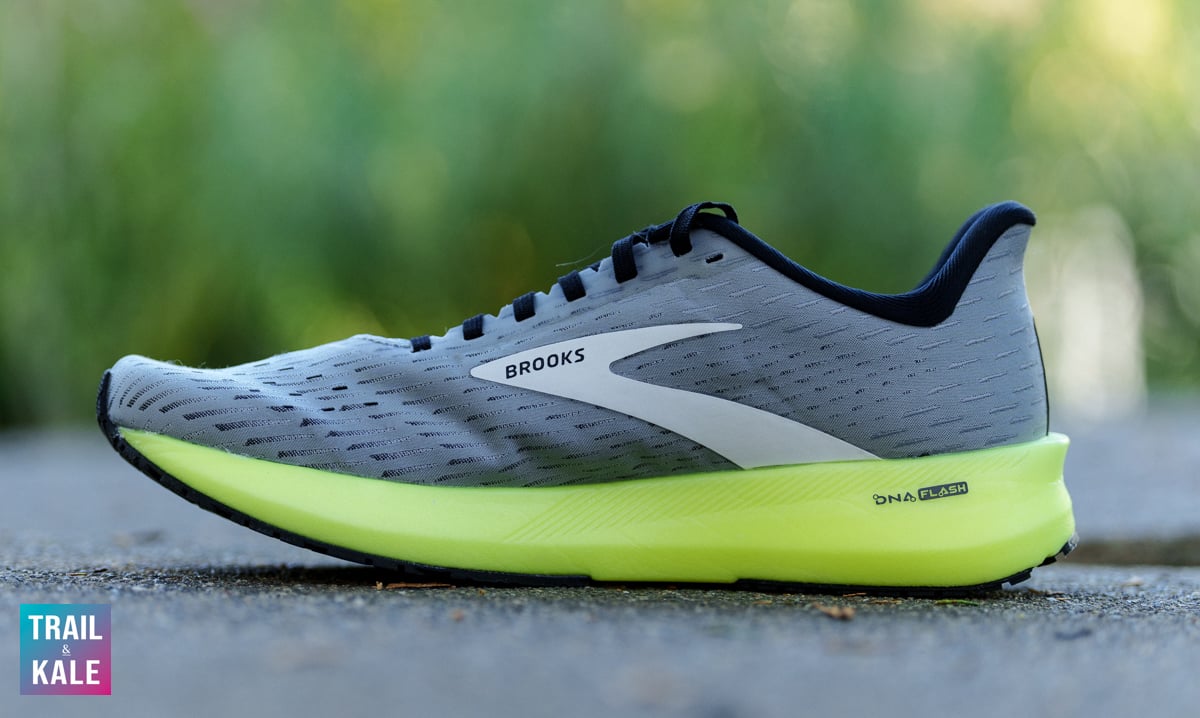 The nitrogen-infused DNA FLASH foam is really the showstopper here, offering a responsive yet soft underfoot feel – albeit more on the firm responsive side than soft, but that's what you want in a tempo shoe.
It's a smart cushioning system that provides a soft landing to lessen the impact of your strides while providing a responsive toe off, much in the way that ProFly does for HOKA running shoes, and Cloudtec does for On running shoes.
This duality in cushioning is something I've come to appreciate, especially on days when the training calls for a bit of gusto like tempo training runs. I love these runs because they keep my VO2 Max on track.
2. A lightweight design that enables tempo performance
Weighing just 7.3oz for a size US(M)9, every element of the shoe seems to be trimmed down for speed without compromising on the essential features. It's a design ethos that respects the need for speed and the love for a less cumbersome run.
Whether it's a short sprint or a long tempo run, shedding those extra ounces does make a noticeable difference. If a running shoe is over a certain weight, I don't even bother with it nowadays…
3. The breathable stretch-woven upper that helps provide a performance fit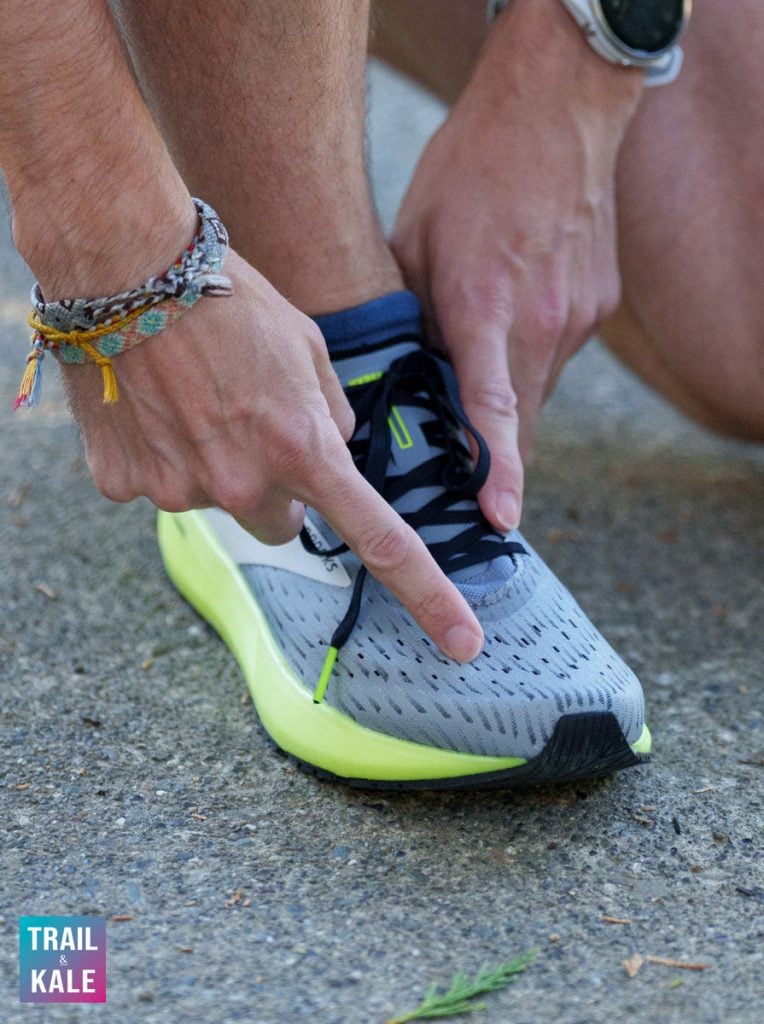 The Hyperion Tempo brings together a breathable stretch-woven upper with a performance-oriented fit, forming a combination that's all about comfort and efficiency.
The upper does a good job of hugging and securing your feet, while still allowing for plenty of breathability, and adapting to your foot's natural shape and movements.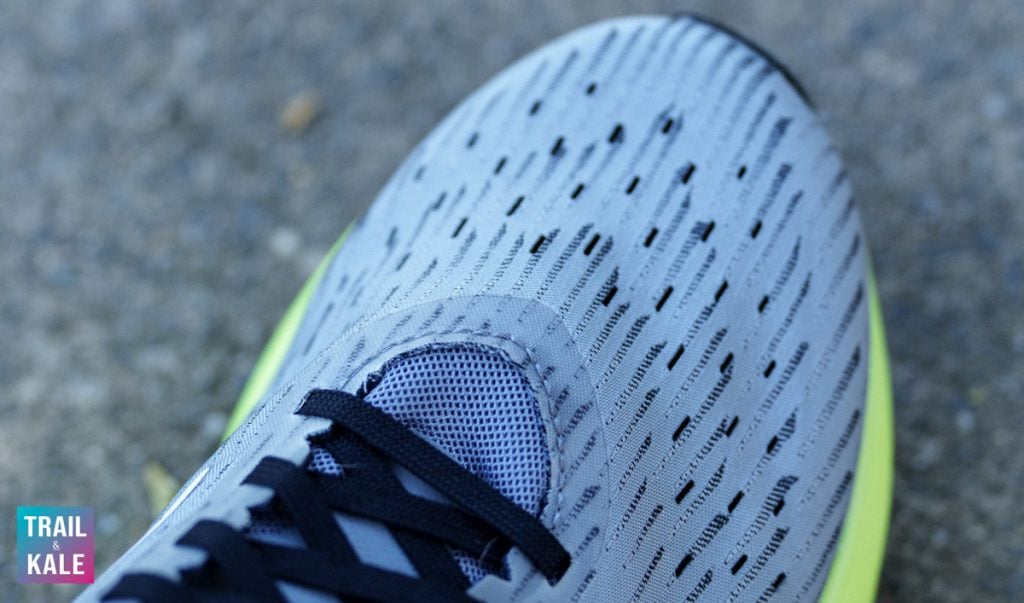 Brooks' performance fit also ensures the shoe is snug where it needs to be, without being restrictive.
Lacing up the Hyperion Tempo has become something that I now look forward to, knowing that the shoe is ready to perform, irrespective of the pace or distance, even though I'm reserving these for tempo runs up to half marathon distance – yes, I'm particular like that, lol.
Some features that I feel could be improved
While the Brooks Hyperion Tempo shines in many aspects, there are a couple of areas where it may not meet everyone's expectations, even though I'm okay with them myself.
Here's a look at some of those features:
1. It has a fairly firm ride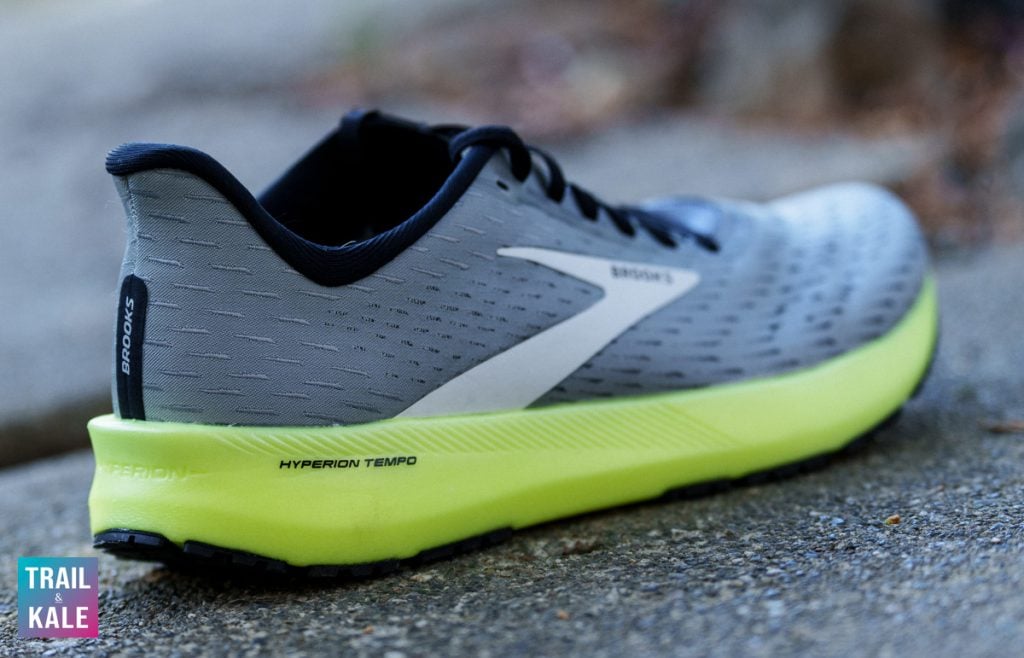 There's no denying that the firm and responsive cushioning is a double-edged sword. While it's great for speed and a lively feel underfoot, it might not be everyone's cup of tea, especially for those who are on the heavier side or those accustomed to more of a plush ride.
The firmness can potentially feel less forgiving over long distances or during recovery runs, especially for runners who crave that extra cushioning to comfort their feet but lets not forget, these are tempo running shoes, and they're pretty bang on the mark for how they should feel.
2. It lacks some stability support
The Hyperion Tempo is designed with a neutral support system, focusing more on natural foot movement rather than providing additional stability to help reduce lateral roll and the likes.
For runners who are accustomed to or require more stability support in their footwear, this might be a point of contention and you may be better off looking at one of Brooks' GTS running shoes – hit me up in the comments with your running scenario and I'll get you lined up with the best ones for you.
The lack of additional stability means it might not be the go-to choice for those who require a bit of extra support to combat overpronation or other stability concerns during their runs.
3. The tongue is short and the laces are long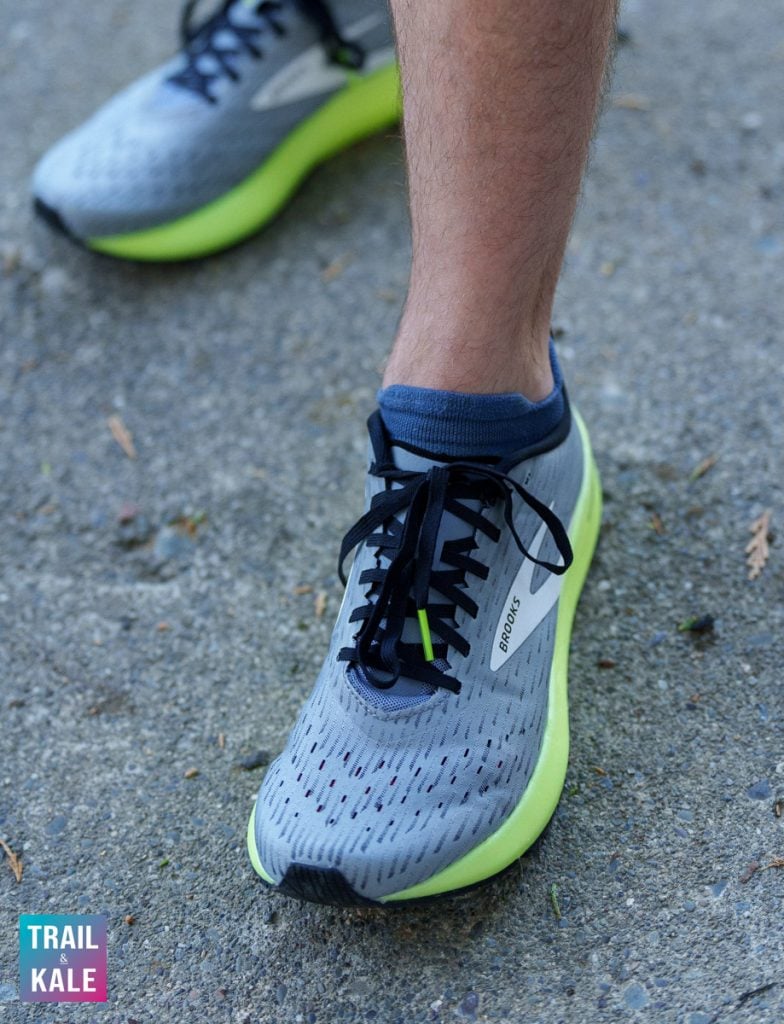 Boxing these two points up together because they're kind of related. For me, the tongue runs a little short made worse by the fact the tongue can slip down a little but not into a position that becomes a problem thankfully.
Strangely, there is a loop on the tongue that the laces pass through but this doesn't seem to hold the tongue up quite enough.
Then, there's there laces which are stretchy and slim (which I like), but this can have potential for coming undone, so I would recommend double knotting them if you're worried about this.
The laces are also longer than I think they need to be, just a personal thing; I don't like too much lace flappage when running…
These 3 aspects are not deal-breakers by any stretch but are worth considering based on individual preferences and running needs – many runners won't even notice that there's no support, while others who maybe have weaker ankle and foot muscles may well do.
The Hyperion Tempo is a star in the lightweight and responsive department, but if you're someone who leans towards a plush ride or requires additional stability support, you might want to keep this in mind when choosing your next pair of running shoes.
Who is the Brooks Hyperion Tempo for then?
The Brooks Hyperion Tempo is crafted for runners who are keen on a faster pace and a responsive, firm ride. This is a go-to shoe for speed enthusiasts who thrive on tempo runs and interval training, aiming to clock faster times.
Its lightweight design and responsive cushioning align well with the needs of those prepping for a race, offering a reliable choice for crucial training runs that mimic race-day conditions.
Daily trainers looking for a shoe that adds a bit of zest to their routine will also appreciate the Hyperion Tempo as it provides an engaging ride for everyday runs, making the miles feel less of a grind and more of an enjoyable endeavor.
Minimalists who prefer a straightforward, effective running shoe will find the neutral support and firm cushioning of the Hyperion Tempo appealing too. It's a shoe that doesn't fuss around, providing a natural running experience with a focus on performance.
However, if you are inclined towards a cushier ride or need more structural support due to overpronation, the firm ride and neutral support of the Hyperion Tempo might not meet your needs. It's a shoe with a clear aim – to cater to the speed and performance-oriented runners who prefer a firm, responsive cushioning system.
Are they worth your hard earned money?
The Brooks Hyperion Tempo, priced at $150, and currently discounted to $90, positions itself as an affordable option in the realm of performance-oriented running shoes.
It's a compelling offer especially when you factor in the lightweight design, responsive cushioning, and the performance fit that it brings to the table. This shoe is a testament to Brooks' capability of melding quality with affordability, embodying features that are tuned for speed and efficiency.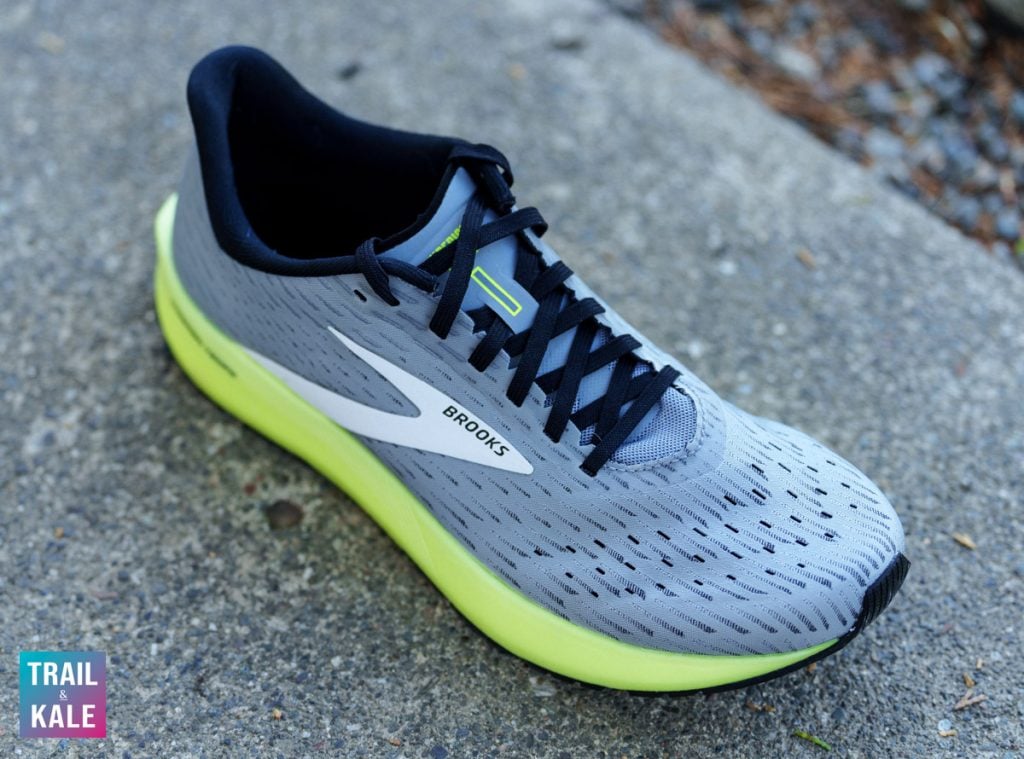 Even at $150 I'd say YES, these running shoes provide very good value for money, as I have come to expect from Brooks Running shoes; and when you look at the current 40% discount ($90), Id say you really better not pass this offer up before it goes away; at $90 these running shoes are a total steal and I'd recommend you buy two pairs!
The savings become even more apparent when juxtaposed against similar competitor shoes like the HOKA Mach 5 ($140) and the On Cloudflow 4 ($160). The Hyperion Tempo holds its ground in terms of performance while being bang in the middle when it comes to price, for the non discounted price that is.
However, the value proposition largely hinges on your personal running needs.
If a firm, responsive ride aligns with your running style and you're in the market for a shoe that can handle the rigors of speed training and race day prepping, the Hyperion Tempo is indeed a worthy investment.
Brooks Hyperion Tempo review summary
Brooks Hyperion Tempo review
PROS
Even at its original price of $150, it's a good deal; at the discounted price of $90, it's a steal.
At 7.3oz for a US(M)9, it's one of the lightest training shoes out there which is great for fast-paced runs.
The DNA FLASH foam provides a firm yet responsive cushioning that's geared for speed.
The stretch-woven upper not only provides a good fit but also keeps your feet cool throughout your run.
It's snug where it needs to be without being restrictive, ideal for various training scenarios.
Ideal for tempo runs, interval training, and simulating race-day conditions.
CONS
The firm, responsive ride might not be everyone's cup of tea, especially for those who prefer a plushier ride or are on the heavier side.
If you need more structural support due to overpronation, this might not be the shoe for you.
The tongue can slip down a bit, and the laces are longer than necessary and may require double knotting to stay tied.
The firm cushioning might feel less forgiving over long distances or during recovery runs.
---
➡ I hope you enjoyed reading this Brooks Hyperion Tempo review; As always, your thoughts and experiences with these shoes would be awesome to hear, so drop a comment down below and let's keep this running community alive! 🏃‍♂️💚
Join our Strava club too, and be part of the joy that running brings to our lives. Happy running, friends!
Follow us on Instagram for some behind the scenes reels of the Trail & Kale team testing new running gear, and other running lifestyle shenanigans.
---
Photo gallery