Before now, BioLite had released two headlamps, first the multi-use HeadLamp 330, and then the super-lightweight HeadLamp 200. Both times they disrupted the running headlamp industry by releasing excellent quality headlamps featuring truly unique features at a very affordable price.
Guess what, today marks another important point in BioLite's history as they've done it again with the do-it-all high-performance HeadLamp 750, geared towards ultra runners and all night adventurers who need reliable, high-powered light to guide them safely through the night. I have awarded this headlamp a Trail & Kale Editor's Choice Award, continue reading the BioLite HeadLamp 750 review to find out why.
This BioLite HeadLamp 750 review explains the key features of the HeadLamp 750 plus how to use them, the features I love/dislike, how the headlamp performs while running and hiking (trail running and ultra running too), where you can buy it, and my final review score out of 10.
SIMILAR BIOLITE REVIEWS: BioLite HeadLamp 425 Review / BioLite HeadLamp 200 Review / BioLite HeadLamp 330 Review
---
BioLite HeadLamp 750 Review – Table of Contents
---
What's it like running with the BioLite HeadLamp 750?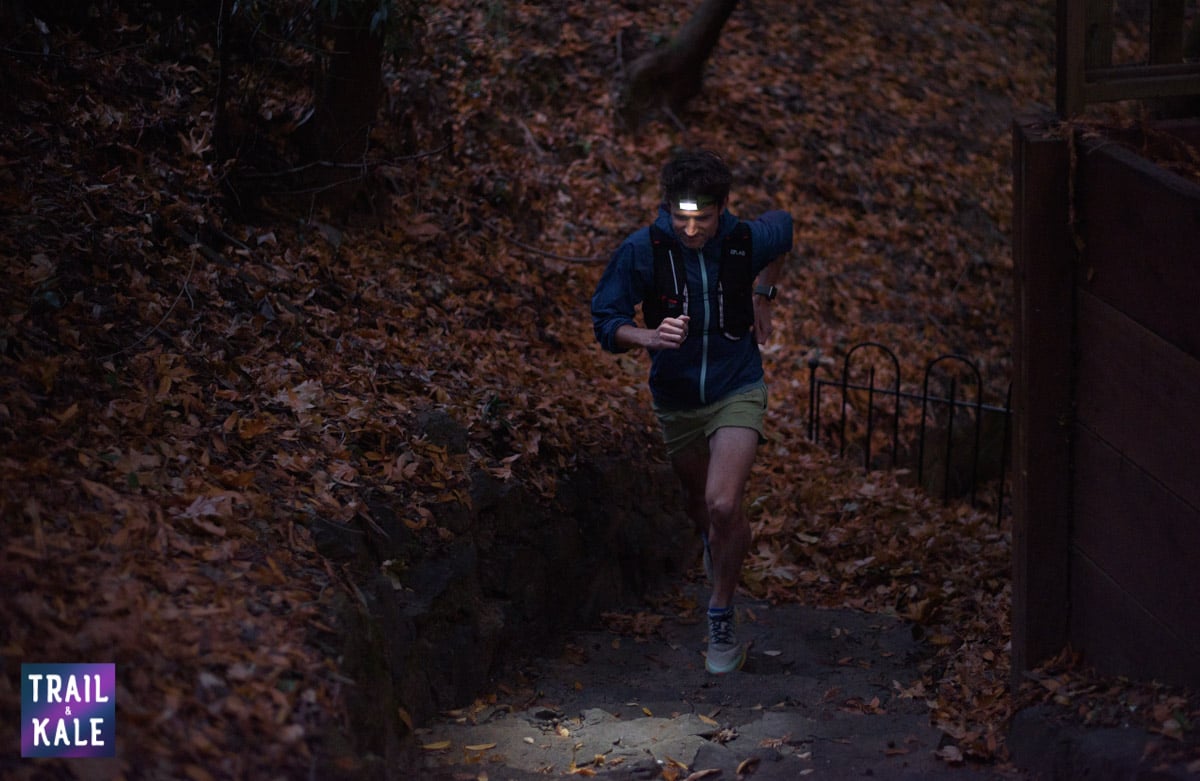 Having a high-performance headlamp that's comfortable to wear for hours at a time means one less thing to think about when you're trail running through mountain passes at night, or thru-hiking the wilderness in pitch dark. The high-powered BioLite HeadLamp 750 weighs 150g (5.3oz) spread consistently across the front and the rear of the headband.
This relatively light package when combined with a comfortable fit means no bouncing up and down while trail running, and comfort for hours at a time. It's also possible to wear a Buff headband underneath the headlamp band, to give it more padding against your forehead if you feel it's neccessary.
One of the things I love about all BioLite headlamps is how easy they are to use while running. Not only are they easy to control, but they're also packed with different light mode options, many of which also have a dimmable function on top of that mode. The BioLite HeadLamp 750 comes with a few new super useful features for ultra runners, trail runners, and road runners too.
1. The first new feature to mention is 'burst mode'. This light mode is so useful for trail runners and ultrarunners who enjoy running varied terrain in the mountains or on technical trails in general. Burst mode is activated by tapping the button on the rear which has a raised notch, making it easy to detect when reaching behind your head – see image below.
Tapping this button will put the front white light into 750 lumens mode for 30 seconds, providing you with maximum illumination when you need it most. Trust me when I say this, "750 lumens is damn bright!!", so please be careful not to shine the light directly into your or your friends' eyes.
750 lumens can get extremely hot when in use, so if you're traveling or the headlamp is stashed away in your hydration pack while running, make sure you activate the lock-out mode on the HeadLamp 750 unit to ensure it doesn't accidentally turn on, and melt your favorite waterproof running jacket or energy gel supply.
To activate 'lock-out' mode simply press the button on the front lamp for 8 seconds – when it flashes twice, lock-out mode has been activated, do the same to unlock it again.
2. The second new BioLite headlamp feature is 'pass-through charging'. This feature is what ultrarunners like ourselves, and adventure racers have been dreaming of. It allows extreme extended battery life by allowing for a connection, via the included 3ft 'run-forever' usb cable, to a portable power bank, like the one you may already use for your smart phone, for example.
The headlamp can be easily adjusted while running too. Just pull the two plastic cinches on either side of the headband towards the front of your head to make it tighter, and towards the back of your head to make it looser.
---
How bright is the beam and is it easy to control?
The BioLite HeadLamp 750 has a beam that projects 750 lumens of light a whopping 130 meters ahead in a consistent circular fashion. The HeadLamp 750, however, isn't intended to be used on 750 lumens burst mode constantly – that's where the burst button comes in, which gives you 30 seconds of 750 lumens on demand. By default the HeadLamp 750 runs in 'regulated runtime' mode which gives you around 7 hours of use when using the front light at 500 lumens brightness, which is amazing when compared to the competition, by the way.
I like that you can tilt the lamp on the front to 4 different angles allowing you to focus closer to the ground in front of you, or further away into the distance, depending on the speed that you are currently running, walking, or even biking at.
To cycle through the BioLite HeadLamp 750 light modes simply tap the power button at half second increments. This will cycle through the following light modes: red, spot, flood, combo, strobe, off. The HeadLamp 750 has built-in memory for convenience, so when you turn it on, it will activate the same light mode that you were using when you turned it off last. For any of those modes, just press and hold the same power button to dim the light to your desired brightness. Easy!
On the back, the smaller of the two buttons works in the same way. Pressing this button cycles the rear red light to on, strobe, or off. You can also press and hold on the two light modes to dim them as you please.
Below is a table which shows how long the battery lasts for each beam intensity setting available:
| | | | | |
| --- | --- | --- | --- | --- |
| | Low | Medium | High | Burst |
| Brightness | 5 lm | 250 lm | 500 lm | 750 lm |
| Constant Runtime | 150 hrs | 4 hrs | 2 hrs | 30 sec per burst |
| Regulated Runtime | 150 hrs | 8.5 hrs | 7 hrs | 30 sec per burst |
| Reserve | 8 hrs at 5 lm | 8 hrs at 5 lm | 8 hrs at 5 lm | 8 hrs at 5 lm |
It's worth mentioning that the red light is great for your night vision while doing tasks in the dark, other than running, and the strobe lights are great for getting someone's attention during an emergency situation on the trails. Having a red light on the back of your head is also mandatory in many of the larger mountain trail races, this is especially true when racing in Europe.
Having such a simple user interface makes it easy to use even during the winter months when winter running gloves are necessary to keep you warm.
---
How comfortable is the BioLite HeadLamp 750?
The headlamp itself only weighs 150g, which is insanely lightweight for a running headlamp in this high-performance class. This makes the whole experience of running with a headlamp through the night, so much more enjoyable.
In the past, it wasn't uncommon to get a headache from wearing a headlamp because you would be required to over-tighten the band in order to reduce the bounce, due to the weight of the battery on the front.
The BioLite HeadLamp 750 uses a moisture-wicking sweatband (pictured above), which keeps the sweat off your face while adding to the overall comfort of wearing the headlamp.
---
How long does the BioLite HeadLamp 750 Battery last?
The battery will last 7 hours in its brightest mode of 500 lumens, 8.5 hours at 250 lumens, and 150 hours at 5 lumens.
There's also the ability to run the headlamp in pass-through mode which allows you to power it off a portable battery charger while it's on, which effectively gives you endless hours of usage. This means that the HeadLamp 750 is perfect for any running or hiking situations, allowing you to safely run through the entire night. The HeadLamp 330 also has pass-through charging.
When using the HeadLamp 750 in 'constant runtime' mode you can shave a couple of hours off runtime in the 250Lm brightness setting, and 5 hours off the runtime in the 500Lm brightness setting.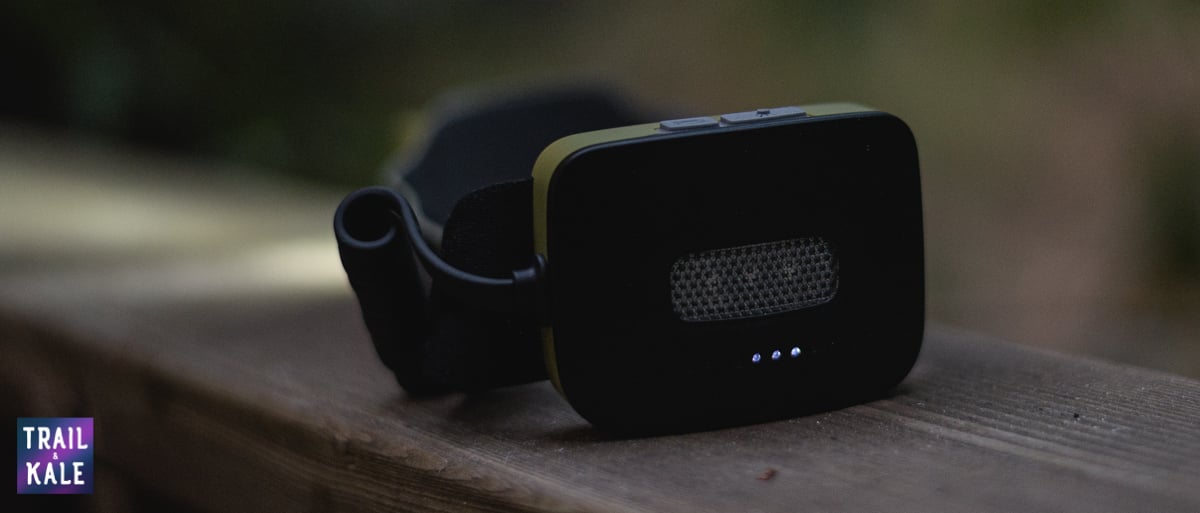 How do you know when to recharge the HeadLamp 750?
There's now a battery level indicator on the rear of the headlamp with 4 light dots. This is a new feature from BioLite and a very helpful one at that, it used to be a little trickier to determine how much battery remained.
The BioLite HeadLamp 750 uses a USB Rechargeable 3,000 mAh Li-ion rechargeable battery which uses a micro-USB cable and connector. BioLite has added a reflective logo on the side of the band so that you'll be seen by anyone who shines a light towards you from the side.
The HeadLamp 750 would also be the best HeadLamp for backpacking, or fast and light adventures like fastpacking, for example do to the long battery life options and functionality.
---
Is the BioLite HeadLamp 750 waterproof?
The HeadLamp 750 is IPX4 rated which means it's water-resistant and can be worn in the rain.
---
How much does the HeadLamp 750 cost?
Well, astonishingly, the BioLite HeadLamp 750 only costs $99.95 which I think is very reasonable for such a high-performance, full-featured, do-it-all headlamp like this, especially as there's not much competition for it in its class right now. This really is the running headlamp I have been waiting for someone to release! For all the reasons listed above the BioLite HeadLamp 750 has been awarded a Trail & Kale Editor's Choice Award and now sits at the top of our Best Running Headlamps Buyer's Guide.
Last Amazon price update was: 29th September 2023 12:30 pm
---
What's the difference between the BioLite HeadLamp 330, and HeadLamp 750?
The HeadLamp 750 has a burst mode setting to light the way to the max when needed. The HeadLamp 330 doesn't have this feature.
The HeadLamp 750 has pass-through charging which means you can power it via a portable batter bank while using it, extending battery life by many hours. The HeadLamp 330 doesn't have this feature.
The HeadLamp 750 has a red light on the rear which is mandatory in many big mountain ultra marathons.
The HeadLamp 330 is lighter than the HeadLamp 750. HeadLamp 330 weighs 69g, while HeadLamp 750 weights 150g. In their classes, they are both lighter than the competition.
Both headlamps are equally comfortable to run with. Even though the HeadLamp 750 is heavier and has a bigger battery pack at the rear, the clever weight distribution keeps it feeling very comfortable.
Both have an adjustable sweat-wicking headband.
The HeadLamp 750 has a brighter full-beam burst setting of 750 lumens – that is incredibly bright! The HeadLamp 330 shines 330 lumens bright.
The HeadLamp 750 battery lasts longer than the HeadLamp 330 with a brighter beam. HeadLamp 750 runs for 7 hours at 500 lumens as opposed to 4.5 hours at 330 lumens for HeadLamp 330.
Both headlamps have a waterproof rating of IPX4.
Both have a lock function to stop you accidentally turning the torch on while traveling or scrambling through your bag.
BioLite HeadLamp 750
PROS
Burst mode button for 750 lumens is an awesome idea.
Pass-through charging gives hours of extra runtime - potentially days based on your power bank.
Secure and very comfortable fit for running.
Highly customizable beam modes and brightness settings.
7 hour battery life in high-beam 500 lumens mode.
IPX4 Water resistant
Easy to use with one button, even while wearing gloves in the winter.
Sweat-wicking headband.
Great value for money at $99.95
CONS
Heavier than the HeadLamp 330 but it's more powerful with a longer battery life - This headlamp sits in the high-performance headlamp range which is what most ultrarunners want.
---
BioLite HeadLamp 750 Review Photo Gallery
I hope you enjoyed reading this in-depth BioLite review and if you have any questions at all, please ask me in the comments below.
---
Do Headlamps make you feel nauseous? Here's an alternative solution for running at night.
Some people really struggle with headlamps because they make them feel nauseous, no matter what headlamp they use. This has to do with the placement of the light source, which on a headlamp is just above your eyes. When light illuminates from the perspective you're viewing from, shadows will be cast directly behind and raised objects. This can make the terrain tricky to read for some but there's a solution!
The Kogalla RA! This light strip shines brighter than most headlamps, runs longer than a rechargeable headlamp, and covers a wide area like a camping lantern. If you're going to be mixing up your adventures like camping, hiking, or running at night, the Kogalla RA is a great option! I love that each of Ra's five lighting modules is as bright as a high-quality headlamp. But instead of lighting up a spot, Ra lights up an entire area, making it easier to navigate even the roughest of terrain.
With its magnetic fastening system, you can also get creative with how you attach the strip lights to your clothing or just strap it around your waist.