We've been smitten by BioLite Energy's ingenious LED products (including their wide range of headlamps, which I use for running at night) for outdoor fun for a few years now, and the AlpenGlow Mini is the newest little gem to make our "must-haves" list.
If you thought their previous lanterns were versatile, wait until you see this pocket-sized wonder in action.
Don't be fooled by the 'Mini' in its name – this compact lantern packs a punch, and It didn't take me long to get a little bit obsessed with its new horizon mode that adds a little 'golden hour' magic to any setting.
The AlpenGlow Mini is not only a light source but it's also a vibe for your backyard gatherings – which is how I have been using it lately.
Keep reading this BioLite AlpenGlow Mini review to find out why we're adding this tiny lantern to our Editor's Choice recommendations and gift lists this holiday season.
AlpenGlow Mini overview: It's so much more than just a little lantern
If you think the AlpenGlow Mini is just another cute lantern (yes, we've all been browsing REI and seen a bunch of them), I wouldn't hold it against you.
I'll be the first to admit that I had no idea how cool the BioLite AlpenGlow 250 & 500 lanterns were until I got stuck into testing and using them in my everyday, and it's the same story for this new, smaller version.
➡ Read more of our BioLite product reviews, including headlamps, portable power stations and the larger AlpenGlow 250 & 500 lanterns.
Weighing in at just 3.4oz (98g) with a form factor of only 2.9 x 2.4 inches, it's like the Swiss Army knife of lanterns: small but mighty, with a variety of uses that extend beyond your typical campout.
From its mood-setting lighting modes to its 1,000 mAh battery, this lantern is a very multifunctional device worth having.
It's robust enough to light up a group setting but also offers softer, intimate light modes perfect for those couples (or solo) adventures. The horizon mode is pretty cool; I love how it mimics those epic 'golden hour' moments right inside your tent or under the stars.
The lantern has really been designed with the on-the-go adventurer in mind with a durable body and attached bungee cord making it easy to clip onto your pack or hang up wherever you find yourself.
Let's paint a picture for why this lantern has a place in your bag. Imagine you're a runner who's traveled for a big race, perhaps an ultra in some remote location.
After crossing the finish line, you're high on endorphins and you want to keep the good vibes rolling; maybe you decide to spend the night camping, reliving the race with your fellow runners.
You pull out the AlpenGlow Mini, and suddenly your tent turns into a cozy haven (and you can see what you're doing without having to use you smartphone's torch), the golden horizon mode casting soft, warm light that makes everyone look like they belong on a magazine cover.
The AlpenGlow Mini is great for off the cuff scenarios like this when you need nice lighting on hand, at a moment's notice. You can whip out this lantern, hang it on a low tree branch with the bungee, and instantly you've got a reliable light source that can last up to 40 hours on its low setting.
Not to mention, if your headlamp or phone is running low, the AlpenGlow Mini's got your back with its 1,000 mAh Li-Ion battery, enough to give you that essential extra juice.
Whether you're a runner, hiker, or just someone who enjoys being outdoors, the AlpenGlow Mini is becomes an essential part of your adventure gear.
These are the different lighting modes
The Mini offers various lighting modes:
Warm White
Single Color (Press + Hold to cycle)
1-color Cycling
Multicolor
Multicolor "Party"
Horizon mode
Warm White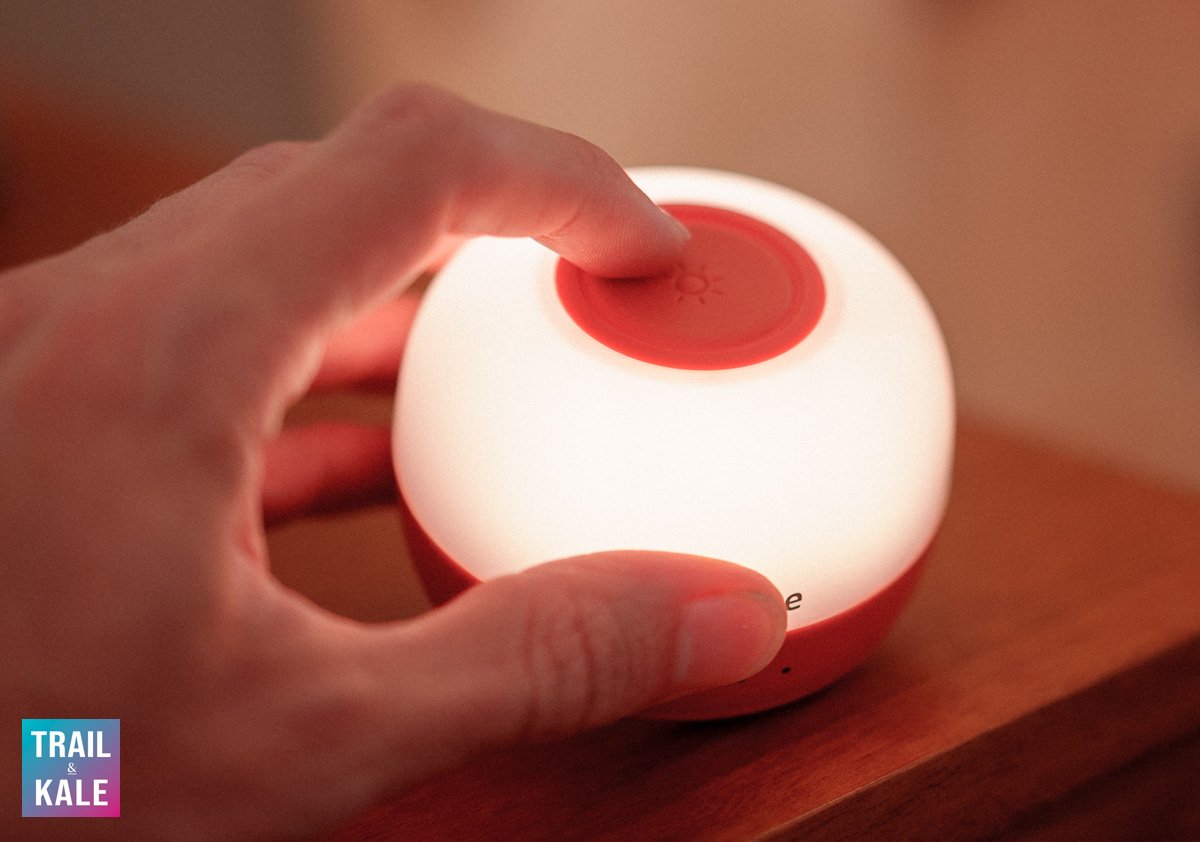 Imagine it's late and you're winding down after a killer run or hike, the Warm White mode is the setting you'll likely use most (it's the one I do), as you'll be greeted with a gentle, inviting glow that's perfect for reading or spending time outdoors with nice soft warm light.
It's also a great setting for taking photos that'll have your Insta followers possible asking, "What's your secret?" haha!
Single Color (Press + Hold to cycle)
In the mood for something more specific? This mode allows you to choose a color that matches your current vibe. Press and hold to cycle through a rainbow of choices until you find your match.
I find this one to be great for when you're feeling a bit thematic or want to capture a specific look for your social feed or a particular vibe for your at-home gathering – I imagine this would look awesome if you had multiple AlpenGlow Mini's dotted around your space!
1-Color Cycling
This mode is best for when you can't pick just one color; it takes you on a soothing ride through a single color, subtly shifting through its different shades.
Imagine you're trying to relax your muscles after a hard workout; you might choose a calming warm red to sync with your cool-down.
Multicolor
This lighting mode is definitely the setting if you want your lantern to be the life of the party.
Flip to this setting when you're hanging out with friends and you want the atmosphere to be as vibrant and dynamic as the conversations or music you're playing. It's an instant atmosphere booster, and always seems to be a talking point.
Try it for your next post-race celebrations or campfire dance-offs.
Multicolor "Party"
This mode is like Multicolor but with an extra shot of adrenaline. When the pace picks up and you want to take the party to 11, this is your go-to. Whether you're celebrating a marathon PR after following one of our marathon training plans 😉 or just having a great time outdoors, this mode makes it memorable.
Horizon Mode
This mode is my new favorite way to wind down; as the light subtly changes, mimicking those iconic 'golden hour' hues, I feel like I'm reliving my favorite sunsets. I love flipping this on after an early morning run, mimicking the sunrise as I stretch and sip my coffee.
Other notable features
The AlpenGlow Mini is IPX4 weather resistant and designed to be super portable, coming with an attached bungee cord that you can easily hook onto your pack or use to hang it in your tent or from a tree.
The bungee stows away nice and tidily as you can see in the photo below:
Considering how lightweight it is, it's perfect for when you're traveling ultralight, or fastpacking through the mountains.
The lantern itself comes in four cool colorways: Ash Grey, Charcoal Grey, Ocean Teal, and Ember Red. In case you're wondering, I have the ember red color and really like its natural rusty color.
Battery life and charging
This little lantern has a 1,000 mAh battery that can run for 5 hours on high and 40 hours on low settings.
That's a lot of bang for your buck – plus when you're out of batts like I nearly am in the image above showing the level of charge left (25%), you can fully recharge it in just 3 hours by USB-C- not bad!
Where to buy the AlpenGlow Mini
At $39.95, this very reasonably priced, versatile mini lantern makes for an excellent gift this holiday season, and anyone will just love receiving one as a stocking stuffer!
It's a fun, versatile, and functional item that anyone, whether an outdoor enthusiast or not, would love to have.
---
➡ I hope you enjoyed reading this BioLite AlpenGlow Mini review; As always, your own thoughts and experiences with this tiny lantern would be awesome to hear, so drop a comment down below and let's keep community alive! 💚
For all of you who follow us on Instagram (and hopefully thats all of you! :oP), stay tuned for some exciting reels on all the latest gear we are testing.
Join our Strava club too, and be part of the joy that running brings to our lives. Happy running, friends!
---
Video Review – Includes full lantern modes demo
Coming soon
---
Review summary with PROS and CONS
BioLite AlpenGlow Mini review
PROS
Wonderfully designed lanterns that look attractive and also function very well.
The plethora of color options will keep you entertained for a long time. The color modes are great fun when you have friends over, or you want to get creative with your photography.
The bungee clip on the bottom is very useful for hanging up this tiny lantern.
Love that they are rechargeable, and the battery life is excellent.
The IPX4 weatherproofing means you don't have to worry about damaging them from a bit of rain.
The warm lighting modes have a calming effect when you want to relax in the evenings.
CONS
Not quite as many lighting modes as the larger AlpenGlow 250 and 500 lanterns but on the plus side it's so much smaller!
In a nutshell, the BioLite AlpenGlow Mini is our new favorite compact lantern for just about any adventure we are going to dream up.
Whether deep in the woods or just chilling in our backyard, the Mini adds a touch of magic and you can expect me to be putting out some creative shots with this lantern on our Instagram Feed.
It's a must-have, especially at such an affordable price.
---
BioLite AlpenGlow Mini photo gallery