It's important to ensure that your body is getting enough of the right nutrients every day. Now, more than ever, with new strains of Coronavirus popping up almost monthly, we need our immune systems to be at their most resilient whether you plan to keep taking booster shots or not.
Sometimes though, with the best will in the world, other aspects of life get in the way and things get… out of balance.
One easy way to ensure you're getting enough of the right nutrients into your daily diet is by drinking an organic greens powder supplement full of nutrient-dense superfoods.
This Best Greens Powder Superfood Supplements Buyer's Guide shares our favorite green juice powder drinks that make a huge improvement to our immunity, everyday mood, health, energy & stress levels, skin condition, and general wellness.
While even the best greens powders shouldn't be seen as a substitute for eating well and regularly, we think they're a fast and efficient way to help improve your overall health and fitness as a dietary supplement, i.e. these powder drinks are not intended to be used as meal replacements.
Even if you can't see the difference, by drinking a greens powder daily, you'll most likely FEEL it in your day-to-day.
There are so many greens powders available to buy and while we've tried most of them, this list shares only our very favorite ones.
There were plenty of greens powders that we tested that tasted just awful and no amount of mixing with real fruit would make them redeemable, but I won't waste your time mentioning them here.
Read our individual superfood greens powder reviews, listed below each organic greens powder product below for a more in-depth look at each of these greens powders.
Plus – BONUS! Read to the bottom to learn about a new greens supplement that comes in an innovative liquid form!
---
1. Athletic Greens AG1 [BEST GREENS POWDERS WINNER]
Greens Powders WINNER! [BEST TASTING, LOVE THE AG1 BOTTLE TOO – A PLEASURE TO DRINK EACH MORNING] – One tub contains 30 servings.
To learn more, read our in-depth Athletic Greens Review.
We are continually looking to improve our diet and eat only natural, whole-food, plant-based meals, and this extends to any green powder supplement we take.
Athletic Greens is a very tasty fine-grain superfood powder made up of 75 vitamins, minerals, and whole-food sourced ingredients, so I won't list them all here.
Essentially, it is designed to add nutritional value to support key bodily functions such as your immune system, digestion, gut health and energy production, and storage.
Athletic Greens does not contain GMO ingredients, artificial sweeteners, flavors, or colors – and it is 100% vegan. It also doesn't contain preservatives, which means that it needs to be kept refrigerated and consumed within a relatively short time period.
To some extent, I see the benefits of a green powder supplement like Athletic Greens in the things I don't experience – for example, not getting colds, not feeling unnecessarily tired and not getting spots.
One thing I definitely find when taking Athletic Greens daily is that my digestion is much better than normal and I certainly have more energy to do the things I love throughout the day.
I've been trying to work out what causes me to have digestive problems, and so I now know that one (or more) of the Athletic Greens ingredients is something I am lacking in my day-to-day diet.
Since taking the green powder supplement I have not had low-energy periods or any colds.
Who's to say whether I would have otherwise had these, but I believe the supplement helps, especially when I'm busy or traveling and not eating particularly well.
---
2. Organifi Green Juice [RUNNER UP]
Last Amazon price update was: 1st June 2023 7:30 pm
Organifi Green Juice – Greens Powders RUNNER UP! [BEST DISSOLVING & TASTES AMAZING] – One tub contains 30 servings.
To learn more read our in-depth Organifi Green Juice Review.
Organifi Green Juice's organic greens blend is a really efficient way to get your daily nutrients and is one of our top choices for the best greens powders award.
It tastes delicious even when mixed only with water (which is how we take it) and it literally takes 30 seconds to scoop some green juice powder, add 8-16 oz. of water, shake, and drink it.
We use these 16 oz Ball Mason Jars to drink greens powders out of as they have the ounce markers on the side, can be washed in the dishwasher, and I like being able to see the color of the greens supplements that I'm drinking. 🙂
So, taking a greens powder it's obviously a time-saver when it comes to having a healthy diet, but what are the stated health benefits of a daily dietary superfood supplement like Organifi Green Juice?
The health benefits of taking a greens blend like this greens powder include:
Mental clarity and sustained energy that doesn't spike like the effects of sugars. This is something that I noticed while taking Green Juice. I think it helps to have a morning ritual that forces you to drink 12 oz. of water when mixed with this green superfood powder. Water is so important in our diet so hydrating with the best Green Juice powder is a bonus.
Supports your health and gives your body healthy nutrients such as electrolytes in coconut water.
Reduces stress and reduces frustrations by balancing hormones already within the normal range. I do feel more well-rounded during my day-to-day tasks.
Supports immune function due to nature's superfoods that contain vitamins and minerals. I haven't felt ill during my Green Juice trial but 1 month isn't a long enough test period to know if it's helping my immune system for sure.
Detoxifies your body by supporting the flushing out of toxins.
Healthy skin. Some studies have shown that some ingredients in Organifi may help promote healthy hair, skin, and nails. I definitely feel like my skin has a better complexion since using Green Juice.
Gut Health. A healthy diet with leafy greens will certainly help reduce inflammation and help with digestion but Organifi has a dedicated product for gut health called Balance which is an entirely new approach to gut health – probiotics and prebiotics together in a stick pack – learn more about Organifi Balance here – it's another great product.
Green Juice is our best greens powder – to try it for yourself, use our exclusive Organifi coupon code 'TK15′ will get you 15% OFF your total order when purchased via one of our links.
As well as simply having Green Juice as a shake, it's also a great addition to a smoothie with other ingredients such as water, ice cubes, nuts, and fruit. We throw all of these into our blender to make a quick smoothie.
For all the reasons above Organifi Green Juice is the clear best organic greens powder winner on this list.
---
3. Nested Naturals Super Greens [BEST SELLER ON AMAZON]
Nested Naturals Super Greens is packed with phytonutrients that help promote healthy energy levels without the crash you get from caffeine, sugar or energy drinks.
Super Greens powder is non-GMO, vegan and 100% certified USDA organic.
Super Greens is one of the best greens powder supplements because of its unique blend of fruit and vegetable powder (including superfoods like kale and acai berry) that is ground into a fine powder to give you a potent boost of micronutrients that can be absorbed by the body quickly and easily.
There are also enzymes and dairy-free probiotics to help your digestive system absorb the benefits of Super Greens and everything else you eat.
The flavor is fresh and sourced naturally from monk fruit extract which gives the powder a hint of sweetness without any added calories.
Like all the superfood green powder supplement products in this list, you can mix the greens powder simply with water (this is how we drink them) or add it to a smoothie, shake or juice for a superfood boost to your day.
Nested Naturals is a socially conscious company from Canada that believes in only using the best, most ethically produced ingredients available, 3rd party testing every batch and donating to charity to make the world a better place.
They actually stand behind this pledge with a Lifetime Guarantee, so if you're not happy with Super Greens, you can email them directly.
---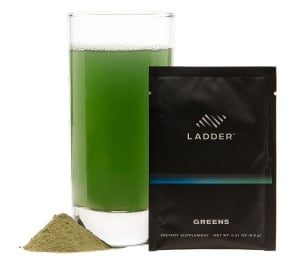 4. Ladder Superfood Greens [BEST FOR STRESS RELIEF]
Ladder Superfood Greens is my favorite plant-based product from Ladder Nutrition. It has some of the world's most vitamin and mineral-rich foods to supply your body with powerful nutrients, chosen specifically to fight daily stress, fill gaps in your diet, and protect your overall health.
Ladder's Superfood Greens is one of the best greens powders because it provides your body with a concentrated dose of the most essential nutrients that are hard to get in your diet.
This includes magnesium, zinc, B vitamins, and Vitamin D to strengthen your body and improve your overall health from the inside out.
It's not always easy to notice the effects of some supplements but with superfood mix drinks like this, I do.
I notice clearer skin, improved mood level, consistent energy levels, and the mental benefits of knowing you're feeding your body essential nutrients that can be hard to find in your daily diet without the help of a supplement like Superfood Greens, for example.
One of the biggest threats to your health is stress. It's connected to disease, aging, and weakened performance.
You can't always avoid stress but you can reduce it by doing mindful activities, one of my favorite things to do to relieve stress is to go trail running.
In addition to Ladder's selection of vegetables, they included Rhodiola root, which is a powerful adaptogen backed by studies to support immunity and help keep you healthier even when stress is high.
To learn more, read our in-depth Ladder Superfood Greens Review.
---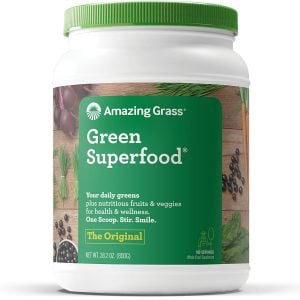 5. Amazing Grass Green Superfood [BEST ON A BUDGET]
Amazing Grass Green Superfood powder combines Amazing Grass' alkalizing farm fresh greens and superfoods including wholesome fruits and veggies with nutrient-rich superfoods for an enjoyable, fast and efficient way to feel amazing every day.
Green Superfood contains 7 alkalizing farm fresh greens, which is not nearly as many ingredients as Organifi Green juice or Athletic Greens, and a reason why it's much less expensive.
The ingredients are Wheat Grass, Barley Grass, Alfalfa, Spinach, Spirulina, Chlorella, and Broccoli.
It's certified organic by CCOF, Gluten-Free, Plant-Based, Non-GMO, Kosher, and has no added sugar.
We love that Amazing Grass' Green Superfood is available in 10 many different flavors which each have a specific function, and it's so reasonably priced, $49 will get you 100 servings, pretty much 3 months worth.
We recommend mixing Amazing Grass Green Superfood with a fruit smoothie or simply almond milk to make it tastier than only mixing with water.
---
6. SuperGreen TONIK [GOOD FOR MIXING]
SuperGreen TONIK is a premium daily super green drink made up of a 7-in-1 supplement that's a multi-nutrient green food to cover your most important nutrient bases (includes 38 authentic superfoods, vitamins, and minerals).
This greens powder blend has been specifically designed to improve brain function, energy, support the digestive system, and help relieve stress while giving your body a boost in immunity.
I really like the fact that SuperGreen TONIK are very transparent when it comes to their ingredients – they reveal exactly how much of each ingredient is in their greens powder blend, and that includes NO added sugar or additives, by the way.
In each 12.5oz tub you can get roughly 30 servings – so just see it as 1 tub per month if you are one person using it, or two tubs if you plan to take daily with a partner.
SuperGreen TONIK's most distinguishable taste is of mint, so if you enjoy the fresh taste of mint then you're undoubtedly going to really enjoy the taste of this super greens powder.
There are endless ways in which you can drink SuperGreen TONIK. A few examples are:
On its own – just add water and enjoy! I put the water in a 12oz Ball Mason Jar first, and then add the powder, as to avoid the powder getting stuck to the bottom of the glass, then I screw on the Ball jar lid and shake for 5-10 seconds vigorously
Drink it as a hot green tea – just add 1 scoop of superfood powder to hot water and drink it like green tea.
Mix it – blend it with vanilla protein powder, a banana, oats, and water and then drink it after a heavy workout or challenging run. You could even have this smoothie as a breakfast shake.
SuperGreen Tonik is now available in Berry Flavor too – Don't worry, the drink still looks green! 🙂
You can buy SuperGreen TONIK at Amazon or their online store for $87 per tub which equates to $2.85 per serving.
Alternatively, you can buy 5 tubs (5-month supply) at a time which brings the cost of a tub down to $65 (or $2.17 per serving).
To learn more, read our in-depth SuperGreen TONIK Review.
---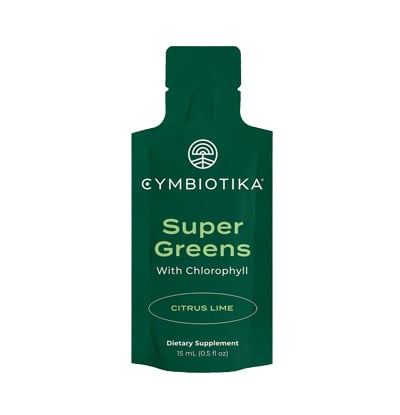 BONUS: Cymbiotika Super Greens [LIQUID GREENS!]
Super Greens is a convenient way to take a daily greens supplement, because, unlike other competitor supplements, the formula comes in a liquid, rather than powder format, in single-serve sachets that you use once daily.
This delivery method means that you can take Super Greens without having to measure or mix it, you just tear the top off your daily sachet and pour it directly into your mouth, much like you would take an energy gel if you're a runner, cyclist, or triathlete!
You also have the option of squeezing Super Greens into a glass or bottle and mixing it into the beverage of your choice, with a popular option being to mix it into a glass of plain water, or even lemon water, and drink it first thing in the morning.
To learn more read our in-depth Cymbiotika Super Greens review.
---
I hope this Best Greens Powder Buyer's Guide was helpful, if you have a question for me, please leave it in the comments below.
I'd also love to hear from you if you have a different opinion on what you believe is the best super greens powder so that I can test it out.
If you're looking for other plant-based nutrition for athletes, read our plant-based protein powders guide and recommendations next!