What is Athletic Greens powder?
Athletic Greens is a daily nutritional supplement in the form of a green powder which you mix with 5-10oz of cold water to form a small shake, designed to be consumed first thing in the morning.
I typically mix it with around 6-7oz of water. When looking for a morning supplement, I was attracted to AG1 because the ingredients are all pure, and plant-based, and it is designed with active people in mind.
For the purpose of this Athletic Greens review, I have used this superfood powder for 30 days and feel ready to share my thoughts on what many call, the best greens powder available.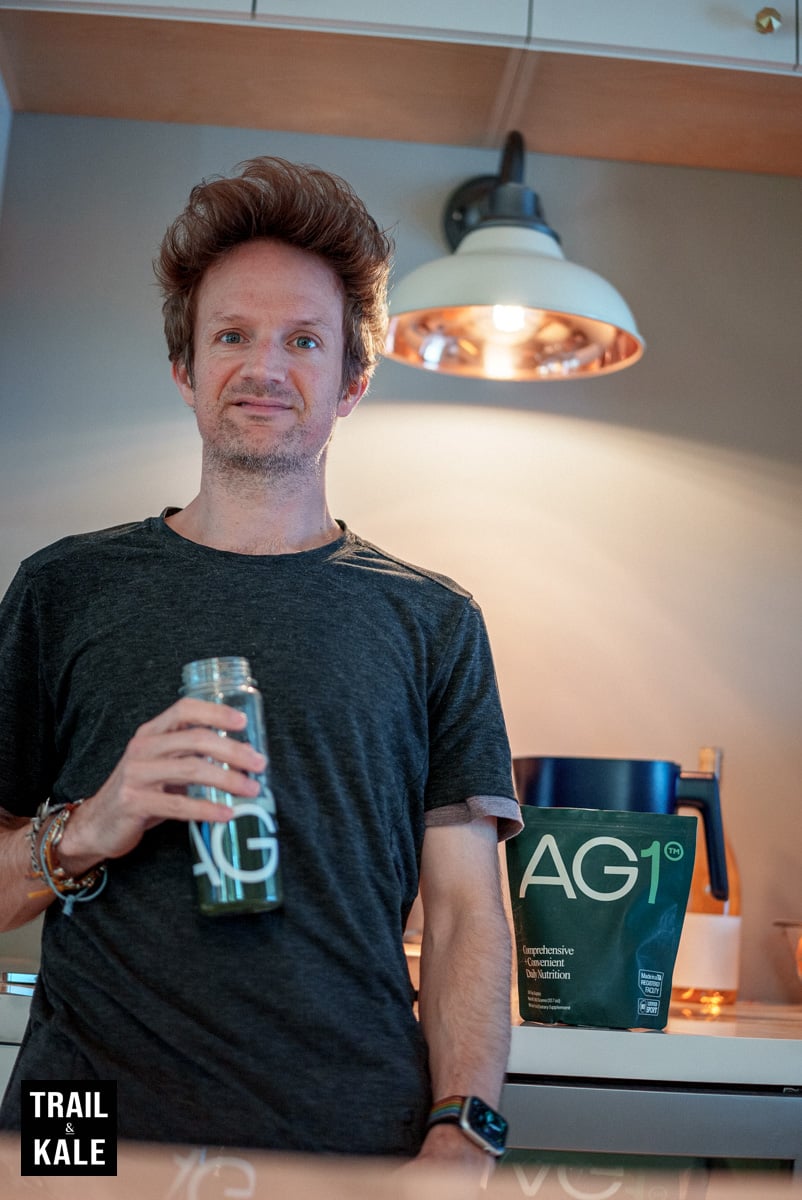 See how we rated Athletic Greens against the alternative brands in our Best Green Powder Drinks Buyer's Guide.
Why take a dietary supplement like AG1 in the first place?
Before getting stuck into this review, let's explain why you may actually want to take a superfood greens powder supplement like this one.
I strongly believe that you can and should be able to get all the nutrient dense extracts your body needs to function at a high level from the normal food you eat each day.
Therefore, I am not a proponent of taking vitamin tablets or dietary supplements as a substitute for having a good daily diet and eating the right things.
However, the fact is that sometimes I am very busy, working, training or just running around living life, and at times I probably don't eat enough of the right things at the right times.
This is especially true when I am traveling for work, spending time in airports, hotels, different climates and time zones, often with less than the ideal amount of sleep.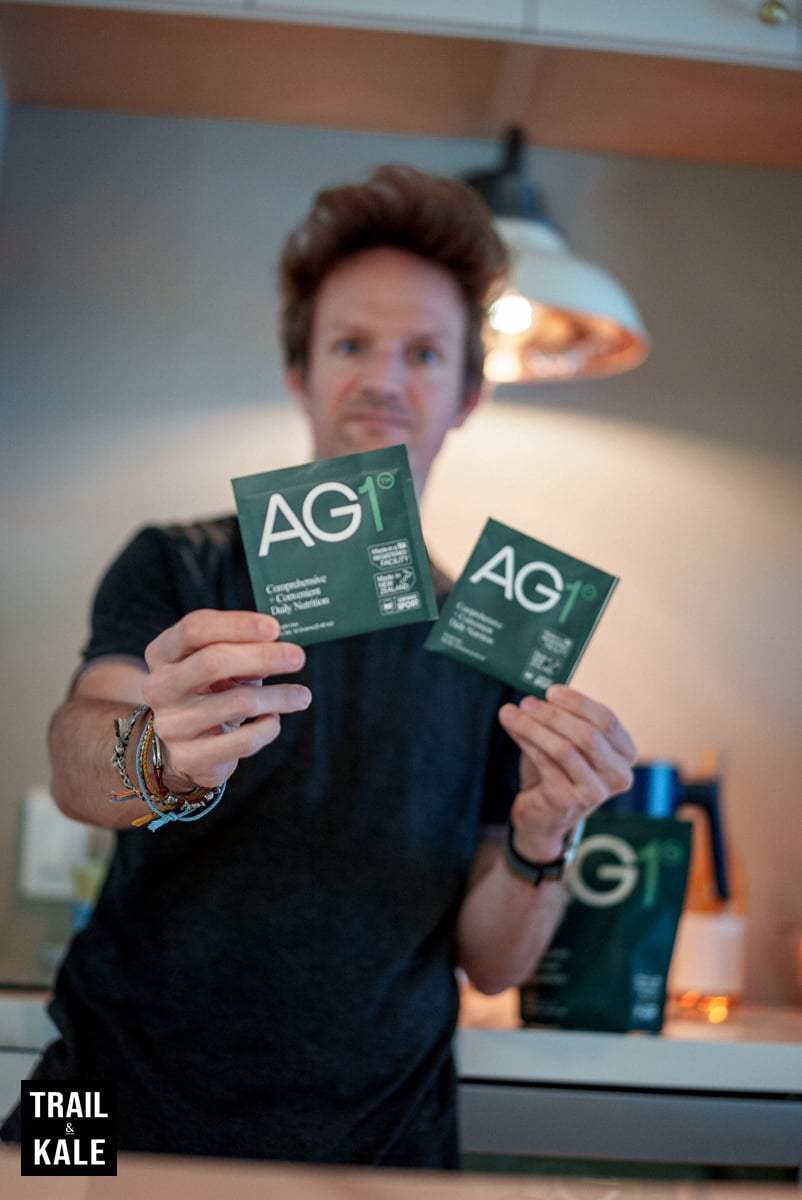 If that sounds like you too, AG1 also comes in sachet form, making it easier to transport when traveling or at work.
Spoiler alert I am going to continue to take AG1 after feeling the benefits during my testing phase for this review. So to give context on how highly I rate it, I now only take 2 supplements daily Athletic Greens and Fatty15, and I don't think I've ever felt healthier.
If you count a running training plan as a health supplement, in that it's an amazing way to improve your fitness, then I'm taking 3 supplements. 😉
I'm currently documenting my fitness gains in our Instagram Stories while following our 6-Week Half Marathon Training Plan, and I think you'll be amazed at how my health metrics, including heart rate variability, resting heart rate, blood pressure, VO2 Max, and race time predictions are taking an obvious trend of improvement in my Garmin dashboard.
Lyfe Fuel is a great example of how to get a nutrient-rich meal in quickly and conveniently when you just don't have time to cook.
So, before, during, and after my work trips, or just at busy periods when I'm doing a lot of training, I opt to take dietary supplements to make sure I am getting enough of the right nutrients and help fend off colds and training injuries.
---
What's in Athletic Greens?
We are continually looking to improve our diet and eat only natural, whole-food, plant-based meals, and this extends to any supplements or drinks we take.
Athletic Greens powder is a fine superfood greens powder made up of 75 vitamins, minerals and whole-food sourced ingredients, so I won't list them all here but I will mention some of the interesting ones.
Essentially, it is designed to add nutritional value to support key bodily functions such as your immune system, digestion, gut health, and energy production and storage.
So many manufacturers are at pains to tell you about the good stuff they contain, but they leave out what else is in the mix.
This means I tend to find myself spending ages in the supermarket reading labels (or between-the-lines of labels) to work out what I would be putting in my body if I eat certain products.
So, it's great to find a supplement that is clear on these points – Athletic Greens powder does not contain GMO ingredients, artificial sweeteners, flavors, or colors – and it is vegan.
It also doesn't contain preservatives, which means that it needs to be kept refrigerated and consumed within a relatively short time period.
It also contains a digestive enzyme and super mushroom complex which is a blend of adaptogenic mushrooms that are known for their health benefits and immunity-boosting properties. The complex contains different types of mushrooms, including reishi and shiitake.
Are there any Athletic Greens side effects to worry about?
Athletic Greens is a dietary supplement that contains a blend of vitamins, minerals, and other plant-based ingredients designed to support overall health and wellness but like any dietary supplement, Athletic Greens may have potential side effects or interactions with other medications or supplements.
I personally have not experienced any side effects from taking AG1, and I have been taking it on and off for a few years now.
In general, Athletic Greens is considered safe for most people when taken as directed, however, some people may experience minor side effects such as digestive upset, bloating, or nausea when first starting to take the supplement.
These side effects are usually mild and temporary and may resolve on their own as the body adjusts to the supplement.
Athletic Greens is generally very safe and well-tolerated by most people, however, as with any dietary supplement, there is a potential for side effects or interactions with other medications.
It is always a good idea to talk to a healthcare provider before starting any new supplement or medication if you're not sure.
---
How does Athletic Greens taste?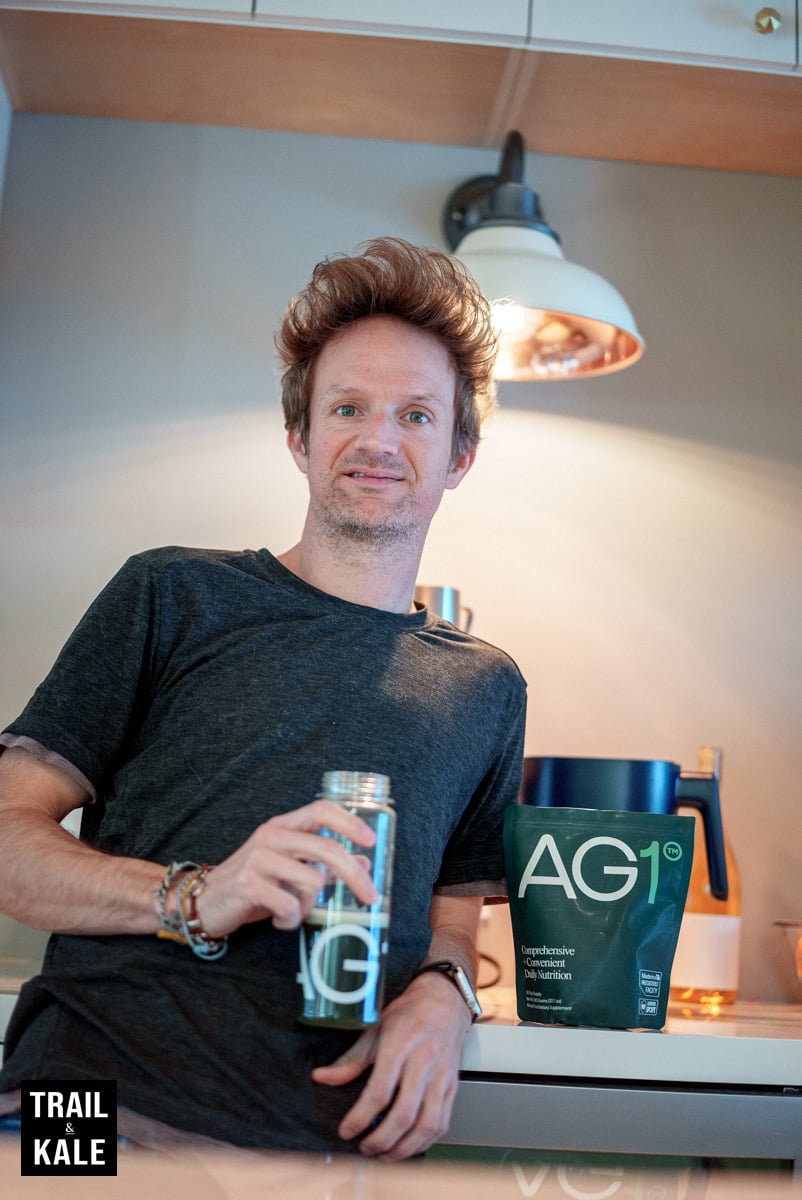 AG1 powder genuinely tastes great, not just 'drinkable', but delicious – seriously!
I look forward to tasting my morning shake, it's like a nutritious fruit juice – probably because some of the ingredients are various fruit powders and concentrates (including apple, pineapple, and cherry).
It doesn't taste sickly sweet or artificial, due to having only natural sweetening ingredients, including Stevia, the plant-based sugar substitute made from the leaves of the Stevia plant.
I love that this greens powder is vegan and therefore does not contain any dairy, like so many other powdered supplements I have tried.
This means you're not left with that 'gacky' "I've just consumed dairy" aftertaste in your throat.
Starting The Day Right
Athletic Greens is intended to be consumed first thing in the morning, before eating anything else.
I find it to be light on my stomach – meaning that if I am on the go and don't have a chance to eat immediately afterward, I feel good and not faint or sick, as I can do when taking tablet vitamin supplements without food.
Along with making my bed, a sunrise run, and a nice warm shower, this shake sets me (and my gut health) up for the day!
---
Benefits of Athletic Greens
To some extent, I see the benefits of supplements as being things I don't experience – such as not getting colds, not feeling unnecessarily tired, and not getting spots.
Therefore, it's difficult to assess whether I would have had these things if I had not taken the supplement!
One thing I definitely find when I have used Athletic Greens for a couple of days in a row is that my digestion is much better than normal.
I've been trying to work out what causes me to have digestive problems, and so I now know that one (or more) of the Athletic Greens ingredients is something I am lacking in my day-to-day diet.
I just need to work out what it is, so I can make sure I get it from my food in the future!
I have also historically had phases of low-energy. This is usually the precursor to a cold. Since taking the supplement I have not had these low-energy periods or any colds.
Who's to say whether I would have otherwise had these, but I believe the supplement helps, especially when I'm busy or traveling and not eating particularly well.
---
Where to buy Athletic Greens, price, PLUS an Athletic Greens Trial Offer
You can buy Athletic Greens from their website, athleticgreens.com as a one-off pouch or on a monthly subscription (that can be canceled at any time).
Their Trial Offer you may have heard about refers to the $20 OFF subscription that can be canceled at any time.
So what you would do is subscribe, save $20, and then cancel the subscription within the first month, to stop it from renewing. The bags provide 30 servings and cost $77/month on this subscription, or $97 as a one-off payment.
---
Is Athletic Greens Worth It?
At first glance, $77/month may seem expensive, however, if you compare it to the competition, or the price of a green superfood smoothie/shake from a store or a daily coffee, then Athletic Greens is definitely worth it at around $2.57/day.
A green smoothie from my local smoothie place is more than $8, and a coffee is $4, so this is a good way of thinking about the way a healthy daily routine is worth to you.
This superfood powder is undoubtedly much better for me than a coffee from a coffee shop every day too, although I'm not giving up my daily coffee just yet, I'll have to make do with both, haha.
While the cost of Athletic Greens may be higher compared to other some of the other green powder supplements on the market, the convenience of having this tasty and comprehensive daily supplement in one serving may make it worth the investment for some people.
The Athletic Greens ingredients include a variety of plant-based ingredients, including probiotics, prebiotics, digestive enzymes, and other nutrients that support gut health and overall wellness.
The combination of these ingredients may provide a range of health benefits, including improved digestion, increased energy, and immune system support but you really have to be consistent in taking it for at least a month to notice these benefits.
It is important to note that Athletic Greens is not a substitute for a healthy diet and lifestyle and while taking Athletic Greens can be a convenient way to support overall health, it is still important to eat a balanced diet, exercise regularly, and get enough sleep.
As with any dietary supplement, it is always important to consult with a medical professional before taking Athletic Greens or any other supplement, especially if you have any underlying medical conditions or are taking prescription medications.
Review Summary
Athletic Greens Review
---
Athletic Greens Alternative
If you've tried Athletic Greens powder before and are looking for an Athletic Greens alternative to try out next, head over to my best greens powder supplements buyer's guide.
That roundup shares my favorite greens powders to date, and it's constantly being updated as and when I get sent the latest greens powders to try out for the Trail & Kale blog.
You can also check out Cymbiotika Super Greens for a similiar-priced, liquid form greens supplement option, that's worth considering!
---
I hope you enjoyed this Athletic Greens review, if you have a question for me, please leave it in the comments below.