Innovation for every toe: Tabio Trailblazer Trail Running Socks
Introduction
I love seeing brands successfully innovate on such seemingly simple products like socks, that haven't really progressed much over the years. Tabio have created something really special with these Trailblazer trail running socks. Read on as I share 5 reasons why I love them so much. One reason for each toe!
They are toe socks!
ADVERTISEMENT
If you haven't tried toe socks before then you must! They feel funny at first but once you've been running in them for 15 minutes or so, you'll be used to the alien feeling you first felt.
One of the many great things about toe socks is that having material encapsulating each toe allows the material to wick sweat away from your skin much more efficiently. Without the toe material, your toes warm each other up and end up sweating like 5 little piggies in a Turkish sauna. This sweating combined with toes that can rub against each other skin to skin, can lead to blisters forming. There's a downside to toe socks though; they take a little longer to put on. But if you're going to be using your precious feet for running a lot, shouldn't you give them that extra bit of love to keep them healthy? Yes, the answer is YES.
I realize that I'm starting to overuse the word 'toe', so I'm going to move on to my next reason now. Toe toe toey toe toe!
Quality Materials
These socks have two layers of material. You guessed it, an inner and an outer.
The inner layer consists of Merino wool, renowned for its sweat wicking ability as well as the benefit of keeping you cool in warm weather and warm in cool weather. Yes it sounds a bit like magic, but in my experience with wearing Merino wool, its true!
And the outer layer is made from long lasting polyester and nylon fabrics, for their durability.
Top Design
These socks look nice too, that's down to good design and quality materials used to make them. You can tell these socks are well made when you pick them up and even more so when you put them on and notice how soft they feel.
There's some clever stuff going on too with Tabio's patented arch support, ankle support, toe protection and heel stabilization. All these areas can be seen clearly as Tabio are using the orange coloured material for them.
Tabio have also added a silicon material to the sole of these socks which gives amazing grip. No more slipping over on the kitchen floor, and more importantly no more slipping inside your running shoes when its cold out and your feet take up less space than usual. I can't believe I haven't seen anyone else add this feature to running socks before! No slip means no rubbing, which means less chance of blisters. You almost feel like leaving your shoes at home as you've already got your grip sorted.
RELATED: Best No-Show Running Socks
The little touches
It's often the little things that count, and Tabio have added a lot of 'little things' to make these socks special. My favourite though has to be how the silicon grip spells "TRAIL" on the toes.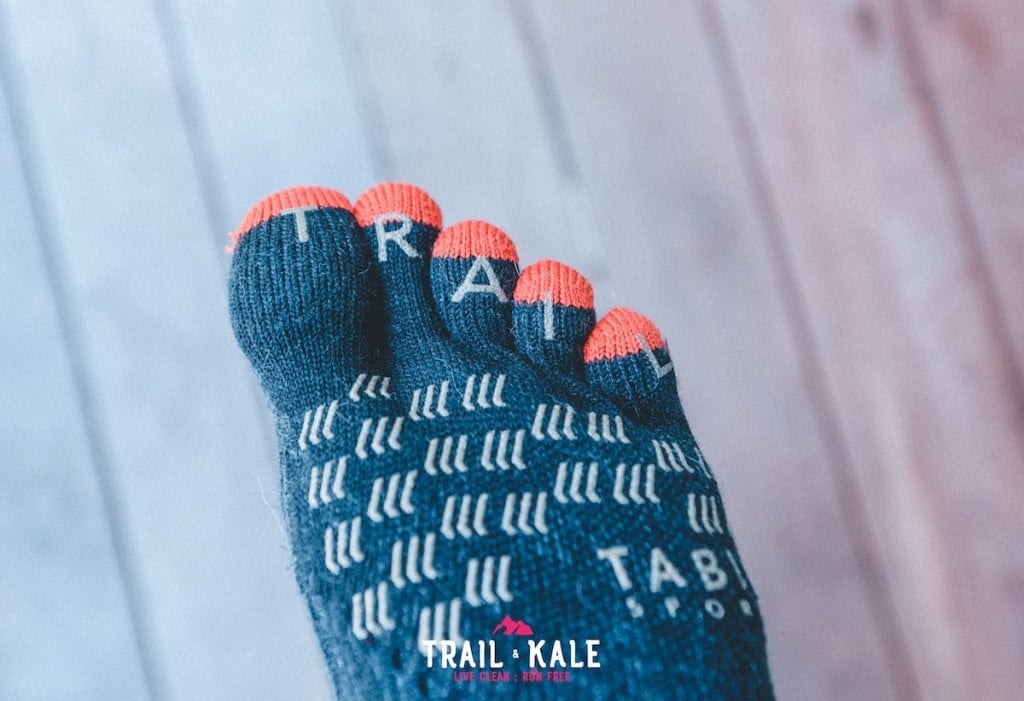 Colours for everyone
The trailblazer socks come in 5 different colours, so make sure you check them all out if I've piqued your interest in buying them. Link to store below:
Related articles that you may also find interesting
If you have any questions about these socks or anything relating to them then please leave a comment below and I will reply as soon as possible. Happy Trails!!