Choosing a cooler for camping, backyard parties, or fishing trips is becoming more challenging with a multitude of cooler types ranging from hard-sided to soft-sided, backpacks, powered coolers, and even ones with wheels!
ADVERTISEMENT
Although there are endless options when it comes to choosing a cooler, there really are only a handful of premium brands that offer premium quality products that stand out from the crowd.
ORCA Coolers is one of those premium brands and are American-made coolers.
In this ORCA Walker Tote review, I'm going to be going over the features of this premium soft cooler from ORCA coolers.
The Walker Tote also happens to be one of my favorite coolers from ORCA, and in general so I'm excited to get started on this review and share my thoughts with you.
I hope this ORCA Cooler review answers all the pre-purchase questions you may have, but if there's something I missed, please let me know in the comments below.
You likely landed on this review because you're in the market for a soft cooler and liked the look of this one in particular but you want to know if it's worth the premium price tag.
The color of the Walker Tote in this review is Seafoam, and it looks every bit as nice as it does in my photos – I really love how vibrant it is. It just shouts fun, happy times! There are lots of other great colors to choose from too.
Don't worry, by the end of this Walker Tote cooler review, you'll either decide to bite the bullet and go for a premium ORCA soft cooler, or choose a different cooler from our Best Coolers and Ice Chests roundup.
Yes, there are a lot of other soft cooler brands out there including YETI, RTIC, IceMule Coolers, and of course the American-made ORCA Coolers.
So, let's see how this soft cooler compares with some of those brands in terms of quality and features.
The ORCA soft cooler features that are worth mentioning
Fluke-shaped plastic clasps
Starting with the front of this cooler then, I really love how ORCA has incorporated their logo of a Whale's Fluke (tail) into the rubber handles used to open and close the hard cooler.
These fluke design actually gives a nice ergonomic grip on there as well. Kudos to the designer at ORCA Coolers who came up with the great idea of putting this aesthetic into the clasps.
Magnetic handles
Having magnets makes putting the handles together an absolute snap of a task, it's effortless and quite an enjoyable user experience.
I've used other cooler and bag straps in the past that are just a nightmare to do up with velcro becoming more of a hindrance than it's worth sometimes.
This magnetic click system is so much better, and I'm sure it's touches like these that put the price up on this premium soft cooler.
The image above shows how the system clicks together – there's also a demonstration in my video below.
The heavy-duty watertight zips and general durability
The heavy-duty zip on the main compartment, like with the front pocket is waterproof and very durable thanks to the size of the zip teeth and welded seams.
Something that comes with this ORCA Walker Tote soft cooler is a lubricant which ORCA recommends using on the zip from time to time to keep it watertight and make it run smoothly.
If you watch my video at the end of this review, you'll get a real sense of the quality of the zip just by the sound it produces when used.
All the welded seams are super durable and made using a technique used for whitewater rafting rafts which are super durable, and tear-resistant.
It is also water-resistant on the exterior and waterproof on the interior so any melted ice shouldn't escape from the bag.
So you can get this soft cooler wet and it will still keep all your items in there protected from the water.
The front pocket is great for additional storage too, and for those smaller things that you may not want to be cooled, and need quick access to.
Insulated walls keep contents cool for 24 hours
The thick insulate walls are about three to four inches wide and will keep your food and drinks cool for up to ten days if you follow ORCA's usage guidelines.
Any air space is bad when you're trying to create a nice, insulated, cool environment – So definitely fill those empty spaces with ice.
Don't worry about damaging the bag by putting too much weight into it – this soft cooler can handle a max load of 50lbs.
How much does the ORCA Tote cooler weigh and what is its capacity?
Let's just quickly go over how heavy the cooler is, and how that weight actually feels when using the ergonomic handles and grips.
Above you can see Helen holding the cooler (I also demonstrate holding it in various ways in my video below) which should give you an idea of how heavy it feels to pick up.
It's very lightweight, weighing in at only 3.6lbs with nothing in it. This is considerably lighter than hard coolers like the one pictured below.
The ORCA Walker Tote will take on average around 18 cans of beverage. I say on average because that depends on how much ice you're going to put in this cooler.
The more ice, the better cooling insulation you're going to get going on, but you're going to also have less space for cans and bottles as a result.
The ORCA soft cooler detachable shoulder strap & padded bottom
This strap is well padded for comfort and actually looks quite stylish compared to some alternative soft cooler brands' carry solutions.
To attach the shoulder strap to the soft cooler, simply clip either end onto the clips shown in the photo below.
Then there's the padded bottom which is crazy durable but also attractive not that you'd ever really see it lol.
It has the ORCA logo embossed and it's made of a plastic/rubber material that will protect the bottom of the back no matter what rough surface you put it on.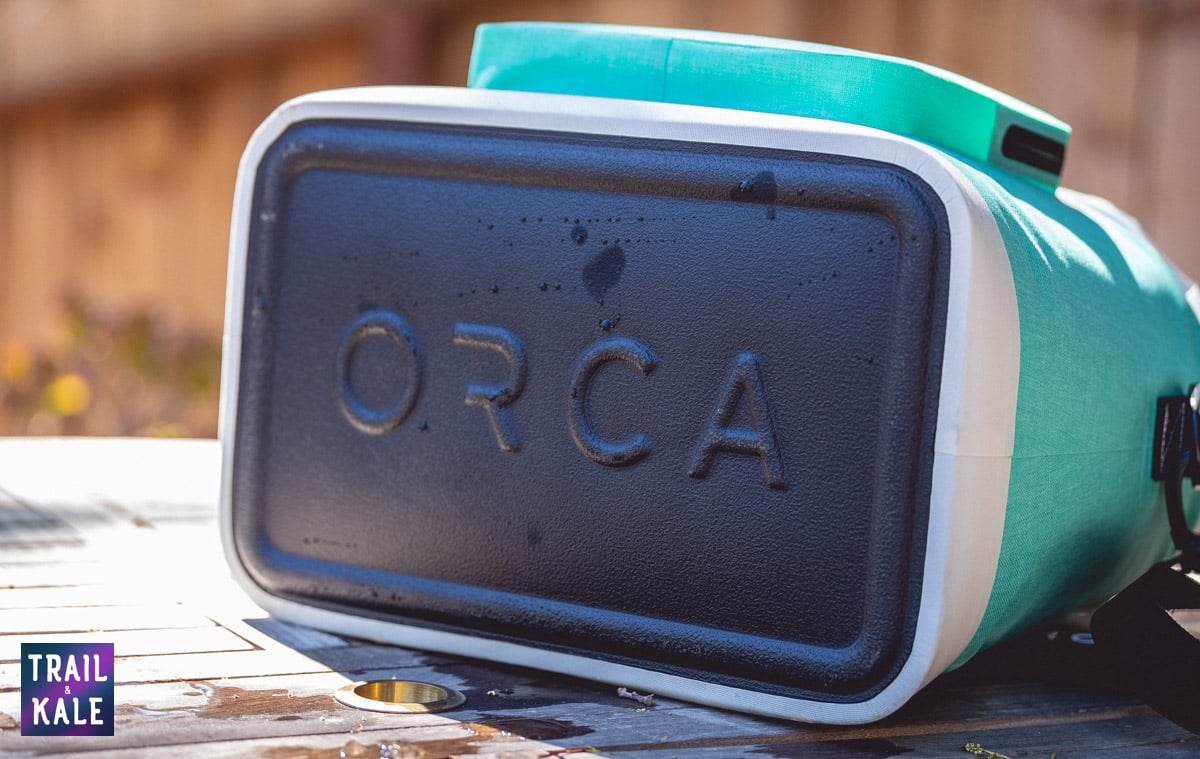 This padded, and grippy bottom really speaks to the overall quality of ORCA coolers and the Walker Tote in particular.
There are so many vibrant colors to choose from
As briefly mentioned earlier, the ORCA Walker Tote pictured in this review is the Seafoam color.
I love how vibrant it is and there are other nice colors to choose from as well – 4 different colors to be precise (at the time of writing this review).
Go check out all the currently available colors and let me know your favorite color in the comments below!
I hope this ORCA Walker Tote review gave you an idea of the quality of this soft cooler and some of the key features that it has as well.
Leave a comment below if it helped you out, we are real people and love to hear from our readers! 🙂
Where to buy the ORCA Walker Tote soft cooler
Although the American-made Walker Tote cooler is available at various merchants, I recommend buying it directly from the ORCA Coolers website for the best color options and availability.
They will provide the best service (because they obviously want to keep their customers happy), and they offer the most stock of all the available colors. Shipping from them is fast in my experience too.
The Walker Tote soft cooler is also available at some other stores, I have listed them below, along with their current prices.
Last Amazon price update was: 22nd March 2023 11:00 pm
ORCA Walker Tote review summary
ORCA Walker Tote Review
PROS
Very stylish soft cooler - most stylish I have tested to date.
Does keep items cool for a day.
Very durable exterior with welded seems, and water-resistant materials.
Front pocket is great for fast access to accessories you ay need to get to quickly.
Generally very high quality product that's functional and stylish. It's also the perfect size for a day trip with the family!
CONS
I'd like to see more than 4 color options like ORCA does with hard coolers.
Expensive at $225 but i really believe you get what you pay for with this premium cooler.
ORCA Walker Tote video review
ORCA Soft Cooler review image gallery