It wasn't all that long ago that hard coolers were an untapped market, nowadays, however, there's almost too much choice when it comes to buying a cooler for camping, backyard parties, or fishing trips.
ADVERTISEMENT
Although there are endless options when it comes to choosing a hard cooler, there really are only a handful of premium cooler brands that offer super high-quality products that stand out from the crowd.
ORCA Coolers is one of those premium brands and are American made coolers. They also make excellent soft coolers, like the ORCA Walker Tote, for example.
In this ORCA Cooler review, I'm going to be going over this flagship hard cooler from ORCA coolers. The 40 Quart sized hard cooler is ORCA's most popular size for a reason – it's the most versatile.
This is because it is the most portable when you weigh up the size and weight of it against how much it can actually store.
I hope this ORCA Cooler review answers all the pre-purchase questions you may have, but if there's something I missed, please let me know in the comments below.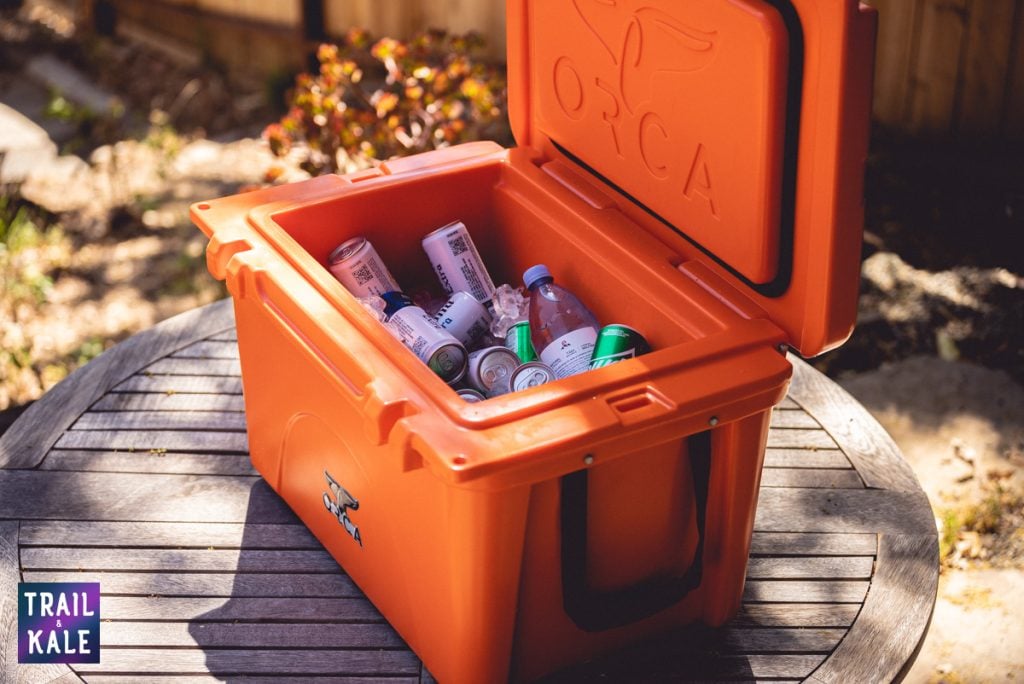 You likely landed on this review because you're trying to figure out which hard cooler to buy, we know there's a lot of choices out there.
Don't worry, by the end of this review, you'll either decide to bite the bullet and go for a premium ORCA hard cooler, or alternatively choose a better-suited (for you) cooler from our Best Coolers and Ice Chests roundup.
Yes, there are a lot of hard cooler brands out there including YETI, RTIC, Dometic, IceMule Coolers, and of course the American-made ORCA Coolers – so let's see how this hard cooler compares with some of those brands in terms of quality and features.
ORCA insulated cooler features worth mentioning (mostly good, some bad)
Fluke shaped rubber clasps
Starting with the front of this cooler then, I really love how ORCA has incorporated their logo of a Whale's Fluke (tail) into the rubber handles used to open and close the hard cooler.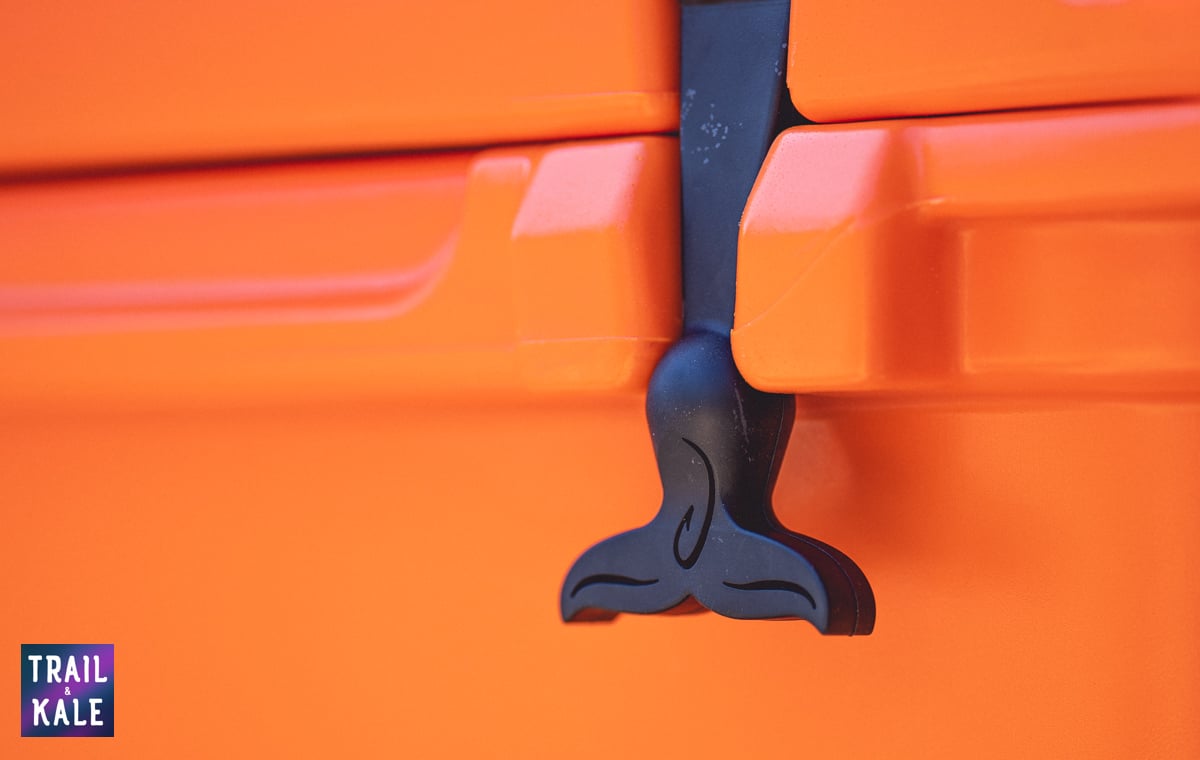 I have not seen other cooler brands doing anything like this before, so it's nice to see ORCA leading the way there.
These fluke design actually gives a nice ergonomic grip on there as well. Kudos to the designer at ORCA Coolers who came up with the great idea of putting this aesthetic into the clasps.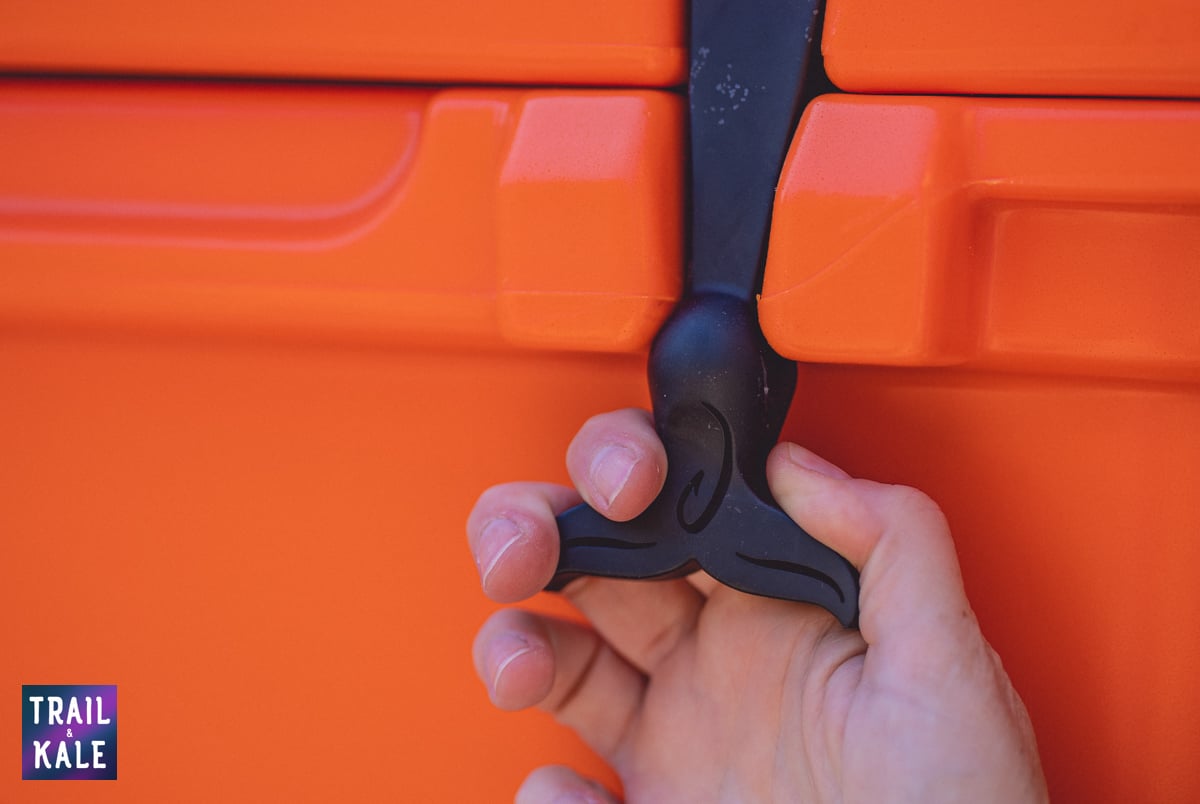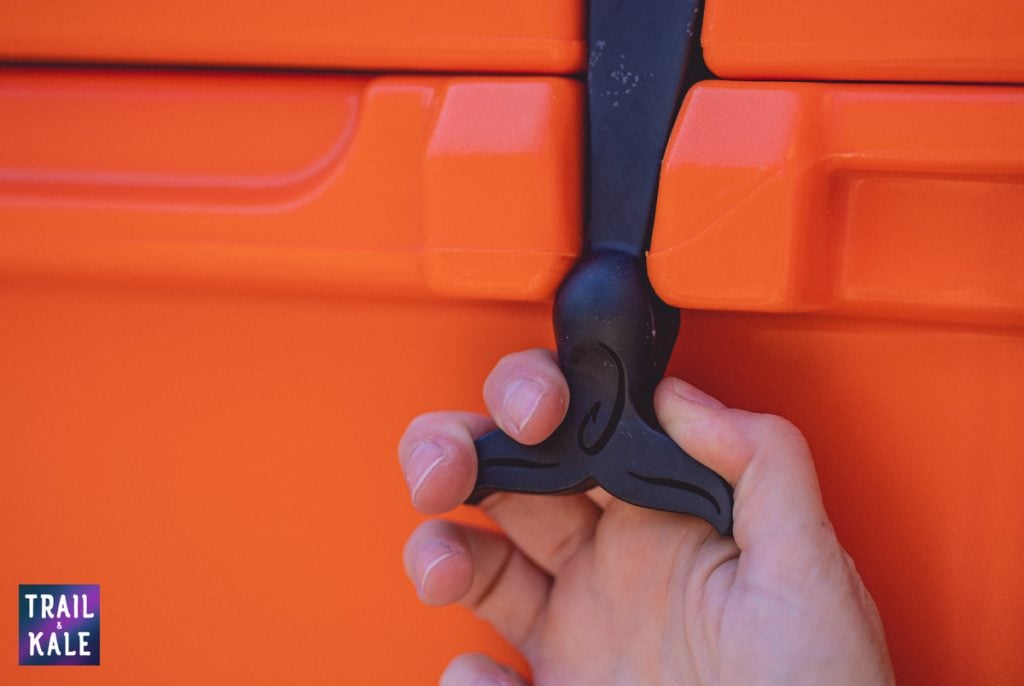 In order to open the cooler, pull down on the straps and move the fluke away from the cooler – this will disengage the tension-based lock.
It's very hard rubber with high tension stretch, so you do have to pull down quite hard on them to release or lock them in place.
Are you unable to open your ORCA Cooler lid?
If you've come to this review trying to figure out how to actually open your ORCA cooler, don't worry, I have the solution.
Your cooler like mine may arrive vacuum sealed shut due to differences in air pressure when the cooler was closed, and when you get around to opening it.
All you have to do is release the air from inside the cooler by unscrewing the water-drainage valve on the side of the cooler – pictured below.
You'll hear a hissing sound as the air escapes – once complete, the vacuum seal will no longer be there and you can just open the lid as you would expect.
So don't try and force anything or pry it open. Just use science, haha.
Padded logo on the front of the cooler
On the front of the cooler, there's a large ORCA logo which is kind of a padded sticker. Personally, I'm not a fan of how this looks, and feel that ORCA could benefit from maybe embossing their logo on the front, as they've done inside instead.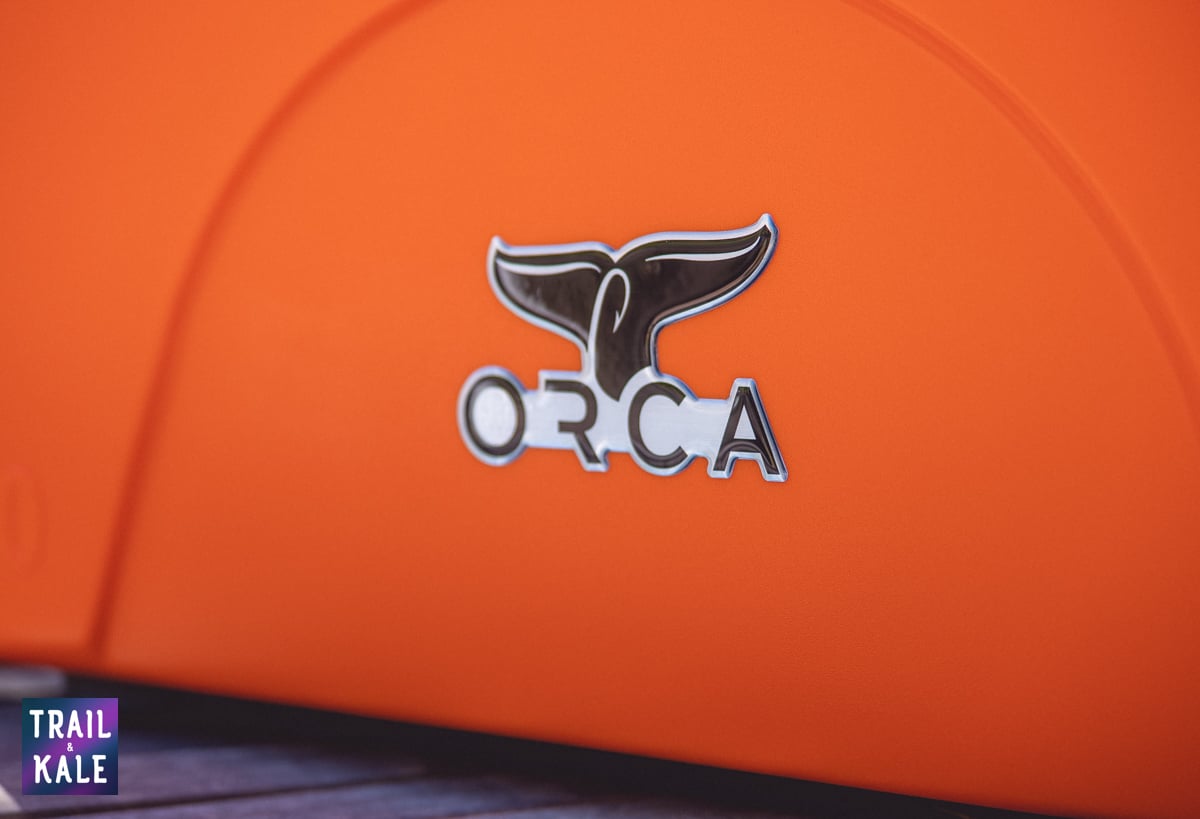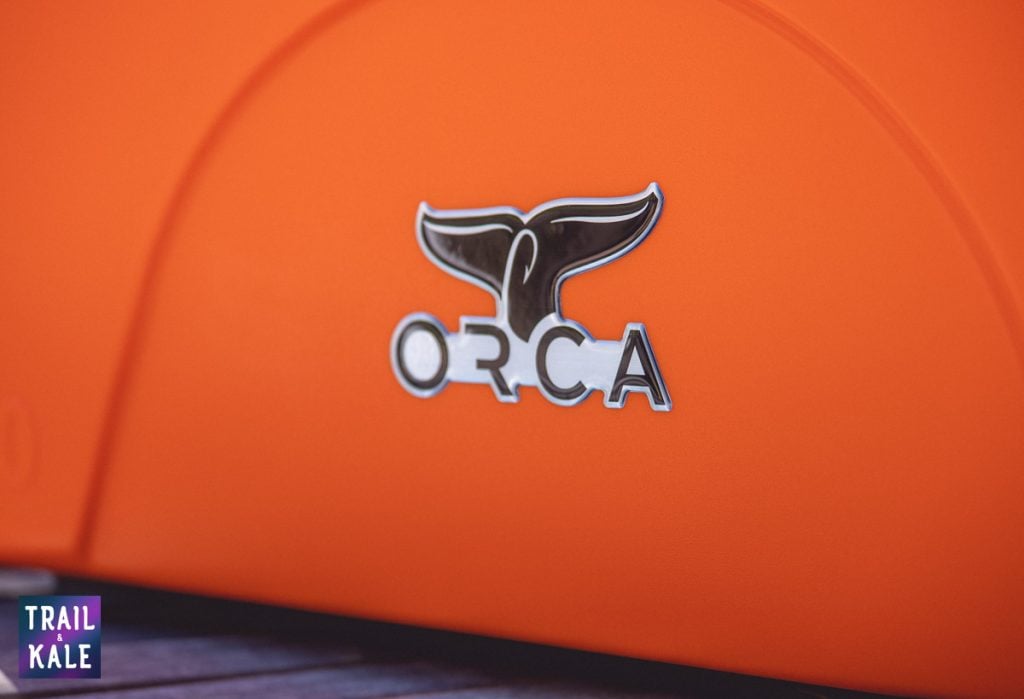 I'll show you a picture of the embossed logo inside shortly but I just think having this would add an extra layer of premium feel to the cooler because the cooler really does have a premium feel to it.
I've tested out lots of different coolers in my time and this 40 Quart hard cooler is up there with the best.
So I would really love to see just a little embossed logo on there just to make it feel even more premium – yes I know, I'm fussy.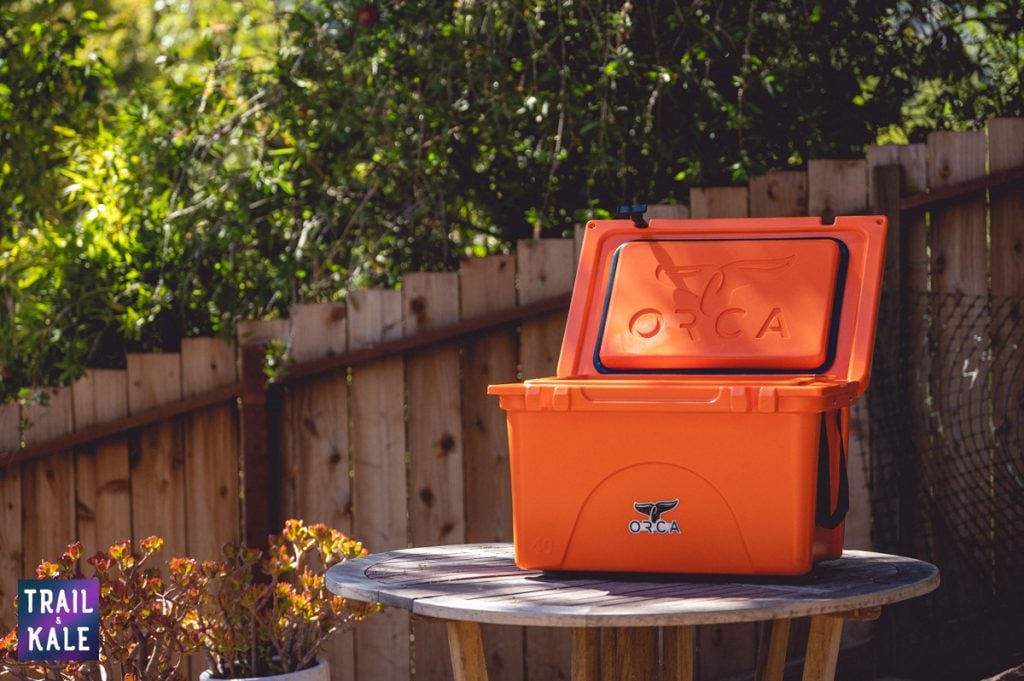 Opening the lid up reveals that delightfully bold embossed ORCA Coolers logo that I mentioned earlier (pictured above).
The rubber vacuum seal works insanely well
The rubberized vacuum seal I mentioned earlier goes all the way around the opening of the cooler, and the fact that I couldn't for the life of me open the cooler until I released the air via the water-drainage valve is a testament to how good the seal actually works.
Thick insulated walls keep food and drink cool for 10 days (if you use it right)
The thick insulate walls are about three to four inches wide and will keep your food and drinks cool for up to ten days if you follow ORCA's usage guidelines.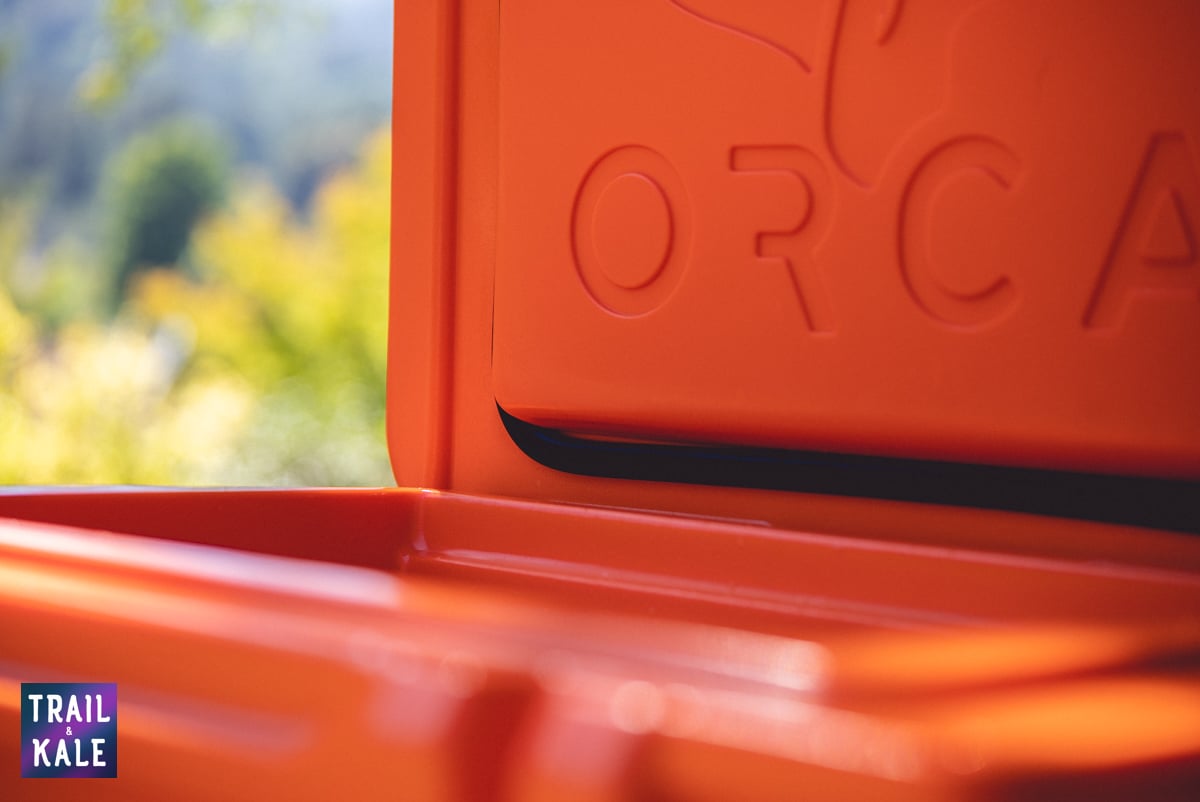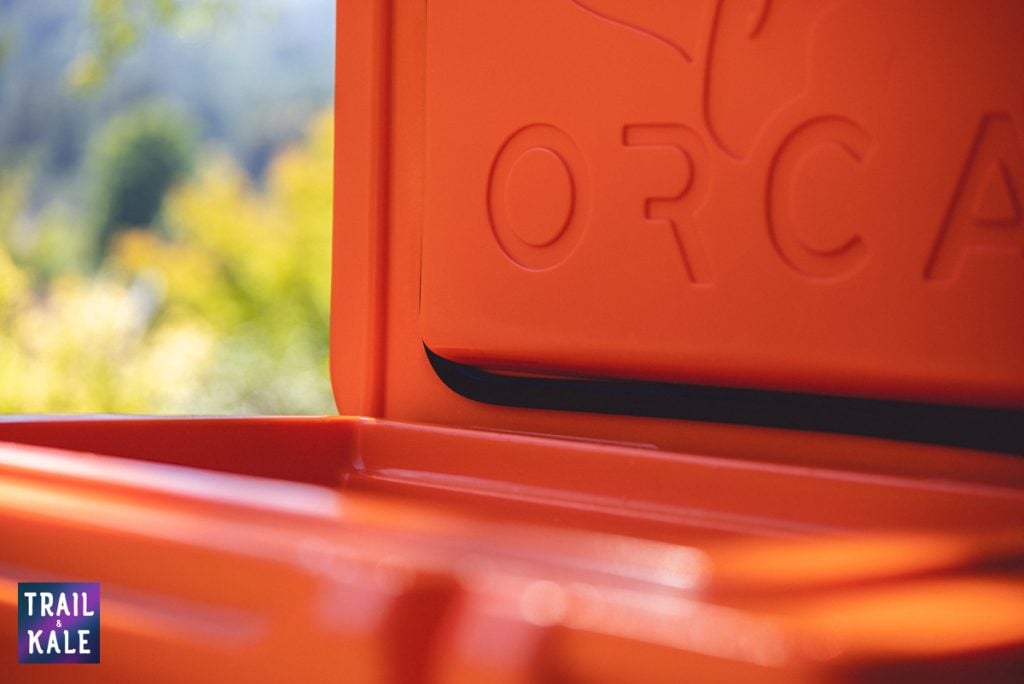 To get as much 'chilled time' as possible ORCA recommends that you cool the 40 Quart cooler down before you go on an adventure for 12 to 24 hours beforehand.
So what you should do is fill it all the way up with ice to get the core temperature of the cooler down, ready for your adventure.
Doing this will really keep your items cooler for longer, so I definitely recommend doing that.
Then add your pre-refrigerated products, to your cooled cooler, and fill up all the gaps with ice once you've got everything in here because that's going to keep it cool for much longer too.
Any air space is no bueno when you're trying to create a nice, insulated, cool environment – So definitely fill those empty spaces with ice.
You may be thinking (like I was on my first hard cooler experience), "this is quite a large cooler so why is the inside space so small?". Well, all good coolers are the same, and it's just the trade-off that you get with thick, well-insulated walls.
How much does the ORCA 40 Quart weigh?
Let's just quickly go over how heavy the cooler is, and how that weight actually feels when using the ergonomic handles and grips.
In my video below you can see me pick the cooler up in various ways, which should give you and idea of how heavy it feels to pickup.
Spoiler alert it's much more carryable than some other coolers I have tested, even though the overall external size is a bit larger than some equivalent capacity coolers.
The actual weight of the cooler is 30 lbs, which, in Kepler units is 2/3rds of 1 Kepler. Oh, and in case you're wondering what a Kepler unit is, which you probably are… Kepler is our medium-sized Border Collie adventure dog who weighs 45 lbs – haha.
If you love dogs as much as we do, follow our Instagram account to see all the antics that Kepler gets up to on the trails – he knows a trick or two as well 😉
Some coolers I've owned of this equivalent capacity have felt heavier than this one. I will say it's got some great handles with really nice long straps on either side.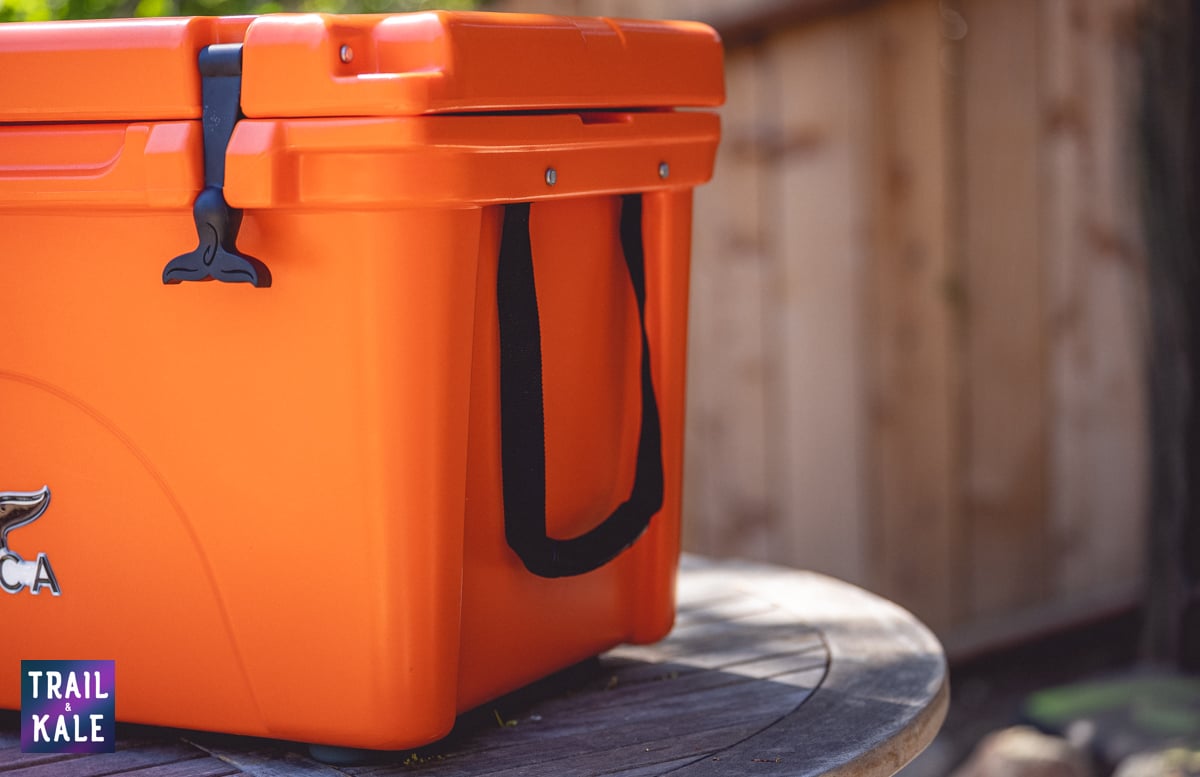 Underneath the lip just above the handle are deep grooves so you can easily carry the cooler if you prefer not to use the handles, and in certain situations, this is actually an easier way to carry the cooler.
The handles on the straps are made from a rubbery material (rather than hard scratchy plastic) – this gives them a good amount of grip and comfort when carrying the cooler fully loaded with ice, food and drink.
When the cooler is fully stocked, you'll likely need a partner to help you carry it, which means one strap each.
These long ergonomic straps will allow you both to carry the cooler away from your body so that it doesn't bump into your legs.
You can also use the straps to tie it down in the back of your truck, boat, or car.
The cargo net attachment is more useful than I thought
On the back of the 40 Quart cooler is a really nice little cargo net pocket that has Velcro to keep it closed.
This very useful cargo net pocket can be used for storing things like utensils or anything that you need quick access to, or don't want getting wet from the ice inside the cooler itself.
I haven't seen this on any other coolers, so it's a nice unique selling point for ORCA Coolers, and I'm pleased that this feature is included with the cooler.
Oh, and in case you're wondering, this cargo net is removable via the screws you see in the picture above.
There's no internal basket included BUT you can buy one as an accessory
Unfortunately, the ORCA 40 Quart cooler doesn't come with an internal basket. Baskets are nice for quick access to your food or drink as they sit on top of the ice inside the cooler.
You can buy a 40 Quart basket as an additional extra for $20 at orcacoolers.com, however.
The reason I bring this up is because the YETI Tundra 45 comes in at the same premium price point of $325 but does come with a basket.
The 40 Quart has large grippy rubber feet
Looking at the bottom of the cooler you can see there are 4 large rubberized feet that will keep your cooler stable while you're traveling.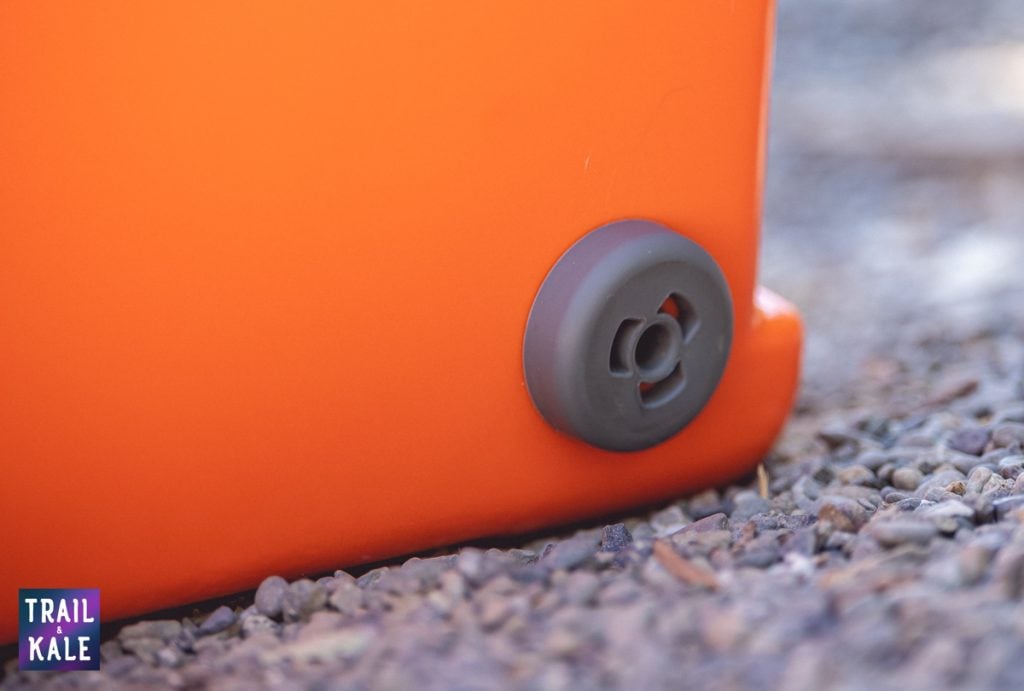 If this cooler is being stowed in the back of your truck, car, or boat, then it shouldn't go moving around during turbulent waters or bumpy roads.
This is an important feature that is often overlooked by the cheaper cooler brands.
If a large, heavy cooler like this was to go flying while traveling it could do some serious damage, so you need a solution for locking it down with straps, and grippy feet like these.
This cooler also has two holes, one in each front-top corner that you can use to lock the lid down to ensure the cooler doesn't open if the rubber fluke clasps were to somehow come undone.
You could even use these holes to tie the cooler itself down.
A water drainage valve makes the cooler very easy to clean out before or after use.
And as I mentioned earlier, there's a nice little valve on the side, which is designed to allow melted ice water to drain out of the cooler after use, and also while rinsing it out for a clean. High-resolution images are available in the gallery below.
So when you wash the cooler out, you can just drain the water out the bottom of the cooler by unscrewing the valve.
There are so many vibrant colors to choose from
If I didn't mention it earlier, the 40 Quart Cooler pictured in this review is the Blaze orange color.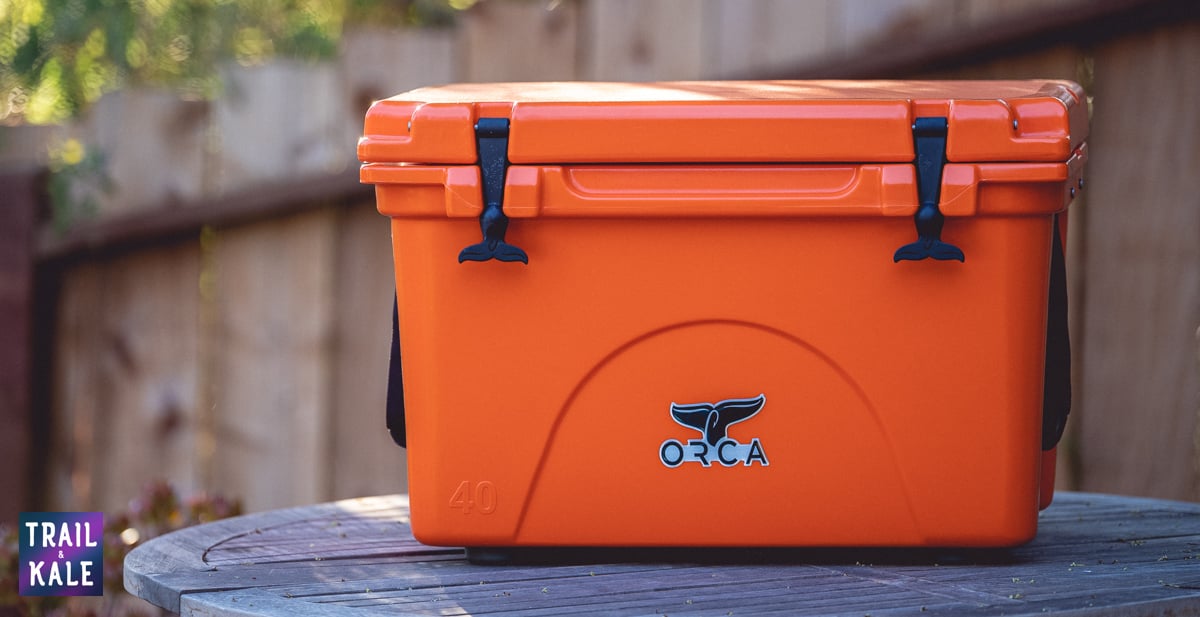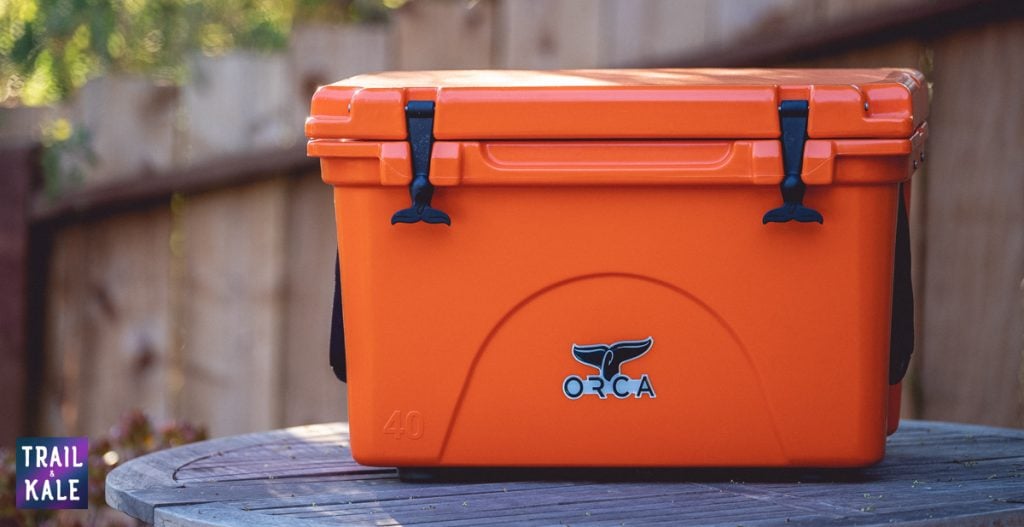 I love how vibrant it is and there are tons of other colors to choose from as well – 11 different colors to be precise (at the time of writing this review).
Go check out all the currently available colors and let me know your favorite color in the comments below!
I hope this ORCA coolers review gave you an idea of the quality of this hard cooler and some of the key features that it has as well.
Leave a comment below if it helped you out, we are real people and love to hear from our readers! 🙂
ORCA compared to YETI
"How YETI hard coolers compare to ORCA coolers", is a question I've been asking myself a lot during the testing of both cooler brands, and I've discovered it's quite an easy one to answer.
They are both very premium brands and both American made coolers, manufactured right here within the USA. YES, I love this and I want to see more brands making the most of the high-quality manufacturing that is available here in the USA, please! 🙂
When comparing the pricing structure of the 40 Quart to its YETI counterpart, the Tundra 45, they both cost $325.
So, they are very comparable in terms of price and quality but how do they compare in terms of design and features?
Well, they both have their own unique designs, which shows 'thought leadership' coming from both brands which I'm a fan of.
You've probably noticed some brands just seem to look like cheaper knock-off versions of YETI -and that's essentially what they are. No one appreciates a copycat.
So as they are both very comparable brands when it comes to choosing between ORCA VS YETI, I'd recommend going with the one you prefer the look of, and the one that has the features that are most important to you!
Where to buy ORCA Coolers 40 Quart hard cooler
Although the American-made 40 Quart cooler is available at various merchants, I recommend buying it directly from the ORCA Coolers website.
They will provide the best service (because they obviously want to keep their customers happy), and they offer the most stock of all the available colors. Shipping from them is fast too in my experience.
The 40 Quart hard cooler is also available at some other stores, I have listed them below, along with their current prices.
Last Amazon price update was: 5th February 2023 2:00 pm
ORCA Coolers review summary
Orca Cooler Review - 40 Quart hard cooler
PROS
The capacity is so great for large groups, or storage for multiple days! Just look at the pics of all the drink we got in here.
Lid gasket creates a truly perfect seal!
Thick walls offer insulation for around 10 days.
11 color options to choose from.
Premium feel, and extremely durable build quality
Net pocket on the rear offers additional storage for items you want quick access to.
CONS
Would be nice to have a basket included.
The ORCA logo sticker on the front could be improved to look a bit more premium - yes, i'm picky but it's my job to be! :oP
Expensive - but I do believe you get what you pay for here, which is a hard cooler that will be in the family for life.
ORCA 40 Quart hard cooler video review
ORCA Cooler review image gallery