Camper van rentals are getting popular – very popular. It seems that these days everyone wants to buy or rent a Sprinter camper van, or is at least curious about buying a camper van or converting a Mercedes, Dodge, or Ford van into a camper.
Believe me – we get it, after all, we spent half of 2020 converting our own Sprinter camper van into a luxury vehicle for cross-country road trips as well as traveling around closer to home in California, Oregon, and the Pacific Northwest of the US.
This post is for you if you're planning a US road trip or vacation such as a California road trip, and like the idea of sleeping in a luxury (or spartan) camper van rather than getting hotel rooms or vacation rentals.
If that sounds like you, then you probably don't like the idea of renting a larger RV or motorhome quite as much as a camper van due to the difficulty of driving such a large vehicle and also finding suitable parking spots overnight.
Also, if you're thinking about buying a campervan to vacation in or even live van life full time, then a camper van rental is a great idea to give you a taste for it.
Renting a campervan will help you work out what type of camper van is best for you, including the layout, style, and key camper van features, such as whether or not you need a bathroom and shower in your van.
In this list, we've included US road trip camper van rental companies offering a whole range of different road trip van rentals and different types of vans.
Scroll past our roundup to read our FAQ about renting a camper van, or keep reading to see a list of the best campervan rental companies.
---
Camper Van Rental Companies
Vancraft – Sprinter van camper rentals
Mercedes Sprinter RV Rentals – Luxury Sprinters rentals
Go Explore It – 4×4 campers in Colorado
Escape Camper Vans – Best for one-way road trips
Lost Campers – Rentals in California & Utah
Hawaii Surf Campers – Hawaii campervan rentals
Alaskavans – Alaska RV rentals
Peace Van Rentals – Seattle & Pacific North West-based RV rentals
Vintage Surfari Wagons VW Rentals – Vintage VW campers
HOW TO RENT A CAMPER VAN FOR YOUR ROAD TRIP: Read the FAQ and guide ↓
---
The best camper van rental companies
We've included camper van rental companies on this list that either offers a specific type of camper van rental (for example, companies specifically renting Sprinter camper vans or Vintage campers), as well as camper van rental companies operating in one or more specific locations.
1. Outdoorsy and RVshare Conversion Van Rentals
Rental Location(s): All over the US (both Outdoorsy and RVshare)
Main Van Types: Anything and everything (they also rent other RVs, buses, and travel trailers such as Airstreams)
Special Features: Rent unique camper vans from owners plus for Outdoorsy use the button below and our code TRAILANDKALE for $50 off a van rental
As mentioned above, the easiest way to find a camper rental near you if you're in the US is to search for one on Outdoorsy or RVshare.
A great reason to use Outdoorsy or RVshare is if you're looking for a conversion van rental.
Through these marketplaces you can rent a unique conversion van – many of the camper van rental options are one-of-a-kind and may have been custom-built by a van conversion company or maybe a DIY van build completed by the owner.
Equally, there are loads of examples of professionally-built campers, including Sportsmobile, Airstream Interstate, and more.
---
2. Vancraft – Sprinter Camper Van Rentals in California and Colorado
Rental Location(s): San Diego, Denver
Main Camper Van Types: Long and short wheelbase Mercedes Sprinter camper vans
Good to know: Dogs allowed, all van rentals have heaters, camp gear, kitchen kit, and linens included, no one-way camper van rentals at present. You can add on a roof-top tent, bike racks, and porta-potty as extras.
If only a Sprinter camper van rental will do, then Vancraft could be the right company company for you – Mercedes Sprinter camper van rentals are their specialty.
Vancraft has locations in San Diego, California, and Denver, Colorado, so could be a great choice if you're planning to try van life in either state.
Vancraft's rental costs range from around $60 in low season for a small camper van to $200+ for a larger Sprinter van in high season.
---
3. Mercedes Sprinter RV Rental – Across the Western US
Rental Location(s): 28 locations across the western US
Main Van Types: 144 (short) and 170 (long) Mercedes Sprinters
Good to know: Book early, at least 3-7 months in advance, all vans have solar-powered electricity, many vans have AC and shore power options, pets are allowed, one-way rentals are allowed.
If you want to rent a Mercedes Sprinter van and want that luxury of a tiny apartment on wheels (or a mini motorhome feel) then Mercedes Sprinter RV Rental probably has a van for you as these are what they specialize in.
This road trip van rental company has 28 locations in California, Oregon, Washington, Utah, Idaho, Arizona, Colorado, Nevada, New Mexico, Montana, and Wyoming.
So, they're well set up to rent you a Sprinter van in most of the Western US for your road trip, including Coachmen Galeria, RS Adventurous, and 4×4 Sprinter vans that have four-wheel drive capability.
Examples of great national parks and open spaces their vans are kitted-out to travel to include Grand Canyon, Zion, Bryce, Joshua Tree, Lake Tahoe, Reno, Yosemite, the Great Basin, Yellowstone, Glacier National Park, Couer D'Alene, Idaho, Sun Valley, the Four Corners, the great southwest, Sedona, Taos, Wyoming, Montana – to name a few.
---
4. Go Explore It: 4×4 Adventure Rig Rentals, Denver (well, Golden)
Rental Location(s): Golden, Colorado (near Denver)
Main Camper Types: Converted Sprinters, Sportsmobile E350, plenty of other options
Good to Know: The owners can recommend some great local itineraries for your campervan trip, roof-top tents are a great budget option (although not the same as camping in a camper van of course).
If it's an adventure in a camper van you're looking for then this is probably a good van rental company to check out.
Go Explore It specialize in 'adventure rigs' and overland rentals – not just camper vans but also trucks, Jeeps, and other Overlanding vehicles, as well as roof-top tents you can put on most cars for camping.
Our off-road rental of choice from 'Go Explore It' would probably be the Winnebago Revel 4×4 – a small Mercedes Sprinter van like ours, built for off-road adventures.
Weekly van rental costs are around $350/night for a Sprinter van conversion.
---
5. Escape Campervans – Road Trip Van Rentals
Rental Location(s): 12 locations across the US
Main Van Types: Ford T-150, E350 Transit, and Transit Connect
Good to Know: Largest campervan rental company in North America, these camper vans do not have bathrooms, bedding and kitchen kit rental is extra.
Escape Campervans is the largest campervan rental company in North America and has 600 vans available for rental, in 12 locations across the US.
Escape Campervans' rental locations include Denver, Los Angeles, Las Vegas, Miami, New York, Phoenix, Portland, Salt Lake City, San Francisco, Seattle, as well as Calgary and Vancouver in Canada.
As a result of all these locations, they are well set up if you want to rent a camper van one-way and travel across the US and Canada on a road trip.
If you're starting from the Eastern US you can pick up a travel van rental from Escape Campervans in Miami or New York, and do Route 66 or another route and drive it right across the country to Denver, Salt Lake City, Phoenix, or go all the way to any large West Coast city listed above.
Escape Campervans feature brightly-painted vans, so this is worth knowing if you're considering any stealth camping in towns and cities, then you'll probably get spotted pretty quickly.
Their camper vans are converted Ford vans, including the T-150, Transit Connect, and E350 vans.
---
6. Lost Campers – Budget Camper Rentals in California & Utah
Rental Location(s): Los Angeles and San Francisco, California, Salt Lake City, Utah
Main Van Types: Ford T350 Transit, Dodge Grand Caravan,
Good to Know: Unlimited-mileage and roadside support, kitchen kits and bedding included with rentals, and one-way rentals are available in California
If you are planning a California road trip and are on a budget when it comes to travel van rental, then Lost Campers may be the company you are looking for: their small camper van rentals start at $35 per day.
You can pick your camper van up in either Los Angeles or San Francisco and road trip the full classic California coast, or head inland and visit popular national parks such as Yosemite and Kings Canyon / Sequoia along the way.
READ NEXT: the best destinations to visit on your California Road Trip (plus our 2-week itinerary to help with planning)
Lost Campers' campervans are low-profile (no jazzy paint jobs) and small, based Ford Transit chassis as well as smaller Dodge Caravan minivans that are converted into small camper vans.
---
7. Hawaii Surf Campers – Camper van rentals in Hawaii
Rental Location(s): Oahu, Hawaii
Main Van Types: Vintage VW campervans
Good to Know: Airport transfers are available, vans are well equipped, including bedding, and the owners would be happy to share inside knowledge to help you plan a Hawaii road trip itinerary!
If you're visiting Hawaii and want to soak up the beach and surf vibes without having to rent a car or stay in a hotel then Hawaii Surf Campers can help you get that beach/van life sorted.
Hawaii Surf Campers have a range of vintage VW campervans as well as some other unique conversion camper van rental options.
---
8. AlaskaVans – Camper Van Rentals in Alaska
Travel Van Rental Location(s): Anchorage, Alaska
Main Van Types: High-roof Ram Promaster camper vans
Good to Know: Well-equipped camper van rentals include awnings and outdoor chairs, a full camp kitchen, and solar power.
If you're visiting Alaska then you definitely want to be able to sleep close to nature and be near as many beautiful wild places as possible.
Traveling in a camper van is definitely a great way to go about seeing this great US state and is a major step up from tent camping.
AlaskaVans is a camper van rental company that rents low-impact, high-roofed camper vans out of Anchorage and can help you get set up with a van equipped for van life and exploring around Alaska.
---
9. Peace Van Rentals – Seattle, Pacific Northwest
Travel Van Rental Location(s): Seattle, Washington
Main Van Types: Vintage VW campers or pop up roof Mercedes Metris vans
Good to Know: Kitchenware included (even down to spices, corkscrews, and wine glasses :-)), at certain times of year you can also arrange a one-way rental to drop your camper van off in Santa Cruz, CA, and San Luis Obispo, CA, handy for a US west coast road trip.
If you're planning a summer camervan trip around the Pacific Northwest traveling around Washington and Oregon then Peace Van rentals, based out of Seattle, offer both the vintage camper option (they specialize in VW Campers) as well as a more modern, European-style pop-up roof Mercedes camper vans.
Plus, if you love your pop-top Mercedes Metris camper and want to buy one then they can convert a van for you as they convert Mercedes Metris vans into campers in-house!
---
10. Vintage Surfari Wagons – VW Bus Rentals in California
Travel Van Rental Location(s): San Diego (Costa Mesa), California
Main Van Types: Vintage VW campers
Good to Know: Some 100-mile limits, well-equipped with camping gear for your trip
If your California road trip dream involves driving along the Pacific Coast Highway and hanging out at beaches and popular surf spots in a vintage VW bus then Vintage Surfari Wagons can help you realize it.
Vintage Surfari Wagons specialize in VW bus camper rentals, including the iconic VW Westfalia pop-top campers.
Vintage Surfari Wagons' Volkswagen fleet is stocked with the 1970s, 80's, 90's, and 2000 era campers and each van is unique and perfect for traveling the California coast.
---
Guide to renting a camper van – what you need to know
In this section we cover some of the most frequently asked questions about camper van rental:
What class motorhome is a camper van?
The US categorizes motorhomes, RVs, and camper vans typically into three different types of motorhome, A, B, or C.
We won't go into all the differences between an RV / motorhome and a campervan in this post, but it's important to know that when we talk about camper van rentals we are talking about what some people may refer to as a 'Class B motorhome or camper' rental.
A Class B motorhome is a camper van / motorhome built on a panel van chassis.
Popular van chassis used for conversion to camper vans include Mercedes Sprinter vans, Ford Transit vans and Dodge Promaster vans – that goes for both the professional van conversion companies as well as the DIY / custom van conversions.
For more on that subject, the Sprinter Campervans website shares more information on Sprinter camper vans and what's involved in converting them (the link opens in a new tab).
You can also find camper van rental companies offering more unique camper vans, such as retro VW bus campers and car campers for rental, which may be fun for your road trip.
Why choose a camper van over an RV or motorhome?
Quite simply, you may prefer to rent a camper van rather than a motorhome because a conversion van is likely to be easier to drive around (and park), which can make a big difference if you're planning on spending time in places that are hard to reach with larger vehicles.
And although campers tend to be smaller (and more agile) than RV's, they are built so space efficiently that there's generally a lot of storage space.
It's not just storage though, we designed our Sprinter Camper van to have a queen bed which is such a luxury amenity in our eyes.
There's a reason why Instagram accounts such as Sprinter Campervans (one of our favorites), are full of Sprinter vans being used for camping in beautiful and remote places around the world.
If you'd like to see some more examples of where we've taken our Sprinter Camper van, there are loads of pictures and stories on our own Instagram account, too.
That could include when you're driving the van around cities you plan to visit on your road trips such as San Diego, Seattle, San Francisco or Denver.
It's also great having a campervan when driving in more remote locations where you would prefer a smaller van that drives like a car, rather than feeling like you're towing a camper trailer or driving a larger vehicle down small roads.
We've also owned an Airstream in the past, and although we loved the trailer for its beautifully iconic looks, full bathroom, dining area, kitchen, and queen bed, we decided to sell it due to the fact there was too much overlap with our DIY converted campervan.
Plus we ended up realizing that we prefer to travel with more agility on the roads and be able to park and sleep with no real camp setup.
With our van we can also up and leave for our next destination at a moment's notice – this suits our active, nomadic adventure lifestyle very well.
Camper vans don't have slide-outs or stabilizers – they're pretty minimal and make things like setting down and packing up at campsites very quick to do.
This is great if your planned camper van rental is to facilitate a road trip where you may only be staying in some places for a night or two at a time.
While not guaranteed (especially with older camper vans), you will probably also find that driving a camper van around on a US road trip is more cost-effective when it comes to how much you spend on gas.
Believe me when I say that gas (petrol/diesel) can really add up, especially in states where gas is more expensive (such as California).
We've covered thousands of miles traveling in a few short weeks during one of our cross-US road trips in our Sprinter camper van, and after all those miles on that trip, we were grateful that our van drives more like a car than a bus or motorhome and doesn't require much, if any, packing up when we're ready to hit the road to travel each drive-day!
What type of van should you rent?
You're in luck, on this list of camper van rental companies we've included a whole range of van rental businesses who offer everything from high-end, adventure-inspired Sprinter vans to drive over the Rockies in, to boho surf-inspired campers to cruise along the California coast in on your road trip.
Across the companies featured in this list, there's a huge range of choices when it comes to what type of van you can rent.
This is especially so if you rent from a company like Outdoorsy or RVShare, which have vans of loads of different styles and marques, located all over the place.
How much does a camper van rental cost?
The actual daily cost of a camper van rental can vary significantly depending on the time of year, how long you are renting the camper for and the size and specifications of the camper van you are renting.
Some of the more luxury travel van rentals like some of the Sprinter camper vans on this list are basically small motorhomes, with all the comforts you'd expect in an RV or a very tiny apartment, including a bathroom, toilet, and plenty of indoor cooking facilities.
Other, smaller more European-style camper vans come with basic cooking facilities and a bed but rely on you wanting to spend more of your time cooking outside, and not needing or wanting a shower or toilet in your van.
Camper van rental costs can therefore range from around $50/night up to $400+ per night, depending on what type of camper van you are renting, when, and where.
Can I get unlimited mileage with my recreational van rental?
Whether or not you can get unlimited mileage with your camper van rental depends on the rental company and sometimes the specific van you are renting.
For example, some of the vintage VW campers on this list may have daily mileage restrictions.
It's worth checking with the specific van rental company to ensure you're going to be able to travel the miles you need to when you're traveling in your rented camper.
It's also worth checking what else is included in the cost of your camper van rental. Some travel van rental companies will include everything you need for your road trip within the rental price, including camp kitchens, grills, bedding, and camping chairs, for example.
Others will rent you these extras for an additional charge – so it's worth factoring that cost into your overall van rental decision.
If you would prefer to take your own camp kitchen setup but don't own one yet, visit our Camp Kitchen checklist and buyer's guide with advice on how to choose the best outdoor camping kitchen gear.
If you are renting a camper van near home, then you may want to bring your own bedding, at least, so you can guarantee comfort!
If you're traveling as a couple, a double sleeping bag is a great addition to your camping gear so that you can share the bedding comfortably together, without taking your full bedding set or individual sleeping bags on the road.
To research double sleeping bags, check out our list of the best two-person sleeping bags for camping and van life!
Also, while we're on the subject, if you're thinking about what to bring on a road trip, check out our adventure road trip essentials checklist, which includes a full packing list for what to take with you (the link opens in a new tab).
How can I find a camper rental near me?
Good question! Your best bet when it comes to finding a camper van rental near home or near your current location is to check out the rental options on Outdoorsy and RVshare.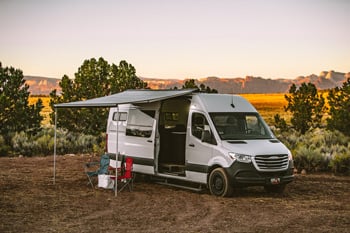 Both Outdoorsy and RVshare are RV rental marketplaces – basically, the AirBnbs of camper van, RV, and travel trailer rental.
You can find hundreds of camper vans available to rent, using filters to select camper vans as your vehicle of choice, and to narrow down the search area to show available rentals near your location using a zip code or map.
[To get $50 off a van rental near you with Outdoorsy, you can visit their site via the button below and use the code 'TRAILANDKALE' ]
Another great option is to look into renting with a larger national van rental company such as Escape Camper Vans, which has a large range of options when it comes to camper van pick-up and drop-off locations across the US and other countries including Australia and New Zealand.
What about one-way camper van rental options?
Many people are interested in one-way camper van rentals as it allows you to do a one-way road trip and not have to worry about returning the camper van back to the original rental location.
For one-way travel van rentals, it is usually best to rent one with a company that has several different rental locations in different cities, or at least one at either end of your planned road trip so you can pick the van up at one and drop it off at the other.
It's also worth checking with the rental company that a one-way rental is possible and if there is any extra charge to return the camper van to a different location.
How many people can sleep in a camper van?
Most camper vans offered for rent by the companies in this list are going to be best suited to sleep one or two people (plus a dog or two).
However, many, especially the long-wheelbase Dodge, Ford, and Sprinter travel van rentals include the ability to sleep at least one, if not two additional people, so up to four people.
When we travel in our own Sprinter van, we camp with our dog Kepler and sometimes also our two cats.
Generally, that would be most suited to one or two adults plus children, rather than four adults, unless you're all very close…
It's also worth noting that another addition you can include on many of the smaller van rentals with these companies is a roof-top car camping tent.
So if you are traveling with up to four of you and want to rent a smaller camper van to travel in, then if it's compatible with a car roof-top tent then this is a great way to have two of you sleep in the vehicle and two sleep in the tent above.
---
Having spent many hours building, driving, and living in our own Sprinter camper van, including road tripping across the US and traveling around closer to home in California and Oregon, we have ALOT of experience with campervans and van life.
So, please let us know have any questions about traveling in a camper van in the US and hopefully, we can help!
Also, if you're interested in the idea of getting your own rooftop tent for your car or truck rather than renting a whole camper van, click here to read our guide to the best roof top tents for every budget.
If you are a van rental company in the US and feel you should be included, reach out to us and let us know!