Those burly rotomolded coolers are cool, but not the most portable. So when you need to carry cold food and drinks or store them easily for 24 hours a backpack cooler is a much more versatile option.
ADVERTISEMENT
This review focuses on the IceMule cooler, a sling-style backpack cooler designed to be taken pretty much anywhere, including the beach, park, road trips, camping, trails and on the water such as while stand up paddle boarding, kayaking or boating.
---
IceMule Cooler Review – Table of Contents
---
Key features – what differentiates IceMule coolers
IceMule calls their Classic cooler an 'adventure cooler', with good reason. It's designed to be a cooler you can easily carry on your back (using the sling strap) and take to the beach, camping, BBQs, out on a boat trip – anywhere, really.
Some stand-out features of this cooler are:
It packs down relatively small (great when not in use, especially if your home is small or you want a cooler you can stuff in a duffel or box when not in use).
It's completely waterproof. This has the benefit of not only preventing rain, lake or sea-water from entering and ruining your picnic while in the Icemule Backpack cooler, but also helps to keep the contents inside, cool, and stops melted ice water from leaking out. This makes it ideal for sports such as SUP where you have a high risk of dropping your stuff in the water [Speaking of stand up paddleboarding, if you're looking at inflatable SUPs, check out our stand up paddleboard buyer's guide!].
It is designed to keep ice solid (and contents cold) for up to 24 hours. That's enough for most adventures – all except those overnighters (unless it's so cold overnight that your cooler's going to re-freeze…).
It's built to be durable – IceMule coolers are built like rugged dry-bags, designed for adventure, featuring tough, waterproof fabric, welded seams, and double-padded straps for carrying comfortably when full.
It's super simple to open and close, with a roll-top and one pinch-clip
It's affordable! While it can be great having a larger, fancier cooler (like the roto-molded YETI and RTIC models featured at the top of our camping coolers buying guide) that can keep contents cold for days, but if you don't need anything that heavy duty, or don't have the space for it, then an IceMule is a much more affordable and portable option (see below for details of cost and cost comparisons).
---
How does the IceMule cooler work?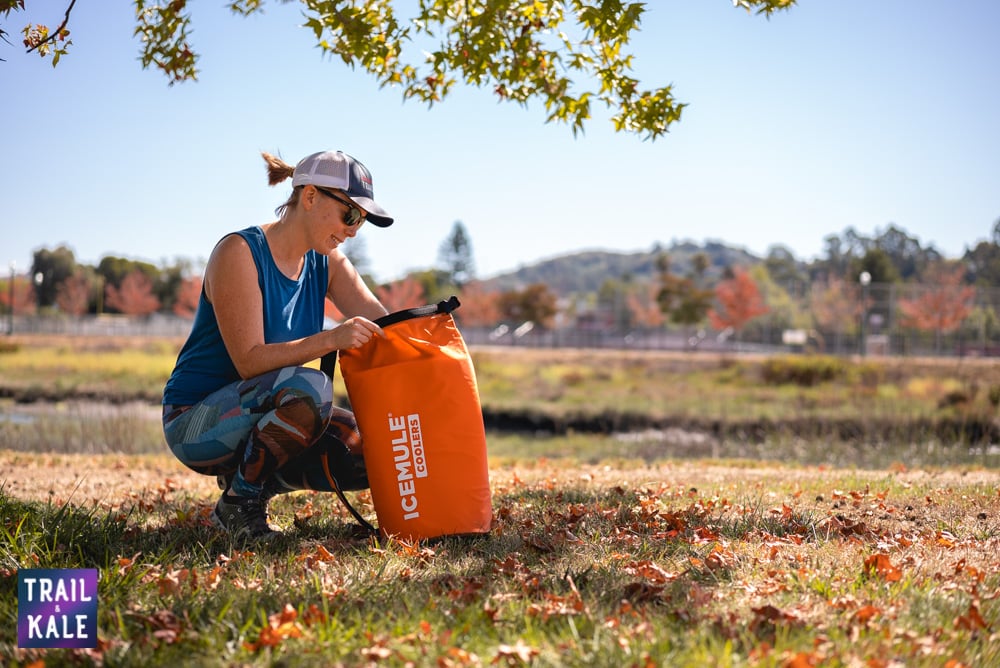 The IceMule classic cooler is designed to keep contents cool by packing them together with ice cubes and sealing the backpack cooler. This cooler works like a dry bag, forming a water-tight seal when you close it, which keeps the ice and your cold food and drink in, with a waterproof seal, so that it doesn't leak when the ice eventually does start to melt.
How to close an IceMule cooler
While many backpack coolers close using a taped waterproof zipper, the IceMule Classic is closed by rolling down the top, and clipping both sides together, using a pinch-clip.
This is much easier than wrangling a zipper, as zips have the tendency to stick or be difficult to close, especially when they're dirty or have had exposure to salt water.
This roll-top method of closure is exactly the same as many dry bags, which are primarily designed to keep water OUT of the bag – but it works both ways.
How does the IceMule cooler float?
The cooler also features an air valve. By turning the valve, it allows extra air to be added to the bag's insulation layer, which also has the benefit of increasing the bag's buoyancy, so that it floats more easily if you, say, drop it in the water or capsize your kayak and the bag gets loose.
When it comes to packing the cooler up after use, the valve also allows you to let out all the air, so it can be rolled down smaller for storage.
How much can the Medium IceMule backpack cooler carry?
The Medium size, featured in this review, Is IceMule's most popular size Classic cooler. This cooler has a 10.25 inch diameter base (which is round), and is around 18 inches tall when closed (22 inches when unrolled and open). The cooler's capacity is 12 standard size (12oz) cans, or 4x 750ml bottles, plus ice – or, in other words, around 15 liters / 4 US liquid gallons.
To give you an idea of what this looks like in real life, see our photos throughout this IceMule cooler review.
How long can the cooler keep contents cold?
The stated time on IceMule's website is 24 hours before the ice starts to melt.
In testing, we quickly learned that, as with most coolers that require ice to keep the contents cold, you need to really cover the contents with ice cubes. A few ice cubes around the bottom won't work for long, and they'll melt quicker. So once you've placed ice in the bottom of your cooler and then loaded the IceMule with your contents, then you need to top it up with ice cubes so that everything is covered.
An easy way to think of this is 2/3 ice, 1/3 contents – which is a lot more ice than shown in the photos in this review! After that trip to the park, our ice cubes didn't take long to melt, so while that was fine for a few hours in the park, if you want to get close to the stated 24 hours of solid ice cubes, then you need to use a lot of ice!
To reduce the chance of having a cooler full of water, it can also be worth investing in some ice packs, which you can use instead of (or at least, as well as) ice cubes.
Once loaded properly with the right amount of ice, it's kept ice solid for the duration of all-day adventures at the beach and on trails.
As with all coolers, it pays to start with pre-cooled contents (rather than room-temperature drinks), and keep it out of the sun and away from heat sources such as engines or warm human (or pet) bodies, to help the cooler do its job.
---
How does the IceMule Classic cooler perform, and is it worth it?
We've found the IceMule Classic to be a great all-round backpack cooler where you're simply looking for an affordable and durable way to keep some food and drinks cold while out on day trips and adventures, and want it with minimal fuss.
While it's affordable compared to other cooler options (see below for more on cost), the quality of the construction is excellent and I have great confidence in my IceMule cooler in that I can take it most places and not worry about snagging or otherwise damaging it in the process.
It keeps our food and drinks cool for the whole day, and any water or moisture inside stays inside, and doesn't leak due to the water-tight seal.
There are, however, a couple of obvious limitations to this backpack cooler compared to other soft-sided coolers.
The first is that it's designed to be carried using a single-strap 'sling' design, so it is worn across your body. This is fine for short periods of time, but if you find yourself needing to carry your cooler for longer periods, then you may prefer a backpack cooler that has two straps, such as the IceMule Jaunt, which should be more comfortable, especially if your cooler is full of heavy drinks.
Secondly, depending on how you plan to use your cooler, you may prefer to have a backpack cooler that features additional pockets, aside from the main cooling compartment, that you can use for carrying other items such as bottle openers, picnic blankets, etc, so that you don't need to carry a separate bag with those items.
If this sounds like something that would be important to you and you don't mind spending a bit more, the IceMule Pro features a bungee mesh section on the back that could be used to carry some extra items, as well as the double backpack straps mentioned above.
---
Cost and where to buy
At an RRP of $70, the medium-sized IceMule Classic cooler is a practical, easily portable and storable cooler option.
Price varies for the other size options (the small costs $10 less, the large costs $10 more), but when you compare these to the $200+ you may be spending on a larger rotomolded cooler, this is a much more affordable option, especially if you need to carry your cool stuff easily, and don't need it to stay cold for more than 24 hours at a time.
Last Amazon price update was: 30th March 2023 9:01 pm
IceMule image gallery
Review summary
IceMule Cooler Review
PROS
Waterproof and leak-proof
24 hours of solid ice retention
Easy to use when loading, closure, carrying, and stowing
Floats - great for watersports
CONS
For carrying on longer hikes a two-strap backpack cooler may offer more comfort