The RadMini 4 is a folding e bike from Rad Power Bikes, that has been designed with modularity in mind to allow for a multitude of useful accessories to be added at a later date if you ever need to upgrade your electric bike. Modular bikes are great as they allow you to buy the base model, without forking out extra money for accessories you may not need, and then upgrade with additional extras, as and when you need them.
In this RadMini 4 review I share my experiences riding this folding e bike, give an overview of the Rad Mini's key features, a video review of the RadMini 4 including acceleration, top speed, and folding demonstrations, where to buy it, my review summary with pros and cons and an overall score out of 10.
Then finally, at the end of this review, I answer some FAQs and leave you with some more photos of the RadMini to enjoy.
Interested in our thoughts on the RadRunner e bike as well? Read this next: Rad Power Bikes RadRunner Review
To read our other electric bike reviews go here: Trail & Kale eBike reviews. Grab your favorite beverage, this is a long in-depth review of the RadMini electric bike.
---
RadMini 4 Review: Table of Contents
---
What's it like riding the RadMini 4 Electric Bike?
If you haven't tried riding an electric bike before then you're in for a real treat. My first experience with an eBike, was with a different Rad Power Bikes eBike, the RadRunner. I was smiling uncontrollably because of the way it made me feel; like a child again! Being able to move without pedaling is especially fun, and draws many similarities to riding a motorbike, or moped.
Riding this electric bike gives the exact feeling of exhilaration as the RadRunner, so there's a huge win, right out the gate.
Watch my RadMini 4 YouTube video below to see me demonstrate acceleration, top speed, peddal assist, and more. I also do a complete walk-around showing you all the features of this electric bike, and how to fold the RadMini 4.
In my experience so far with Rad electric bikes, they are thrilling to ride and have been 100% reliable. The 48V, 14 Ah Lithium-Ion battery lasts for a very long time (read on for more details on battery life, mileage, and charge time), and for daily usage around town, we haven't been left worrying that we need to charge the battery for either of our Rad electric bicycles.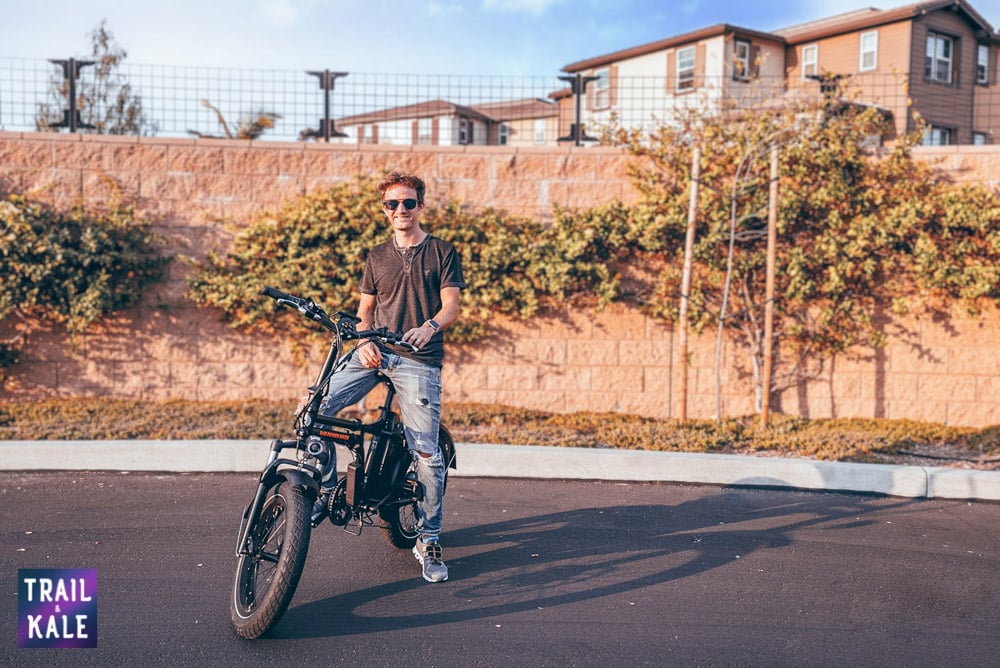 A lot of the time I find myself using the throttle for riding, without any pedal assist because I'm not riding big distances that require me to save on battery life, plus it's just really good fun, haha.
When I do pedal, however, it's usually when I pass a pedestrian and slow down whilst pretending to pedal the bike out of courtesy. Yes, I'm British.
To learn more about electric bike laws around the world, and to see what power/throttle options are available in your country, read this helpful article.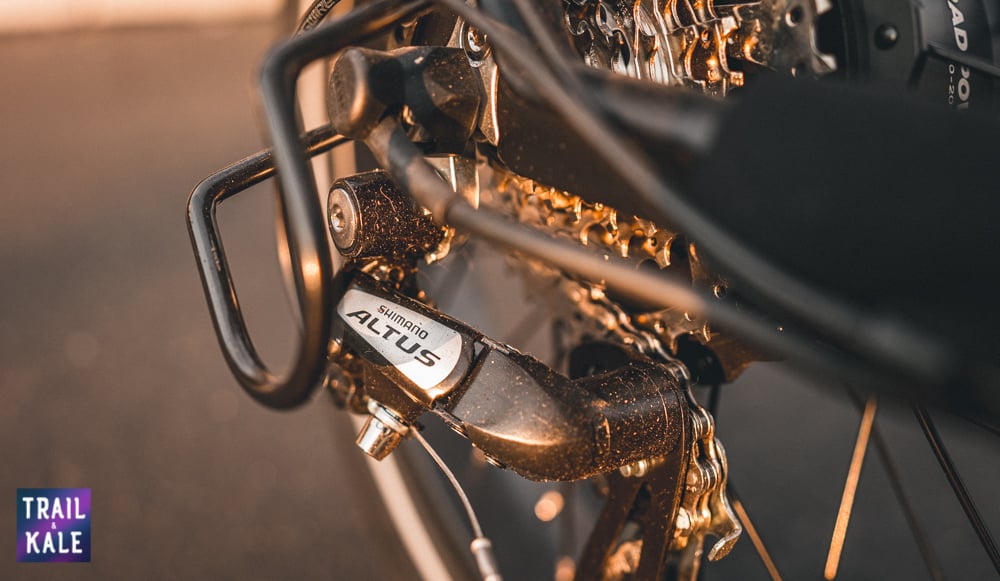 I have needed to assist the 750W Geared Hub Motor by pedaling and cycling through the gears when going up steep hills, as the motor can't handle the super steep pitches on its own. Pedaling provides that extra bit of push the mini e bike needs to keep moving up the hill.
Gears certainly help with hill climbing and this is a benefit of this bike over the RadRunner as that bike is only single speed, whereas the RadMini is 7-speed.
What's the riding position like?
The RadMini 4 has quite an upright riding position which is very comfortable for a commuter bike or generally cruising around town or the city. The saddle is wide and soft so your butt doesn't feel sore after longer rides, oh and you can adjust the saddle up, down, forward, and back, as you would expect.
The handlebars can also be adjusted up and down, so this should give most people enough flexibility to get a riding position that works well for them.
Watch my video below to get a better understanding of what the ride position is like – and don't forget to subscribe to our YouTube Channel for more videos like our RadMini 4 one.
I don't have any accessories for the RadMini yet but have been eyeing up the rear rack to help lock down some gear while on the move – so, unfortunately, I can't comment on them in this review, if I buy any, I will update this post accordingly.
On my RadRunner, I have the passenger seat and center console accessories which have both been very useful to date.
Are the handlebars comfortable?
Yes, the handlebars are really comfortable and this is due in part to the flattened shape on the ends of each handgrip (seen in the image above) but also the smooth imitation leather which adds to their durability. The flattened ergonomic shape allows you to rest your palms comfortably on the handlebars.
How stable is this electric bicycle when riding off road?
Due to the CST Big Boat 20″ x 3″ fat tires and a front suspension fork with 80mm of travel, and a plush saddle, the ride is very stable on gravel and dirt trails, often a surface that bikes with thinner tires can easily slip out on while cornering at speed.
These wheels with puncture-resistant liners provide a predictable response, ground feel, and confidence while riding it at higher speeds.
Is the electric motor noisy?
The motor is pretty quiet while riding but not 100% silent, no electric bike is, especially an electric bike that's powered by a 750W motor. To get an understanding of the level of noise, check out my video at the bottom of this review.
---
Key features and specifications that matter
1. It's a folding e bike!
Well, a folding bike means better portability and storage. A folding e bike makes commuting on a train, or bus so much easier, and you can even take your bike up to your desk at work if you have space to. Then there's the storage aspect of having a folding fat tire bike like this.
If you live in an apartment or the city where space may be limited and you don't want to risk locking your bike up outside, then being able to fold your bike up and take it into your house is priceless.
It is heavy though, so make sure you eat plenty of spinach before carrying it upstairs, or late an elevator. For a full demonstration of how to fold the bike, watch my video below.
2. Battery power and life
You can get a lot of usage out of the Rad Mini's 48V, 14 Ah Lithium-Ion battery. It's rated for 800 charge cycles which is impressive when you consider the battery has the capacity to take you up to 45 miles on one charge with a top speed of 25mph.
That would be a maximum distance of 36,000 miles that one battery could take you. In reality, however, you probably won't get quite that much mileage as you'll be riding some hills, and using the throttle now and then too – both of which use more power.
The onboard battery takes 5-6 hours to charge fully and because it's a Lithium-Ion battery, it holds its charge for a long time while you're not using the bike.
At only 7.7 lbs, the battery is also one of the lightest and most energy-dense packs on any electric bike. They also sell battery packs separately on the Rad Power Bikes website, which means you can buy a spare one if you live a lifestyle whereby you need to ride further, or for longer.
3. The compact 750W hub motor | 7-Speed Gears
With 750W and 80 Nm of torque at your disposal, the RadMini electric utility bike has 7 gears which really help you pedal easily up steep inclines/hills, and gets you up to the e bike's top speed of 25MPH very quickly from a dead stop (demonstrated in my video at the bottom of this RadMini 4 review), all while remaining relatively quiet and inconspicuous from the motor's perspective.
Numbers like these aren't even found on some of the most expensive mid-drive eBike systems out there, which for the price of this bike is awesome.
PLEASE NOTE: The Bike comes programmed with a top speed of 20MPH, as that's the legal limit for an E-bike of this class, but it's possible to change the top speed via the display panel to allow for a top speed of 25MPH. Ask me in the comments if you'd like to know how to do that!
There's definitely a converging point whereby a steep incline and the overall weight of the bike and rider meet. If you live somewhere with lots of hills you may notice that your mileage on one charge could be more like 35 miles due to the extra power needed but having a 7-speed drive train means you will be able to assist the motor by peddling much more easily than you would a single speed. Peddling helps save you mileage too.
4. The backlit LCD display panel
The backlit LCD is so great on the RadMini, on there you will have a charge indicator, speedometer, odometer, trip odometer, pedal assist level, wattmeter, and more. The panel even has USB charging capability, so you can charge your phone on the go.
5. Lights and reflective detailing
The Rad Mini ebike comes with lighting as standard, and the front headlight has an ambient light sensor that allows it to dim/brighten automatically. Both front and rear lights are very bright at maximum.
There's also an integrated brake light with a strobe for extra safety when you are riding on the roads, which I love! The tires also have reflective detailing in their sidewalls which keeps you visible to cars from the side. The RadRunner has these same features.
5. Wide/fat tires make for a stable ride
The tires on the RadMini e bike are nice and wide, and offer excellent stability and grip on bike paths and off-road areas. Even while riding fast on gravel paths the bike feels stable while making turns due to the CST Big Boat fat tires that measure 20″ x 3″.
The tires also have puncture-resistant liners so there's no need to worry if you accidentally ride over broken glass or other small sharp objects.
After riding a road bike for many years, I have come to hate gravel because a slim front wheel can very easily slide out from under you while taking corners at speed on these types of loose surfaces. This is far less likely to happen on a bike with fat tires.
6. Kickstand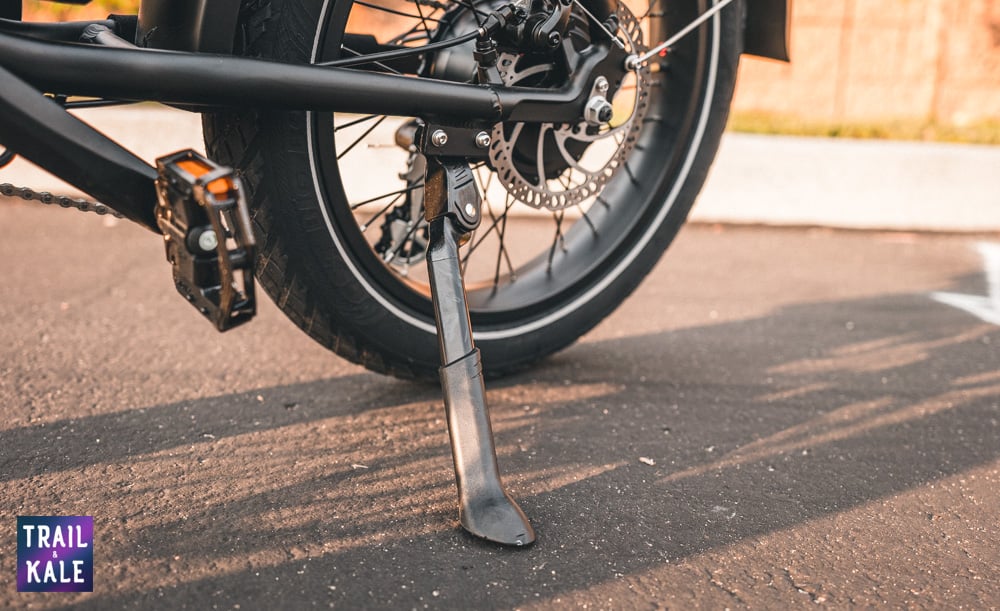 The bike is quite heavy at 67 lbs, so having a heavy-duty aluminum kickstand is very useful when you need to step away from the bike. It's very sturdy, easy to use, and has no problem holding the bike's weight.
7. A Bell
A bell comes preinstalled on the left handlebar, it's pretty cute and does what you'd expect, alert other riders and pedestrians of your arrival.
---
The RadMini has a step-thru sister!
For those who are interested in a step-through version of this bike for the accessibility benefits that come with having a low center frame, the Rad Mini Step Thru 2 is the best choice.
The Step Thru 2 features Rad Power Bikes' lowest standover height of any model, which makes it super easy to step into and start riding – some older, or shorter riders will really appreciate this feature. The Step-Thru 2 also has an adjustable handlebar stem and the most robust folding mechanism ever built by this electric bike company.
The Step Thru 2 is a remarkably accessible fat tire electric bike but if your leg length is over 28 inches this bike won't be for you as you'll end up sacrificing ride position comfort – go for the RadMini instead.
---
RadMini 4 VS RadMini Step Thru 2
| | RadMini 4 | RadMini ST 2 |
| --- | --- | --- |
| Price | $1,499 | $1,499 |
| Distance | Up to 45 (on 1 charge) | Up to 45 (on 1 charge) |
| Top Speed | 25 MPH (legally 20 MPH) | 25 MPH (legally 20 MPH) |
| Weight | 67 lbs | 69 lbs |
| Payload Capacity | 275 lbs | 275 lbs |
| Rider Height | 5'2″ – 6'2″ | 4'10" – 5'10" |
| Gears | 7-Speed | 7-Speed |
| | | |
---
Where to buy the RadMini 4 electric bike
You can buy the RadMini 4, and Step Thru 2, and all additional extras at the Rad Power Bikes online store. They have great stock and offer next business day shipping, so you'll be riding before you know it! The RadMini's price is $1,499 (base unit) which in my opinion is excellent value for money for all the features you get on this folding e bike.
---
Video review
---
RadMini 4 Review Summary
RadMini 4 Review
Performance & Reliability
9
PROS
Just as fun to ride as the RadRunner
Love how this ebike can be completely customized with a wide variety of add-ons
A single battery charge can take you up to 45 miles
Top speed of 20mph
Front fork suspension, and fat tires for comfort and stability on and off-road
Comes with lights as standard and reflective tire rims for safety
Seems very well priced considering all the features and build quality
Has a quiet ride
CONS
Only available in a black color
The bike itself is quite heavy to lift if you ever needed to carry it up some stairs
---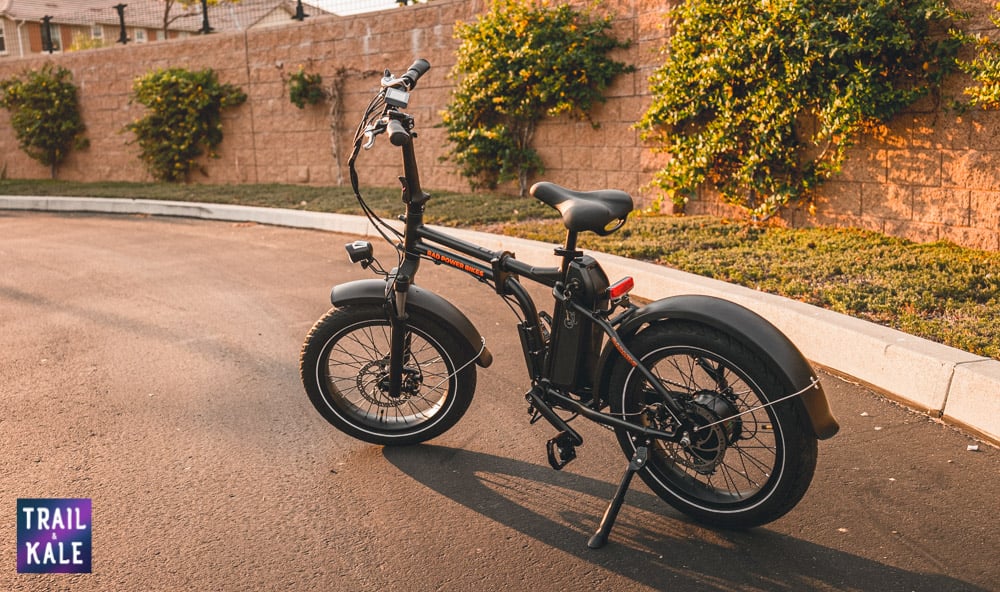 Frequently asked questions
How fast does it go? What is the RadMini top speed?
Up to 25 mph (when modified via the LCD Panel) depending on the road surface, incline, and weight of the rider.
How far can the RadMini 4 ebike go on a single charge?
20-45 miles depending on road surface, incline, and how much power/peddal assist and throttle you use.
Where are Rad Power Bikes manufactured?
Their bikes are designed in Seattle and most manufacturing occurs in a number of countries across in Asia. Some of their components are made elsewhere so they are no longer made exclusively in China.
Are Rad Power Bikes Waterproof?
According to their support forum, the components on Rad Power Bikes are all water resistant and designed for water to drain off the components from top to bottom, so never flip the ebike over when wet.
---
Image Gallery
---
I hope you enjoyed this review, if you have any questions for me about the bike, please leave them in the comments below. Happy riding!!