When it comes to your camping kitchen setup, you can go as deluxe or as basic and budget as you want, there is no right or wrong, just what gear you find the most enjoyable for your particular style of camping and how elaborate you want your meals to be while you're spending time at your campsite.
ADVERTISEMENT
This guide includes a complete checklist, recommendations when it comes to the best camping cooking gear for your outdoor meals, how to put together a campfire cooking kit if you want to cook on wood, as well as some great complete camp cooking boxes and sets to complete your outdoor camp kitchen.
---
Camping Kitchen Checklist
We've made this camping cooking gear checklist as comprehensive as possible, so you can see everything you may want to take with you for cooking on your next camping trip.
If you're trying to work out what is necessary or important vs. 'nice to have', our guide on how to choose may be helpful to read before diving into the list.
1. Camp stove and/or camp grill
Assuming you plan to cook hot meals, a camp stove is a key item to invest in.
Most people use gas stoves (instead of wood-burning stoves), and some will also opt to take a portable grill camping.
Unless you're planning some very elaborate cooking, a two-burner stove will be plenty for cooking up most camp meals.
Editor's choice: For a reliable, quality propane camping stove, you can't really go wrong with Eureka's Ignite 2-burner stove (~$100).
Alternative: For a basic single-burner stove to cook simple meals on, this Coleman stove is great value (around $25) and uses butane gas.
If you want to keep things minimal, also consider a basic backpacking stove, such as this Jetboil option, which can be more versatile if you need to carry your camping gear any distance, or if you also enjoy (or play to enjoy) backpacking.
To level up your camp kitchen, check out these portable stone-baked pizza ovens from Solo Stove: Solo Stove Pi Pizza Oven Review and their firepit pizza oven add-on.
---
2. Outdoor cooking table
Next, you need a camping stove table for food prep, cooking, and serving on.
At their most basic you need a stable surface to place your stove (and/or grill) on, as well as room to chop ingredients and put the cooked food on plates before serving.
More premium versions have storage, windscreens and an arm to suspend utensils or a lamp over your cooking station – handy for making dinner in the dark.
Editor's choice: Campland lightweight aluminum portable outdoor cooking table, which features storage, a light and a windscreen ($115).
Alternative: This Mountain Summit Gear folding camping cooking table is less fancy but sturdy yet lightweight, and is quick and easy easy to put up and take down ($99).
---
3. Camp cookware sets
When it comes to pots and pans, you can bring regular ones from home, but for a more packable, portable camping cooking set, look for one that is lightweight and stacks, for ease of portability and storage.
Editor's choice: This aluminum GSI Outdoors set is best-in-class for a 4-person camping cookware set. It's lightweight, well thought out, with a pot, pan, plates and mugs for four, and a storage bag that is water-tight and can be used as your outdoor camping sink, too ($149).
Alternative: For a stainless steel and more budget alternative cookware set, this durable Stanley outdoor cooking set also nests and features cookware essentials for four.
---
---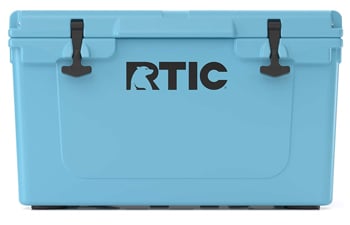 4. Cooler
A good cooler is super important for camping, because in most seasons and climates you will definitely need a way to keep perishable food cool before you get to cooking and eating it, and it's also a necessity if you want to have cool beverages with you at your campsite.
Editor's choice: A great all-round cooler brand to consider is RTIC, which makes quality, long-lasting US-made rotomolded hard coolers, as well as soft-sided coolers for camping and anywhere you need to keep food and drinks cool with no power.
Alternatives: For our complete list of the best coolers and other brands and cooler styles to consider, head over to our coolers buyer's s guide post.
---
5. Insulated food storage
To help your cooler out, insulated food storage containers are a great accessory to take camping for storing both fresh food and cooked food that you want to keep warm or chill to be reheated the next day.
Editor's choice: Kleen Kanteen's insulated food storage range has double-wall vacuum insulation that can keep contents hot for 7 hours and cold for 25 hours ($30 for 16oz, pictured).
Alternative: If you don't need insulated food storage, then you can simply bring some leak-proof food storage containers with you, like this Rubbermaid set that's available on Amazon, which is also great to use when at home for food prep.
---
6. Outdoor-friendly tableware
Tableware is definitely one area where it pays to have the right gear designed for use outdoors, that is difficult to break or damage and can easily be stacked and packed for travel.
Editor's choice: This Hydro Flask outdoor kitchen tableware set for two features two plates, two bowls (with lids), two large serving bowls, serving utensils, mugs and silverware, which all comes in its own storage bag for ease of portability. Y
ou may have seen it before on our Instagram feed, as we use this set in the Trail & Kale Sprinter campervan.
Alternative: For a more lightweight alternative, this budget-friendly four-person camping tableware set (available on Amazon) is a great choice.
In addition to the basics, also consider whether you need outdoor-friendly (plastic or metal, not glass) wine glasses and / or tumblers, for those cold beverages.
---
7. Water bottles and storage
Even if you expect potable water to be readily available at your campsite, it is wise to take your own water with you, which is useful in case of emergency or simply if you prefer to fill up your own water jugs at a source you know and trust.
To transport water you have a range of options, including metal or plastic water jugs. For these, 4-7 gallon containers are typically the largest we'd suggest, because any larger than that and they get too heavy to carry when full.
Aside from the large water jugs, make sure you take some portable water canteens such as those offered by Hydroflask, Stanley and Kleen Kanteen, so you have drinking water easily accessible in and around your campsite.
It's also useful to have the water ready to take on hiking and any other trips or excursions you have planned during your camping trip.
Editor's choice: Aqua-tainer 7 gallon potable water jug
---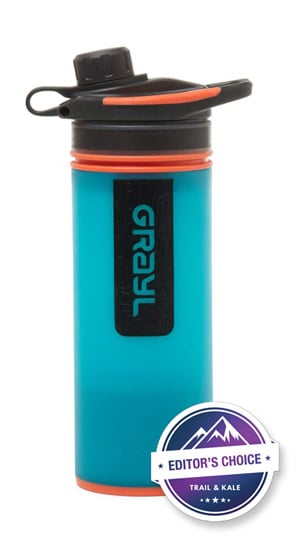 8. Water filtration system
Even if potable water is available at your campsite, it may be safest to make sure you also filter and purify the water before you use it for cooking or drinking, especially if it's been stored for a while, or you aren't 100% confident in the quality of the water source.
Editor's choice: The Grayl Geopress ($90) will remove bacteria, protozoa and even viruses from your water, making it a great investment for your camp kitchen as well as backpacking adventures.
Alternatives: For our complete list of water filters to consider, and to learn more about how to choose the best option for your camping trips, head over to our water filters buyer's guide.
---
9. Camping cooking utensils
Don't forget the utensils!
Generally, any metal or plastic cooking utensils work great for camping, and we would suggest going for quality gear that will last and not break at an inconvenient time when cooking outdoors.
Depending on the style and complexity of what you plan to cook and drink at your campsite, consider bringing: knives with sheaths, bottle opener and stopper, can opener, grater, vegetable peeler, chopping board, tongs, spatulas and serving spoons.
If you want a complete set that will cover you for most basic cooking, then here are a couple of good options:
Editor's choice: GSI Outdoors Destination Kitchen Set ($55)
Alternative: If you are on a budget, see these utensil sets available on Amazon.
---
10. Camping coffee makers
If you enjoy coffee, consider taking a dedicated camping coffee maker and grinder with you so you can make a fresh brew:
Editor's choice: Aeropress Coffee and Espresso Maker is a compact coffee press for making your morning espresso-based drinks.
Alternative: If you prefer drip coffee, this camping coffee dripper from Sea to Summit is a lightweight and compact option for camping and backpacking
Don't forget the compact manual coffee grinder: JavaPresse manual burr coffee grinder
---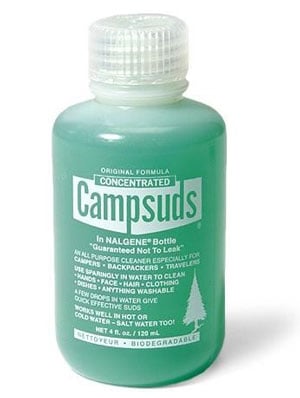 11. Washing up and cleaning
Ok, so cooking at camp is fun, but washing up, for most of us, is not so much – especially when water is such a scarce resource.
Don't forget the essentials for washing up and cleaning at camp:
Washing up bowl
Microfiber dish cloths
Paper towels

Cleaning spray
---
12. Camp cooking accessories
It's easy to forget the smaller essentials when you're busy packing. Here are some accessories to consider having with you for your camp kitchen:
Cooking oil, salt, pepper, spices and sauces (ketchup, BBQ sauce, etc)
Insect repelling device
Paper napkins
Aluminum foil
Corn skewers
---
Camping cooking equipment buyer's guide | How to choose the best camp kitchen for you
Choosing the best outdoor camp kitchen gear for you
There are three main considerations when it comes to choosing cookware for the outdoors:
Budget vs quality and durability
Overall weight and portability
Your cooking style and meal choices
Budget vs quality
When it comes to the trade-off between budget and quality (and therefore the overall longevity and sustainability of the gear you choose), it's worth thinking about how frequently you will use the gear, and whether you'll appreciate the benefits that come with having better-quality and more durable gear.
If you can justify the added expense, better quality gear should be more enjoyable to use, have more functions, and last longer than cheaper alternatives.
It's also worth considering whether you already have portable cooking gear at home that you can take with you camping, even if it isn't specifically designed for camping, as this will save you having to buy 'camping versions' of everything you may need with you in your outdoor camping kitchen setup.
Along the same line, certain cooking equipment and utensils such as knives can just be regular household versions – so you don't need to go out and buy everything that is specially designed for camping.
Weight and portability
When it comes to weight and how portable your camping cooking equipment needs to be, it's worth noting that for certain items, such as outdoor kitchen tables, the heavier options can be more stable and less likely to wobble or get knocked or blown over, so they may be a better choice if you don't mind the extra weight and bulkiness when packed in your vehicle.
Your cooking style and meal choices
Thirdly, think about how you will use your portable outdoor kitchen. How much cooking stuff do you actually need with you when camping?
Some people will be very happy with the bare minimum backpacking cooking gear, and others will want to be able to cook on a gas stove, as well as a grill, with plenty of utensils and equipment for food prep and serving up at camp.
The amount of cookware you may want to take camping with you will depend on where you lie on the spectrum from basic one-pot meals, to deluxe camp chefery (yes, I made that word up!).
Campfire cooking kits
If you like the idea of cooking over a campfire, then consider putting together or buying a complete campfire cooking kit to make sure you have everything you need to create a great meal.
While cast iron is a great option for cooking over a fire, it's heavy and you can use quality stainless steel pots and pans, instead, if you already have them.
Aside from the pots, pans or dutch oven you plan to cook your campfire meals in, don't forget a good pair of tongs and a serving spoon or spatula.
Pot, pan, dutch oven
Grill grate
Tongs, spatula and/or spoon
Portable camp kitchen boxes
If you're putting together a new portable outdoor camping kitchen from scratch, then it's also worth considering whether it may be worth getting a portable camp kitchen box.
The main advantages of these boxes are that they:
Come with a lot of what you need for your outdoor cooking setup
Can typically store other kitchen gear
Typically quickly fold or close down into a compact box when not in use
Act as a camping stove table, as well as a camp kitchen organizer.
Here are a couple of great options to consider if you're interested in getting a box set to start off your new (or replace your existing) camp kitchen setup:
The iKamper Aioks portable camping kitchen box is the best camp kitchen setup is the best camp kitchen box set we know of.
It comes with birch wood counters for food prep, which can also be used to seat four, a built in two-stove burner cooking station, and it all folds down into the wheeled box for transporting.
Trail Kitchen's compact camp kitchen set is also a great product, especially if you prefer to stand up when cooking, although it doesn't come with the stoves or ability to seat people at the table like the iKamper one above.
---
If you came down to this section to read our buyer's guide before jumping into the camp kitchen checklist, click here to head back up there to see the full list and recommended outdoor cooking gear.