Summer isn't quite over yet, so here's another hard cooler review. You may be familiar with the iRocker brand from their high-quality stand up paddle board offerings, or from the Cruiser SUP review, I recently did.
That SUP blew me away with its performance & quality for the money, and now ranks very highly on our 'Best Stand Up Paddle Boards' buyer's guide because of it.
In this iRocker cooler review, however, I'm going to be looking at their 45-liter rotomolded hard cooler.
Because iRocker is not particularly famous for coolers yet, I thought it would be good to review this one just to see how it stacks up against some of the bigger brands like ORCA Coolers, YETI, and RTIC Outdoors, to name a few from our popular Best Coolers & Ice Chests Buyer's Guide.
iRocker cooler features worth mentioning
This 45L roto-molded cooler has great capacity but…
So here's the deal, like most rotomolded hard coolers, the iRocker 45L hard cooler is large and as a result is fairly heavy.
It weighs 23lbs in total which could be considered quite hefty, especially considering this is the weight when it's empty.
But the capacity is really great as you can see from the image below.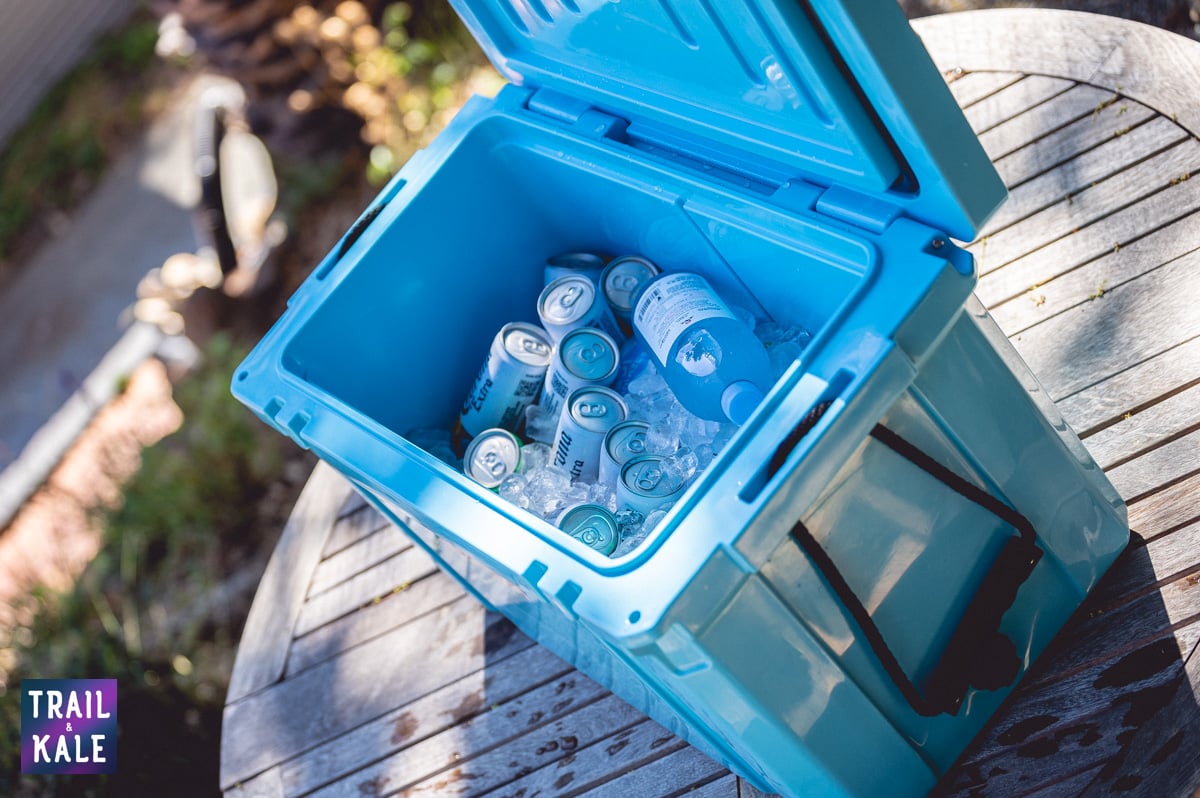 These kinds of hard coolers are generally heavy anyway, It's just the nature of the beast.
The carry handles
The carry handles are made of plastic and have a dual-wall construction – because that's how they insulate the drinks and food inside.
So there's a lot of plastic involved and they can get heavy, especially when you fill them up with ice and drinks. But don't worry too much as they are still easy to carry.
If you feel like it may be too heavy to manage on your own, there are two handles, one on either side – this makes it easier for you and a friend to carry.
The handles are made from hard plastic and are not rubberized so you're not going to get a soft to the touch grippy feel from them, like some of the more premium cooler brands may offer.
I'd like to see them rubberized in the next iteration to improve the overall ergonomics.
It is still pretty easy for one strong person to carry with these straps, or 2 people together – one person using one carry handle, and another person using the other one.
So if it gets a bit too heavy for you, you can always call in a friend and get them to help you carry it to the beach or your camping trip.
The clasps for opening and closing the cooler
Let's talk about the straps or clasps used to open it and close this hard cooler.
I actually like the design here – It's really easy to use.
To open the cooler, all you have to do is pull down on these clasps, and release them. That will kind of break the vacuum seal within this cooler allowing you to easily open up the lid.
Capacity, wall thickness, and insulation effectiveness
Hard coolers use a dual-wall construction, with the space between those walls acting as a layer of insulation – this gives hard coolers a certain amount of thickness.
This means that the capacity inside may seem smaller than what you might expect from looking at it from the outside. Don't worry about this, it's the same with all hard coolers.
This particual iRocker cooler actually has a pretty large capacity inside compared to some of the others I have reviewed.
This, however, means that the walls are thinner and as a result, there's less insulation effectiveness.
Therefore, you might not be able to keep your drinks and food cool for as long as you would in say a YETI or ORCA cooler, for example.
Branded detailing is limited on the interior
So unlike with some other brands, there's no real embossed branding on the inside of the lid, unfortunately, but it's a nice-looking cooler nonetheless due to the ridges that have been encorporated.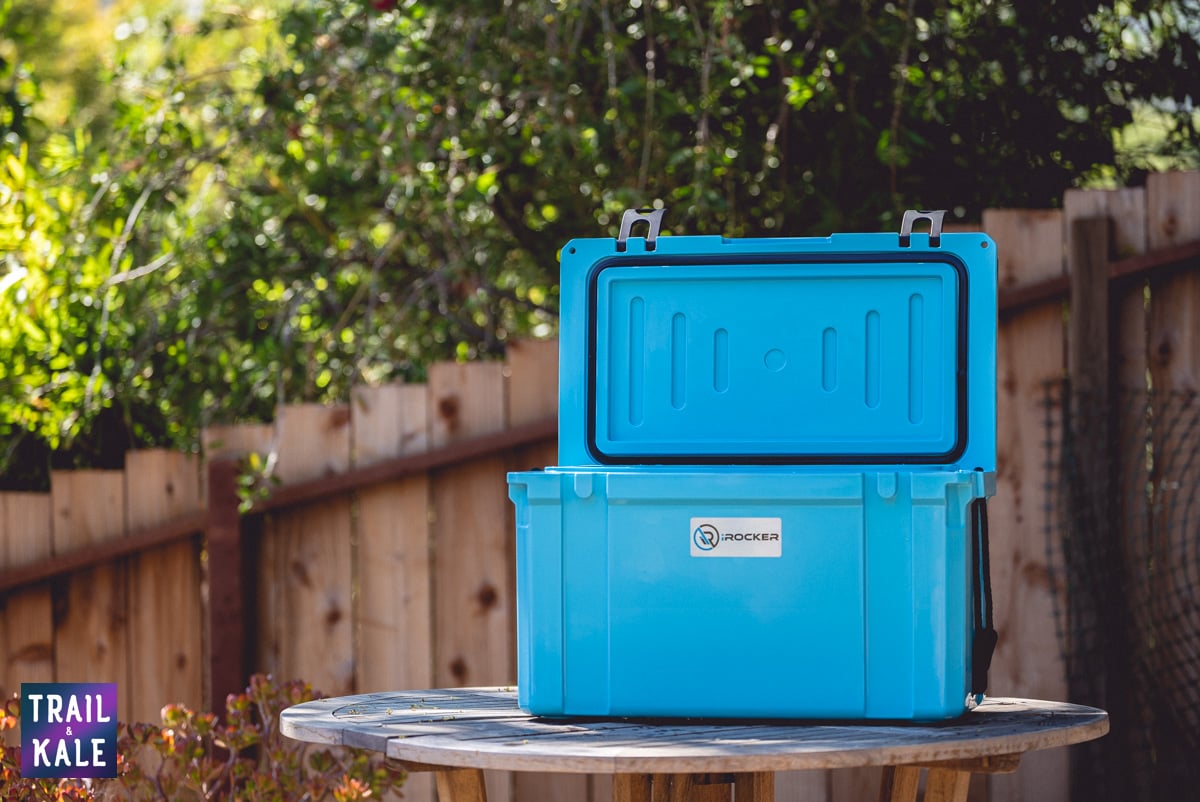 The color is nice too – the cooler I have in this review is the Sky Blue color, the only other choice was a grey version. I'd love to see more colors introduced soon.
Rubber feet help prevent it from sliding when traveling
On the bottom of the cooler, there are 4 small rubber feet, designed to help stop the cooler from rolling around or sliding in the back of your truck, car, or boat.
So if you're traveling, fishing, or just on a nice fancy boat trip, then these little rubbery feet should hopefully stop the cooler from sliding around.
These particular rubberized feet are smaller than some of the ones featured on the ORCA and YETI hard coolers and are not as sticky so won't perform as well as the more premium branded coolers.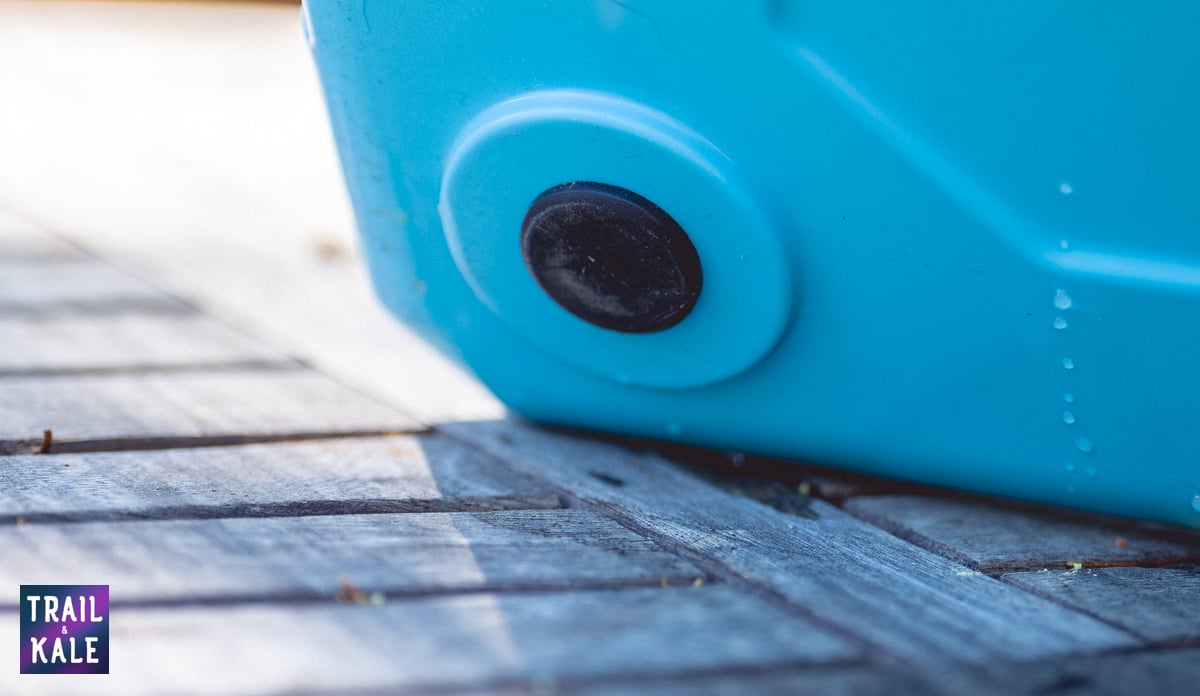 So I don't really know how effective these would be on a road trip and it's definitely something to think about if you do plan to travel a lot with your cooler because it's important to have nice non-slip feet.
There's a valve for draining water from the cooler
There's a turn cap valve on the side of the cooler which makes it very easy to drain melted ice water from the cooler after using it.
I also use this drainage valve to drain our water when I need to clean out my coolers.
The cooler comes with one accessory
Now you do get one accessory with the iRocker – a drinks holder. The idea of this little drinks holder would be to clip it on the side of the 45L cooler.
Its usefulness, however, is debatable but I like that they thought about adding some sort of accessory.
For example, I'd probably just put my drink on top of the cooler rather than use a drinks holder but I guess it's useful if the cooler is open.
Overall quality compared to a YETI or ORCA cooler
The quality of the plastic just doesn't feel quite as premium as, say, an ORCA cooler, a YETI, or even an RTIC, for that matter.
But you know what? If you're looking for a cheap alternative to these brands, that kind of just does the job for you, this one is definitely worth considering due to its super low price point.
Where to buy iRocker hard cooler
The iRocker 45L hard cooler is available at the iRocker store and also on Amazon (current price listed below). I recommend buying it directly from the iRocker website, however, as they seem to be offering that insanely good discounted price of $125 $260 right now.
They will provide the best service (because they obviously want to keep their customers happy), and they also offer the most stock of the available colors. Shipping from them is fast too in my experience.
$125 for a 45-liter cooler like this is crazy cheap, so definitely check to see if that deal is still running. If it is, you can't really go wrong in getting this cooler.
This 45L rotomolded cooler is also available at the following online stores:
Last Amazon price update was: 1st June 2023 5:30 pm
iRocker Cooler Review Summary
iRocker Cooler Review
PROS
The capacity is great for large groups, or storage for long days out! Just look at the pics of all the drink we got in here.
Very reasonable price! It's a bargain for what you get.
Comes with a drinks holder accessory but it's debatable how useful that actually is.
CONS
Build quality doesn't feel as premium as som other cooler brands - but it's much more affordable.
Only 2 colors available- at the time of writing this review.
Handles need better material for added grip
I hope you enjoyed this iRocker cooler review and that it gives you an idea of the quality of product you're going to get if you spend $260 on this cooler (or $125 if you buy in the current sale).
Thanks for reading, and I'll see you on the next review 😉
iRocker 45L hard cooler video review
iRocker Cooler Review Image Gallery