I'm really excited to be reviewing yet another On Running shoe, more specifically a new everyday lifestyle shoe from the brand – and a sneaker that is set to take some market share from the ever-popular On Cloud. Interested in getting up to 40% OFF On running shoes? Visit On's Classic range page to see their latest deals.
I hope this On Cloudeasy review answers your pre-purchase questions but if there's something I missed, or you have a question, please leave it in the comments below.
If you're not familiar with Trail and Kale – we are an online gear review website and I've reviewed every On Running shoe that's been released since On was founded, years ago.
So, I have a very unique and detailed understanding of how each On shoe compares to one another. Hopefully, if you've already owned a pair of On shoes, then my detailed review insights will also be valuable in helping you decide whether or not a particular shoe will be well suited to you.
On Cloudeasy shoes fit and design
The On Cloudeasy fits true to size so I would recommend going with your usual sizing and you should get the perfect fit. The sneakers are consistent with all other On shoes apart from their range of hiking boots which tend to come up a half size too large.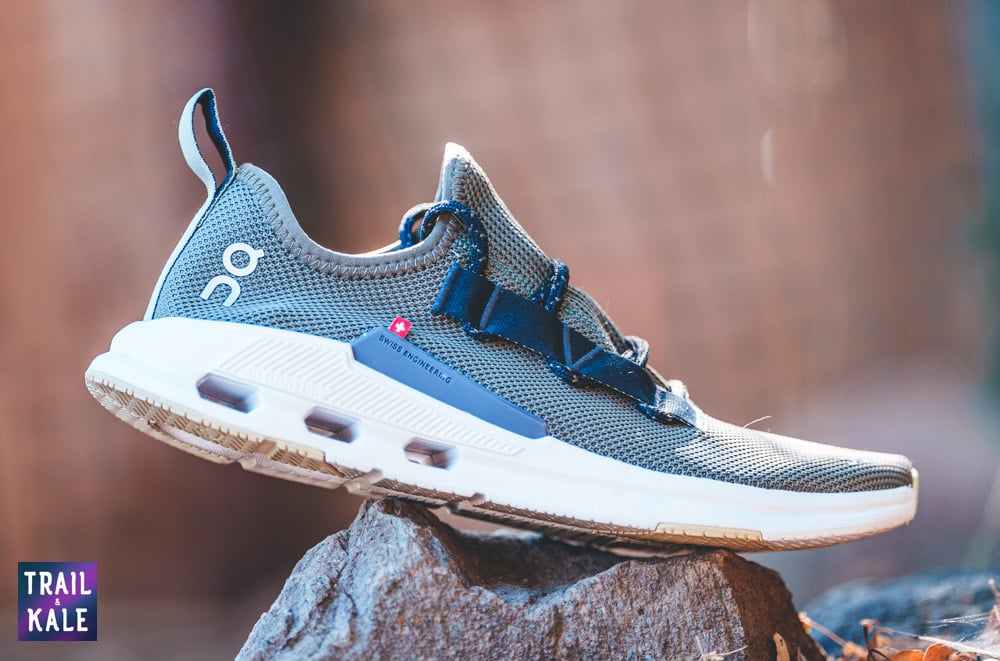 The Cloudeasy also has a medium width with average arch support – just like most On shoes. The Cloudeasy is also extremely comfortable right out of the box with no breaking-in required due to the sock-like knitted upper material and flexible construction across the entire shoe including the midsole and outsole.
The On Cloudeasy are also the most comfortable On running shoes that can be worn without socks due to that soft, breathable knitted upper material mentioned above.
There's no denying that the On Cloudeasy does look a lot like the Allbirds Tree Runners shoe – I'm sure others have noticed this too.
I really love the style of Allbirds shoes so it's nice to see that On has given their own spin on that style with the all-knitted upper, thick laces, and iconic white sole.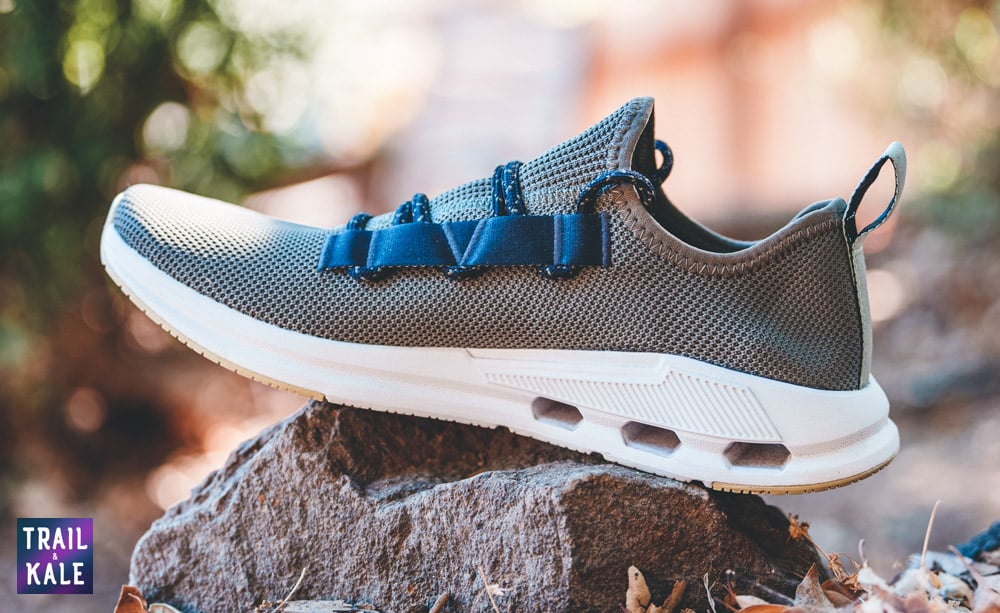 So it's got half as many materials, but it's still a touch heavier than the On Cloud.
The full Knitted Upper is so comfortable
I really like the full knitted upper featured on the Cloudeasy. The knitted upper is made with 100% recycled materials, is super breathable, and comfortable worn with or without socks.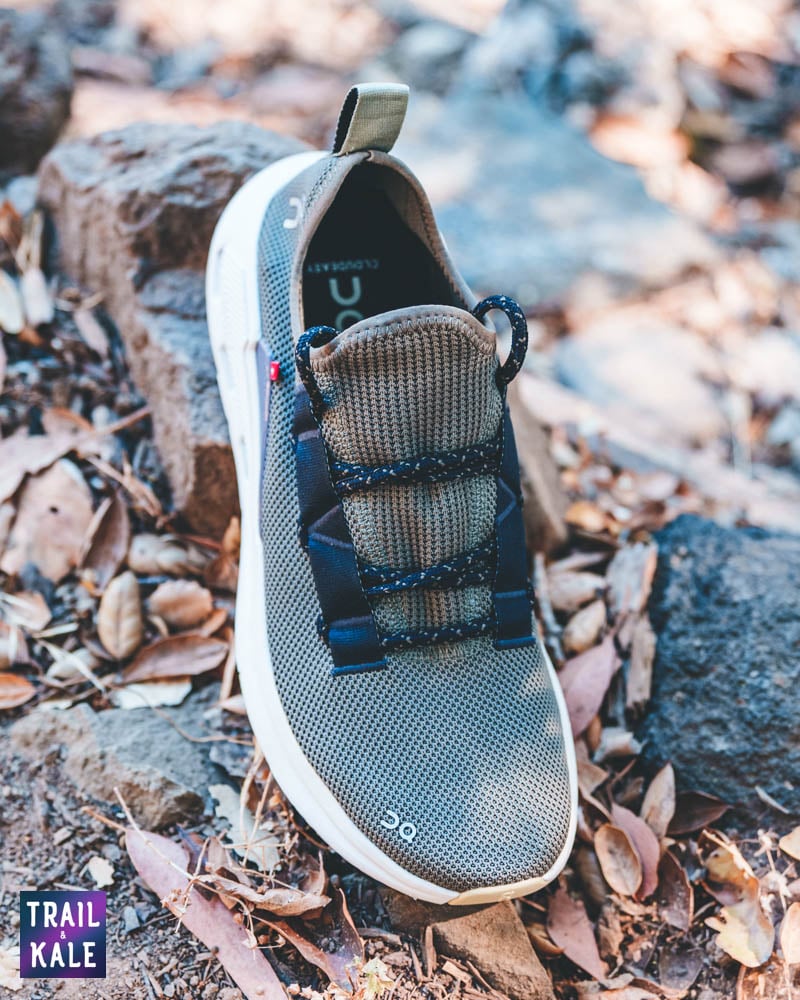 It isn't waterproof, however, so any rainwater will get absorbed into the material, and eventually onto your socks, or feet.
Although there are laces on the Cloudeasy because the upper fits snugly and it's so stretchy as well, you don't actually need to wear a laces with these sneakers. The Cloudeasy stay on your foot nicely and are very comfortable, even when worn all day long.
I personally really like the laces – they add an extra layer style look to the overall look.
If you were to wear these without laces then they are comparable to the On Cloud in that they can also be slipped on without the need for doing laces up – the On Cloud has elasticated laces which makes them a great slip-on shoe.
On Cloudeasy outsole is sufficient for most surfaces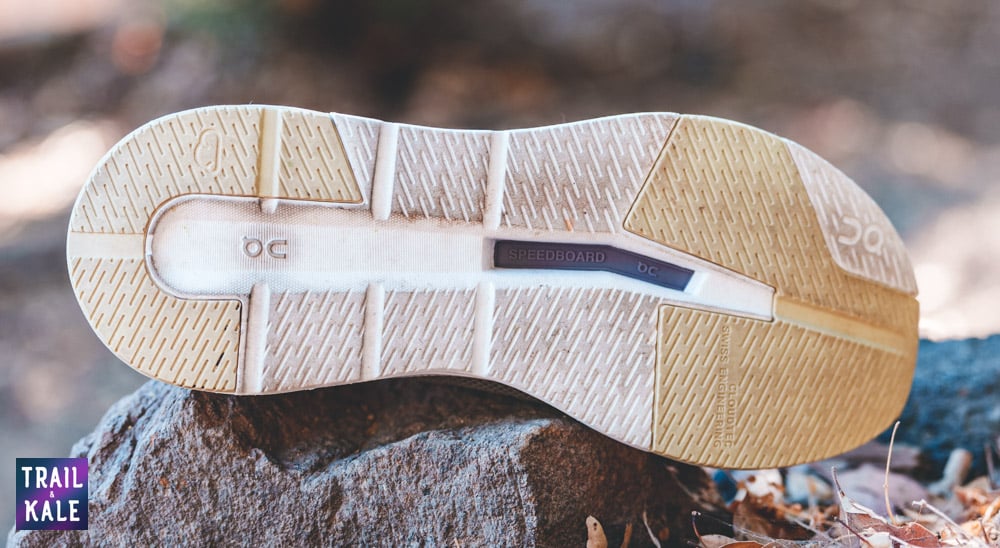 The outsole has some pretty good grip for most situations but there's really not much to write home about.
It's good enough for everyday wear, but you probably wouldn't want to take these on slippery surfaces or trails because you're likely to slip due to the lack of any grippy lugs on the bottom.
The midsole has some running shoe tech
The On Cloudeasy Cloudtech midsole includes a speedboard built into the front half of the shoes. The speedboard doesn't run along the whole of the foot like all other On shoes featuring a speedboard – It's just the forefoot.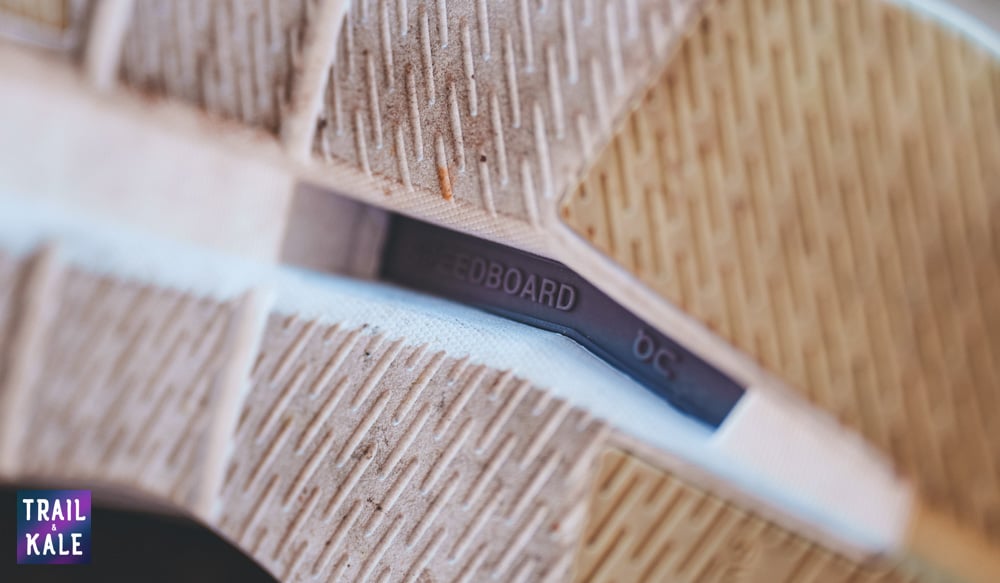 In doing so, On has managed to strip away some weight while providing additional performance for those who walk a lot, or like to break into a run whenever the opportunity (or necessity) presents itself.
The Cloudtech midsole is very cushioned and responsive overall with a wide platform to provide good stabilization for anyone on their feet for long periods of time during the day.
Cloudeasy drop and finger loop
Some final things to mention about the On Cloudeasy then; there is an 8mm drop from heal to toe which actually feels more like a 6mm. This drop puts you in a slightly more forward leaning stance.
This makes them nice for walking and will give you a good bit of forward propulsion with the speedboard.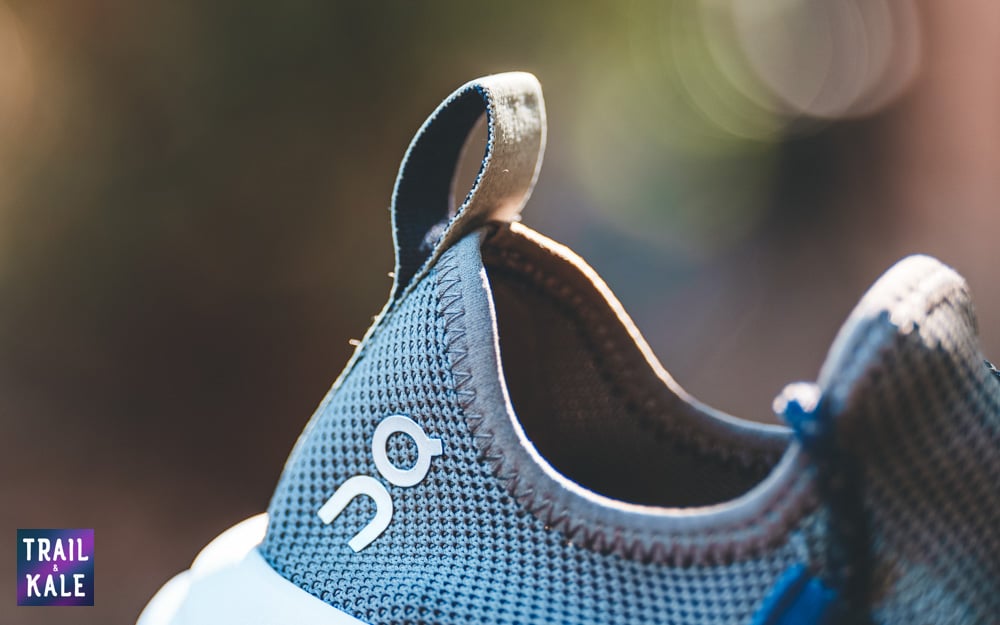 There's also a finger loop at the back so you can easily slip these shoes on. They are basically a one piece upper and it is very stretchy so you will need to use this loop in the back to slip them on – and that's very easy to do.
On Cloudeasy VS. Cloud 5 – How do they compare?
The most popular active lifestyle shoes from the On Running brand is the On Cloud, so I was interested to see how the Cloudeasy, a shoe that is clearly targetted at a similar audience, would stack up against it.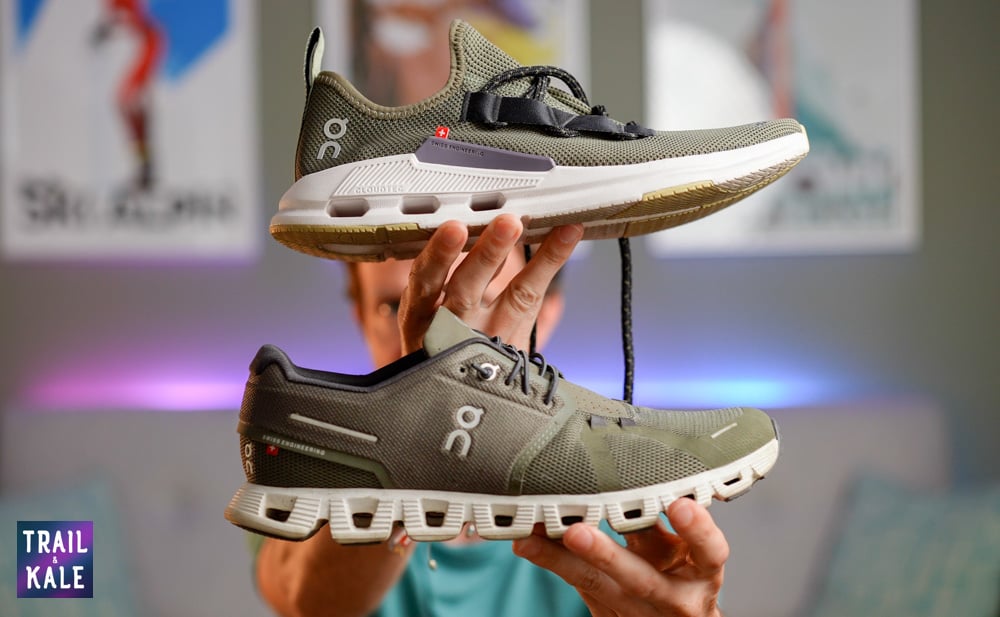 Apart from the same comfortable fit and similar consumer On is targeting, and the same colorway in this case – the two lifestyle shoes are very different in design, as you can see from the image above.
The Cloudeasy weighs in at 8.7oz, whereas the On Cloud 5 weighs 8.5oz, so it's a little heavier than the Cloud which is interesting given that the Cloudeasy is actually made up of 15 or so pieces, which is half as many pieces as any other On shoe, the Cloud included.
The Cloudeasy is also $10 cheaper than the On Cloud.
So who is the On Cloudeasy for?
While the Cloudeasy is not specifically targeted to runners or triathletes, they are capable running shoes, with some caveats.
On has worked hard developing their running shoes over the years and it's clear that they wanted to add some of that proprietary tech into the Cloudeasy in order to make it a crossover sneaker of sorts.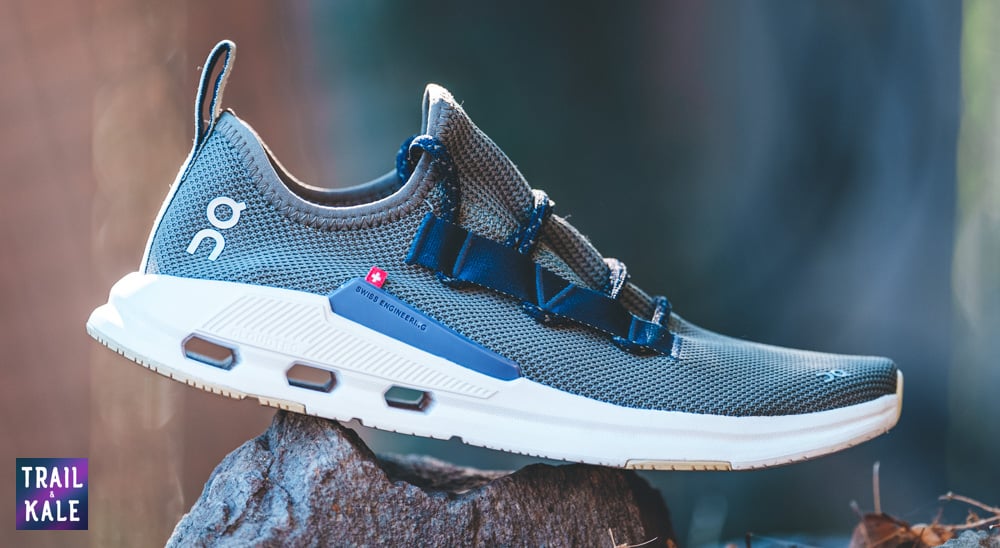 This is certainly an everyday lifestyle trainer first, and a performance shoe second but I like that similar to the On Cloud, there is plenty of versatility to be had should you only wish to own one pair of shoes that can do it all rather than 3 specialized shoes for example.
I totally get it, buying multiple pairs of shoes can be expensive so I love that On is incorporating their running technology into such comfortable and stylish everyday active lifestyle shoes.
Is the On Cloudeasy worth your hard earned money? Well, YES, it's definitely worth your money – $130 is very reasonable for an all day, everyday-wear shoe like this.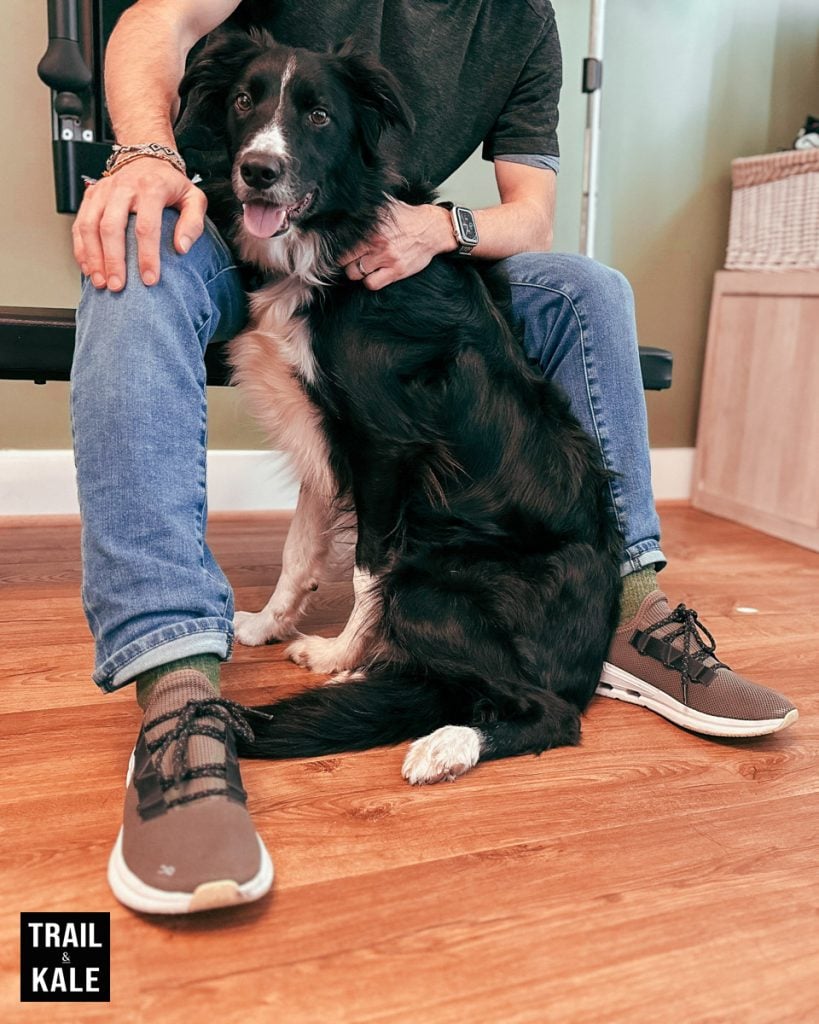 It's my second favorite shoe from On for everyday lifestyle. I rank it slightly below the Cloud, just because I prefer the style of the Cloud, but it is equally comfortable and performs just as well as the Cloud, in my opinion.
That doesn't mean to say that I'm not wearing this all the time as well because I am. I interchange these two shoes in my everyday lifestyle to match different outfit styles. The Cloudeasy is a very EASY shoe to love.
Where to buy the On Cloudeasy
I recommend buying On shoes directly from the On Running store as they always have the best colorways and the most stock available for all shoe sizes.
The 'On Happiness' team also offers excellent customer service and returns should you ever need to speak to them.
---
On Cloudeasy review Summary
On Cloudeasy review
PROS
Love the 100% recycled knitted upper - its very comfortable even without wearing socks. Very breathable too.
love the Allbirds'esq style.
Very lightweight.
Can be worn with or without laces but I choose to keep the laces on as I like the look of them.
Reasonably priced at $130.
CONS
the outsole tread could be improved for additional traction.
---
On Cloudeasy video review
---
More photos of the On Cloudeasy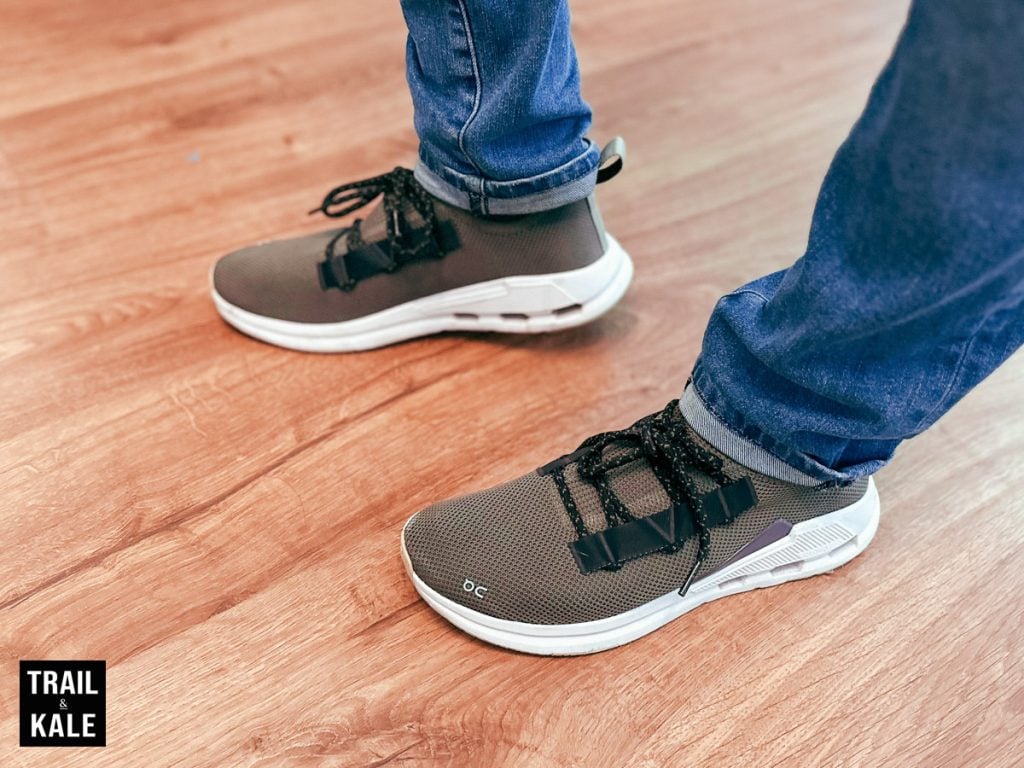 I hope you enjoyed this On Cloudeasy Review, if you've used On running shoes before, whether it's a running shoe or an everyday lifestyle shoe, let me know how you got on in the comments down below – I'd love to hear from you.
Thanks for reading and I'll see you next time.