Adventuring off-grid requires extra forethought and preparation in order to ensure your safety out on the trails. One easy way to reduce the risk of getting lost, or finding yourself injured with no access to help is to carry a 'satellite messenger' and 'personal locator beacon' combo.
Each one of the 'best satellite messengers' listed here will work globally which means you can take them around the world with you on your international travels and adventures and all features will work as expected.
Why you may want a satellite messenger (aka satellite communicator)
If you love trail running, backpacking, or hiking in wild places like we do, you'll already know that cell service can be non-existent much of the time.
So what happens when there's an emergency or you find yourself lost without the means to contact someone for help – well, you're in serious trouble unless you have a satellite messenger or SOS personal locator beacon.
PLBs/satellite messengers are very small and lightweight tracking devices, so there's really no reason why you wouldn't carry one in your backpacking backpack, hiking daypack, ski pack, or trail running hydration vest.
All these devices require some degree of data subscription, in order to allow you to send messages and/or use their tracking features and these subscriptions can vary significantly in price, so check the details of each satellite communication device on this list to find the device and data plan that works best for your needs.
---
The Best Satellite Messengers For Adventurers
Garmin InReach Mini 2
Last Amazon price update was: 29th September 2023 5:30 am
To learn more, read our in-depth Garmin inReach Mini 2 Review or get the low down from our summarized review below.
The Garmin inReach Mini 2 is the smallest and lightest two-way satellite messenger on this list.
Weighing in at only 3.5 ounces this PLB and GPS communicator allows you to communicate directly through its screen interface, without the need to connect to a smartphone so long as you have set up your preset messages and synced them to the device before setting out.
If you want to write non-preset messages you'll need to connect the Garmin Messenger App on your smartphone to the device and use your phone to write the messages.
The battery on this Garmin satellite communicator will last for up to 14 days in total while tracking you at a 10-minute interval with an open sky view. This battery life can be extended to up to 30 days if you increase the tracking interval to 30 minutes.
The InReach Mini does have some basic waypoint navigation capabilities when used with the Garmin Explore App.
However, this function uses more battery power and requires a constant Bluetooth connection to your smartphone, which can end up also draining your smartphone battery… so you're better off using a good GPS watch for navigation when on the trails.
Freedom data plans for the InReach Mini only require a 30-day commitment which allows you to suspend the service if you have no adventures planned for the foreseeable, for example.
---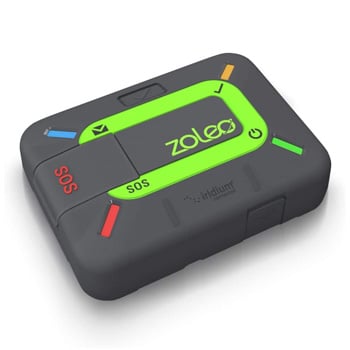 ZOLEO Satellite Communicator
Last Amazon price update was: 29th September 2023 5:30 am
To learn more, read our in-depth SPOT GEN4 Tracker Review or get the low down from our summarized review below.
The ZOLEO Satellite Communicator is a great value two-way satellite messenger. We love the simplicity of being able to press the "check-in" button, marked with a checkmark.
Every time you tap this button a preset message of your choosing is sent to your chosen contacts along with your GPS coordinates.
Like the other devices on the list, there's also an SOS button (covered to stop you from accidentally pressing it) which allows you to quickly send your distress signal to their 24/7 monitoring/dispatch partner (GEOS).
When you use the SOS button you'll also get a confirmation that your alert was received, and if it was a false alarm you can easily cancel it.
To send and receive messages globally you'll have to connect your ZOLEO device with the free ZOLEO app on your smartphone.
There are plenty of data plans to choose from which allow varying amounts of messages that you can send per month.
All plans require a $6 add-on if you want to be able to add your location in a message when you tap that check-in button on the device, and also to be able to share your location to up to 5 contacts in a breadcrumb format.
---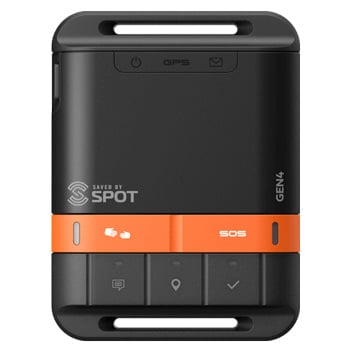 SPOT GEN4 Satellite Messenger
Last Amazon price update was: 29th September 2023 5:30 am
The SPOT GEN4 is the least expensive satellite messenger on this list but still has plenty of features, which makes it a top choice for those on a budget.
You won't find two-way messaging on the GEN4 but you can send your own preset messages to pre-programmed numbers or emails of those who need to know you're safe on the trail.
The GEN4 also has an incredible battery life with a seriously impressive operating temperature range of -22°F to 140°F. Being able to operate down to temperatures of -22°F makes the SPOT GEN4 our top choice for skiers and snowboarders who want to venture off-piste or into the backcountry for a ski touring adventure.
I like that the device takes 4xAAA rechargeable (or disposable) batteries as you can buy replacements at most stores around the world, should you ever find yourself without a means to recharge your device.
These batteries allow this PLB and GPS communicator to last for many days while tracking your location in the wilderness, supported by SPOT's innovative 'motion-activated tracking' option, which allows it to track when you move, and stop when you stop.
There are plenty of options when it comes to service/data plans too, with the option to use their Flexible plan if you only intend to use it seasonally.
The flexible plan is a little bit more expensive per month than their annual contracts but of course, you don't pay for a full year's worth of subscription.
The plans all allow for unlimited 'Help', 'SOS', and 'Check in' use, and offer basic tracking intervals of 5, 10, 30, and 60 minutes. You can also pay a little more for your subscription and benefit from 2.5 minute tracking intervals.
Unlimited use of the message sending and SOS features offers peace of mind while adventuring.
However, if you're on a budget but two-way messaging is important to you (which I know it will be for some), then I'd recommend paying an extra $50 and getting ZOLEO.
---
Somewear Global Hotspot
To learn more, read our in-depth Somewear Global Hotspot Review or get the low down from our summarized review below.
The Somewear Global Hotspot is a satellite communication device that works anywhere in the world using GPS to track the user's location – it also allows you to communicate with other people using two-way messaging.
This combined PLB and satellite communicator GPS device is one of the best satellite messengers for those who enjoy exploring off-the-grid locations whether that be for backpacking, ski touring, trail running, or wild camping.
Reasons, why it's so great, include the 10-day battery life while tracking your location every 10 minutes, an easy to use SOS button (under the blue cap), it's well protected from adverse weather conditions and well priced compared to the competition.
Additionally, the Somewear GPS device floats – a feature that's overlooked by other similar devices but one that is very important for those who adventure on the open sea, or river raft for example.
You'll need to have your mobile phone connected to the Somewear device when you want to communicate with people as there's no screen or keypad on the device itself – this is a reason why the battery life is so good on the Somewear Global Hotspot.
For others to keep tabs on your location, the device can just be turned on and left in your hydration vest or backpacking backpack (no connection to your phone is required).
I like Somewear's tiered monthly data plans which offer the flexibility of being paused if you anticipate periods of time without use – which most of us do.
---
In summary
While one of the satellite messenger / communicator devices are great to have for an emergency, it's better to avoid even needing to use one!
Always know the risks that exist on the trails, and remember that if you fail to prepare, then you better prepare to fail.
If you're going on an adventure then learn how to plan your route and navigate it properly so that you're always on a marked trail.
Remember to also check in with someone at least once a day if you're doing a multi-day backpacking or fastpacking adventure so that they know your whereabouts should they need to locate you in an emergency.