Perhaps you've heard of armless sunglasses and are curious to know more, or perhaps you're a step ahead of that and have come across Ombraz sunglasses and are wondering what they're like before you buy a pair.
In this Ombraz sunglasses review I cover the key features of these armed sunglasses alternatives, and share plenty of images of them including close-ups of the finer details as well as what they look like when worn, to help you decide if there's a style of Ombraz that will work best for you.
About Ombraz – why wear armless sunglasses?
Ombraz are the creators of the original armless sunglasses. They're specifically targeted at sports enthusiasts but can appeal to anyone looking for a different fit and style of sunglasses, and something a little unusual that you don't see being worn by everyone (at least not yet, anyway).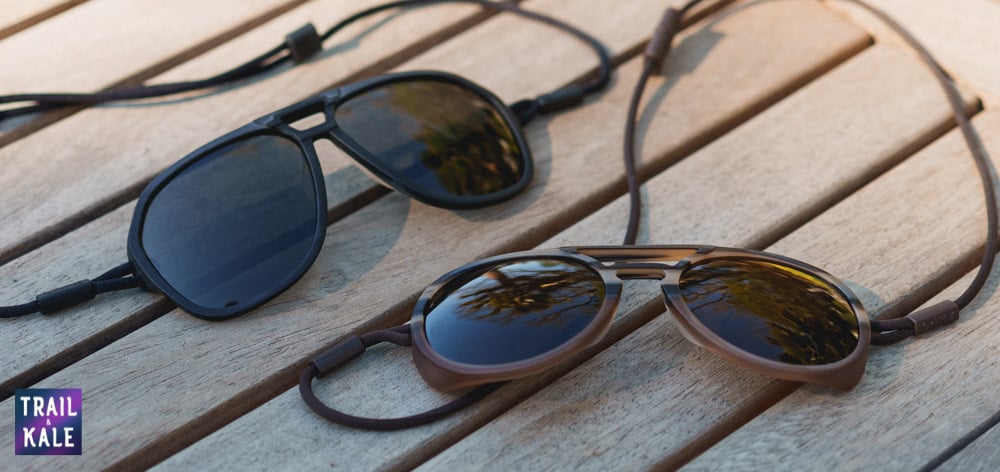 These Ombraz armless sunglasses aim to solve a few problems that some people have when using regular sunglasses with metal or plastic arms.
The key feature of armless sunglasses is that they use an adjustable, lightweight cord to hold them in place, so when you wear them there are no arms to put pressure on your ears or the side of your head.
Sunglasses with arms can cause this issue for some people – this can be simply uncomfortable or can even cause pain in some cases. In particular, if you find yourself wearing a hat or helmet with sunglasses for long periods of time, either for work or for sports such as skiing, running, climbing and cycling, then this may be an issue you have come across.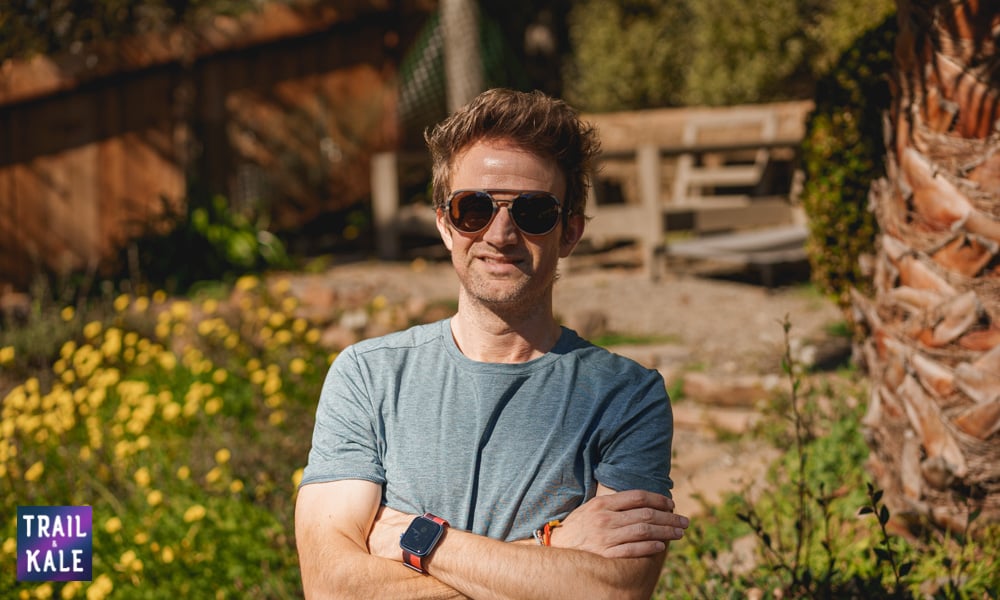 Additionally, wearing a helmet (whether that's for skiing, work, climbing or cycling) also means that if you take your sunglasses off then you have to find a safe place to store them where you're not going to drop or break them.
Because they go on your head using a cord, you can take them off and hang them around your neck and they'll lie much flatter against your chest than regular sunglasses will.
---
Key features
Aside from the obvious (yes, they don't have arms!), the key features of these sunglasses that stood out to me are:
They're very lightweight sunglasses – having no extra plastic or metal in the arms saves on weight – these particular Ombraz sunglasses weigh only 0.8oz (22.7g) including the cords.
Easy to store – the compact size also makes them very compact to store and stow, as there's no folding hinge – which is so often the first part to fail on other glasses. You can easily fit them in most pockets, and they'll sit flat against your body with no arms to dig into you (or potentially bend or snap off).
The cord is smooth to adjust and you don't notice it around the back of your head.
Ombraz sunglasses use precise Zeiss optics and have scratch-resistant, polarized lenses providing 100% UVA/UVB protection.
In addition to the cord, which replaces regular sunglasses arms, these sunglasses use a cellulose acetate frame around the lenses.
SIDE SHIELDS are now available as an add-on to remove any light glare from your peripheral vision. This is so awesome if you plan to do watersports or snowsports with your Ombraz sunglasses for extended periods of time and don't want to get a headache from unwanted light glare. See video below to learn more about them PLUS how to attach Ombraz side shields to your sunglasses.
Additionally, while not a key feature of the product itself, I love that Ombraz plants 20 trees for every pair of sunglasses they sell, and the company is a 1% for the planet member, which means they contribute at least 1% of their annual sales to environmental causes.
---
Style, look and feel of wearing armless sunglasses
When you're not wearing them, you can wear your sunglasses around your neck, making it less likely that you'll drop, lose or break them. You will, however, need to loosen them to do so, and re-adjust the cord to re-secure them around your head when you put them back on.
The Ombraz sit closer to your face than regular sunglasses – this is more of a noticeable feeling rather than something that's noticeable from a looks perspective. This is also not a negative for me at least – I like the feel, and am impressed at how well they sit on my face, when there is so little really holding them on there.
They're so much more comfortable on your face and around my head than you would expect! I do gather from Helen, though, that if you wear heavier mascara then your eyelashes may rub on the inside of the lenses 🙂
The cord is soft and minimal around your head – and stays away from the tops of your ears, so there's no risk of pinching. The lack of arms means you can knock the side of your head without breaking the arm (or hurting your head), and your sunglasses will likely stay put on your face, despite that.
If you like to wear elaborate hairstyles, then the cord may not work for you. However, as most people these sunglasses are targeted at are likely to be those with hat or helmet-hair-styles, or simply ponytails rather than fancy up-dos when wearing them, I don't see this being an issue for most of you reading this review.
So, in summary, these corded armless sunglasses are targeted at athletes including runners and extreme sports fanatics who are looking for a different way to protect their eyes than traditional sunglasses frames offer.
If you enjoy any active sports such as skiing, climbing, mountain biking, running or even simply hiking or travel, these are definitely worth considering.
They're also simply good-looking sunglasses that offer something a little different from other sunglasses styles, and you may want to choose them as something new for your everyday wear.
---
Frame and lense color options
At the time of writing this Ombraz review, their sunglasses are available in three styles: Dolomite, Classic and Leggero.
In the photos I'm wearing the Dolomite frames (in 'Slate'), and Helen is wearing the Classic (in 'Charcoal').
All three styles are similar to modified aviator styles that you may be familiar with from other sunglasses brands such as one the USA-made Randolph aviator sunglasses that I have reviewed previously.
The frames come in several regular colors, depending on the frame shape, including black ('charcoal') and a variety of tortoiseshell acrylic styles, although Ombraz also offers limited edition frames with other color options.
When it comes to your sunglasses lenses, you can choose from several lens colors with the following properties:
Polarized (grey, brown or yellow)
Non-polarized (grey or brown)
RX prescription lenses – these options are available via Lens and Frame Co
Clear blue-blockers – very cool if you don't need the sun protection but want to block blue light for heavy screen time, for example. They're so comfortable that I wouldn't have a problem wearing them for hours while putting in some screen time, myself.
---
Wearing the Ombraz sunglasses for running
Running is a good test of armless sunglasses, seeing as you're moving around with impact, and regularly moving your head as well as wearing some form of headgear (if you're like me, I'm always wearing a running hat, whatever the weather – here's why).
I'm pleased to report that they stay put on your face, and are comfortable to wear when running, and work well if you like to wear a hat as well as sunglasses when you run.
If you need to stop and take them off, it's quick to loosen the adjustable cord and hang them around your neck so you don't leave them somewhere and they don't fall off like other sunglasses can do when you sit them on top of your cap, for example.
---
Cost and where to buy
With polarized lenses these sunglasses cost $140, which is a good deal, especially when you compare them to other premium sunglasses targeted at athletes and adventurous types (such as some of the sunglasses featured on our best running sunglasses buyer's guide). If you don't want polarized lenses, you can save $15, as the non-polarized and clear glasses cost less at $125.
You can also buy these sunglasses with prescription lenses as mentioned above. These are, for obvious reasons, more costly – but a great option for glasses-wearers.
The full range of frames and lenses are available directly from the company with free shipping in the USA – and a 30-day return period if you need it. Hit the button below to visit their website and check out any other offers they may currently be running:
---
Ombraz Review Video
---
Ombraz Sunglasses review summary
Ombraz Sunglasses Review
PROS
Lightweight to wear and carry
Compact and slim to store in a pocket
Quality Zeiss polarized lenses with UV protection
Stylish acrylic frames
Makes wearing sunglasses with headgear more comfortable
CONS
Close fit and drawcord not for everyone
Limited frame styles (at date of review)
While easier to keep safe, not hugely rugged or durable
---
Image gallery