The HyperScrambler 2 from Juiced Bikes has been designed with fun and convenience in mind, and this is clear from the bike's smooth, comfortable ride experience, huge mileage (thanks to those two on-board batteries), and impressive top speed.
I'm really excited to share my insights with you in this Juiced HyperScrambler 2 review because this electric bike is a total beast to look at with a specifications sheet to back up its good looks.
My aim with this eBike review, as always, is to provide an impartial and informative review to help you make an informed buying decision because although this is an impressive electric bike loaded with features, it wont be for everyone.
In this Juiced HyperScrambler 2 review, I'm going to share my experiences riding this electric bike (Juiced Bikes' most premium eBike), give an overview of its key features, and what makes it stand out from the competition.
I'll also share where you can buy the HyperScrambler 2 bike for the best price, and finally my review summary with pros and cons and a score out of 10.
At the end of this review, I have included a photo gallery of this awesome looking e-bike to give you a closer look at some of the components and their build quality.
There's also a hands-on video review later in this post, demonstrating the HyperScrambler 2's acceleration, max speed, noise levels, and a walk-through of all its features.
About the Juiced Bikes Brand
Juiced Bikes was founded with a simple mission: to make electric bikes that are powerful, fun, and practical for everyday use, and I feel like those principles shine through quite clearly from the moment the eBike was delivered to me, in how well it was packaged up, right through to the build process and finally the riding experience.
The company was established in 2009 by U.S. Olympic high jumper and engineer Tora Harris, who specializes in innovative mobility solutions. Originally producing high-capacity Lithium-Ion batteries, Juiced Bikes expanded to e-bikes, launching their first model, the Juiced ODK Utility e-bike, in 2010.
So they've been around a while and I'm surprised they weren't on my radar sooner to be honest.
Their San Diego-based team oversees the design, engineering, and customer service, ensuring high standards are met in every aspect of their business which is important because the Juiced Bikes brand stands for reliability, safety, and affordability in the e-bike industry.
Juiced Bikes is also touted for having a very attentive customer service department, although I haven't had to use them yet.
What's it like riding the Juiced HyperScrambler 2 Founder's Edition eBike?
A ride on the Juiced HyperScrambler 2 eBike is quite unique compared to all the other eBikes I have reviewed over the years. Its powerful dual batteries and motors, combined with the fun twist throttle, make every ride feel more like an adventure rather than a necessary trip.
Sometimes a bit of a scary one, when you quickly realize you're moving at 35MPH, haha!
I have found this electric bike to be a joy to ride whether I'm zipping through my local streets or taking it off-road on light trails that allow eBikes.
I don't have to commute but the astonishing 100+ mile range means that it would be a very good solution for anyone who does need to, with some caveats of course.
The HyperScrambler 2 is very heavy, so if you need to store it in your office, requiring lifting the bike at any point, you may find yourself struggling at times. If however, you're ok storing it outdoors, then this won't be an issue.
Now, because it's a very nice (and expensive) looking eBike it could be a potential target for scallywag thieves but thankfully Juiced Bikes has the option to hide an Apple AirTag on one of the batteries, allowing you to be quickly notified if your bike starts to move, without you on it, and consequently track it down should you need to.
The HyperScrambler 2 is also very comfortable, thanks to a number of key features that I'll go into more detail on shortly.
In short, the bike's seat is well designed for rider comfort, enabling long rides without discomfort. Additionally, the front and rear suspension ensure a smooth ride, absorbing shock from bumps and rough terrain, further enhancing the ride quality.
One of the standout features of the HyperScrambler 2 is its fat tires, which also contribute to smooth handling and a comfortable ride. These tires not only add to the bike's sturdy look but also provide extra cushioning and stability. They excel in mixed terrain, enhancing the bike's versatility.
The bike's one-size-fits-all frame is also a noteworthy design choice from Juiced Bikes. It accommodates riders of different sizes in the same household, promoting inclusivity and good value for money as it can be shared, and making the bike a feasible choice for a wide variety of individuals.
Are the Handlebars Comfortable?
The comfort of the handlebars on the HyperScrambler 2 is worth highlighting too. Designed with the rider's comfort in mind, the ergonomic handlebars are easy to grip, reducing fatigue during long rides, which may be in your future if you buy a bike like this that has a mileage of 100+ miles on a single charge.
The positioning promotes a relaxed posture, helping to prevent any unnecessary strain on your back and arms.
What's it like when riding off-road?
When it comes to stability off-road, the Juiced HyperScrambler 2 really excels thanks to its dual suspension system, meaning both the front and rear wheels have shock absorbers.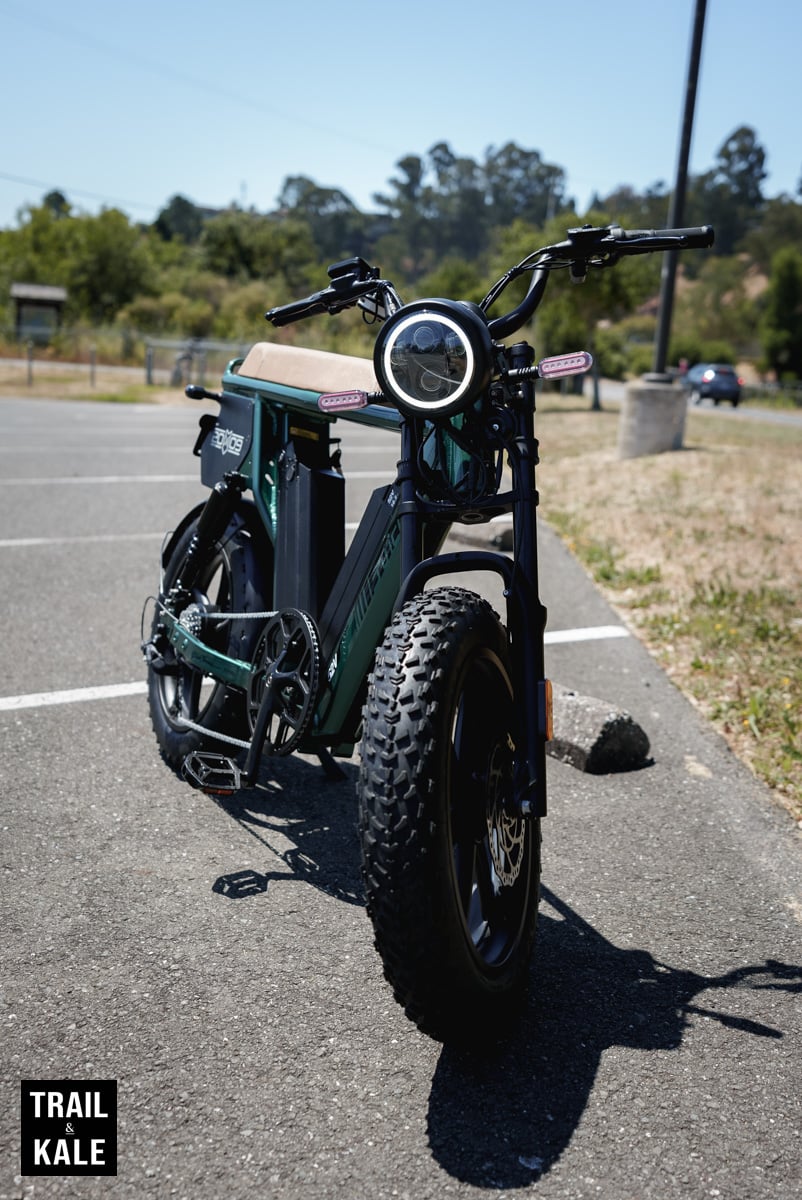 This suspension and fat tires significantly smooth out the bumps and vibrations that come from riding on uneven surfaces, and the result is a comfortable and stable ride, whether you're on tarmac, gravel, or light trails.
The HyperScrambler 2 also has a powerful 1,000W RetroBlade (2,000W Peak) motor, providing plenty of torque for tackling steep inclines and rough terrain.
Complemented by its torque and cadence pedal assist, it delivers a consistent and smooth power output that provides a fun and thrilling ride without compromising stability.
The bike is also equipped with a super bright 2000 lumen bright headlamp, which is an essential feature for on or off-road riding in low light. It has a much larger radius than most e-bikes, and lights up the path ahead really well, ensuring that you can navigate safely, even at night.
An essential feature that contributes to its stability and safety when riding is the hydraulic disc brakes.
These provide strong and reliable stopping power, vital when riding off-road where sudden stops may be necessary but also because the bike itself weighs 119lbs so reliable brakes is a must have to stop a bike that weighs this much.
The brakes respond quickly and efficiently, which gives me confidence that they can maintain control in a variety of riding conditions.
Is the Electric Motor Noisy?
Despite its power, the motor on the Juiced HyperScrambler 2 is surprisingly quiet – or at least no louder than some of the more quiet e-bikes I have reviewed in the past.
Even when pushing the motor to its limits, the noise level remains steady. This quiet operation contributes to a more enjoyable riding experience, allowing you to enjoy your surroundings without the distraction of a loud motor.
Whether you're riding in the city or the countryside, you can appreciate the tranquility that this quiet motor brings.
Features that I really like
1. Dual 52-Volt Battery Capacity
The power and performance of the HyperScrambler 2 are amplified by the dual 52-volt battery system which consists of two G2 52V/19.2Ah batteries.
This system provides a whopping 1,996 watt-hours of energy which ensures over 100 miles of riding on a single charge, an important factor for e-bike enthusiasts who demand long rides without the inconvenience of frequent charging.
The system's intelligent design alternates power draw between the two batteries, maximizing their longevity while ensuring consistent performance.
Juiced Bikes is pushing the boundaries of what is possible in e-bike technology with this battery system, and that makes sense considering they started out as a battery company.
Each battery is pretty hefty, and you'll need to turn them both on if you want to use them both – see my photo below of the power button.
It's impressive that such a robust power supply is available on an e-bike priced under $3,500 for the Founders Edition which is the Juiced Bike I have (and under $2600 for the standard HyperScrambler 2).
2. Torque and Cadence Pedal Assist
The sophisticated torque and cadence pedal assist system is another standout feature for me. It interprets your pedaling effort in real-time, providing a responsive boost of power when you need it.
The torque sensor measures the pressure exerted on the pedals 1000 times per second, adjusting the electric motor's output to match.
This enables the bike to offer an almost intuitive feel, responding in concert with your pedaling force. The high-definition cadence sensor enhances this relationship, registering more than 100 signals with each crank revolution.
This combination delivers a very responsive ride that matches your input with precision.
3. Dual Suspension
The HyperScrambler 2 is designed to conquer a variety of terrains with ease, thanks to its dual suspension system.
This feature gives the bike a smooth and enjoyable riding experience, regardless of the surface conditions.
The bike's suspension has adjustable settings that can be tuned to match the rider's weight and riding style which is a really nice touch, I have chosen to leave mine as it was when it arrived as it feels good to me.
This adjustability gives riders the flexibility to personalize their ride for optimal comfort and performance.
4. Advanced Display & Riding Modes
The onboard back-lit LCD display gives you so much information at your fingertips. It presents data like speed, distance, battery level, and even riding mode in an easy-to-read format, visible under any lighting conditions.
You can select from five different riding modes to tailor the riding experience, whether you're looking for an energy-efficient cruise in ECO mode or a thrilling speed-focused ride in Sport or Race mode.
The level of customization available through the display gives riders complete control over their e-bike experience – I love this, and of course, mostly ride with Race mode on. 🙂
5. Very Bright Headlamp
Incorporated into the design of the HyperScrambler 2 is that powerful and exceptionally bright headlamp that I mentioned earlier.
Emitting 2,000 lumens of light, this headlamp ensures clear visibility on the road or trail in low-light conditions and at night.
But it's not just a nighttime feature – the headlamp also includes a daytime running halo light, adding an extra layer of visibility and safety to your ride during daylight hours.
This is an important feature considering the increasing importance of being visible to other road users at all times, to ensure safety.
I also really like the look of the bulbous headlamp, lending the bike a stylish and modern look akin to a motorbike.
The bold, circular design is reminiscent of vintage motorbikes but with a contemporary twist, fitting seamlessly into the overall design of the HyperScrambler 2.
6. Flexible Turn Signals & Brake Lights
Safety features are of course important for any road vehicle, and e-bikes are no exception, especially this one that can be ridden more like a motorbike than an e-bike should you wish to.
The HyperScrambler 2 showcases Juiced Bikes' commitment to safety by including flexible turn signals (front and back), and brake lights that flex if they get knocked, as to prevent them from breaking/snapping off. See my video below for a demo of this.
The integrated turn signals are easy to operate, allowing you to clearly communicate your intentions to other road users.
The brake lights are equally important, illuminating brightly whenever the brakes are applied to alert those behind you of your intentions.
Such features are not always found in e-bikes, and their inclusion demonstrates the dedication Juiced Bikes has towards ensuring rider safety, even in heavy traffic conditions.
I like how the front and rear signal lights have some flex to them, giving then added durability should they ever get knocked.
7. Passenger Seat Ready
The HyperScrambler 2 has a passenger-ready seat, which is great because so many people will want to ride this bike as a couple.
This custom-designed, padded double seat enables you to share your e-bike experiences with a companion.
The seat measures 63 centimeters in length and 9 centimeters in height, providing ample space for a comfortable shared ride. The padding really adds to the overall comfort, allowing for longer rides too.
This isn't just a fun addition; it's also practical, and something I loved with my first eBike, years ago, the Rad Power Bikes RadRunner. Whether you're running errands with a friend or going on a scenic ride with a loved one, the dual seat design makes the bike so versatile.
Things that could be improved
While the HyperScrambler 2 is a powerhouse of an e-bike packed with impressive features, there's one area where potential improvement could be considered: the bike's weight, which is a staggering 119lbs with both batteries attached (96lbs without).
The robust build and inclusion of two batteries contribute to a substantial weight, making the HyperScrambler 2 heavier than most other e-bikes on the market.
This weight can be a double-edged sword: on one hand, it contributes to the bike's stability and its ability to handle rugged terrains, but on the other, it can make the bike more challenging to handle when off the saddle.
Maneuvering the bike, especially in tight spaces, would be a bit of a challenge due to its weight, if it wasn't for the very useful 'walk assist' mode that is activated by holding down the "-" button on the display.
This feature serves the purpose of being able to walk this heavy bike up hills effortlessly, and it delivers very well.
Maybe in the future, Juiced Bikes could consider incorporating advanced lightweight materials into the design of the HyperScrambler 2, to help mitigate this issue, although that would significantly increase the price of the bike.
Nonetheless, it's worth noting that the weight is a trade-off for the bike's exceptional power, battery capacity, and all-around performance – features that many riders would likely prioritize in this type of high-performance, adventure-ready e-bike.
The other issue is that the buttons on the handlebars are a bit of a stretch away from your thumbs when riding.
This means you have to move your hands of the handlebars a bit in order to use features including the horn, indicators, and pedal assist controls – this is best described in my video below.
Where to buy the HyperScrambler 2 e-bike
You can buy the HyperScrambler 2 directly from juicedbikes.com for $1,999 $2,599 or $3,499 for the limited run Founder's Edition that I have (which is gorgeous).
I see this as good value for money for an electric bike package that offers so many great features including full lighting, turn signals, front and rear suspension, 100+ miles of range, and a top speed of over 35MPH.
---
Video review
---
Juiced HyperScrambler 2 review summary
Juiced HyperScrambler 2 review
PROS
Equipped with two 52V/19.2Ah batteries, providing more than 100 miles of range, a lot of power, and high performance.
Incorporates both torque and cadence sensors for precision power, improving ride comfort and efficiency.
Both front and rear suspension absorb shocks and bumps, ensuring a smoother and more comfortable ride regardless of terrain.
The display is informative and allows you to track real-time metrics and customize the riding experience as per their need.
The bright 2,000-lumen headlamp, provides safety and confidence during night or dusk rides.
Integrated turn signals and brake lights for better visibility on the road, enhancing rider safety.
Passenger Ready: Designed to accommodate a passenger, adding to its versatility.
CONS
The e-bike is heavier than standard utility e-bikes but somewhat comparable to the larger models that look similar to this one. This weight would make it tricky to walk, especially up hills, if it wasn't for the very effective walk assist mode (activated by holding down the minus button for 2 seconds - demonstrated in my video).
The buttons on the handle bars like the indicators, horn, and pedal assist buttons are a bit of a stretch away to use.
It's quite high off the ground so shorter people may struggle stopping and getting off it. The best way to do this is to lean the bike to your most comfortable side so you foot can touch the ground easily. It's a quick technique to learn.
---
More photos of the HyperScrambler 2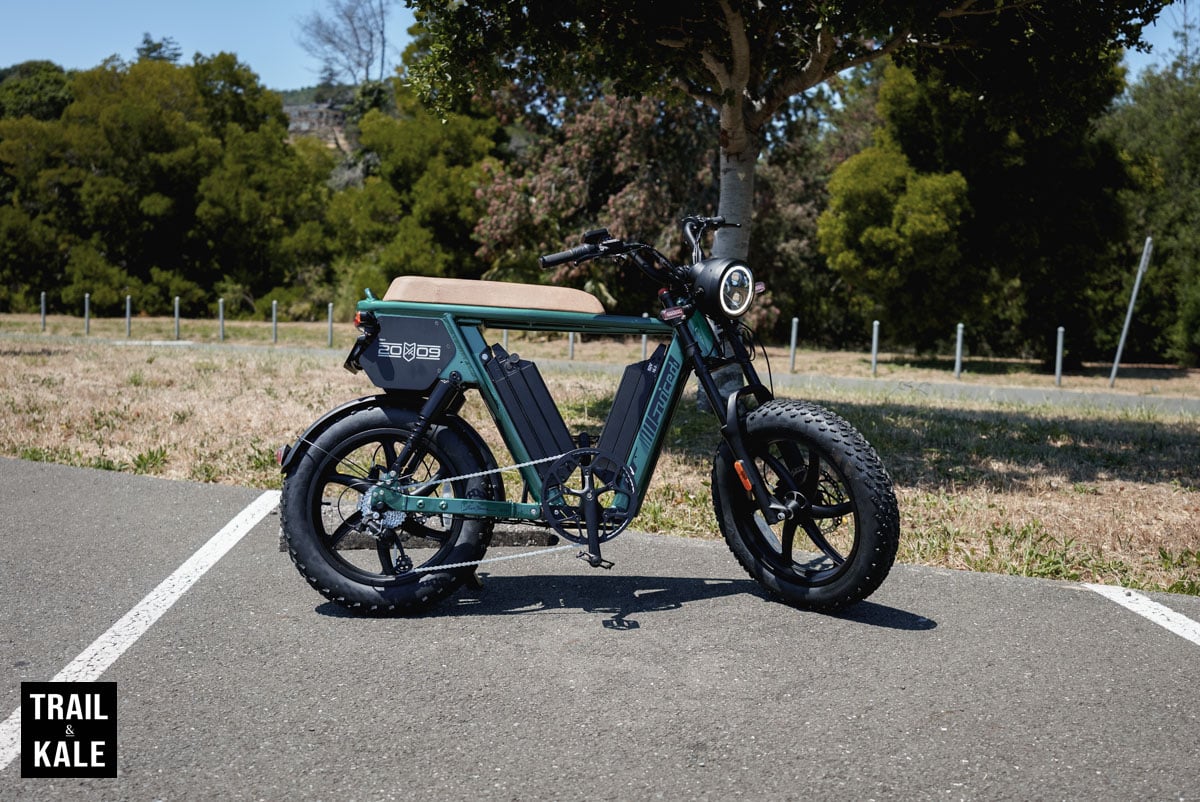 ---
Here's the full list of technical specifications for the HyperScrambler 2
Range: 100+ Mile Range
Speed: 30+ MPH
Bike Weight: 119lbs (96lbs w/o Batteries)
Suspension: Front & Rear
Tires: 20"x4.25" Puncture Resistant
Weight Capacity: 275lbs
Transmission: 8-Speed Cassette
Pedal Assist: Cadence & Torque Sensors
Motor: 1,000W RetroBlade (2,000W Peak)
Battery: Up to Two G2 52V/ 19.2Ah
Watt Hours: 995 Wh (1989 Wh)
Controller: 12 Transistor / 35 Amp Peak
Throttle: Half Twist
Charger: 2Amp Charger(s)
Display: Advanced LCD Display
USB Charger: 1A USB port
Turn Signals: Integrated Turn Signals
Frame: Custom Aluminum Heat-Treated
Brakes: 180mm Hydraulic Disc
Wheels: Custom Cast Aluminum "Mag"
Tires: 20″x4.25″ Puncture Resistant Tires
Fork: Triple Clamp Hydraulic Lockout
Transmission: Microshift 8-Speed Cassette
Mirrors: Rearview Mirrors Included
Headlight: 2,000 Lum Headlamp w/ Halo DRL
Tail Light: LED with Brake Light & Turn Signals
Chain Ring: Pro Wheel 60T/170MM
Pedals: Platform Pedals
Rear Rack: Optional
Horn: Integrated Motorcycle Horn
Rear Suspension: Steel Spring
Seat: Custom Padded Double Seat