What is the UTMB race?
So you're thinking about running UTMB, or are curious to learn what this famous European trail race is all about? You've come to the right place! In simplest terms, the UTMB, or Ultra Trail du Mont Blanc is a famous destination ultramarathon running race in Europe, starting and finishing in Chamonix, in the French Alps. The UTMB race involves around 106 miles (170km) of running and a circumnavigation of Mont Blanc, the highest mountain in Western Europe.
How many people run the UTMB?
Around 2,300 people run the UTMB race itself. However, In addition to the headline UTMB race, the event also includes six other endurance races, most of which are also ultramarathons ranging in distance from 53km (the OCC) to 300km (the PTL). In total, around 10,000 people run over the course of the Ultra-Trail du Mont Blanc event week.
When does UTMB take place?
The UTMB race is held around the last week of August / first week of September each year.
What are the other UTMB races?
The other UTMB ultramarathon races held during the UTMB race week are:
TDS – "Sur les Traces des Ducs de Savoie" – 145km and 9,100m ascent – point-to-point from Italy to France
CCC – Courmayeur-Champex-Chamonix – 101km and 6,100m ascent – point-to-point from Italy to France, via Switzerland
OCC – Orsieres-Champex-Chamonix – 55km and 3,500m ascent, point to point from Switzerland to France
PTL – Petit Trotte a Leon – 300km and 25,000m of ascent, this is a non-competitive event, in teams of 2-3 people who are self-supported
There are also two other races, YCC and MCC, which are shorter races for youngsters and volunteers/local community members respectively.
Why is the UTMB race so famous?
The Ultra Trail du Mont Blanc ultra marathon is famous because it is a huge challenge, held in the trail running mecca of Chamonix along a well-known hiking route which circumnavigates a huge mountain.
As it is recognized as one of the toughest foot races in the World, each year we see it gaining in popularity, especially with runners traveling from overseas.
What is the elevation gain at UTMB?
During the 106 miles / 170km of running that participants will need to complete, UTMB runners also travel through high elevation passes (2,500m+ / 8,200ft+) and need to be able to manage themselves in changeable mountain conditions, ranging from scorching summer heat to freezing high-altitude precipitation. Elevation gain during the Ultra Trail du Mont Blanc covers more than 10,000m (c.33,000ft) of climbing and the same descending.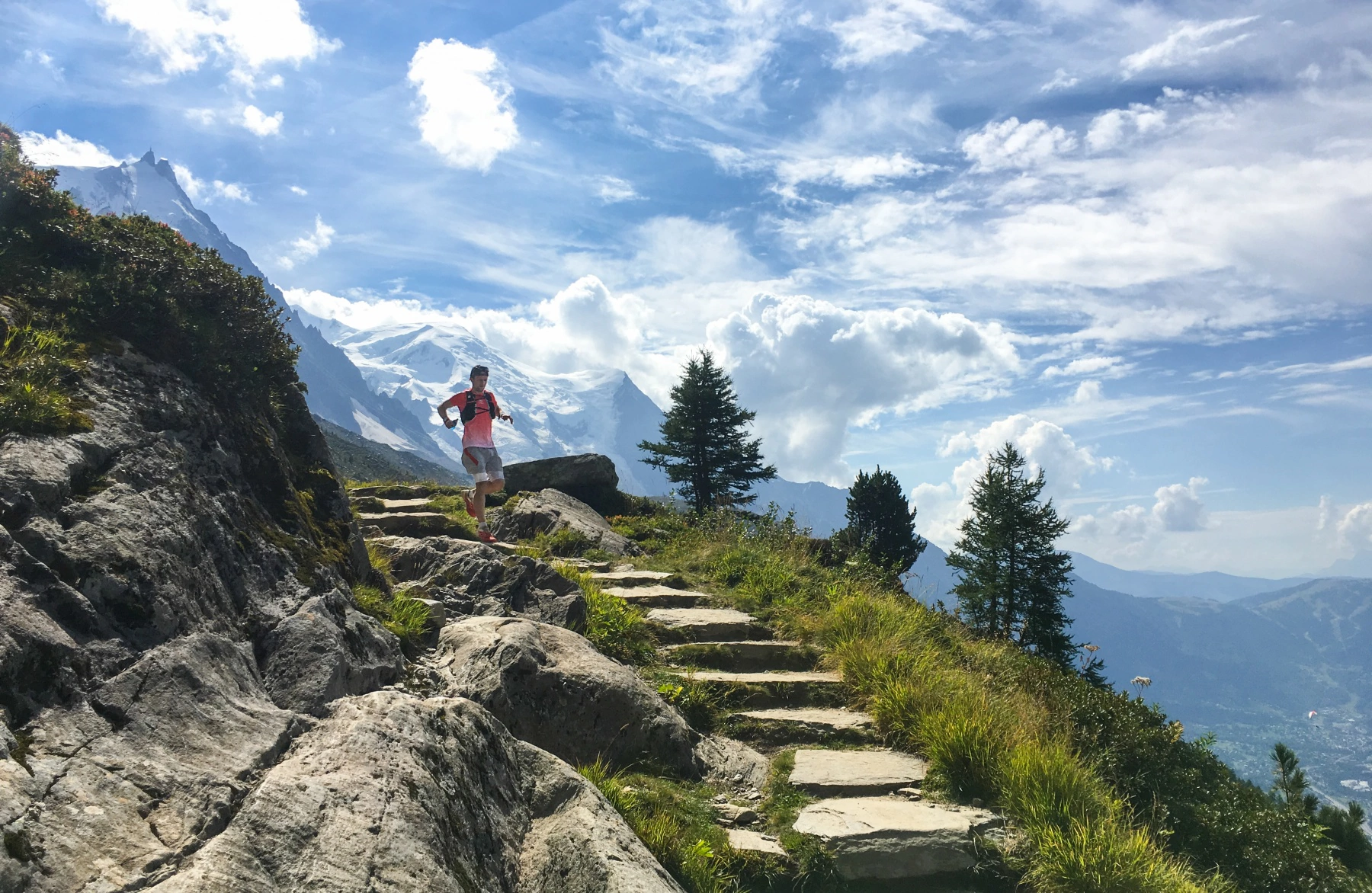 How long does the UTMB race take to complete?
In addition to time barrier cut-offs during the UTMB race, runners have up to 46h30 to complete it. Most people can expect to be out on the UTMB course over two nights, as the race starts at 6pm on the first night. The fastest finishers can complete the course in less than 21 hours!
It's also worth noting that due to the level of difficulty, the drop-out rate (percentage of people not finishing) at the Ultra Trail du Mont Blanc can be up to around 40% of starters. This rate is particularly high in years with bad weather (cold, wet and stormy) and really hot years, when runners can struggle with more challenging terrain and exposure during cold and wet / stormy weather, or with dehydration and gut issues when attempting the race in hot summer conditions.
Can I have a pacer at UTMB?
Pacers are not permitted for the UTMB. In general, ultra marathon pacers are pretty uncommon in European races, unlike in the US where pacers are often permitted on 100 mile race courses.
How do I run the UTMB race?
Hold your horses! Due to the size of the challenge and the number of people wanting to run the Ultra Trail du Mont Blanc (whether the headline UTMB Race or one of the other races such as TDS, CCC or OCC), in order to qualify you need to complete a certain number of challenging 'qualifying races' to accumulate sufficient points and experience before being able to apply for a place via UTMB's lottery system.
UTMB's organizers refer to the points as 'running stones', and their website is updated each year to reflect how many stones you need to enter each race.
What do I need to wear and carry for UTMB?
The UTMB race has a list of mandatory kit. The list of requirements may change between years and even on race-day, depending on anticipated weather conditions, but we definitely recommend you invest in a good hydration pack, headlamp, waterproof jacket, hiking poles and of some great trail running shoes. You'll probably need this ultra running gear anyway during the months leading up to the race, while you build up your training.
If you want to get the best trail and ultra running gear for this race (or another similar race) check out our Ultimate Trail Running Gear Guide.
What are the UTMB qualifying races?
UTMB qualifying races are all trail races that take place all over the world, and that offer a varying number of ITRA points on completion (and some need to be completed within a certain time limit to count). There are a lot of options on every continent to enable you to accumulate enough points, but note that if you need say 10 points to enter the UTMB lottery, you need to acquire them from only two races, ie two races that give you either 5+5 or 4+6 points – you can't run 5x easier 2-point races and still apply for a UTMB bib 🙂
How does the UTMB points system and lottery work?
The UTMB race uses ITRA points for determining if runners are eligible to enter a lottery to obtain a bib for one of their races. It's best to check the organizer's website for the latest details on how to accumulate points, which races offer points, and how many points are needed for your chosen UTMB distance, as this is subject to change between years.
The qualifying races and number of points they offer can change each year so we recommend keeping an eye on the organizer's site for the most accurate information. There's also a handy points-checker on their site, where you can enter your name and date of birth and see how many ITRA points you have accumulated to date.
Other challenging European Destination Trail Races and Ultramarathons like UTMB
If you like the sound of the UTMB but would prefer a race that is a little different (and less famous) without spending a couple of years accumulating points for the lottery, then have a read of our post on 'Alternatives to UTMB' for some ideas and suggestions for other destination trail races in Europe. Also browse our Events & Races category for loads more trail race inspiration!