Welcome to the first in our 'runcation' running vacation series. This is our guide on planning a Chamonix trail running vacation and spending some days playing in this magnificent runner's paradise in the French Alps and home of the famous UTMB and Marathon du Mont Blanc races.
ADVERTISEMENT
In this guide we cover everything from when to visit, what the weather's like in Chamonix in summer, how to get there, where to stay and how to get around. Plus, we're sharing some of our favorite, easily-accessible trails for running on in the Chamonix valley.
Table of Contents – Planning a Chamonix Trail Running Vacation
Why visit Chamonix for a trail running vacation?
If you are relatively new to trail and mountain running or unfamiliar with the European mountain running scene, then you're in for a treat.
Chamonix is one of the best places in the world to go trail running in the mountains.
It's beautiful, accessible, challenging, and famous for mountain running races such as the two mentioned above.
We have visited Chamonix countless times, and keep returning because there's so much to do there – and the races are quite something.
On our last visit, Alastair ran one of the famous UTMB ultramarathon races, the OCC.
Best time to visit Chamonix for a trail running vacation
Chamonix is famous for a lot of things, including being one of the most popular destinations in Europe for skiing and mountaineering (it hosted the first ever Winter Olympics in 1924). Oh yes, and a little race called the Ultra Trail du Mont Blanc at the end of the summer.
Use the interactive map below to choose the best hotels in the area.
You can run in Chamonix any time of year when there isn't a significant amount of snow.
We find early Fall (September-time) is the best time to go if you want to minimize the possibility of snow on higher trail elevations.
You also miss the peak summer tourist season, when it can get crowded, and a little too hot for running at times.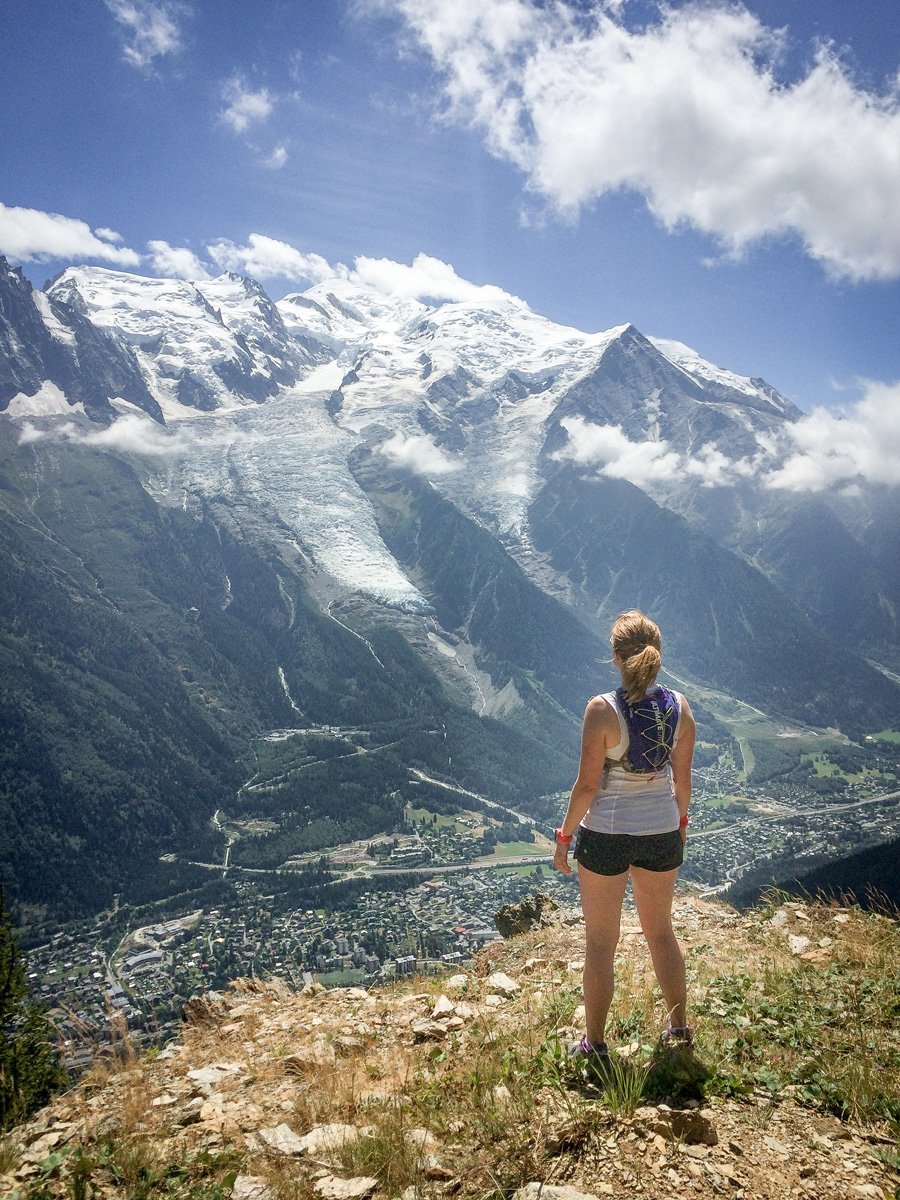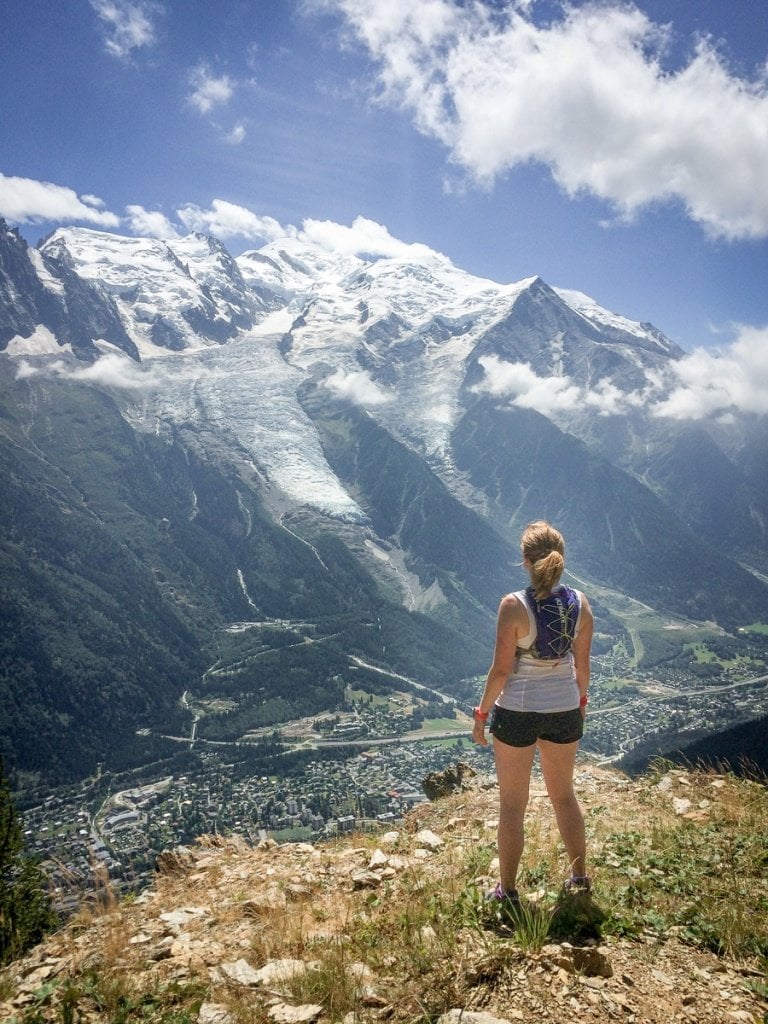 What is the weather and temperature like in Chamonix in September?
Gorgeous! In September, average temperatures range from 60-77 Fahrenheit (15-25 Celsius).
However, you're in the mountains, and we have seen it as high as the 90s (F) during the day, and drop to around 50 (F) at night in town (obviously it is likely to be much colder if you were in the mountains at night, rather than the town).
There's always the possibility of rain and storms, that's part of the fun and adventure – so you need to be prepared and plan and pack accordingly.
If you visit in Summer rather than Fall you can expect hotter temperatures, although it still drops at night given you're in the mountains at a bit of altitude.
How to get to Chamonix, France
We prefer to travel to Chamonix by flying into Geneva International Airport. There are lots of international flights that go directly to Geneva, including from regional airports of the UK.
If you are renting a car when you travel to Chamonix and can't fly direct to Geneva, then another option is to fly into another city in the region including other countries in Europe with Turin, Italy, being the next-closest, and drive to Chamonix from there.
If you do fly in to Italy you'll need to go through the Mont Blanc tunnel, which isn't cheap but is an experience in itself as it passes from Italy to France under Mont Blanc.
We have also flown into Zurich, Switzerland, because we could get a direct flight utilizing some airline points, and that worked out well – driving in Switzerland is easy as the roads and drivers are so good compared to pretty much anywhere else in the world I have driven.
You can also get the train to Chamonix from other parts of Switzerland, which we have also done when we visited Zermatt in the same trip.
Once you land at Geneva airport, you have lots of options for getting to Chamonix, including shuttle buses, ChamExpress and AlpyBus, which take around 1h30.
The train takes a lot longer but is do-able. Otherwise, hiring a car is easy at the airport and the roads are good to drive on.
Where to stay when visiting Chamonix for trail running
Use the interactive map below to choose the best hotels in the area.
If you have a car, you have more options, however if you're using shared transport (eg the ChamExpress) to get to Chamonix, you'll probably want to stay in Chamonix town, or Les Houches, further along the valley, as it will be easier to get around.
You have the choice of chalets, apartments or hotels.
Chamonix is a large resort area by European standards, and you can stay anywhere along the valley from the villages of Les Houches to Vallorcine and be within 15-20 minutes of the center of Chamonix town, as well as having plenty of good access to trails regardless of where you are staying in the valley.
Chamonix hotel recommendations
Some highly-rated hotels in the area which we have stayed at are:
Places to eat in Chamonix
You're spoilt for choice in Chamonix, although if you're on a budget, it can be hard to find anything for a reasonable price that isn't pizza or very cheesy 🙂
Having said that, there is a great pizza place on Rue des Moulins (Pizzeria des Moulins), as well as some other great eateries (Restaurant Le Cap-Horn is great for a fancier meal out).
Otherwise, we choose to visit the supermarkets in town and stock up on essentials, for breakfast, snacks and dinner on most days.
How to get around Chamonix
For when you don't want to run, Chamonix offers a free bus to visitors.
The bus route runs the length of the valley and is great if you are running one way, and get tired or plan to do a one-way run and not a loop. Details here: Chamonix Transport.
Otherwise, you can get around on bicycle or rented car – although the car parks in town do tend to get crowded especially during summer and event times.
Our favourite Chamonix running trails
It's hard to pick favourite running trails in Chamonix because everywhere is beautiful and offers something different…
It's a good idea to visit one of the bookstores in town, and pick up a detailed trail map, and possibly even a book on Chamonix trails.
There is a bookstore on Rue de Dr Paccard called 'Press House' which has a great section for browsing, inspiration and picking up essential maps and books.
I HIGHLY RECOMMEND getTING a laminated map TO STUDY BEFORE YOU GO AND CARRY with you on the trails.
Chamonix's website offers some pre-planned running routes, by distance, estimated duration, and elevation. These are great to print out and take with you before you go.
Local trail running races in Chamonix, France
Too many to count and it's best to do some research before you go as the dates/weeks of races change between years.
The famous races you may have heard of are:
Even if you're not planning to race yourself, it can be a great experience to witness and support the athletes running these races, the atmosphere is really something special at these big European trail running events.
Let us know in the comments section below if you're planning a Chamonix trail running vacation, or if you've visited and have any more top tips for people looking to go!
You may also like to read…
For more on what to wear and take trail running, especially in the mountains, these guides may be helpful: