Insoles for running shoes are gaining popularity amongst runners – and especially road runners – who are seeking additional support for their feet than perhaps already offered in their existing running shoes' insoles.
ADVERTISEMENT
Tread Labs is a company dedicated to insoles – and specifically three types of insoles for: performance improvement, pain relief and comfort.
Being runners, the focus of this Tread Labs review is on the insoles they have created for running and sports performance improvement.
In this Tread Labs review I'm also covering some additional information on how the pain relief 'Pace' insoles are designed to help ease foot pain such as Plantar Fasciitis, which is a common issue amongst runners – and especially road runners.
These insoles can be used to replace your running shoes' regular insoles with a more supportive insole that can help you stop getting Plantar Fasciitis or making it worse when you run.
---
Tread Labs Review – Table of Contents
---
About Tread Labs insoles
The brand offers three categories of insoles, designed for different needs:
Performance ('Dash') – specifically designed to replace the insoles in your running shoes, hiking boots and other footwear with full length removable inserts.
Recovery ('Pace') – designed to support your arches, improve alignment and allow long term relief from foot pain such as Plantar Fasciitis
Comfort ('Ramble') – for cushioning support and everyday comfort (not covered in this Tread Labs review)
This Tread Labs review focuses on the 'Dash' performance insoles and how they change the feel and potentially the performance when worn in a pair of running shoes.
In addition, although I don't generally suffer from Plantar Fasciitis, I've included details of the 'Pace' pain relief insoles, including a photo gallery and how they feel when worn in my everyday shoes compared to the shoes' original insoles.
These insoles are designed to replace the existing insoles in your shoes, and can be used in your running shoes, as well as other footwear you wear regularly, including your everyday footwear, hiking boots, and other sports shoes such as cycling or golf shoes.
---
Why might you need insoles in your running shoes?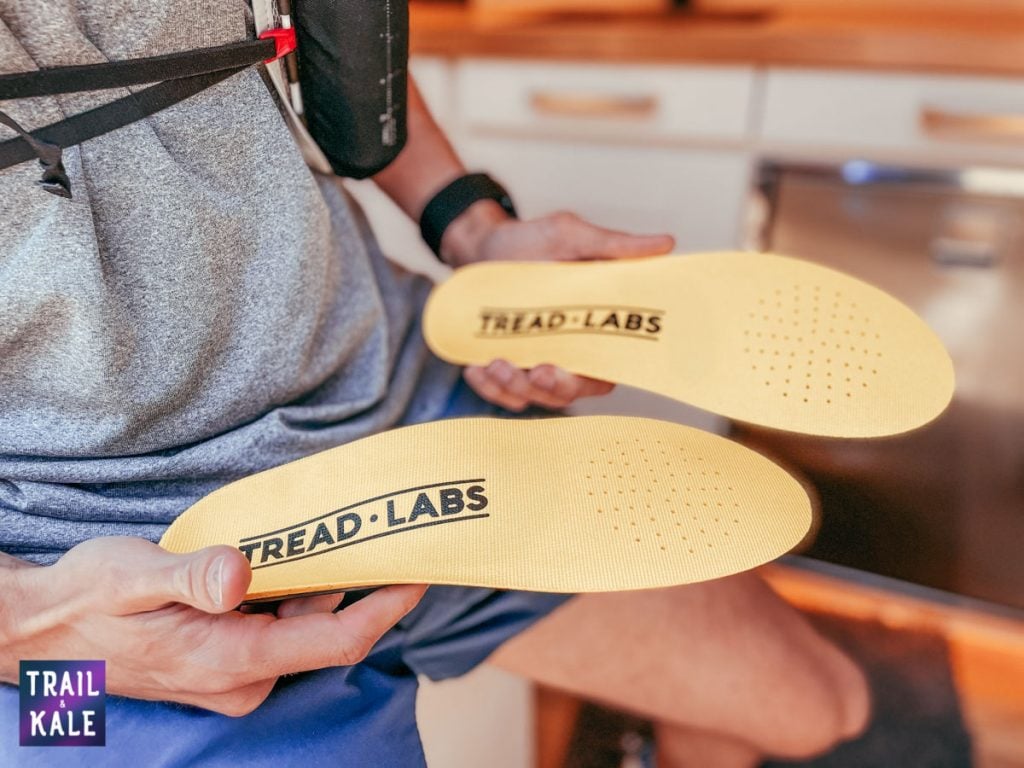 For many people, replacing your insoles in your running shoes may not be necessary. However, we generally find that people looking to replace their running shoes' insoles fall into one of two categories.
Those categories are that you are either:
seeking performance improvement in your running and believe extra support and firmer insoles within your running shoes will provide the responsiveness and support you need to do so.
seeking a way to help reduce instances of foot pain from running, which could be something such as Plantar Fasciitis, which can be particularly common amongst people with lower foot arches or weaker high arches which can benefit from the additional support of a purpose-shaped insole.
The Dash running shoe insole is designed to be low profile and replace your running shoes' existing foam insole.
This insole is intended to help people looking for performance improvement in their running, which can be achieved as a result of improving biomechanics and alignment – which affects everything from how your feet touch the ground to your overall posture, back strength and hip position when running.
The Pace shoe insole is designed to specifically support people who suffer from foot pain and feel the need for some additional arch support and a firmer shoe insole.
This could especially be the case if you've been suffering from Plantar Fasciitis (which is generally described as pain as a result of a strained bottom-of-your-foot) and your feet will be more comfortable once they're supported by some insoles that are specifically designed to alleviate that issue through providing greater support.
2-part insoles kits and interchangeable foam insole footbeds
Tread Labs insoles are made up of two parts: the foam top cover, which is covered with a 100% polyester recycled fabric layer, and either a carbon or plastic heel and arch plate, which is the key part of the insoles.
A great thing about these insoles is that the heel and arch plate (carbon in the Dash insoles, plastic in the Pace insoles) can be removed from the foam top cover so you can change the thickness of the top cover to suit your choice of footwear, and also if the foam wears out over time through use, you keep the carbon or plastic insole portion and replace it with a new foam layer.
This means that you could theoretically own and use the insoles forever, because while you may need to replace the foam topper periodically, the key (and more expensive) part of the insoles, being the molded arch supports, are guaranteed for life.
The company stands behind the quality and integrity of the molded insole and promise to replace them if they ever crack or lose their shape, with no questions asked.
---
Choosing the right size and arch height
The insoles come in regular shoe sizes, and offer low, medium, high and extra high arch height options, so you can choose the height that best suits your feet, and they have a guide on their website to help you work out which would be most suitable.
For sizing, you should choose the size option that includes your shoe size. I would err on the larger side if you need to, as you can trim the foam to fit your shoes.
I have pretty typical foot arches, so wouldn't consider myself as having unusually low arches or being flat footed.
For this reason, when choosing insoles, I am mindful that I don't want insoles that are going to 'push' on my foot's arches, as that could cause unnecessary pressure and rubbing.
I am using the 'medium' arch height insoles you see in the images, to give you an idea of how that looks.
My suggestion is that if you are looking to buy some insoles you use the guide provided on their website, and if unsure which arch height to go for then err on the lower arch support side.
---
'Dash' Insoles for Running Performance
The Dash insoles are built using a 100% carbon fiber arch support.
The idea behind this design, over a regular running shoe foam insole, is that the carbon fiber plate is sufficiently firm to improve your power transfer – that is, the power driven by your foot pushing off the ground and propelling you forward when you run. It also offers stability benefits that work to increase that power.
Don't expect as much comfort with these insoles over the 'Pace' insoles as you can definitely feel the solid carbon fiber plate underneath the 'thin' foam top cover that I have been testing – it may be worth considering pairing the Dash insoles with the thicker 5mm foam top cover if comfort is a concern for you.
I would also recommend checking the thickness of your current running shoe insoles and choose the thickness of your new top cover based on those.
This will ensure they provide the same amount of room inside your shoe when your foot is in there with the insoles, and don't make your shoes feel too tight if you go for thicker insoles, for example.
The carbon fiber plate is more noticeable underfoot than the plastic plate of the Pace insoles, because plastic has a little more flex.
The Dash's carbon fiber plate solid properties allow for greater energy return, as less energy is lost from being absorbed by cushioning.
It's no secret however, that as a general rule, to be able gain more performance you undoubtedly have to sacrifice a little comfort.
If you are looking for improved power and stability I would also suggest pairing these insoles with firmer running shoes, rather than those designed to provide a lot of cushioning and pillows.
This is because, in my experience, the additional cushioning comes at the expense of power transfer and ultimately, speed.
So, if speed is your goal, some road running shoes designed for speed, combined with these insoles, would be what I suggest for a winning combination and to reduce the possibility of the shoes' cushioning offsetting the potential performance benefits you will gain from using the dash insoles in your running shoes.
I can see these performance running insoles particularly benefitting road runners as when you run on hard surfaces such as tarmac and concrete you have a consistent, and hard, ground to push off against – and that's where carbon fiber insoles to some degree (and most definitely shoes with carbon plates built into them, like the On Cloudboom) can most benefit you when it comes to overall running speed.
For trail running there is less of a speed benefit, as speed is often limited by factors other than the stability of your shoe, such as uphill gradients, uneven terrain and ground/weather conditions, in which cases you need some degree of flexibility to improve performance.
Although the Dash insoles are targeted at those wanting to improve running performance (and other sports performance such as cycling), they could potentially also benefit you in your everyday shoes and footwear such as your hiking boots.
Having the extra support to push off with when hiking and road cycling can really help reduce strain on the sole of your feet and make each step more efficient.
---
How the Pace insoles are designed to help with Plantar Fasciitis foot pain
The Pace insoles are designed to provide firm, medical-grade support in your shoes without you having to take the route of getting custom-made expensive medical insoles.
These are specifically designed to help people suffering with foot pain, which can be caused or exacerbated by wearing shoes without sufficient support, which can strain the soles of your feet and cause or worsen soreness and inflammation in your plantar fascia.
The plastic insole portion works to support arches, improve alignment and help you work towards longer term foot pain relief.
If you suffer from Plantar Fasciitis as a runner, and are less worried about getting performance gains from your insoles but are seeking some help with the foot pain, then these insoles can be used to replace your running shoes' existing foam insole.
The Pace insoles kit (pictured) has three different foam layers which you can switch between – so if your running shoes have a very thin insole, you can use the thinner foam insole (middle) which is only 3mm thick, or if it's a bit thicker the the insole at the front of the picture, which has 5mm thick foam, could be a better fit for your shoes.
If you have shallower feet then you can also use this as an opportunity to create a bit less volume in your running shoes, which may help you get a better fit within the shoes (but make sure you don't make them too snug, as that can cause unnecessary rubbing).
---
Where to buy
Tread Labs is an American company which ships to most of the world.
We suggest buying the insoles directly from their website for the widest choice and easy access to their buying guides and FAQ resources.
'Dash' Insoles
Last Amazon price update was: 7th December 2022 10:01 am
'Pace' Insoles
Last Amazon price update was: 7th December 2022 10:01 am
They are also sold on their Amazon store.
Review Summary
Tread Labs Review
PROS
Love how customizable and modular these insoles are with varying materials and top layer thicknesses
The thicker foam top layer makes for very comfortable running
Quality product with a lifetime time guarantee on the arch plates
CONS
Dash insoles are not the most comfortable to run longer distances with the thin foam insole. I'd recommend using them with the thicker 5mm foam insert
---
I hope this review answered any questions you may have had about them, but if you have a question that I haven't answered in this review, feel free to put it in the comments below and I'll get back to you very soon.
---
Image Gallery