If you are a regular visitor to our website or follow us on Instagram then you'll know that I am a frisbee-loving dog.
As a Border Collie that probably isn't a big surprise – we're known for being frisbee dogs – but this post is for any dog who loves to experience the joy of the chase, catching and fetching one of these flying discs.
I've been through a lot of dog frisbees in my time and have become somewhat of a dog frisbee expert, so in this post I'm sharing the best dog frisbees I know of.
I've personally chased, fetched and fixated on all of these frisbees for dogs and I know that if you're anything like me then you'll love one of these discs next time your parents or human friends decide to buy you a new toy.
By the way, if you'd like to catch clips and photos of me going after my discs, my parents often share highlights of my training sessions over on Instagram.
Ok, let's get into it. Read on for tips on choosing the best disc for you, plus my recommendations for the best hard, soft, floating and durable chewer-friendly frisbee options.
If you're in a hurry and want a quick pick, then you can't really go wrong with one of these Booda Tailspin Flyers (one of my all-time favs).
---
What makes a good frisbee for dogs?
A good frisbee flight style for chasing, fetching and playing tug
First and foremost the frisbee needs to fly well. It ideally glides through the air with a fairly low curve, allowing me plenty of time to chase it and position myself to catch it out of the air.
Some frisbees fly long and low, others fly up and down and don't go as far, so if your heart's desire is to chase a disc and run long, you will need to get a frisbee designed to go the distance.
However, if you like to catch a short throw and return it for a game of tug then there are frisbees designed for that, too.
Should you buy a soft or hard dog frisbee?
If you're new to frisbee and you aren't a big toy chewer then I suggest getting a soft dog frisbee rather than starting with a hard frisbee, which can be hard on your mouth.
If you're young then it's also best to start out with a soft frisbee, like I did when I was a young pup and a little clumsy. You can also get smaller frisbees more suited to puppies, as well as smaller dogs.
Some of my favorite flying discs are the soft ones. I can catch them out of the air at full speed without risking hurting my mouth, or making a special effort to grab the edge of the disc rather than chomping at the center!
The only drawback to soft discs is that I love the mouth-feel so much that I'm less quick to drop them, compared to harder frisbees. If that sounds like you, then you may get more use out of a hard disc before you destroy it.
Frisbee durability and life
Pretty much all dog toys have a limited life, but if it's going to fall apart prematurely through normal use then I don't want to know (it's just too hard to say goodbye too frequently to your favorite toys).
That said, for most dogs it seems the soft frisbees in this list will generally not last as long as harder frisbees, but while they last they're so enjoyable that it's worth it anyway.
It's worth noting that I don't have unlimited access to my frisbees. They only come out when it's time to play with my parents. This enhances their value to me and the value and focus I place on our frisbee games together.
It also means that I can't go away and chew up my favorite toys without supervision, so my frisbees generally last a lot of throws.
I definitely recommend you ask your parents to keep your frisbee out of your reach (and sight) when you're not playing with it. This will be a very hard thing to ask them (because you will probably get highly addicted to your discs and not want them to get put away at all) but it is worth it to keep them special and intact for longer.
For more dog toys (other than frisbees), head over to our guide to the best dog toys which lists all of my favorites, including balls and calming puzzle toys I've tried and tested.
What is the best frisbee color for dogs?
The color of your toys makes a difference!
We dogs see some colors better than other, with blue and mustard-yellow apparently being two of the most striking colors that are easiest for us to see.
Apparently red and green look like shades of gray to us, so they're not as good.
Plus, if you play frisbee with your dog on grass, then having a green frisbee probably makes the game more difficult for both of us when it's harder to see it on the ground or when it's flying near a green hill!
---
The 6 Best Dog Frisbees – According to Border Collie Kepler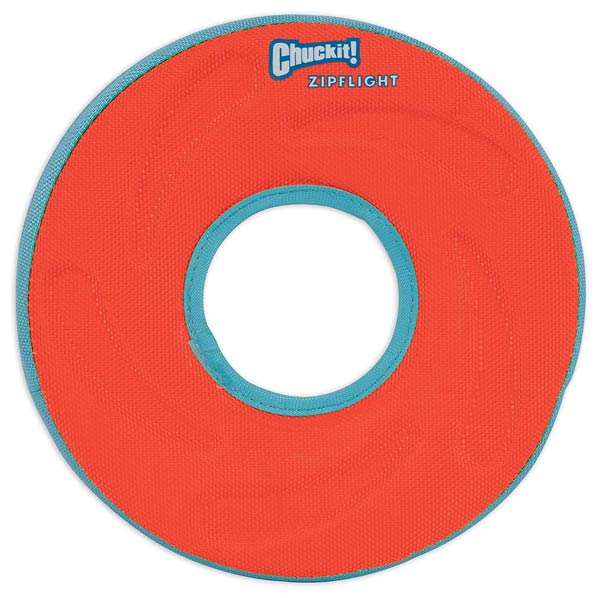 1. Best Soft Dog Frisbee – Chuckit! Zipflight ($6+)
The Chuckit! Zipflight soft dog frisbee is a particularly good frisbee for puppies and smaller dogs! I have owned many of these beautiful flying discs and they've brought me much joy.
While soft fabric frisbees don't last as long as other frisbees (as the fabric naturally starts to shred with too many catches (especially if you have sharp little puppy teeth) and they get dirty in muddy conditions) that doesn't stop me enjoying them.
They're also good value from a cost and – most importantly – fun perspective!
In fact, I like them more when they're stinky, because then my parents can also play a game of 'hide-the-frisbee' and I get to sniff it out from all the hiding places they put it in.
I've had the Small size and Medium sizes – both are great, and the small is a great choice for smaller dogs and puppies. They also float, which is a win if you're playing disc dog near a body of water.
When I was young and growing my parents would roll it along the ground for me to chase and fetch, which helped build up my intense love of frisbee that you see in me today.
Even today, when it comes to chasing and fetching, I still play with the Small version of these soft frisbees when I want the challenge of a faster-flying, yet soft, disc.
Last Amazon price update was: 24th September 2023 7:31 am
---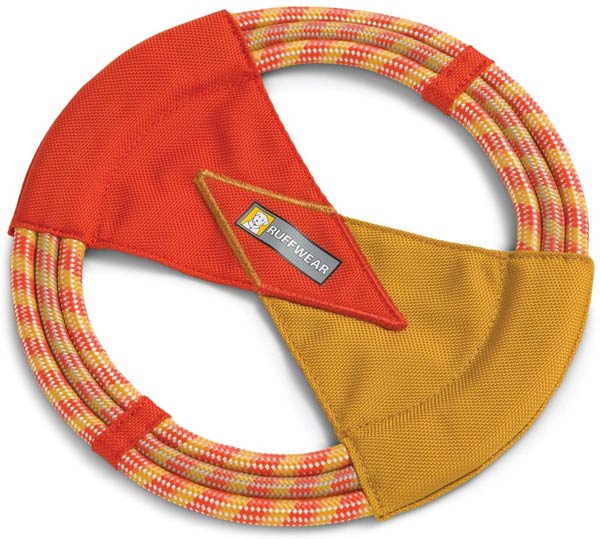 2. Best Dog Frisbee for Tug and Fetch – Ruffwear Pacific Ring ($25)
If you like rope toys and enjoy a game of tug before dropping your frisbee, then this Ruffwear Pacific Ring dog disc is for you – because it's a hybrid of a tug toy and flying disc!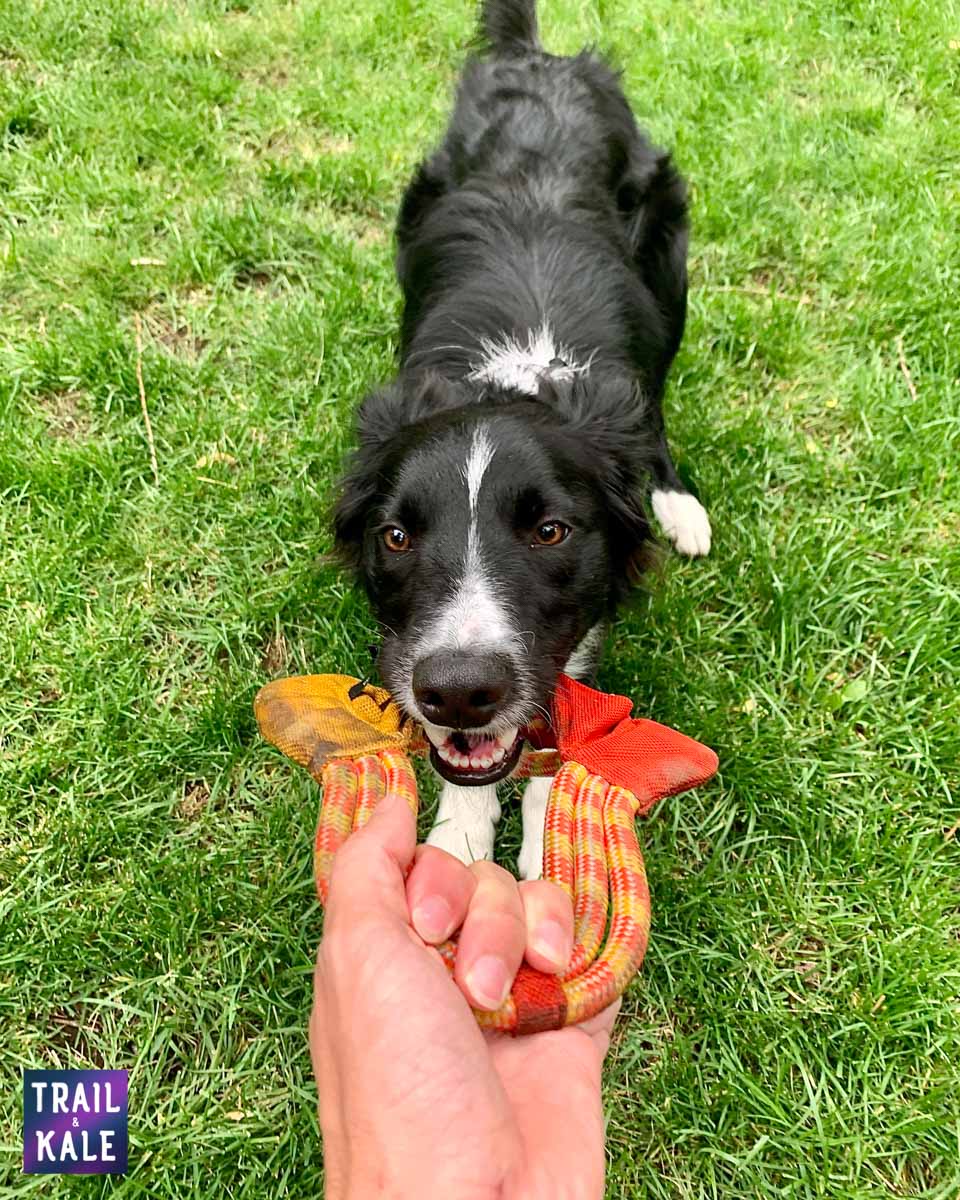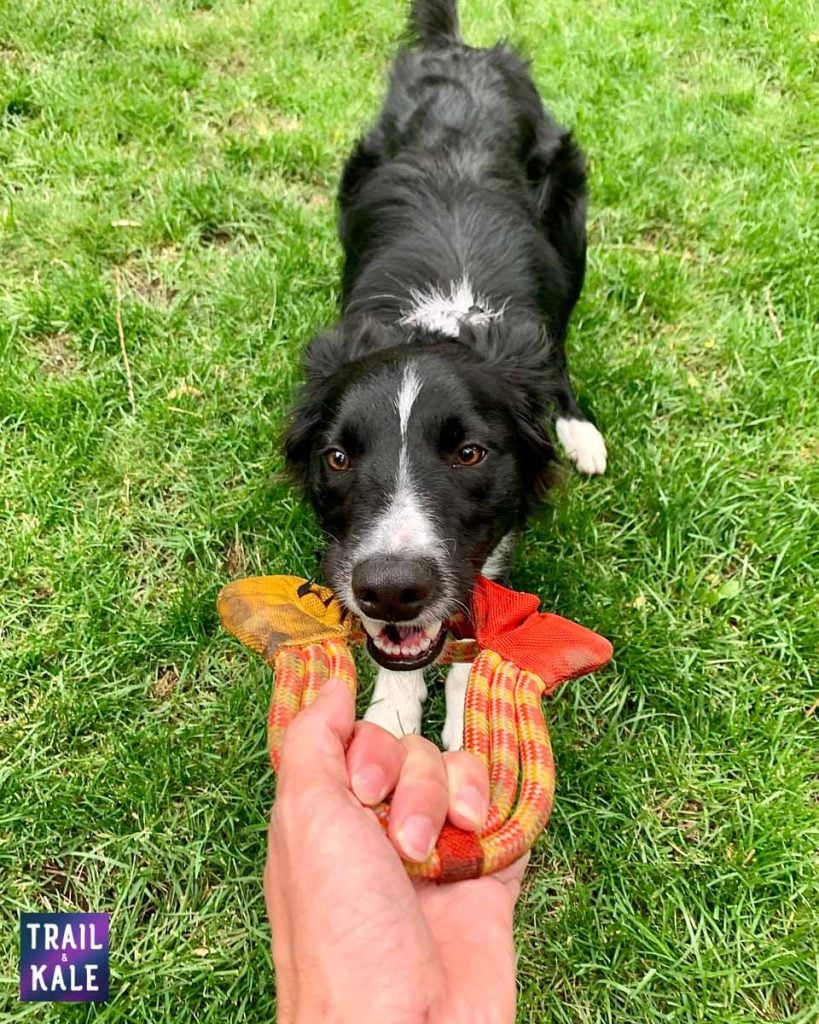 I love to catch this bad boy and bring it back to my parents for some tug (grrr!) before being told to drop it…. and then I get to chase and fetch it all over again when they throw it for me.
While it doesn't fly as well as a disc designed purely for flying, it's great for catching out of the air at shorter distances and can be through directly towards me for me to catch without worrying about being hit in the face by a hard plastic disc.
It's made from durable rope and tough webbing fabric so it withstands my teeth and a good game of tug, and it folds down pretty small so it's easy to stuff in a bag and take to new places.
Last Amazon price update was: 24th September 2023 7:31 am
---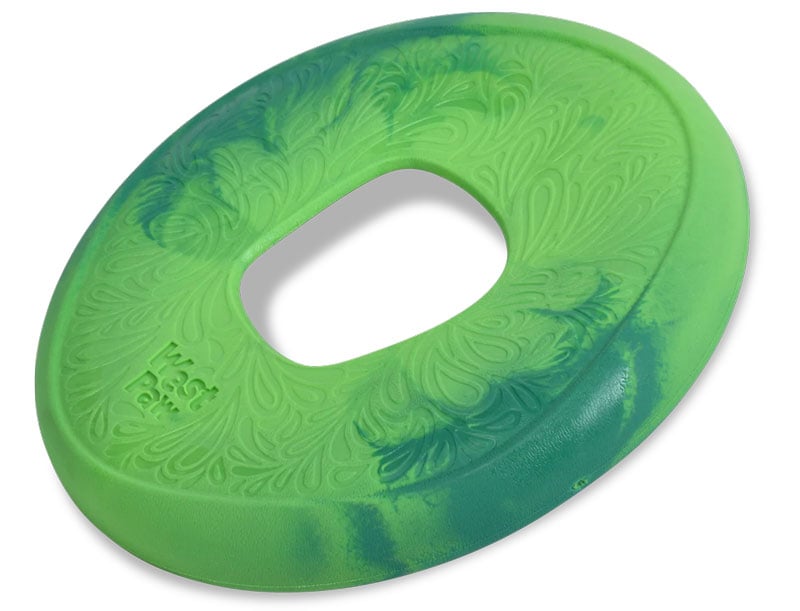 3. Best Durable Bite-Resistant Frisbee ($18)
My favorite frisbee for playing in the backyard is this ultra-durable, chew-resistant Sailz frisbee from US company West Paw.
This disc floats, flies well (for backyard toss and fetch games), is easy to pick up and catch because of the handy center hole, and it's made from floating BPA-free and latex-free rubbery material that uses recycled ocean-bound plastic.
This is a great disc if you are rough with your toys and don't always catch them with finesse and grace!
I love it and so do my parents as I've played with it for hours and it still looks new (although dirty). They can throw it in the dishwasher if they want to clean it as it's also dishwasher-safe.
You can currently get 15% off West Paw dog toys and gear when you shop directly from West Paw's website.
---
4. Best Hard Dog Frisbee for Distance Chasing – HeroDisc USA Dog Discs (from $5)
These HeroDiscUSA XTRA 235 frisbees are designed for long-distance throws that hang in the air, making them easy to catch once you catch up to them!
The XTRA 235 is a delightful frisbee and my favorite when I want to go long and really stretch my legs.
It's a more traditional frisbee in that it is made from plastic, but is designed specifically for playing frisbee with your dog, i.e. it should stand up to our teeth catching it out of the air.
The plastic is flexible and soft on my mouth when I catch it – and is also smooth to hold, yet grippy when wet and/or slobbery for my parents to throw it effectively.
Apparently these discs are used for frisbee competitions, so you know you are chasing and fetching the real deal when you play with one of these. Just make sure your parents take it off you when frisbee time is over, so you're not tempted to gnaw on it 🙂
If you can't find the XTRA 235 discs then also check out the Hero Air 235 discs, which are also very enjoyable.
They only cost around $5 each however they do not last as long as more rugged discs because the plastic is so soft, so if you like the look of them it's worth buying a few in one go.
---
5. Best Floating Dog Frisbee for Water and Snow – Hydro Plane Disc ($25)
The people at Ruffwear really know how to cater to adventure dogs.
Their floating Hydro Plane Disc is designed to float high on water and stay on top of fluffy snow, so you can play with it at the beach, in lakes and on the snow and not worry about losing it underwater as it floats high and is so vibrant in color.
As it's made from soft foam the Ruffwear Hydro Plane Disc is super light, buoyant and easy to stuff in a backpack and take with you anywhere, even though it is relatively wide compared to the other frisbees in this list, at 12 inches in diameter.
This is my frisbee of choice for when we visit lakes for SUP adventures, like the trip featured in this Instagram post.
To learn more about stand up paddle boarding with your dog and choosing the best board that will be able to withstand your paws and claws, click here.
Last Amazon price update was: 24th September 2023 7:31 am
---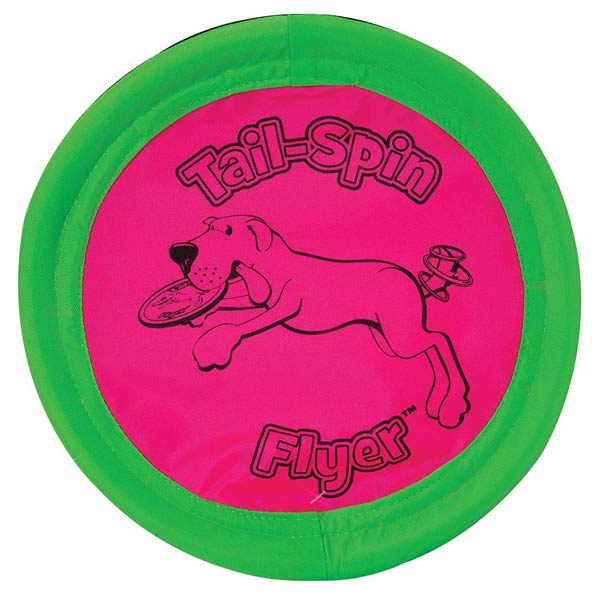 6. Best Dog Frisbee All-Rounder – Booda Tailspin Flyer ($4+)
While I enjoy frisbees of all types and sizes, the Booda Tailspin Flyer dog frisbee is my favorite all-round flying disc and recommended frisbee for most dogs.
Why? Because it flies well and I can chase it some pretty long distances and still catch it out of the air, plus, it's easy to catch, and is soft, with a good mouth-feel!
The Tailspin Flyer frisbee has a firm, rubbery (fabric-coated) rim that is easy to grab if you catch it on the rim, but it also folds and flexes, so you can catch it out of the air at any angle, without having to worry about only being able to grab the rim.
As this frisbee is made from fabric it's soft so my parents don't worry about any frisbee-related facial injuries if I run into it, which does happen because I chase these discs very enthusiastically….
I can play light tug with it, drop it easily, and it's quite simply an all-round joy to play with. It's really a great dog frisbee for everyone from experienced frisbee dogs to new dogs and their owners who don't want to worry about their dog mis-catching a harder disc.
Plus, as an added bonus, when I catch it in the center it folds in half and looks like I'm eating a watermelon, which is also amusing for onlookers. Go on, give it a try!
Last Amazon price update was: 24th September 2023 7:31 am
---
I hope my list of the best dog frisbees has helped you and your humans find you an awesome new flying disc.
If you're a frisbee aficionado like me and you have a different favorite that you think we and our readers should know about, let us know in the comments below!
READ NEXT: You may also be interested to read our posts on the best leashes and harnesses for running (or hiking) with your dog, and our article on CBD for dogs and how CBD can help them recover from intensive exercise such as frisbee-chasing. Also check out my other dog gear reviews and buyers guides and our list of cool dog gift ideas!