REI understands what trail runners demand from their gear – that's why we rate them so highly as a go-to store for buying running shoes, clothes and accessories.
Having the right trail running gear is so important to help you get the most out of your experience and ability to perform on the trails.
Whether you enjoy running 5ks in your local park or race ultramarathons regularly, the essential gear all trail runners need ranges includes trail running shoes with adequate grip to help you stay upright, sweat-wicking, technical apparel that's comfortable for mile after mile and a comfortable running vest to carry water and other essentials.
You can shop REI trail running gear online at REI.com or in one of their USA Nationwide stores; they literally sell everything you need to gear up for trail running, including an impressive range of men's and women's trail running shoes, apparel and those all-important accessories, some of which we have picked out for you below.
This is what makes REI one of our favorite go-to stores for trail running gear, especially since you can even get an entire trail running outfit, from trail shoes to caps right from REI's own Swiftland trail running gear range, which is not just great quality, it comes in a wide range of sizes and it's competitively priced, especially for REI members who save more.
In this post we're showcasing examples of the complete men's and women's trail running outfits you can pick up from REI to help you gear up for trail running this Fall!
---
1. A Waterproof trail running jacket
REI Co-op Swiftland H2O Running Jacket ($150)
These fully waterproof REI trail running jackets have taped seams and a DWR finish to keep water out, while still being breathable to help allow moisture from sweat to move away from your body.
They also have 360 degree reflectivity, large hoods, zippered hand pockets, and pack down small into one of the pockets for stashing in your running vest when the rain stops.
2. A Sweat-wicking running tee
REI Co-op Swiftland Running T-Shirt ($40)
Available in short and long-sleeve versions, these lightweight REI men's and women's running t-shirts are perfect for trail running.
Made with bluesign-approved polyester material in a Fair Trade Certified factory, these running shirts wick sweat, dry fast, and have thoughtful details including flat non-chafing seams, and reflective trim on the back and sleeves.
3. REI trail running pants, shorts or leggings
Swiftland men's running joggers ($90) & women's running tights ($75)
While wearing a lightweight pair of running shorts is a great way to free your legs in warm weather, for Fall, Winter and chillier Spring days, you can't beat a comfortable pair of running tights or joggers to protect your legs from the elements.
4. A running vest
Swiftland 5 hydration vest ($100)
For all but the very shortest of trail runs, a running hydration vest is a must-have companion, and at under $100, REI's own Swiftland 5L hydration packs are a great deal compared to other branded hydration packs (which REI also sells, by the way).
For many runners it's the most comfortable way to carry water, spare clothing, your phone and snacks, without having them uncomfortably stashed in pockets around your waist.
5. Trail running shoes
REI Co-op Swiftland MT trail running shoes ($130)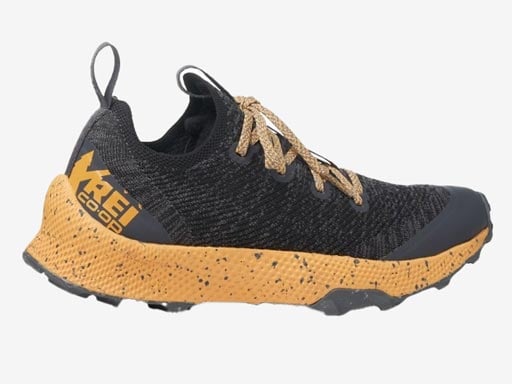 As well as stocking the latest trail running shoes from brands including HOKA, Salomon, Brooks, and On Running, REI Co-op also sells their own Swiftland MT trail running shoes.
These REI trail running shoes are available in men's and women's sizes and colorways, which are definitely worth considering, especially if you're into lighter, more 'runnable' trails.
---
Other trail running accessories
Don't forget these other trail running must-haves!
REI also sells a comprehensive range of GPS watches, gloves, sunglasses, running bras, running socks and other accessories to help elevate your runs.