Lectric's XP 3.0 is one of the most affordable folding e-bikes available to buy here in the US, so it's only right that given how many other electric bikes I've reviewed over the years, that I get my hands on one and try it out for myself.
Why are Lectric e-bikes so popular? Well, given the company's goal to make fun and affordable ebikes available to as many people as possible by offering them at a relatively low price point, I'd say whatever they're doing is working. But how does the Lectric XP 3.0 stack up against the competition?
In this Lectric XP 3.0 review I explain this fat tire folding ebike's key features, pros and cons, what it's like to ride, and where to buy one if you decide this is the one for you.
To read our other electric bike reviews go here: Trail & Kale eBike reviews. Grab a beverage of your choice, get comfortable, and enjoy this Lectric XP 3.0 review.
What it's like riding the Lectric XP 3.0
With a responsive throttle and pedal assist, I really enjoy the ride of the Lectric XP 3.0.
It rides similar to electric bikes that cost nearly twice as much! The ride reminds me of the Rad Power Bikes fat tire ebikes I've ridden in the past, more specifically the RadExpand, but with a hint of Aventon's Sinch thrown in, in terms of frame design and ride position.
If you're like me, and you're happy to keep the saddle low, and ride in a more relaxed, motorcycle-style seating position, using mostly the throttle and the occasional peddle, then this design will suit you well too.
Of course this is an incredibly versatile eBike simply because it fold up, making it great for commuting on the train or bus, and also for folding it and carrying it to your work office area, instead of locking it up outdoors.
To get enjoyment from the first hour of owning the bike, it helps that, unlike almost all other ebikes I've reviewed, the Lectric arrives fully assembled – hoorah!
It comes shipped in a box with packaging, but all you have to do is unfold it, remove the numerous zip-ties and protective padding, and the bike is ready to ride!
Ride1Up eBikes, although great bikes once built, do tend to require a lot of assembly with terrible instructions, so Lectric has cleary put in the extra work here and helped out their customers by doing this.
If you've read the specs on Lectric's website, then you'll already know that it can reach 28 mph when you ride it using pedal assist, and when you don't pedal at all, simply relying on the throttle should get you up to 20 mph on flat ground which feels comparable to Rad Power Bikes again.
The XP 3.0 ships as a Class 2 ebike with a top speed restriction of 20 mph. To unlock the faster speeds on throttle and pedal assist (up to 28 mph), and make it a 'Class 3' ebike, follow the instructions on Lectric's website.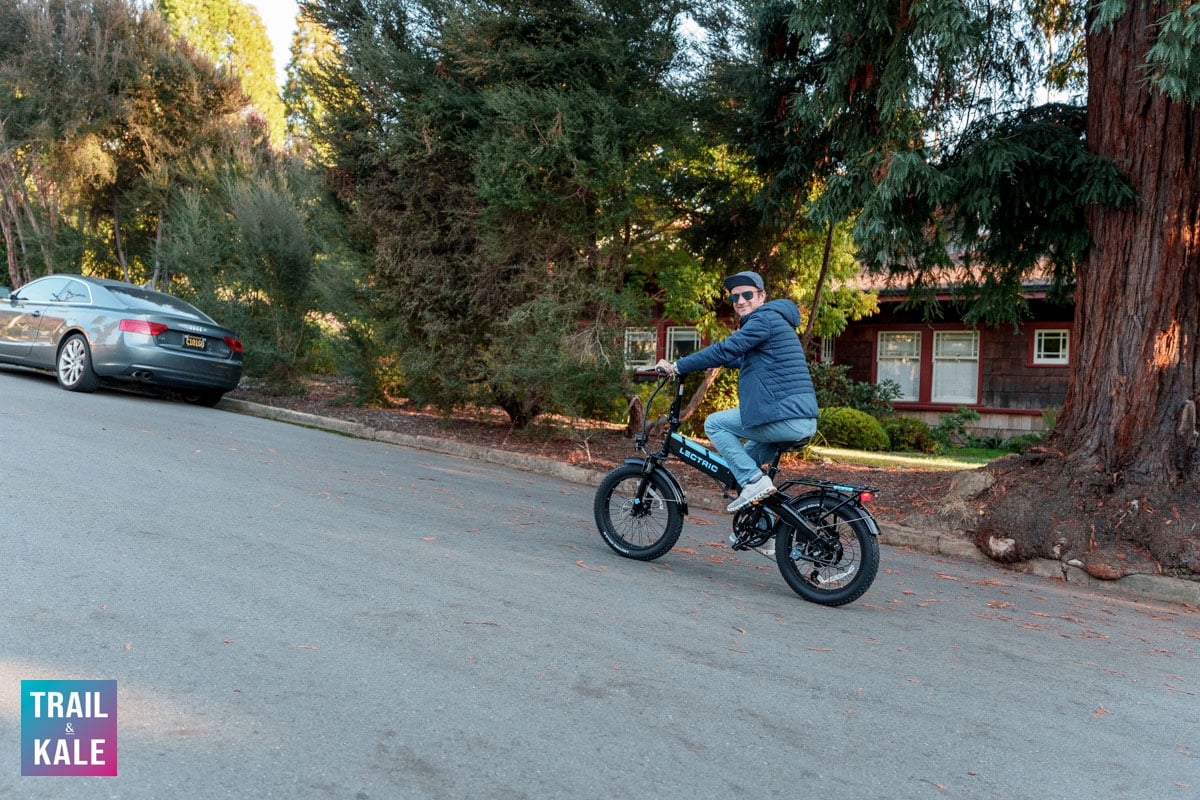 The bike has plenty of power to get you up most hills with the throttle, depending on how much you weigh and the gradient of said hill, but if the bike starts to slow too much, you can assist the motor by pedaling, and the motor in return can give you 5 levels of pedal assist.
The XP 3.0 also has 7 manual gears which makes riding up hills that much easier, should they get extra steep!
Like with other ebikes, I find it simplest to select a gear that's comfortable for regular pedaling and rarely switch between the others, this tends to be somewhere in the middle, say 3 or 4..
This is the same for the level of assist, whereby if I'm pedaling a lot then I'll probably leave it on 3 but if i'm just trying to get somewhere quickly and mostly just using the throttle to ride, then i'll have the level of assist set all the way up to level 5.
What's the XP 3.0's riding position like?
The riding position is comfortable, and fairly relaxed although if you're very tall I can see how it may feel a little awkward as the saddle would have to be positioned very high, and the distance from handlebar stem has very limited reach adjustment capability.
Lectric does however state that the XP 3.0 is suitable to accommodate riders of 4'10" – 6'5" but obviously comfort levels will degrade the closer you get to either end of that spectrum; the maximum payload capacity is 330lbs.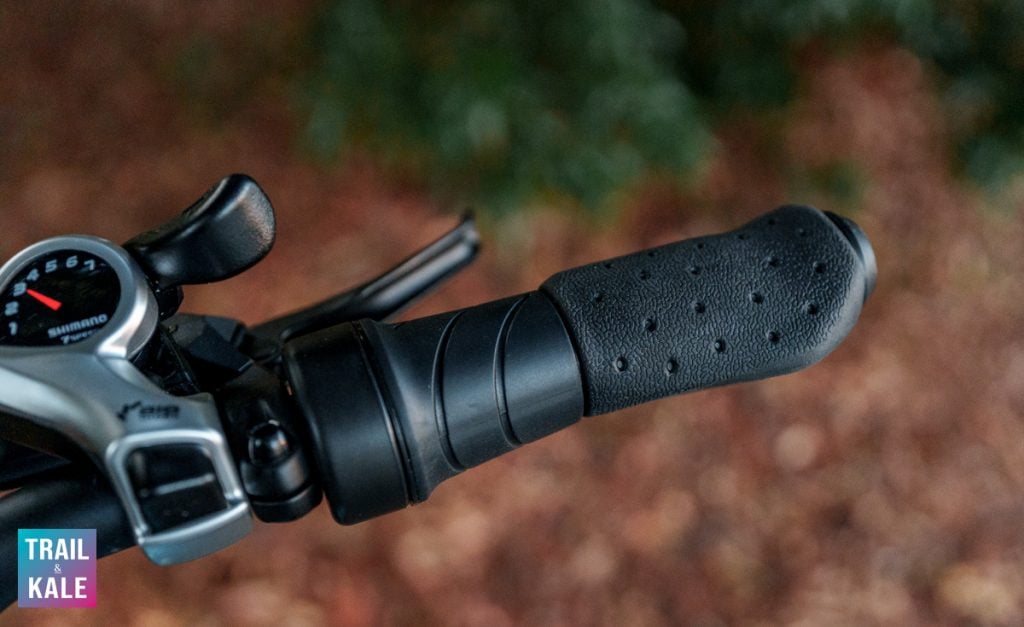 The handles are shaped ergonomically and the saddle is wide and fairly cushy.
How stable is the Lectric ebike when riding on different surfaces
This electric bike has 3 inch fat tires, which are more than capable of riding over most surfaces you encounter day-to-day, including tarmac and other paved surfaces but also gravel and the occasional smooth trail.
Although it does have fat tires and front fork suspension (with 50 mm of travel), this isn't an electric bike designed for hardcore trail use.
I do, however, appreciate its versatility and am not left worrying whether I'll slip out while riding fast and turning on graveled sections of path on my travels.
How noisy is this Lectric eBike?
The eBike is fairly quiet when compared to some other brands but I guess it's most comparable to the Rad Power Bikes, like the RadRunner 3 Plus, for example.
Due to the amount of power required for a motor to propel eBikes like this which are heavy, there's always going to be some noise output, but the less power assist or throttle you use, the less noise that is made.
The Lectric XP 3's key features and specifications that matter
Aside from the comfortable and enjoyable ride, which are obviously two key elements that must be there for an electric bike to be suitable, these are the other features you should know about on this bike.
It's worth noting before getting into them that the Lectric XP 3.0 bike featured in this review has upgrades in many areas compared to previous, older versions of the Lectric XP.
1. Battery life – options to choose from
When you order the bike you can choose from a standard range or long range battery. The long range version is $200 more.
What the long range gets you is up to 65 miles on a charge, compared to 45 miles on a charge for the standard range battery which is roughly 35% increased range.
These distances (quoted from Lectric's website) are assuming you ride exclusively with pedal assist level 1.
There are more stats on their website for other types of use, most notably that if you use it with throttle only (no pedaling at all!) you may expect up to around 20 or 30 miles on a charge, depending which battery you choose.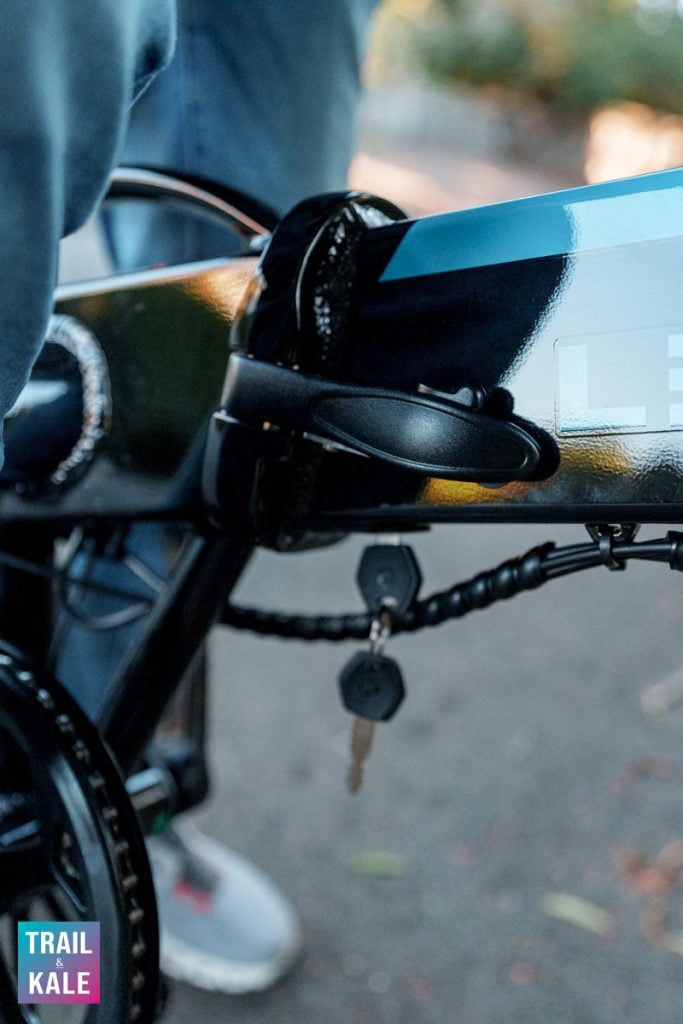 To turn the battery on, you need to use the key, which inserts into the underside of the bike's frame. I like this location as it keeps the key away from your knees while you're riding or walking the bike, although the lock is awkward to locate to put the key in.
You can remove the battery to charge or charge it installed. To remove the battery you need to fold the bike, and then you'll notice you can slide the battery out of the frame.
Being able to remove the battery is important if you need to bring it inside your home to charge it. However, it's worth noting the bike has to be folded for you to be able to remove the battery.
This brings me on to my second notable feature on this list…
2. Folding electric bike
It folds!
The Lectric XP 3.0 measures 37″L x 18″W x 28″H when folded, making it much easier to store than when fully assembled, if you're short on space.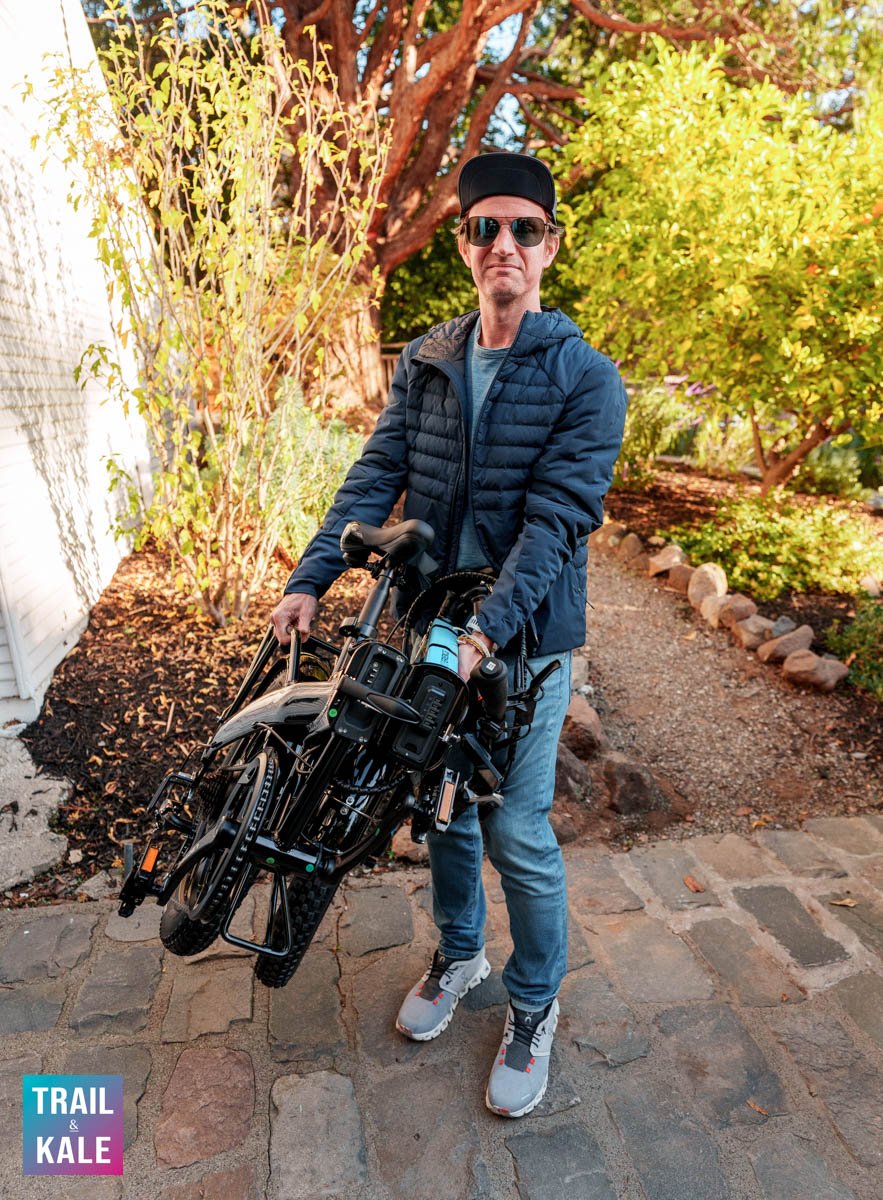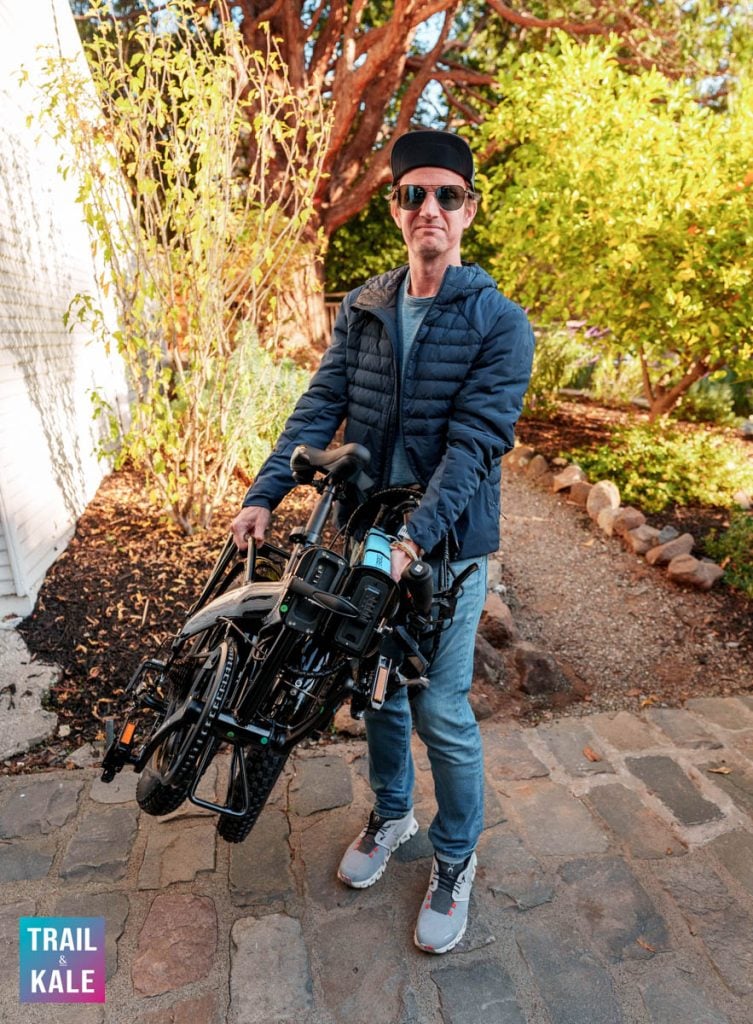 In practice, I've learned that folding e-bikes are most useful for 1. storing in a compact space, and 2. if you need to put it inside your car to transport it around.
E-bikes are heavy – this one weighs 64lb – so you won't be carrying it very far, even when folded, and you'll need a specialist heavy duty bike rack to be able to attach it to the outside of your car.
The Lectric XP 3.0 is easy to fold in just a couple of steps. Essentially it folds in half, and the handlebar stem then folds down as well – see the image gallery at the end of this review for more photos of how to fold the Lectric XP 3.
3. Power delivery
This version of the Lectric XP e-bike has a meaty 500W motor capable of 1000w at peak.
There is little to no delay between pushing the pedal (or throttle) and getting the power boost, you basically get instant power at your feet (or fingertips), which is a testament to the quality of the build.
I am highly impressed with this performance, especially for a bike that costs less than $1000.
4. Hydraulic disc brakes
While having disc brakes on your electric bike should, in my opinion, be essential, and it is standard on most of the ebikes we've reviewed (which tend to cost between $1,500 and $2,000), it's not always the case in cheaper ebikes costing less than $1000 (including older Lectric ebike versions).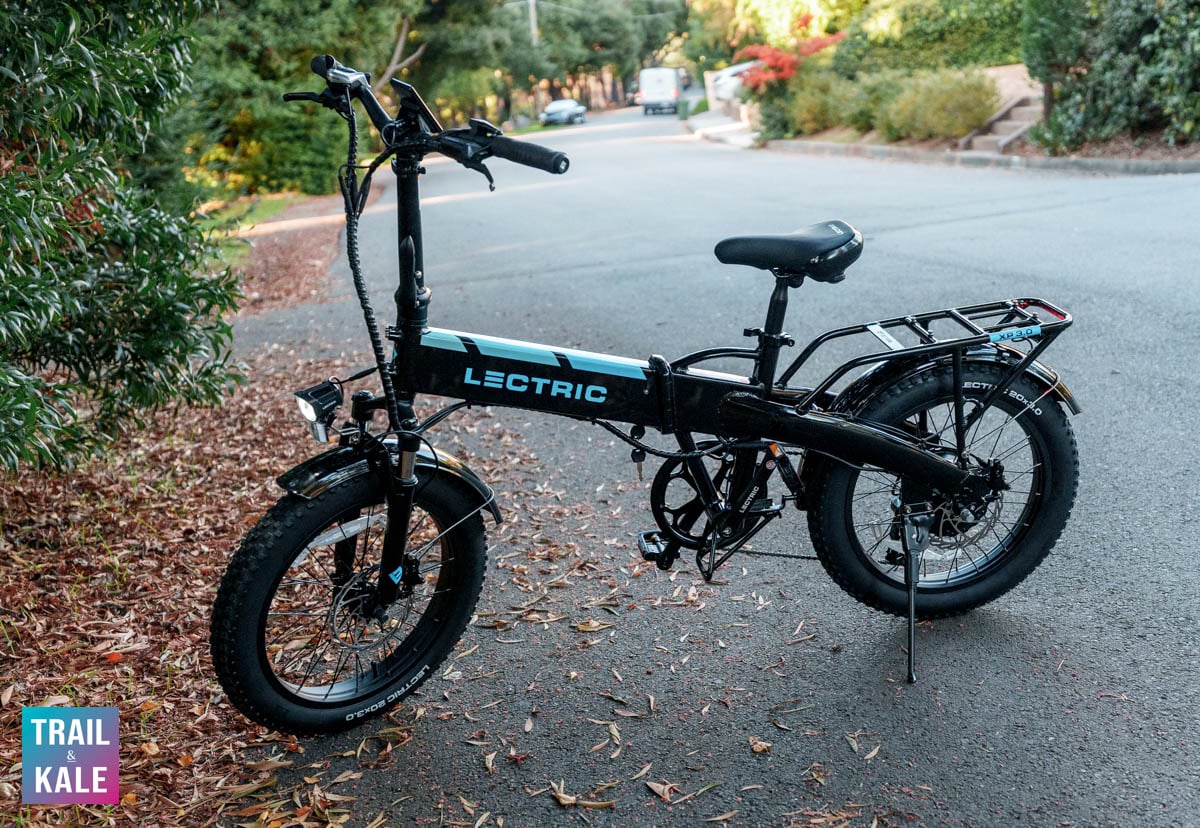 So, you'll be pleased to know that yes, the Lectric XP 3.0 has front and rear disc brakes.
5. Display and controls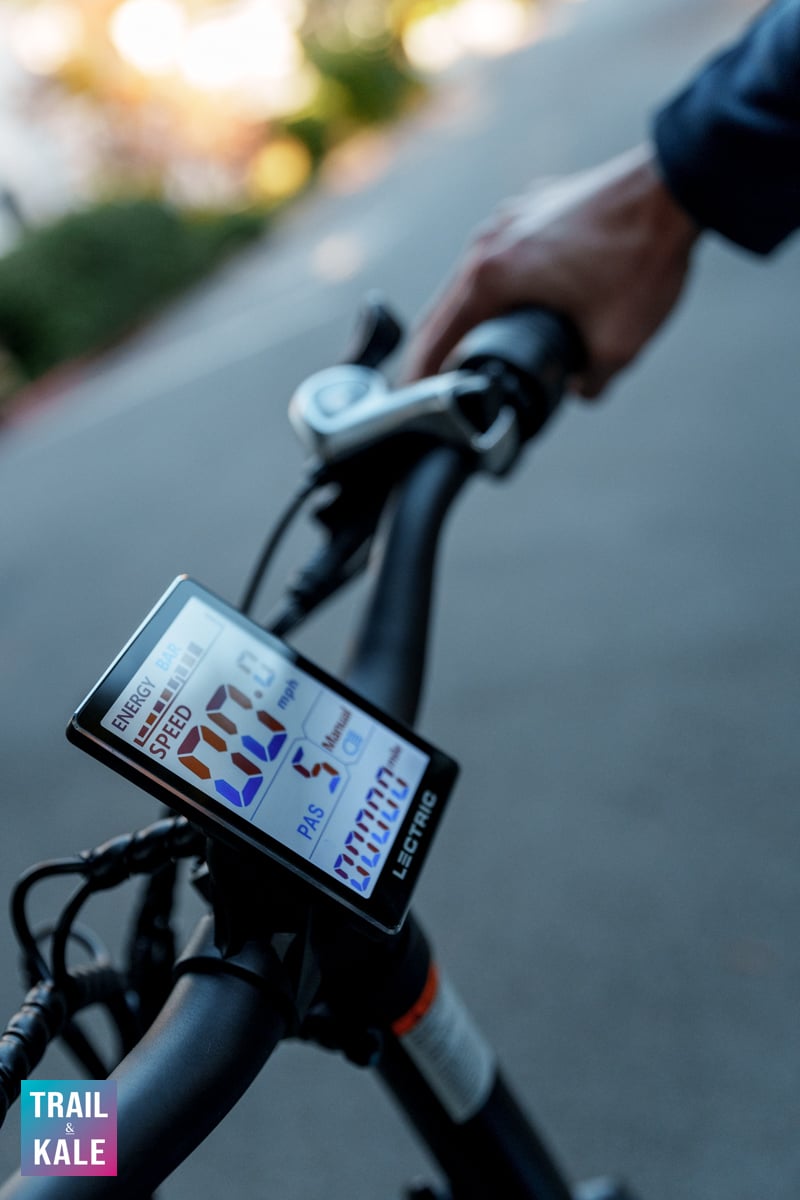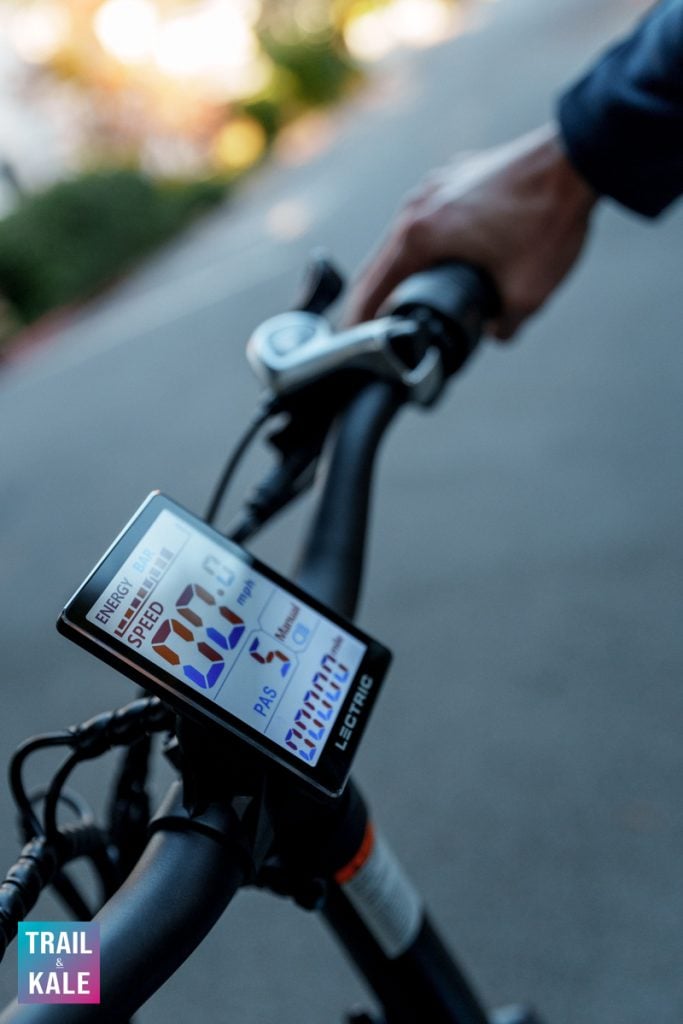 The XP 3.0 has a large, clear and easy to read screen. You don't need to squint or get up close to it to read the key stats. It's simple, backlit, and it just works!
6. Integrated lights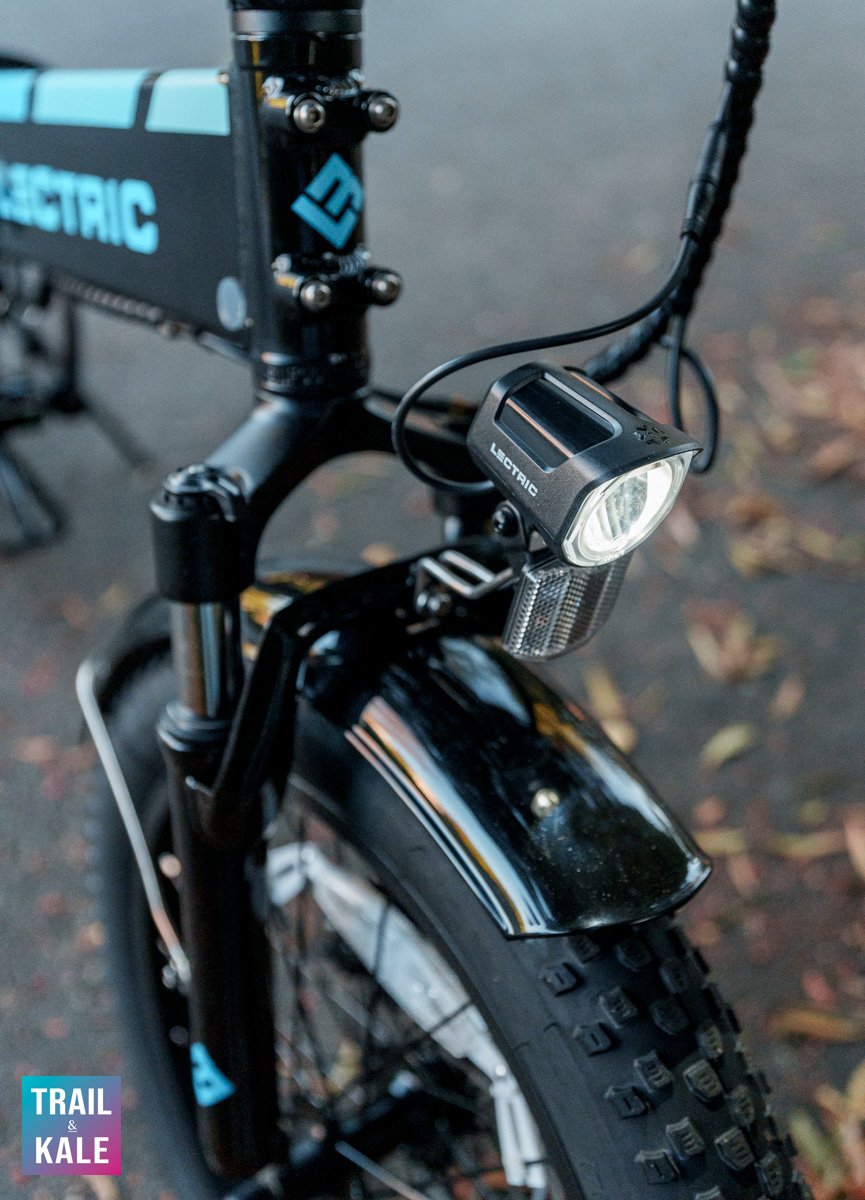 This model Lectric e-bike comes with a front and rear light already installed and ready to use! Press and hold the + symbol on the controls to turn the lights on, or off.
It's worth noting, however, that the lights are not connected to the bike's brakes, so the rear red light does not get brighter or change at all when you pull the brakes, like you may expect.
7. Affordable passenger accommodation
You can buy a very affordable passenger package that provides a seat, foot pegs and grab bar for your passenger – for $99 (or in the current sale – $74!).
If you want to bring a small child along as a passenger, you can also choose the Thule Yepp Maxi Seat, that is also sold on Lectric's website.
8. XP 3.0 model variations
As well as the long-range battery version described above, there is also a step-through version of the Lectric XP 3.0, that costs the same as the regular version.
Note, though, that non step-through has a low cross-bar so depending on your mobility and preference, you may not actually need the step through version to comfortably get on and off the bike with this model.
There are no size options – this is a 'one-size' bike, designed to fit riders with heights ranging from 4ft 10 to 6ft 5.
The low cross-bar and standover height, combined with the adjustable height saddle and handlebars allows you to adjust it to a range of riders – which is appealing if you're sharing the bike with a family member of different stature to you, for example.
9. The waterproof rating
If you're wondering, 'are Lectric ebikes waterproof?' then yes – this model, the Lectric XP 3.0, has an IP65 rating, that means its dust-tight and can withstand jetting of water.
So yes, pretty waterproof, but don't go dropping it in a lake or riding through a river above the battery level and expecting it to work.
10. Other accessories and packages
It's worth noting that as well as the passenger accessories, Lectric sells a whole range of versatile accessories for transporting cargo, including racks, panniers, coolers and trailers for pulling your dog along for the ride.
A quick browse through the Lectric accessory options will strike you with the noticeably reasonable prices – this is not a company that sells the bike low and gouges you on the accessories, they're all priced to be good value.
The affordability of accessories is worth knowing about, because most people are going to want one or two to customize their ride.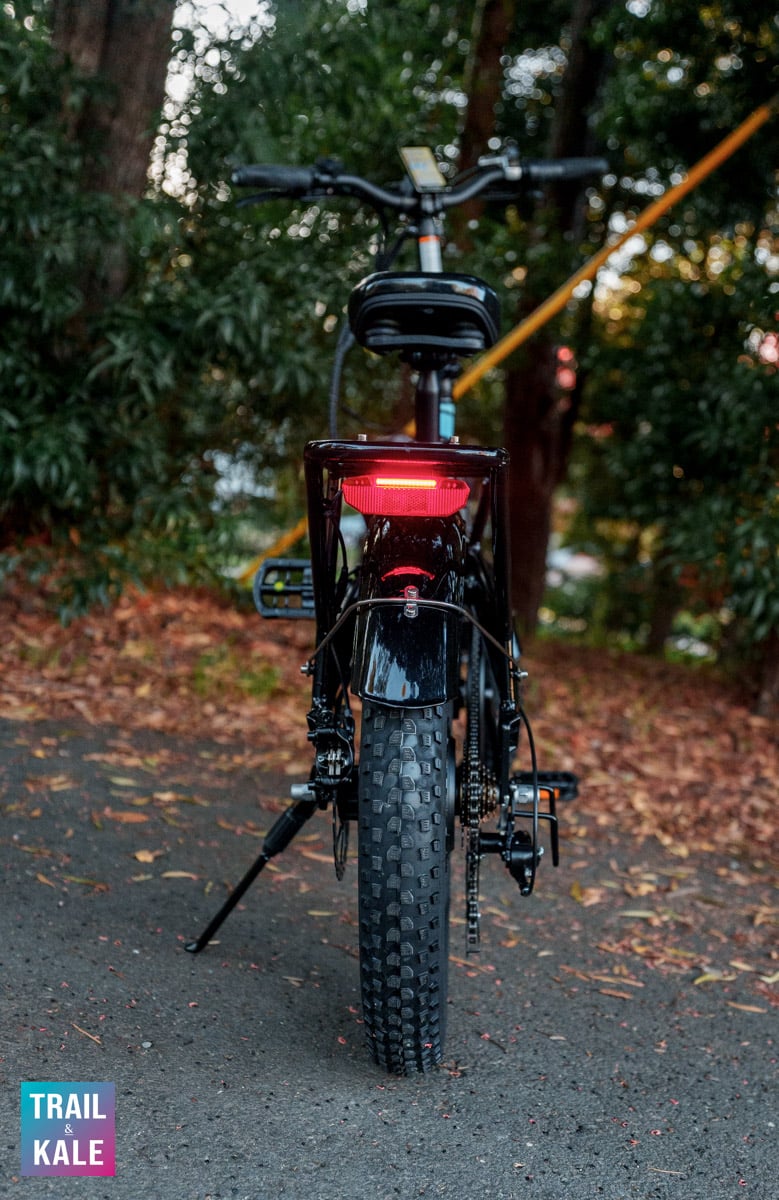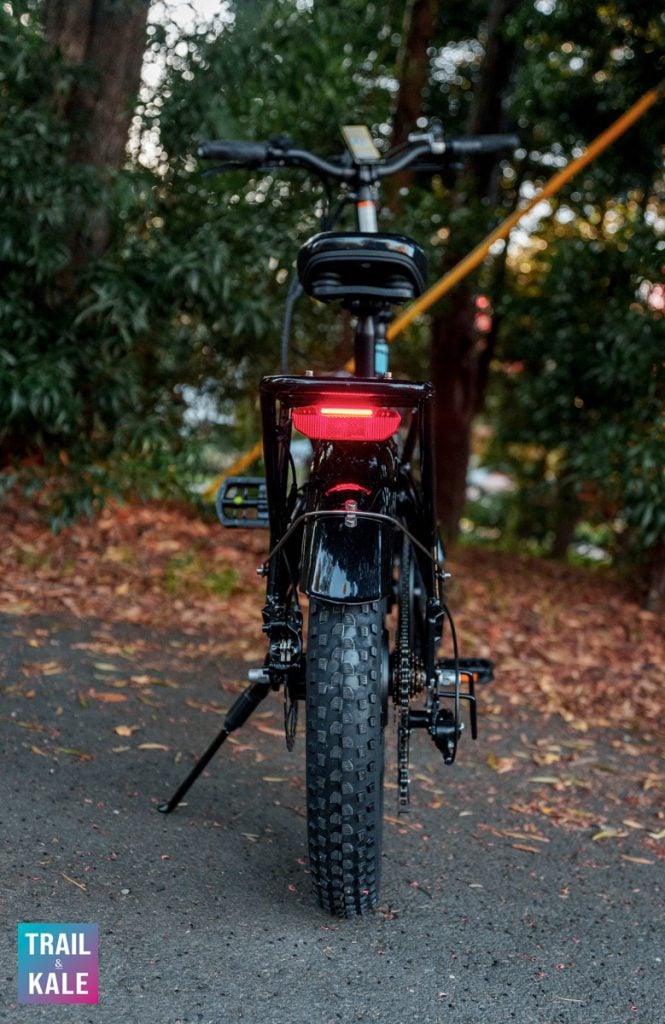 Where to buy Lectric ebikes
As mentioned earlier in this review, the Lectric XP 3.0 sells at a remarkably great price of $999.
Budget an extra $100 or so to kit your bike out, and you're ready to hit the road when it arrives.
If you're looking to buy one, it's best to buy it directly on their website, which is also the best place to check for the latest deals and discounts:
It's also worth knowing that Lectric stands behind its products – when you buy one of their bikes, Lectric not only offers customers a 1 year warranty, but they also have US based customer service to help with any issues or questions.
Lectric XP 3.0 Review Summary
As mentioned earlier in this review, I've reviewed a whole variety of electric bikes from premium brands, and would place the Lectric XP 3.0 right there alongside two other very nice folding ebikes, the Aventon Sinch, and the RadExpand 5 (FKA the Rad Power Bikes Rad Mini 4).
Lectric XP 3.0 Review
Performance and reliability
9
PROS
Highly competitive at $999, making it a budget-friendly option.
Reaches up to 28 mph with pedal assist and 20 mph on throttle alone.
Front suspension, fat tires, ergonomic handles and a cushy saddle with shock absorption make for a smooth ride.
Arrives ready to ride, which is a significant convenience.
Folding design ideal for commuters, easy to store and transport.
Long-range battery option offers up to 65 miles per charge.
CONS
Heavy at 64lbs, challenging to carry even when folded.
May not be comfortable for very tall individuals although it's rideable up to 6ft 5".
Rear light doesn't brighten when braking, a potential safety issue.
Lectric XP 3.0 Photo Gallery