In this Dometic cooler review, I explain the key features of the Dometic CFX3 45 electric cooler, the pros, cons (especially when compared to regular hard-sided coolers such as YETI and RTIC coolers), when and where it's ideal to use, and whether it's worth the money.
About Dometic
Before we dive into this Dometic cooler review, let's talk about the Dometic brand.
Dometic, a global company originating in Sweden with the design of their first 'cooling cabinet', specializes in mobile living products RV users, boat owners, campers and lovers of the outdoor life.
Their electric coolers are perhaps some of their best-known products, with the CFX3 45 Liter model being one of the most popular sizes available.
As well as cooling solutions, Dometic also offers a range of innovative camper-friendly products, from hydration jugs, roof top tents, camp kitchen and drinkware to awnings, AC units and portable toilets.
Dometic CFX3 45 Cooler: Key Specifications
This award-winning, 45-liter cooler is designed specifically for weekend camping and outdoor adventures.
Its 12-volt power system can run off AC (110-240), DC (12 volt / 24 volt), or solar.
The cooler boasts a high-performance compressor and has a temperature range that goes as low as -7°F, using less power than a 60W light bulb.
Here are the key specifications of the Dometic CFX3 45 cooler:
Internal capacity: 45 liters / 2,746 cubic inches
Material: 35% plastic, 32% other fiber, 21% metal, 12% polyurethane
External dimensions: 27.3 x 18.7 x 15.7 inches
Weight: 41 lbs. 3.2 oz.
The interior dimensions are:
19.76 inches long (above the cooling system housing, which takes up part of the bottom section)
11.57 inches wide
15.39 inches inside height (this reduces to 7.87 inches above the cooling system housing)
To get a better idea of what these measurements mean in terms of actual food and drinks capacity, look at the photos throughout this Dometic cooler review and the image gallery at the end.
It's worth noting that in addition to this 45 liter cooler, Dometic offers other powered cooler sizes, including dual-zone coolers and smaller volume options – see the full range on Dometic's website.
Noteworthy features of the Dometic powered cooler
Ice-free cooling
One of the best features of this powered cooler is that it does away with the need for ice.
This is a game-changer because it means your food and drinks won't get soggy, and you won't need to constantly go on a hunt for ice to replenish it – not always easy, especially if you're traveling or camping somewhere fairly remote.
Plus, without ice taking up half the space, you'll have more room for your goodies.
Reliable and quiet operation
The Dometic CFX3 45 cooler operates very quietly, so you'll barely notice it's there.
Based on the power monitor of my Ecoflow Delta 2 max portable power station that is being used to power the cooler, the power draw is around 40 watts when cycling, less when idle, so it uses power very efficiently – good to know if you're running it off a limited power source like a portable power station.
The cooler can also connect to a phone app, allowing for temperature adjustments via Bluetooth. This is quite a neat feature, although not one I've felt the need to use as it's just as easy to adjust it directly on the unit.
Multiple charging options
It comes with an AC cord and a 12V barrel port cord, both over 6ft long, providing you with various charging options.
I expect most people taking this cooler camping or on a road trip will take advantage of the 12V charging outlet in their car, RV or other vehicle.
Otherwise, you can connect it using the 12V cord or the AC cord to a portable power station while camping or staying away from a mains outlet power source, as shown below.
You can also use it with a solar input, although that's not how I've used it as I simply charge my portable power stations with their own solar panel source and run powered gear such as this cooler off the power station.
You can also charge your devices with the built in USB-A charging port seen in the photo below.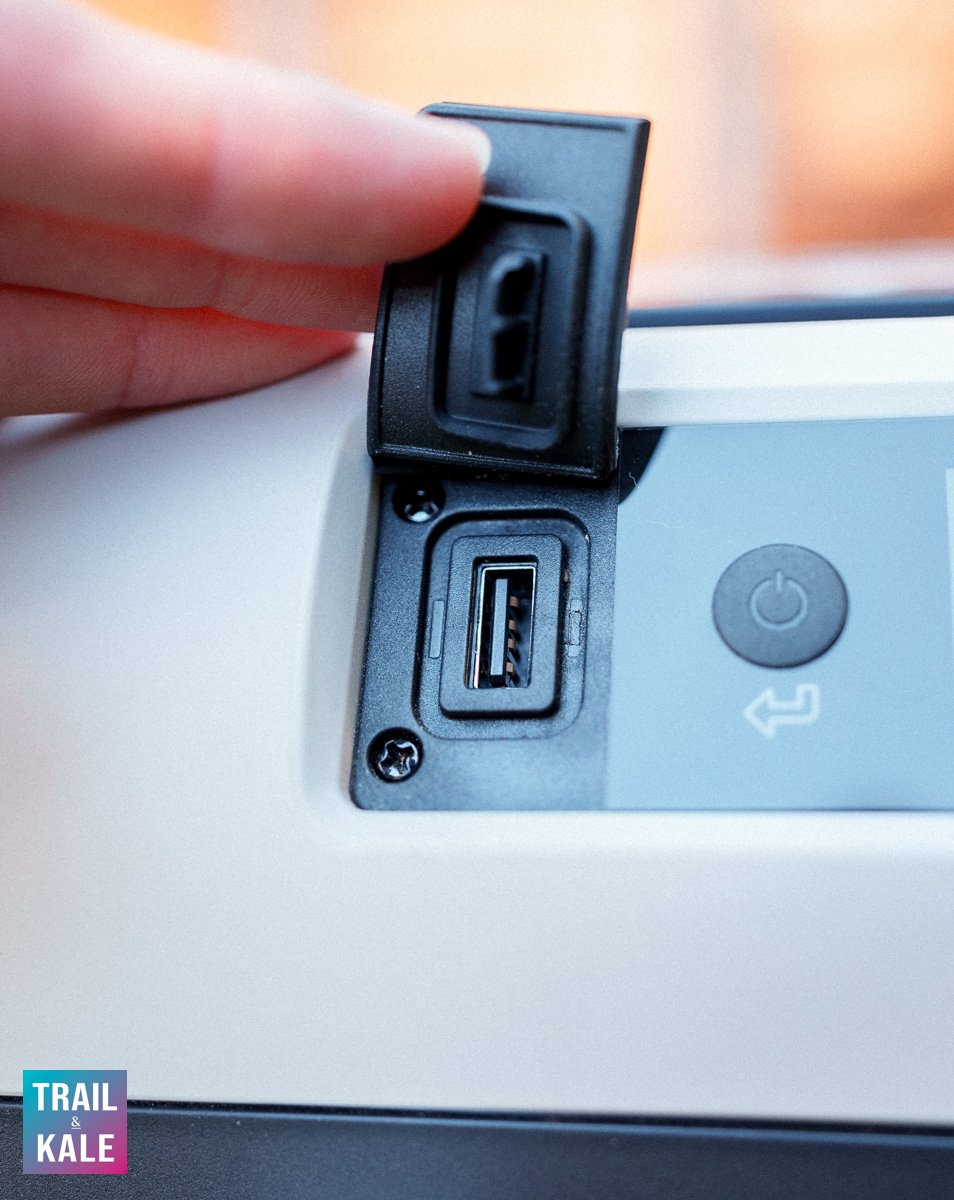 Deep internal storage
Despite its compact exterior, the cooler boasts generous internal storage.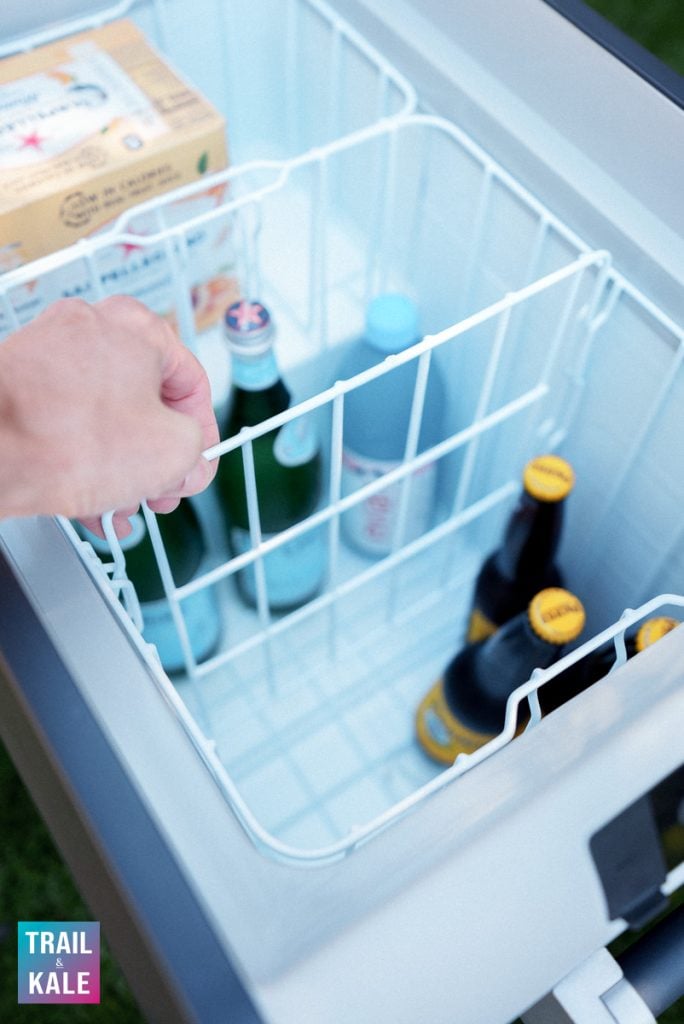 The internal layout is not a simple box due to the cooling system's housing occupying some of the space (as explained with the dimensions measurements stated earlier), but you have ample space for all your food and drink needs.
Rugged construction
The Dometic CFX3 45 is built to last with a rugged frame, protective edges, and strong, spring-loaded aluminum handles.
The handles make it easy to get in and out of a vehicle and move around your camping spot.
At 41lb, this 45 liter option is not the smallest or lightest, but when you consider that a comparably-sized YETI hard cooler weighs more than 24lb, and that's before adding the weight of the considerable amount ice that it needs to function, actually the Dometic electric cooler ends up looking like a lighter-weight option!
Features that may not win everyone over
While this cooler boasts a range of impressive features, it isn't waterproof. This means it's not suitable for use in rainy conditions or leaving out in the wet.
Moreover, while the price point is justified by its features, the cost might deter some potential buyers who may need it to be more weather proof.
Is the Dometic CFX3 45 worth buying?
Deciding if this cooler is worth the investment depends on your specific needs.
It's great not having to worry about bringing, finding and replenishing ice to keep your food and drinks cool for several days, and they won't get soggy either because there's no ice to melt on them.
Bags of ice are also not free, so over time the lack of ice being required makes this purchase more cost-effective.
The construction is high-quality, making it suitable for a range of uses and places, and the various powering options mean you're rarely going to find yourself in a situation where you can't find a suitable power source to keep the cooler running.
It's also great as a home backup cooling system if your power goes out and you need a low-draw, efficient means of keeping food chilled to avoid it perishing during a prolonged outage.
---
Cost and where to buy
The Dometic CFX3 45 cooler comes with a price tag of $949.99.
It can be purchased directly from Dometic's website, where they offer free shipping and a 5-year limited warranty, as well as being available at other retailers including one of our favorite outdoor gear stores, REI (where members get a 10% dividend back on everything they spend).
Amazon.com
$931.26

7 new from $930.00

3 used from $352.44

See Deal
Dometic.com
$949.99
See Deal
Dickssportinggoods.com
$949.99
See Deal
Rei.com
$950.00
See Deal
Last Amazon price update was: 25th September 2023 12:30 am
---
Dometic CFX3 45 electric cooler photo gallery