The RadRunner is an electric utility bike from Rad Power Bikes, that has been designed so that it can be totally customized. I love modular products because they allow people to buy the base model, and then upgrade with additional extras, as and when needed. This means you don't have to spend a small fortune up-front; instead, you can wait until you really need the extra features in your day to day life. In this Rad Power Bikes RadRunner review I'm going to share my experiences riding this utility eBike, give an overview of the key features, a video review including acceleration and speed demonstrations, where to buy it, my review summary with pros and cons and an overall score out of 10, and lastly, I'm going to answer some FAQs and leave you with some more photos of my RadRunner for you to drool over.
Grab a cup of coffee (or tea), this is a long in-depth review of the RadRunner.
---
Rad Power Bikes RadRunner Review: Table of Contents
---
What's it like riding the Rad Power Bikes RadRunner?
If you haven't tried riding an electric bike before then you're in for a really exhilarating experience. The first time I tried the RadRunner, which also happened to be my first experience with an eBike, I was smiling uncontrollably because of the way it made me feel; like a child again! Being able to move without pedaling is especially fun, and draws may similarities to riding a motorbike.
The RadRunner electric minibike from Rad Power Bikes is truly thrilling to ride and has so far been 100% reliable. The 48V, 14 Ah Lithium-Ion battery lasts for a very long time (read on for more details on battery life, mileage, and charge time), and for daily usage around town, you're very unlikely to be left worrying that you need to charge the battery at the end of each day.
Most of the time I find myself using only the throttle for riding, without pedaling at all. When I do pedal, however, it's usually when I pass a pedestrian and slow down whilst pretending to pedal out of courtesy… "manners maketh man" and all that. There are times when I find myself riding up steep inclines that I need to assist the 750W Geared Hub Motor by pedaling a little bit, this just provides that extra bit of push the bike needs to keep moving. I'm talking about very steep inclines though.
There are no standard gears to speak of however which makes this single speed bike (there's only one gear because of how the electric drive chain with a geared hub motor works) a bit awkward and stiff to ride without the power assist activated, but who buys an electric bike to use it as a standard bike? No one, that's who.
---
TOP DEALS FROM THE BRANDS WE LOVE
---
What's the riding position like?
The riding position is pretty good although It would be even better if it was possible to somehow slide the saddle backward to push my body further from the handlebars. This would make the act of pedaling feel more natural and effortless as a result. Because I have the passenger seat installed and use the throttle a lot, I don't tend to sit on the saddle but instead on the passenger seat in a more Harley Davidson-esq riding position. This is so much more comfortable but makes pedaling a little awkward due to the saddle getting in the way.
Are the handlebars comfortable?
Yes, they are, this is due to the flattened shape on the ends of each handgrip (seen in the image above).
How stable is the RadRunner on different surfaces
Due to the fat tires on the RadRunner Kenda K-Rad 20″ x 3.3″ wheels, the bike is very stable on gravel and dirt trails, often a surface that bikes can tend to slip out on while cornering at speed. These wheels with K-Shield puncture-resistant liners provide a predictable response, ground feel, and offer up tons of confidence.
There are no suspension forks which is a definite downside to the ride feel
The ride is on the RadRunner electric bike is very solid due to the lack of suspension. The only cushioning comes from the tires and saddle, which is very comfortable to sit on for long rides.
WANT A SMOOTHER RIDE with additional extras? The RadRunner Plus is for you.
There's hope however for a smoother ride as Rad Power Bikes have just released an alternative RadRunner bike called RadRunner Plus for $1,699. Some additional features on the RadRunner Plus include:
Front suspension fork for smooth rides outside the city and on the trail bike paths.
A 7-speed drive train to make much easier work of hills.
Passenger package comes as standard – this includes the long rear seat that I bought as an additional extra for my bike and retractable footrests.
Full fenders are as standard – The front fender you see on my bike was bought as an added extra.
A premium headlight that is larger and brighter than the one on the RadRunner.
An LCD Screen – The backlit LCD display helps you to keep an eye on your stats while riding. Not only does it track your speed and distance, but with a 5V, 1 Amp USB port, you can keep your devices charged while you're on the go. That may well be worth the upgrade price in itself for some.
How noisy is the RadRunner eBike?
The bike itself runs fairly quietly but not silently, which is to be expected from a bike that runs off a 750W motor. To get an understanding of the level of noise, check out my video at the bottom of this RadRunner review.
---
RadRunner key features and specifications that matter to me
1. The Powerful 48V, 14 Ah Lithium-Ion battery
You can get a lot of usage out of the RadRunner's 48V, 14 Ah Lithium-Ion battery. It's rated for 800 charge cycles which impressive when you consider the battery has the capacity to take you up to 45 miles on one charge with a top speed of 20mph.
The battery takes 5-6 hours to charge fully and because it's a Lithium-Ion battery, it holds its charge for a long time while you're not using the bike.
At only 7.7 lbs, this battery is also one of the lightest and most energy-dense packs on any electric bike.
2. The compact 750W hub motor
With 750W and 80 Nm of torque at your disposal, the RadRunner's geared hub motor really helps power you up steep inclines and gets you up to top speed quickly from a dead stop (demonstrated in my video at the bottom of this RadRunner review), all while remaining relatively quiet and inconspicuous. Numbers like these aren't even found on some of the most expensive mid-drive eBike systems out there, which for the price of this bike is incredible.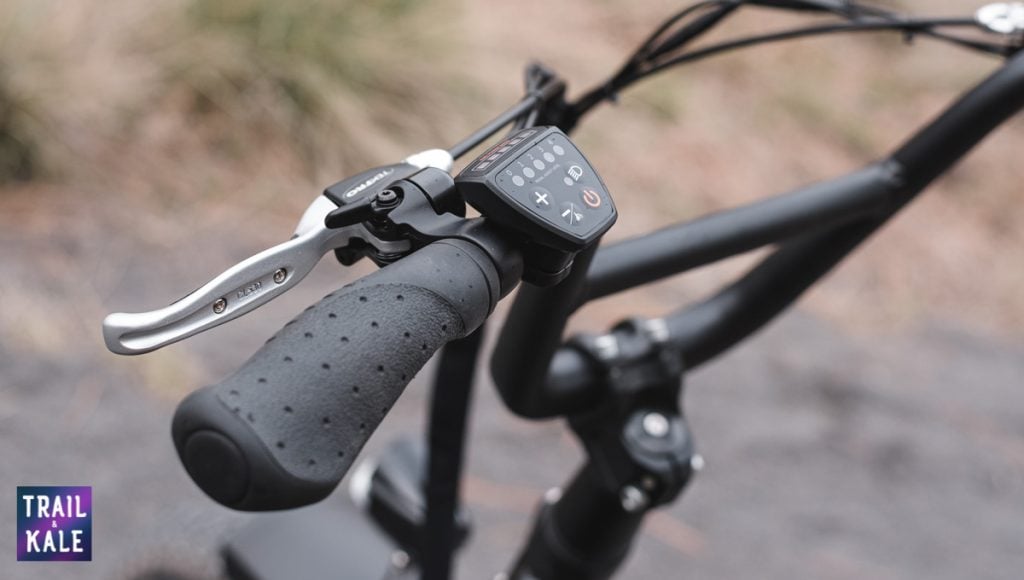 3. LED control panel with battery charge indicator and adjustable power-assist modes
I love the simplified LED control panel. It's small and doesn't require a PHD to operate. It's literally one-click on and one-click off, with additional buttons for lights and pedal assistance, and LEDs to indicate battery and assist levels. I demonstrate these features in my video below.
4. Passenger Package
Other eBikes with bench-style passenger seats all have one thing in common: they offer no means for the primary rider to adjust the height of their seat, which can lead to a poor riding position. The RadRunner is the very first e-bike or scooter to have an adjustable driver's seat that can either be completely flush with the passenger's seat or adjusted higher like a standard bike. As I mentioned earlier, I like to ride on the passenger seat when riding solo and so leave my seat in its lowest position.
5. Be seen at night with Included lights and reflective detailing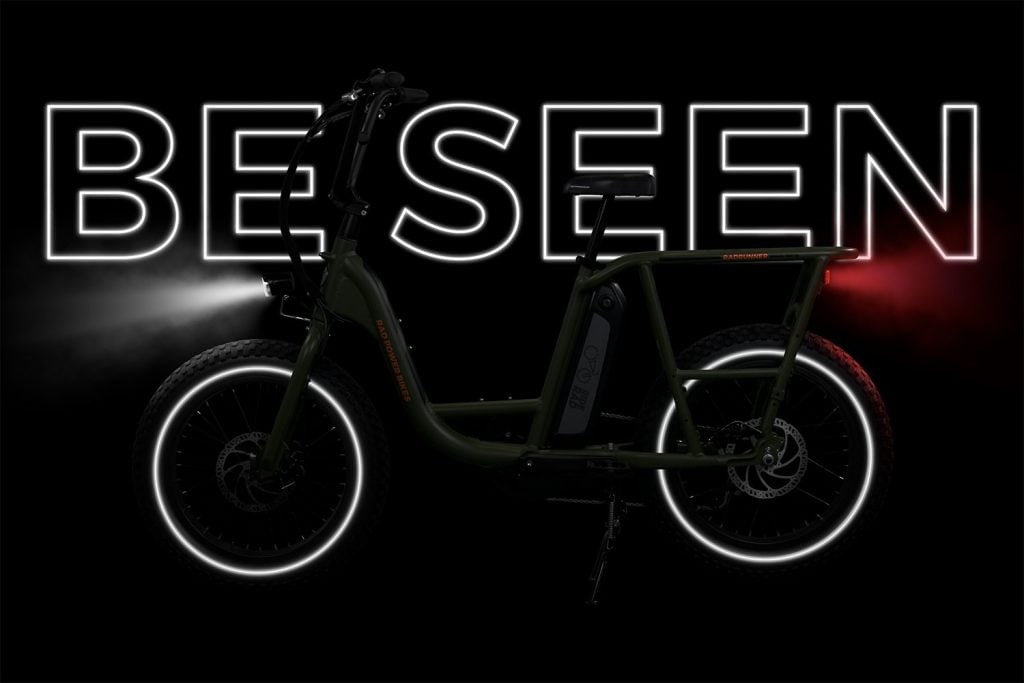 The RadRunner electric bike comes with lighting as standard. The front light has an ambient light sensor, and both front and rear lights are very bright. There's also an integrated brake light with strobe for extra safety when your riding on the roads, which I love! The tires also have reflective detailing in their sidewalls which keeps you visible from the side.
6. Wide/fat tires make for a stable ride
The tires on the RadRunner electric bike are nice and wide, and while maybe not the most efficient for riding on the roads, do offer excellent stability and grip on bike paths and off-road areas. Even while riding fast on gravel paths the bike feels stable while making turns.
After riding a road bike for many years, I have come to hate gravel as a slim front wheel can very easily slide out from under you while taking corners at speed on these types of loose surfaces.
7. Kickstand
The RadRunner electric bike is a heavy bike, so having a dual leg kickstand is very useful when you need to step away from the bike. It's very sturdy and has no problem holding the bike's weight.
8. A Bell
A bell comes preinstalled into the left handlebar, its pretty cute and does what you'd expect, alert other riders and pedestrians of your arrival.
---
Where to buy the RadRunner
You can buy the RadRunner electric bike and all additional extras at the Rad Power Bikes online store. They have great stock and offer next business day shipping, so you'll be riding before you know it! The RadRunner base price is $1,199 which in my opinion is excellent value for money for what you get.
---
RadRunner video review
---
RadRunner Review Summary
Rad Power Bikes RadRunner
Performance & Reliability
9.5
PROS
Really fun to ride
Can be completely customized with a wide variety of add-ons
A single battery charge can take you up to 45 miles
Top speed of 20mph
Fat tires for stability on and off-road
Comes with lights as standard and reflective tire rims for safety
Extremely well priced considering all the features and build quality
Has a quiet ride
2 color options available (Black & Forest Green)
CONS
The bike is heavy
I would like to be able to push the saddle away from the handle bars, not just upwards.
No suspension (although the new RadRunner Plus now has this feature)
---
Frequently asked questions about Rad Power Bikes and the RadRunner
How fast does the RadRunner go?
Up to 20mph depending on the road surface and incline.
How far can the RadRunner go on a single charge?
20-45 miles depending on road surface, incline, and how much power assist and throttle you use.
Where are Rad Power Bikes manufactured?
Rad Power Bikes are designed in Seattle and made in China.
Are Rad Power Bikes Waterproof?
According to the Rad Power Bikes support forum, the components on ebikes by Rad Power Bikes are all water resistant and designed for water to drain off the components from top to bottom, so never flip the bike over when wet
---
More Images of the Rad Power Bikes RadRunner
---
I hope you enjoyed this RadRunner review, if you have any questions for me about the bike, please leave them in the comments below. Happy riding!!