In this post, I'm sharing everything you need to know about running a 10k and our free 10k training plans for runners of every level, including if you're a beginner who's new to running and want to go from couch to 10k in a matter of weeks!
We have a couch to 10k plan to follow, a beginner 10k training plan, and an intermediate plan for those regular runners looking for a training plan to help up their distance from regular 3-4 mile runs, as well as work on improving their 10k pace for race day.
Like our other popular training plans (including our half marathon and marathon training plans), we have created some of the best free 10k training programs available online, which follow the tried-and-proven principles of training for endurance running.
If you've landed here for our free printable pdf 10k training plans, scroll down for links to download them!
In this post, you'll learn
How far is a 10k in miles?
A 10k is 6.2 miles. It's twice the 5k distance!
How long does it take to run a 10k?
The time it takes to run a 10k varies greatly depending on a person's fitness level, training, and running pace.
Generally, a beginner runner may take more than an hour to run 10k. For context, a runner who maintains a 10-minute per mile pace, which is a popular 10k goal pace, would finish with a 10k time of just over 1 hour.
More experienced runners usually take less than an hour, with faster runners getting close to 30 minutes.
Elite runners can complete the distance in less than 30 minutes, especially if they're running it as the 10,000 meter race on a track rather than pavements. You can check out the current World Record for the distance on this Wikipedia article.
What is a good 10k race pace?
A good 10k running pace is one that is challenging but sustainable for the entire race.
Many find the 10k to be one of the most challenging endurance races because it's short enough that you should be able to run at a fairly high intensity, but with it taking between 40 minutes and an hour to finish the race for most, that's a long time to be putting in an intensive effort for.
This is one of the reasons that 10k is an awesome distance to train for – because it's so tough, but you don't need as much weekly training time as you do for longer races like half marathons, full marathons and, of course, ultramarathons!
For most recreational runners, a 'good' 10k race pace is around 9-10 minutes per mile, which would result in a finishing time of around 1 hour. To get under 1 hour with time to spare, you should be targeting a 9:30 10k race pace.
However, some faster and more experienced runners may aim for a faster pace, such as 7-8 minutes per mile, which would result in a finishing time of somewhere between 42 and 50 minutes.
Here are some average 10k running paces to give you an estimated race time based on your predicted pace throughout the race:
If you're curious about what kind of 10k finish time your current or expected 10k running pace would get you, this chart will help you work it out: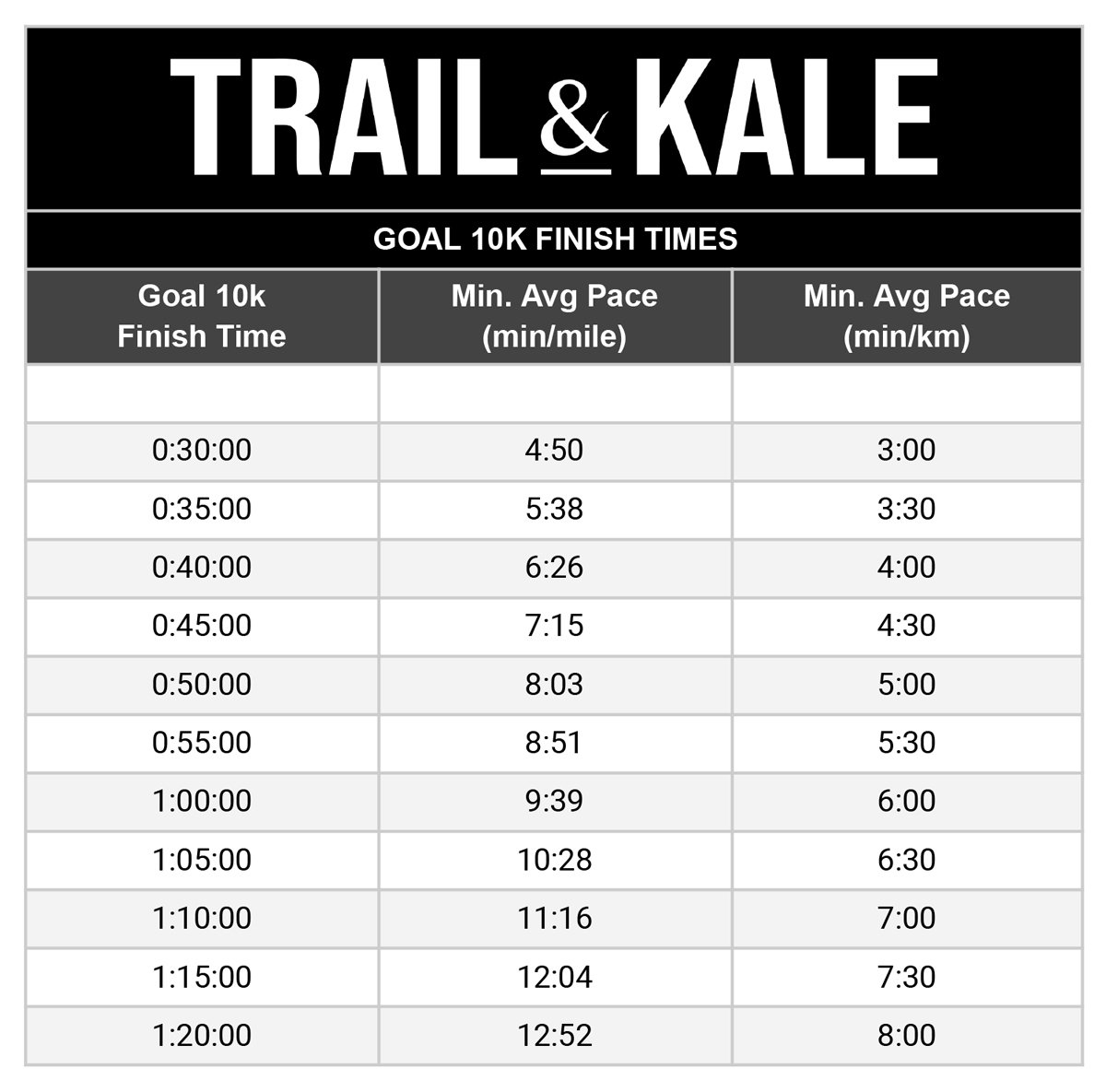 If you're new to running altogether and are setting your sights on going from couch to 10k, then it's important not to get too focused on a target running pace or time.
I mean, just running a 10k distance non-stop is a challenging enough goal in itself!
How long does it take to train for a 10k?
Our 10k training plans are suitable for most runners, whether you're a new runner targeting 10k as a new distance goal, or experienced runner who regularly runs a few miles at a time and wants a training schedule to follow to step up and train for racing a 10k.
Our plans are designed to take between 4 and 6 weeks to train you up to race day.
These plans involve 3-4 training days of running per week, including a long run on weekends that gradually increases in distance.
The weekday runs may range from 30 minutes to an hour, while the long runs, which are normally programmed for weekends, may take around 60 minutes.
On average, you should expect to spend 2-3 hours per week of run training time.
Additionally, our plans include rest days, and days allocated to strength or cross-training, not running.
It's important to listen to your body and adjust the training plan as needed. If you experience pain or fatigue, it may be necessary to take an extra rest day or reduce the intensity of the workouts.
How many miles should you run each week when training for a 10k?
Our 10k training plans gradually build up your weekly mileage to around 12-16 miles a week in the weeks leading up to race day.
Our FREE 10k training plans
Choose the best 10k plan to suit your current level of fitness, 10k goals and available weeks to train.
COUCH TO 10K TRAINING PLAN: Complete our 8-WEEK COUCH TO 5K PLAN to build up to running 5k non-stop, then move on to our 6-Week 10k Training Plan For Beginners
6-WEEK 10K TRAINING PLAN FOR BEGINNERS: If you're new to running (or don't run that often) and have just got to the point where you can run a 5k distance (perhaps you just finished our Couch to 5k plan) then this 6-week training plan is for you if you're targeting your first 10k race.
4-WEEK 10K TRAINING PLAN FOR INTERMEDIATE RUNNERS: if you already regularly run up to around 5k / 3 miles in one go, and run around 10 miles / 18k per week then this 4 week schedule will build your distance up to 10k, while also helping you work on speed so you can run faster and target a new PR!
Types of running referenced in our 10k training schedules
Our 6-week beginner training plan is designed to allow sufficient time to build up your running distance to being able to run your first 10k, which is why it does this over six weeks – to do so steadily and minimizing your risk of over-training or picking up a running overuse injury by running too far or too much, too soon.
The 4 week 10k training plan (our intermediate 10k training program) assumes you already regularly run a few times a week, of distances up to around 5k (3-4 miles).
This more intensive program includes 4 run days a week and a day assigned to either cross training or core strength training, yoga and flexibility, and incorporates speed-work (such as interval training) with the goal of increasing your VO2 max and baseline running speed for race day.
Regardless of which type of run you're scheduled to do that day, pay particular attention to ensuring you're moving with good running form, as this will help you run with an efficient, strong and less-injury-prone style.
Other 10k training tips and FAQs
What running shoes should I wear for 10k training and race day?
Your choice of running shoes should be appropriate for you and provide you with adequate support and cushioning for running the half marathon distance.
This should be the same pair of running shoes you've been training in, so you can be confident they are sufficiently supportive and comfortable and won't rub or cause blisters over the hours you'll be running your race.
If you need a new pair of running shoes, head over to our road running shoes buyer's guide for our top recommendations that will have you matched up with the best running shoes for you.
If you're looking for more running gear advice and tips on how to run stronger and faster, head over to our Running 101 section!
How to recover after a 10k race
In the hours and days following the race, it's important to continue to eat a balanced diet that includes plenty of whole grains, lean proteins, fruits, and vegetables. This will help your body recover and rebuild after the physical stress of the race.
Here are some other things you can do to aid in your recovery after running a 10k:
Pin this post!