The On Cloudventure Peak is a trail running shoe, designed for moving fast in the Mountains. So with that in mind, I decided to summit Mount Tamalpais, in Marin California, to see if the claims were true.
---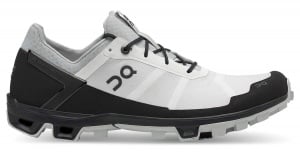 NEW CLOUDVENTURE PEAK 2019 – FULL REVIEW HERE.
---
Before I go into more detail I'd just like to add some thoughts I had before testing them out. The last trail shoe I tested from On Running was the Cloudventure Waterproof, I really enjoyed the "bouncy" sensation I noticed when running downhill. It is a comfortable shoe, and provides a lot of protection and cushioning. The only problem I had with them is the energy lost through the front pods when running up hills. Everything felt that much harder as the force from my legs was absorbed by the front pods which felt a little too big to me.
With a quick first look at the out-soles of the Cloudventure Peak, I could tell that On Running had redesigned the front cloud pods. They are much more minimal and have much less bounce.
This was going to be a fun 800m climb up Mount Tamalpais!
---
RELATED:
---
Cloudventure Peak
is one of the lightest trail running shoes on the market, yet still provides you with the grip, protection and support needed for race day. The flexible outsole lets you retain your foot's power every step up the mountain, while CloudTec® supports and cushions your decent to the finish line first.". Well, let's find out, shall we…
Fit & Design
The On Cloudventure Peak is listed as a lightweight trail competition shoe, which is just the type of shoe I love to wear, even while training. The Cloudventure Peak is very light, weighing in at 260g. It feels like most of that weight goes into the rubber cloud pods on the outsole, as the upper mesh is very breathable and lightweight.
On Running are very good at making comfortable shoes. This, I'm sure has a lot to do with design, but I also think the materials used on the interior are highly technical and spot on. If you've worn On's before then you will know exactly what I mean.
The tongue itself is slim but has enough padding to protect the top of your foot if you like to have your laces done up tight. There's also a sock which connects the tongue to the footbed inside.
This helps the shoe to feel snugger. The inner sock isn't made from a stretch fabric, so if you have slim feet (like mine) then you may notice a bit of fabric wrinkling in the tongue, around the top of your foot as you tighten up the laces. I thought this may be an issue after a long run but I didn't notice it at all. The laces are very minimal too, tighten easily and are of a sensible length.
The design around the ankle area really stood out to me. The side walls have a very low profile and are shaped in a unique angular manner. This prevented any rubbing in the ankle area; it felt great. I guess this is another way for On Running to reduce overall shoe weight.
Now to the controversial and consequently interesting part; the cloud pods. On have built a name for themselves on the cloud tech system that they created. Running on them Is a truly unique feeling that somehow makes you want to run faster. I always notice this, especially when putting on a new pair. The cloud pods give you that feeling of a cushioned landing, as they compress under your weight and forward force. But they also give you the feeling of a barefoot take off as the pods are compressed and then spring back at the time of your foot leaving the ground. The cloud tech system was designed originally for road running shoes. So what happens when you take that system, tweak it a bit and use it on the trails?
It's a question that you may have asked yourself too. Unfortunately, It's such a tricky one to answer as the system clearly compliments running on trails in some aspects but not in others. For example, running uphill in these shoes felt excellent. A huge improvement over the Cloudventure Waterproof.
And I absolutely love running downhill in these shoes too, but only on buffed trails that are not technical. I didn't feel like I had much control over the shoes on uneven terrain, which can only be because of the clouds on the bottom of the outsole. It's hard enough trying to scan uneven terrain and find the best footing when running fast downhill. So to have uneven pods on the soles makes this a very unpredictable affair.
I think On, for trail running shoes, should be starting with their other out-sole (featured on the Cloud and the Cloudflow running shoes). Firstly it's a lighter out-sole, but also it would feel more predictable on trails, due to its much flatter sole design.
The finely detailed grip on the cloud pods worked very well though and I felt very connected to buffed trails.
The 'upper' is made of a very flexible and strong ripstop material. I have never seen this used on a shoe before, but it works really well. It looks similar to something you may see a windstopper jacket made out of. I like it!
There's a 6mm drop from heel to toe, the same drop as the On Cloudflow, which feels great. The Cloudventure Peak also has some protection in the toe cap area. It's not 100% re-enforced but would definitely protect your toes from most accidental rock kicks.

Running in the On Cloudventure Peak
I felt that the On Cloudventure Peak's really unlocked my uphill speed during the whole ascent of Mt Tamalpais. At no point did I need to stop, which is quite something on such a big climb. Running downhill on even terrain felt fantastic, the shoe provided cushioning and bounce to my stride, which meant I could give it my all.
The downside was when I began to hit more technical terrain and my control disappeared due to the sticking up pods on the outsole.
On Cloudventure Peak
Pros
Great for fast running over buffed trails
Lightweight (260g)
Durable ripstop upper mesh
Strong toe cap for accidental rock kicks
Flexible shoe
Cons
Long races can become uncomfortable with the pods pushing up on your feet through the thin outsole under the forefoot
Pods can give a feeling of instability on gnarly terrain
Only available in this one colour
In Summary
'On' have brought some really great innovations to the Cloudventure Peak. I love the smaller pods on the front that make running uphill more efficient and the unique sidewall design around the ankles.
The ripstop upper mesh is also a great touch that reduces overall shoe weight. The downside for me is the rubber pods on the outsole. They work excellently on even terrain, but as soon as you venture onto more technical surfaces, you may find you lose control and with it, confidence in the clouds.

Still not sure which On Running Shoes to buy?
Visit our Best On Running Shoes Guide for an ordered list of the top ON shoes for road and trail running. It has been designed to make your buying decisions easier.