Another year, another Nike Pegasus Trail release – The Nike Pegasus Trail 4 is finally here, and it looks even more like the classic Pegasus, but does it run better than the Pegasus Trail 3, and that amazing shoe, the original Pegasus 36 Trail? Find out in this Pegasus Trail 4 Review.
ADVERTISEMENT
In this Nike Pegasus Trail 4 review I cover the key features of these door-to-trail running shoes, how well they perform while running on the trails & roads, how they compare to the Peg Trail 3 and Peg 36 Trail (as I know many of you want to know this), whether they're worth the money, and finally my review summary with pros and cons.
After reading this review visit our Best Trail Running Shoes Buyer's Guide to see if they made it onto the list.
If you've been following Trail and Kale for a while now, you probably saw my first review about the Nike Pegasus 36 Trail, which was Nike's first Pegasus Trail shoe. Since the release of that shoe a few years ago, Nike has released the Pegasus Trail 2, 3, and now the 4.
In my opinion, the Pegasus Trail range has been going downhill since that first release but I see glimmers of hope within the Pegasus Trail 4 that things are changing for the better.
Pegasus Trail 4 sizing and fit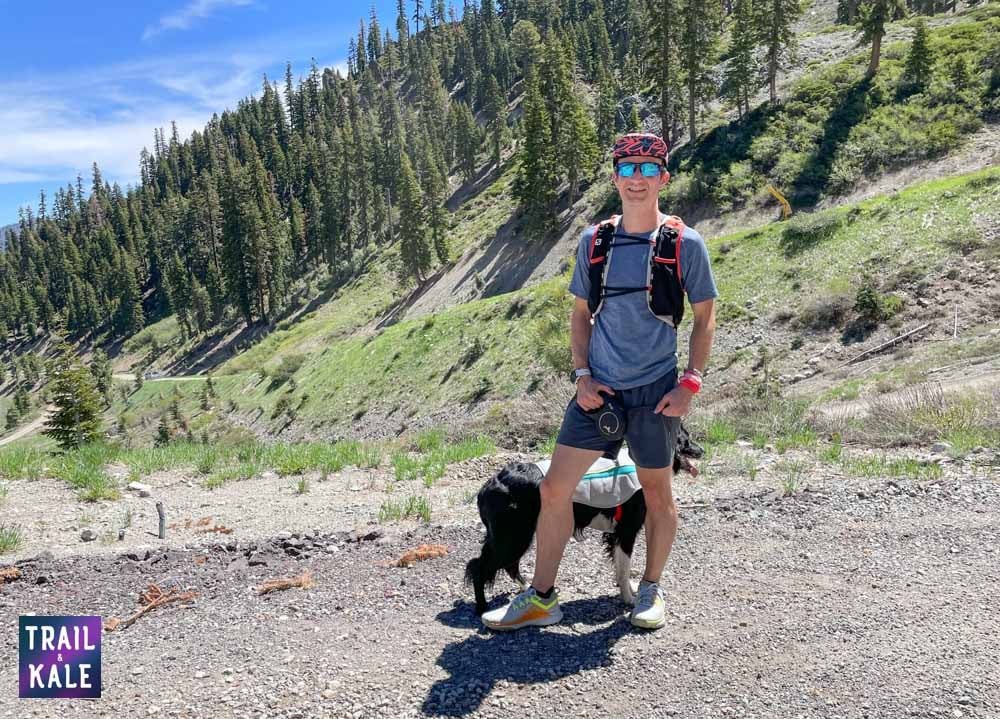 My initial impressions of the Nike Pegasus Trail 4 are good but let me get into the details of this shoe and what it's actually like while running on proper mountain trails.
Let's start with how the sizing feels, and how it fits. The Pegasus Trail 4 is true to size – I wear a US size 9 and it fits just as well as any other brand like On Running, Adidas, and other Nike running shoes for that matter.
It's also definitely worth mentioning that the fit is very comfortable out of the box too.
You won't have to break these trail running shoes in due to high-quality materials and a well thought out upper design thanks to many years of R&D for Nike's Pegasus road shoes.
There's also plenty of flex in the shoe, in pretty much every direction which brings additional comfort to a broader range of people – everyone has their own subtle nuances in form when running.
This is important to ensure the majority of Pegasus runners feel comfortable in them. Nike knows how to make comfortable shoes, that's for sure.
There is also tons of padding around the ankle region of the upper as well. The tongue is soft and comfortable too, with a very good lacing system to lock your feet in place, although I do find I need to use all the lacing holes to achieve this snug fit.
So, comfort out of the box is really great.
Key features and specifications worth knowing
Price – $140 at Nike.com
Weight – 10.2 oz. (290g) for a US M9 – that's lighter than the Peg Trail 3 and the exact same weight as the Pegasus 36 Trail.
Width – medium
Midsole – React foam midsole is comfortable on the roads and light trails but takes away control on technical trails.
Stack height: I don't know, but too high for me
Drop – 9 mm drop
Lug depth – 3-4mm
Spending many hours running in the Peg Trail 4 on a wide variety of trail types from high alpine mountain trails in Lake Tahoe to the forest trails of Marin County reveals a slightly different story than what you may expect from just reading about the Pegasus Trail 4 on their product page.
The shoe weighs around 10.2oz (290g), so it's not the lightest shoe, and it's not the heaviest either, it feels light in the hand, and feels pretty light after running for a few hours as well so I wouldn't worry about the weight looking at that on paper.
The width of the shoe is average or medium width – so if you've got a medium width toe box or average width feet in general, then these will be OK for you.
If you've got very wide however feet then I would consider looking at different trail running shoes.
So when I said earlier that the Pegasus Trail is heading back towards the Nike Pegasus 36 Trail – I meant mostly in terms of performance on technical trails.
I actually still have one because I bought up a whole load of them when I heard they were getting phased out and I loved them so much – lucky because that means I can compare them more closely.
So as you can see from the profile in the image above, there are a lot of similarities to the Peg 36 Trail. There are some improvements to the latest Pegasus Trail 4 for sure!
There's a loop at the back rear, and shock! horror! – it's big enough to actually put a finger through!
So, a couple of generations ago, Nike really messed up with the finger loops on the Pegasus Trail. You couldn't actually get your finger in there, especially if you're wearing gloves on cold winter runs so they've fixed that issue.
Nike Trail has gone back to the original Flywire lacing system that uses these little pieces of stretchy string that allow your feet to expand within the shoe and keeps your feet more comfortable if you're running for long periods of time.
I love this lacing system so much – it's simple but seriously effective.
The upper is very breathable, stretchy, and soft on the inside and the Peg Trail 4 regulates temperature very well – I know because I've been running in temperatures exceeding 90 Fahrenheit in them.
The toe cap is solid – so if you tend to stub any rocks or roots while running, you'll be OK. I involuntarily tested this out myself, lol.
The Nike Pegasus Trail has a 9mm drop from heel to toe and it has quite a high stack on the shoe. Stack height is essentially how far off the ground the shoe stands – so the thickness of the midsole and outsole combined essentially.
Personally, I would like to see a lower drop on these shoes with a lower stack – the ride would give far greater control on React foam if this was the case.
On the positive side, the 9mm drop does put you in that slightly forward-leaning stance to give you a more aggressive running form for running fast. These shoes are door-to-trail hybrid shoes remember – so it's nice to be able to open up on the road too.
These shoes should technically work as well on the road as they do on light trails, and that's essentially what Pegasus Trail 4 is all about.
Nike Pegasus Trail 4 performance review
Let's get into the performance side of this review then, and find out what they're actually like for running with.
Running on road surfaces
OK, so running on the roads in the Nike Pegasus Trail 4 – what's it like? They are marketed as a door-to-trail shoe, so they should be pretty good on the road and I can confirm that they are.
I have to run on the sidewalk for roughly a mile before I get to my local trails, so I always appreciate a trail running shoe that can get me there in comfort before the real fun starts.
The Nike Pegasus Trail 4 uses Nike React foam which is a very plushy foam that compresses like crazy as you run.
Now that's great when running on the road or other hard surfaces. I like that the React foam absorbs any very small rocks without me noticing them.
How do they perform on different types of trails?
I also like how the Nike React foam can handle light trails or buffed non-technical trails. If your local trails have very small rocks and very hard buffed ground then these shoes are really good for that kind of terrain.
Now, let's get serious for a moment. On my local trails, I've got a lot of varying terrain including steep climbs and descents, rocks, roots, scree, dirt, and grit which can lead to a lot of slipping on the trails if I don't have shoes with enough grip or control for that matter.
So what's React foam (in a high stack running shoe) like for running on technical trails?
Well, personally, I don't like them on the technical trails because there's way too much compression in the react foam, and it makes me feel like I'm running on unstable sponges.
I've always been a fan of Nike Zoom foam, and the only shoe in the Nike Trail range right now that has Zoom foam midsoles is the Terra Kiger, so for that reason, the Terra Kiger 8 is always going to be the Nike Trail running shoes winner for me this season.
Read my Terra Kiger 8 review next if you're after the best all-round Nike Trail running shoes this season.
The midsoles on the Pegasus Trail 4 just feel like it absorbs too much energy for me. I like to be able to use my ankle muscles for stability (as they have been designed for), work with the trails, and also work my way around them using my experience of reading trails.
So when you've got a really cushioned midsole like this, it can throw you off a bit and can actually lead to you rolling an ankle if you're not careful. So yeah, there are circumstances where cushioning like this is great – technical trail running is not one of them.
It's on the roads and light trails where these shoes really shine.
What are they like for running/hiking steep uphills?
Let's quickly talk about uphill running performance of the Nike Pegasus Trail 4 then. In short, they are really great running shoes for anyone who enjoys bagging peaks, or just love getting as much vertical gain as possible during a trail run.
There's tons of breathability which is important for me when I'm climbing, as my feet tend to get hot due to all the hard I put them through.
I tend to avoid walking hills unless they are so steep that a power hike is a more efficient way to reach the top. I generally prefer to keep a rhythm and keep running as much as I can.
The reason they are so good is that the lugs on the front of the outsole are very aggressive, and made with a sticky rubber that does n excellent job of hooking into the trail.
What are they like for steep downhill running?
So as I mentioned earlier, on light trails, these are great trail running shoes – and that statement holds true for running down hills as well.
If you tend to heel strike a little bit, then the Nike React foam has got you too. The React midsole is going to suppress a lot of that impact and give you a good experience running fast downhill.
However, if you hit anything technical, the high stack, plushy midsole will result in your losing some of that important control.
So, I found myself fighting the cushioning in the midsole on anything more technical than buffed trails but it did give a comfortable ride on light easy trails.
I had hoped the interesting tread pattern under the heel would have performed better than it did when running down steep descents with loose dirt but unfortunately, I found myself skidding/slipping (but not falling) more times than I would have liked.
So there are certainly stark pros and cons to the Nike Pegasus Trail 4. If you're not going to be running technical trails, then I say definitely give it a try. I think you'll be very pleasantly surprised with the comfort, and performance.
Running fast in the Nike Pegasus Trail 4 – is it a good experience?
I feel I can run really fast in them and I really enjoy the ride on the road and light trails – it's a shoe that I feel like I can really open up with. I put this down to the flexibility of the shoes combined with the comfortable cushioned ride.
How do they compare to other trail running shoes out at the moment?
When comparing the Nike Pegasus Trail 4 to other trail running shoes that I've been running in lately, I'd say they are certainly above average. Comparison trail running shoes include new sneakers from Salomon, On Running, Inov-8, and other Nike Trail shoes.
The Pegasus Trail 4 is definitely staying in my shoe rotation for any runs that aren't too technical. They are a great shoe for bagging more miles, and recovery runs.
Right now, I'm training for Matterhorn Ultraks, a 50-kilometer mountain race in Switzerland, so need to get lots of miles in, and this shoe is really helping me with that.
---
Are they worth buying?
This totally depends on the types of trails that you enjoy running the most. The Peg Trail 4 is great on easy trails and the pavement, but I can't recommend them for anything too technical.
This means that most beginners who run on the road but are thinking about stepping onto light trails will definitely enjoy them.
If, however, you're someone who likes to venture onto more technical trails, with a lighter and more stable shoe then I'd definitely recommend going for the Terra Kiger 8 with that Zoom midsole.
---
Nike Pegasus Trail 4 Review Summary
Nike Pegasus Trail 4 Review
PROS
React foam midsole provides great cushioning on the road and buffed/light trails
Lacing system with Flywire system is back and I love it
The shoe climbs really well due to aggressive forefoot outsole lugs and sticky rubber.
It's a fast, super cushioned and comfortable shoe for light trails, and roads
very breathable upper - tested in 34 deg C heat
Great trail running shoe for beginners looking to run more trails
Finger loop works well and toe cap is solid
CONS
stack height is too high when combined with React foam - this results in too much instability when running technical trails
Tread pattern under the heel doesn't perform well on steep downhills with grit or loose dirt
a bit on the heavy side
---
Nike Pegasus Trail 4 Video Review
Image Gallery
Thanks for reading – I hope you enjoyed this Nike Pegasus Trail 4 review – If you did, drop a comment down below to share your thoughts on the shoes, and whether or not you think you may like to try them out for yourself.
Oh, and if you have any questions, please leave them in the comments section too. -Alastair