LARQ water bottle interchangeable filter and purification caps make the LARQ water bottle one of the best solutions for being able to produce pure, better-tasting water while traveling, backpacking, camping, or in your own home.
There are two different LARQ caps; the PureVis UV Cap, and the Bottle Filtered Cap, you can purchase them as accessories or you can buy the LARQ Bottle PureVis or LARQ Bottle Filtered which will come with the respective caps when you buy the bottle.
Here's a brief outline of what each cap does:
PureVis Cap – UV-C technology built into the PureVis cap, eradicates up to 99.9999% of bacteria and 99.99% of viruses in Adventure Mode, meaning you can sterilize water found in streams while out hiking or camping, for example.
Bottle Filtered Cap – LARQ's Nano Zero Filter Technology improves the taste of your water and removes lead, chlorine, PFAS, and particulates that meet NSF/ANSI 42, 53 & 401 standards.
I'll get into why you may want one over the other in real-world situations, and more importantly, why I think you should consider owning both caps with your LARQ water bottle.
---
LARQ was co-founded by Justin Wang, who was inspired by a simple vision to use innovative technology to give people access to pristine drinking water in a sustainable way.
The LARQ bottle was the world's first self-cleaning water bottle, and as such the company gained momentum with investors and LARQ water bottles were able to become mainstream in the outdoor and active lifestyle niches.
Not so long ago, Justin made it onto the popular US show, Shark Tank, where he ended up scoring a cool $1M deal from the Sharks, resulting in a $50M valuation of the company.
Thanks to the exposure from that Shark Tank episode, LARQ continues to grow.
Trail & Kale was one of the first gear review publications to discover LARQ, and I was able to share our in-depth LARQ Bottle PureViz review with our readers at the beginning of LARQ's journey.
---
We've had SO much more experience with LARQ since then and have tested and reviewed all their products, which you can learn more about below: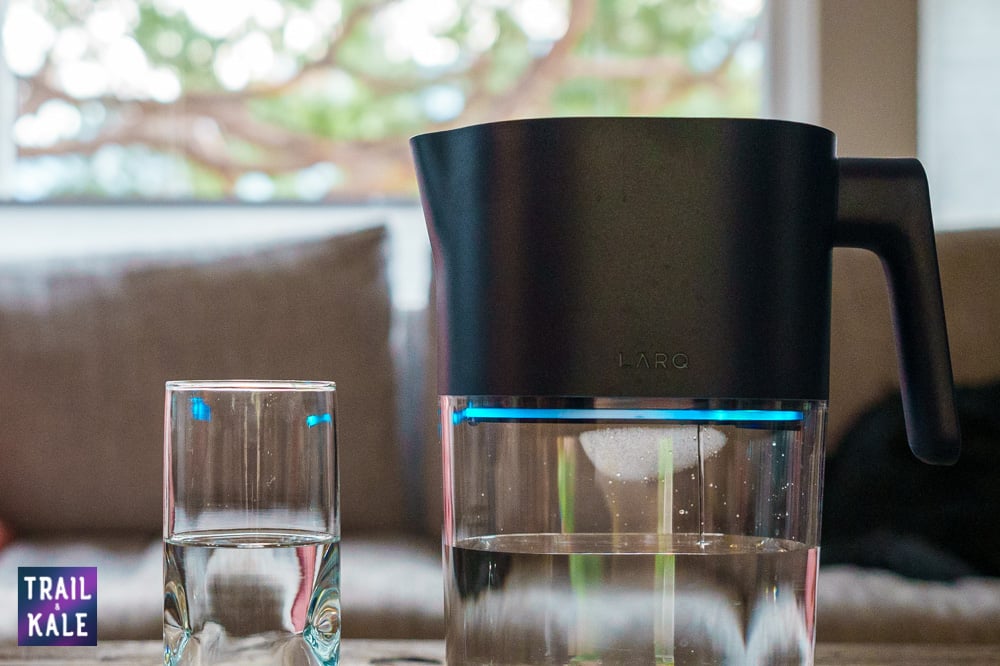 ---
Each one of those bottles (and pitcher) has been designed for specific use cases so I recommend reading those reviews next if you like the look of a particular LARQ water bottle but are not sure if it's the best one for you.
LARQ's PureVis Cap & Bottle Filtered Cap are interchangeable between bottles – here's why that matters, and why it makes LARQ so awesome.
With all that said, and moving back to the focus topic of this article, LARQ bottles, no matter which size you get (17oz or 25oz), can ALL be used with either a LARQ Bottle PureVis Cap or a LARQ Bottle Filtered Cap.
To learn more about the difference between water purification and water filtering, visit my backpacking water filter buyer's guide.
Just below my list of recommendations, you'll find my guide on how to choose a filter bottle, and also more learning material should you which to be an expert on water purification in the wilderness.
This modular aspect of being able to swap out water filter/purification systems on LARQ water bottles is truly awesome, let me explain why.
You can filter AND purify your water while adventuring in the great outdoors or traveling to countries with poor water quality
This is probably the most popular reason people will have both caps at hand BUT you don't have to use both caps at the same time unless the situation you are in calls for it.
Each LARQ cap has its own benefits and disadvantages over the other.
If you read my guide to filtering and purifying water in the great outdoors then you'll now know that filtering water has a few key benefits over just purifying water, but purifying water has some benefits over filtering too.
So when you have them both you have a water cleaning system that has the best of both worlds.
The difference between filtered and purified water | A brief explanation
Filtered water is the result of passing water through a filter (physical element). Filtered water will:
have visible particles like silt or dirt removed from it.
have waterborne protozoa and bacteria removed from it, but not viruses.
taste better when passed through an activated carbon layer.
Purified water on the other hand is water that has had protozoa, bacteria and viruses killed or removed.
This is a higher level of defense than a water filter but it's important to note that not all water sources have viruses in them, in which case a filter would be a sufficient method of creating safe drinking water.
How to use both caps for the ultimate water processing solution
With all that said, the best way of processing your water properly with LARQ's PureVis cap and Bottle Filtered Cap is to do the following:
Fill up your LARQ water bottle from your questionable water source.
Screw on your PureVis UV purifier cap.
Tap the button on the PureVis cap TWICE quickly, to enable the lesser-known 'adventure-mode' purification cycle – this gives your water (and bottle) the most extensive sterilization/purification process possible. Find out how to lock the cap when traveling below.
Take off the PureVis cap and set it aside, then screw on your Bottle Filtered Cap and sip through the nozzle as and when you want to drink some water.
NOTE: In step 4 the filter module attached to the Bottle Filtered cap does take up more volume within the bottle than the PureVis cap. This means you will have to tip a little water out before screwing the Filter Cap on, or else the water will overflow.
Watch my video below if you'd like to see me demonstrate this awesome method of creating safe drinking water from any water source.
---
LARQ interchangeable explainer video with water filter/purification process demonstration.
In this video, I explain what each LARQ cap does, how they can work together for the ultimate clean water processing solution, and I do a demonstration of me using both lids.
I also do a quick 'unboxing' / 'what's in the box' and show you how the different bottle sizes and types look next to each other and in my hand for scale reference.
You can also lock the top button of the LARQ water bottle to avoid accidental continual cycles while the bottle is stored in a bag, for example.
If you hold the top button for 5 seconds the bottle will be put into Travel mode, and the button will be locked.
This is to prevent accidentally running down the battery as a result of putting pressure on the button and activating continual cycles.
---
Image Gallery