I'm so excited to finally be writing this LARQ Pitcher review. I've spent the last 4 weeks rigorously testing this smart water filter pitcher, day in, day out, in order to learn about all the pros and cons of using such a water filter jug.
I've been really looking toward the health benefits of drinking clean water at home, over water that comes straight from the tap – and how a water filter pitcher that can make tap water taste better, can actually help you drink more water at home.
We all know that staying hydrated is important for the human body to operate in a clean and efficient manner, but it's very difficult to drink water regularly when it doesn't taste very nice, or when you're not willing to buy bottled water due to the cost, or sustainability issues surround plastic bottled water.
Coincidentally, the last LARQ product I reviewed was the 'Bottle Filtered', a water bottle that features a filter, rather than LARQ's more commonly known UV-C light purifying technology.
One of the key standout features of the LARQ Pitcher PureVis is its 2-step 'filter' and 'purification' process. This water cleaning process improves both the quality of your tap water and the taste.
The LARQ Bottle PureVis is still my favorite water bottle for the everyday, and also when traveling but for staying hydrated while working from home and for things like filling up our espresso machine with water, our pets' drinking water, and water for cooking with – it really does make the world of difference having a water filter pitcher to supply those needs with the purest of water possible.
In this LARQ Pitcher review, I explain the technology used in this water purifier & filter, how well it performs in the day-to-day, and my final thoughts on whether or not this pure water filter is worth the money.
You may also be interested in reading some of our other LARQ reviews, including the 'Original LARQ PureVis Bottle', 'LARQ Movement PureVis Bottle', and 'LARQ Bottle Filtered'.
---
LARQ Pitcher Review – Table of Contents
---
---
How Does the LARQ Pitcher filter and purify water?
The 'LARQ Pitcher' uses a two-stage filter and water purifier system – the water first passes through the filter; that filtered water then passes through the UV-C light produced by the pitcher's PureVis Wand – that's LARQ's fancy name for the part of the filter that contains the UV-C light technology.
This is the same UV-C technology used on LARQ's PureVis water bottle range, only implemented differently in accordance to the Pitcher's design aesthetic.
You'll know the PureVis UV-C water purifier is working when the LARQ Pitcher begins to pulse with a blue light.
Here's more information about how the filter and UV-C purifier works:
Stage 1: LARQ 'Advanced' Filter

– LARQ's innovative plant-based filters are independently tested to NSF/ANSI 42, 53 & 401 standards to be effective against a wide range of pollutants including Chlorine, Mercury, Cadmium, Copper, VOCs, HAA5 ,Lead, Particulates, Benzene, PFAS/PFOA, and Pharmaceuticals. The filtration process is also what makes the water taste much better too. LARQ doesn't stop there, however, as they also purify the water once it has been filtered. Read all about their 2nd-stage UV-C purifying process below.

Stage 2: LARQ PureVis Wand (UV-C purification process)

– The LARQ Pitcher uses patented UV-C technology to purify water as it drips down into the bottom of the pitcher. I love how the purifying process starts automatically as it begins passing through the filter and it's easy to know that it has been activated because the pitcher will be pulsing with an attractive blue light. You can also activate the PureVis process manually by tapping the 'λ' button on the top of the lid, should you ever need to. The LARQ Pitcher also has a self-cleaning function that turns on every 6 hours in order to keep the internal workings of the jug sanitized too, preventing the build-up of bacteria. The UV-C light eradicates biological contaminants by destroying their DNA.
To learn more about the different types of water filter and purifier systems, have a read of our Best Backpacking Water Filters & Purifiers buyer's guide next.
The LARQ Pitcher is very easy to use. You start by installing your filter, then once the pitcher is fully charged up (using the included proprietary magnetic charger) you can fill up the pitcher with water and watch it do its thing.
It's worth noting that the pressure of the water on the trap door opening on top of the pitcher forces the door open, so you don't have to use your thumb to open the top door like on a traditional water jug.
Watching the stream of water falling into the bottom container as it gets purified with LARQ's UV-C Technology is strangely satisfying because of how smoothly it fills up – This is demonstrated in my video review.
The actual filter and purification process is ever so slightly slower than some competitor water filter pitchers i've used, but those drinking water filter jugs only filter, and don't purify the water too.
On top of that extra purification process, I'm convinced LARQ's Advanced filter is doing more than other filters like the Britta, because it takes longer to filter, and the water definitely tastes better afterward.
---
5 Things To Know About The LARQ water filter pitcher
1. How long do the filters last, and where can you get new ones?
The filters used on the LARQ Pitcher can last up to 50% longer than other leading brands in the drinking water filter pitcher space, filtering 60 gallons of water before the next replacement.
What this equates to in terms of sustainability is that one LARQ Filter replaces more than 450+ standard single-use bottles.
One of the things I REALLY like about the LARQ water purifier for home use is that it takes out the guesswork when it comes to knowing when to replace your filter.
Brands like Britta, tend to have a very simple indicator, which gives you an estimate of when to replace your filter but using the LARQ App, you can intelligently track the lifespan of your filter.
The app also tracks your water intake to ensure you're drinking enough water each day.
Filters can be ordered via the pitcher's product page which offers a 20% discount when you opt for automatic filter delivery every 2 months.
I'd recommend seeing how long your first filter lasts before subscribing, in case your water intake is a lot less (or more) than average, in which case you may only need a filter every 3 months, or more frequently if you have a busy household.
When you subscribe to automatic filter delivery, the cost is $24 for the advanced filter (the one I'm using and the one I would recommend you use too), and $20 for the essential filter.
2. Does LARQ's filter process improve the taste of your water?
Yes, this filter really does make water taste better! The tap water in our house doesn't taste all that great but after filtering it through the LARQ filter it's so much better.
I drink a lot of water because I genuinely enjoy the taste, so if my water source tastes bad, I'm not drinking that water and will find an alternative.
3. There's a LARQ App.
The LARQ Pitcher's App is really the cherry on top for this water filter pitcher. I mean, not only does it already perform better, and looks more stylish than other filter pitchers I've tested but it also has an App that tracks your water usage, and the lifespan of your filters.
The app connects your smartphone to the pitcher via Bluetooth, so you need to be within range of the LARQ pitcher to be able to see the stats, and change various settings on the water filter jug.
This means it's not internet-connected and you can't log into your pitcher unless you are within Bluetooth range.
That's absolutely fine by me, as I don't feel the need to check in on my home water pitcher when I'm away from home – I have better things to do with my time, haha.
The app includes various insights including water usage over different time periods (1 week, 1 month, 6 months), weekly insights (daily average water consumption over the last 7 days, and how you're doing compared to your previous 7 days.
You also get to see how your filter is doing, as you can see from the screenshot above, my filter is still in 'brilliant' condition, and I've been using it a lot for over a month.
The app also shows when your filter was installed, and how many gallons of water your filter has filtered.
You can also change the water filter pitcher's settings from the app.
These settings include the filter's name (I called mine "Larkspur"), the power settings of the UV-C purifier, whether you want to activate the UV-C water purifier on fill automatically, and whether or not you want the pitcher to activate the self-cleaning cycle every 6 hours or not.
You'll also get to see the pitcher's current battery level within the app. Battery life, on average, lasts about 1 month.
4. Hands-free trap door for filling the pitcher up with water
The LARQ Pitcher is so easy to fill up, and I love the automatic door on the top which flips down when you run your tap water over it.
This design just makes the water filter pitcher feel much more durable and of a higher quality than competitors.
5. Filter speed
The LARQ Water Pitcher comes in 1 size option (a volume of 8-cups). 8-cups is just about right for this pitcher, any more and it would start to feel a bit too heavy.
On one fill, I'm able to fill our espresso machine with fresh water, make us both a couple of coffees, 2x protein shakes after our morning workouts, and have water left over before needing to fill it up again.
The LARQ water pitcher takes around 10 seconds to fill up (depending on your faucet's water flow speed), and roughly 3 minutes and 40 seconds to filter that water.
Gravity filters used in water filter pitchers like this are generally a slower way to filter water as opposed to other more portable backpacking filters that use pumps, or suck-through filters.
---
LARQ water purifier for home color options
As of writing this review, the LARQ Water Pitcher comes in two different color options, 'Pure White' and 'Monaco Blue' – both of which I love the look of. The color I'm using in this review is Monaco Blue.
---
Did You See LARQ on Shark Tank?
If you love watching Shark Tank like we do then you'll know that sometimes there are crazy episodes, where a business owner comes on seeking a huge amount of cash for a small stake in their business (effectively putting their companies valuation through the roof).
Sometimes that's totally unjust, but in Justin's case, pretty well justified due to their sales volume to date.
This was one of those crazy episodes, where LARQ Co-Founder Justin Wang showed up on Shark Tank asking for $500,000 for a 1% stake in his LARQ Self Cleaning Water Bottle company, and although the Sharks all laughed when they first heard his offer, they were soon on board once he demonstrated what his UV water bottle is capable of.
He ended up scoring a cool $1M deal from the Sharks, resulting in a $50M valuation of the company. That means LARQ has that special sauce that even the Sharks want to invest in their products.
---
Technical specifications of the LARQ water filter jug
| | |
| --- | --- |
| | LARQ water filtration pitcher |
| Water volume | 8-cups |
| Weight | 36oz |
| Height | 10″ |
| Width | 9.4″ |
| Material | BPA / BPS free polymer |
| Technology | PureVis |
| Charge time | 1 hour |
| Run time | Roughly 1 month |
What's In the box
The LARQ Pitcher
Proprietary Magnetic USB charger

1x Essential or Advanced Filter

Quick start guide
---
Cost and Where To Buy The LARQ Pitcher Pure Water Filter?
The LARQ water pitcher purifier for home is available for $168 from livelarq.com, this includes the 'Advanced Filter', which I think is very reasonable for such a well-designed product that exceeded my expectations during testing.
The filtered water tastes great, the pitcher has a large volume capacity, and the App compliments the hardware delightfully.
Kudos to LARQ for another wonderful product, and congratulations on winning our rare Editor's Choice Award for being the best water filter pitcher we've used.
---
LARQ Pitcher Review Video
---
LARQ Pitcher Review Summary – Is it the best water filter pitcher available? PROBABLY, YES!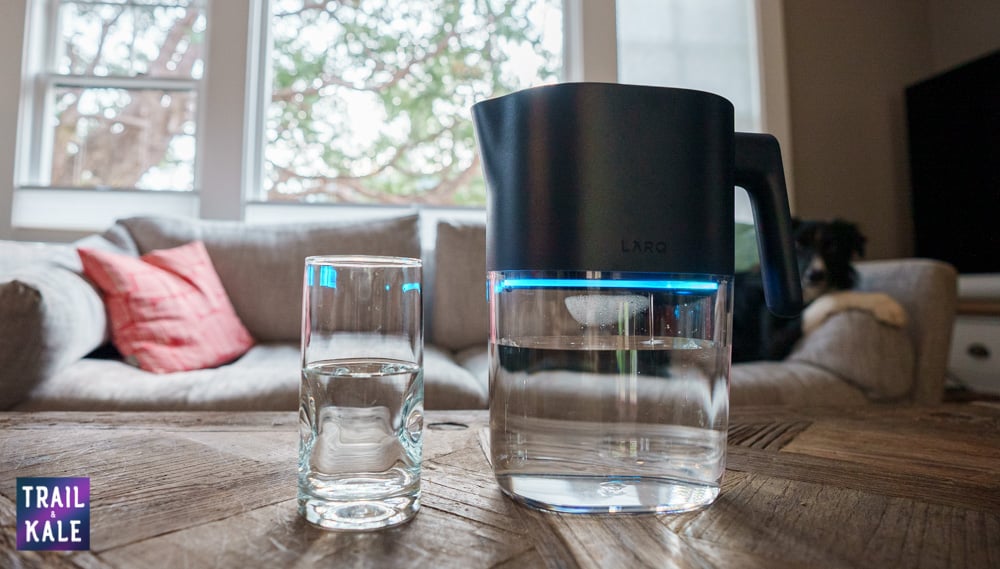 LARQ Pitcher Review - Editor's Choice Award Winner
PROS
The filtered water tastes really great - the difference is night and day compared with water straight from our tap
The design looks so much more stylish than any other water filter jug on the market
Filters last longer than most other brands, and can be ordered via a reasonably priced subscription plan
I've been feeling the benefits of drinking clean water in my day today (including coffees and protein shakes). It's hard to explain but I just feel healthier, probably due to the lack of contaminants in our water.
reasonably priced for such a high quality water filter pitcher that ALSO purifies water.
I love the top door which flaps open when there's water pressure on it, and the UV-C purifier that comes on automatically is a great touch.
CONS
Filter time does appear to take longer than some other brands, but I'm positive it's because the filter is doing a more thorough job.
comes in two nice colors, but It would be nice to see more, like in LARQ's PureVis bottle range.
---
LARQ Pitcher Review Image Gallery