LARQ was co-founded by Justin Wang, who was inspired by a simple vision to use innovative technology to give people access to pristine drinking water in a sustainable way. Knowing this, it's clear to see that the LARQ Bottle is not just another reusable water bottle, it's the world's first self-cleaning water bottle. It'll purify your water and neutralise that bottle stink that we all hate! This review will explain more about the tech used and also how well the bottle performs in the day to day.
The UV-C technology built into the lid, eradicates up to 99.9999% of bacteria and 99.99% of viruses in Adventure Mode, meaning you can sterilize water found in streams while out hiking for example.
RELATED POST LARQ Bottle Movement Review: Is it better than the Original?
The main differentiators between the LARQ self-cleaning water bottle and other insulated bottles:
The LARQ Bottle can clean itself with UV-C technology, while other insulated bottles can be tricky to completely clean and eradicate that stinky bottle smell that comes over time.
The LARQ bottle will actually purify water, standard insulated bottles can't do this.
LARQ – The world's first self-cleaning water bottle promo video
How Does the LARQ Bottle Work?
The LARQ Bottle uses patented UV-C technology to purify your water and bottle at the touch of a button. The button is at the top of the lid (pictured below), and a cycle takes 60 seconds to complete. The bottle also intelligently turns on every 2 hours to purify both the water you put inside as well as the bottle surface itself. The UV-C light eradicates biological contaminants by destroying their DNA.
Does the LARQ Bottle make noise when active?
No, in my experience, the LARQ bottle is completely silent! I have the bottle by my bed at night so if it made a noise I would definitely know about it.
Does the purification process change the taste of the water?
No, it will not impact the taste of the water but it will eradicate up to 99.9999% of germs, and odor-causing bacteria in Adventure Mode.
Does the LARQ bottle actually work in terms of keeping that stinky bottle smell away?
Yes, LARQs tech really does work! I've been using the bottle daily, for over two weeks now and have not had to wash the bottle out yet. Although I haven't needed to so far, It's worth giving the lid a clean every now and then as the UV-C light struggles to reach this part of the bottle.
What is UV-C LED technology?
The UV-C LED chips in LARQ are smaller, more energy efficient, non-toxic (mercury free), and more economical compared to traditional Mercury based UV technology. There are two purifying modes available, tap once for Normal Mode or tap twice for Adventure Mode.
What's the difference between Normal Mode and Adventure Mode?
In Adventure Mode, the LARQ Bottle has a 3x increase in UV-C dosage. Normal mode delivers 1,200 uW-sec (or mJ) to the water, while Adventure Mode delivers around 3,000 uW-sec (or mJ) to the water.
With all this purification, how Long will one battery charge last?
One charge lasts up to 1-2 months for Normal Mode, based on 3-4 cycles a day. Adventure mode, on the other hand, will last around 10-12 days. Low battery indicator lights will let you know when to recharge your bottle.
How do I charge the LARQ Bottle?
You need to use the included USB cable which connects to the lid, as seen above. While charging, the lid light will slowly pulse with a green light. It will change to a constant green light when fully charged.
Is the charging port on the lid waterproof?
The LARQ bottle's charge socket is waterproof and rated IPX7, similar to the iPhone. This was one of the first things I had to check! 🙂
LARQ Bottle Size and Colors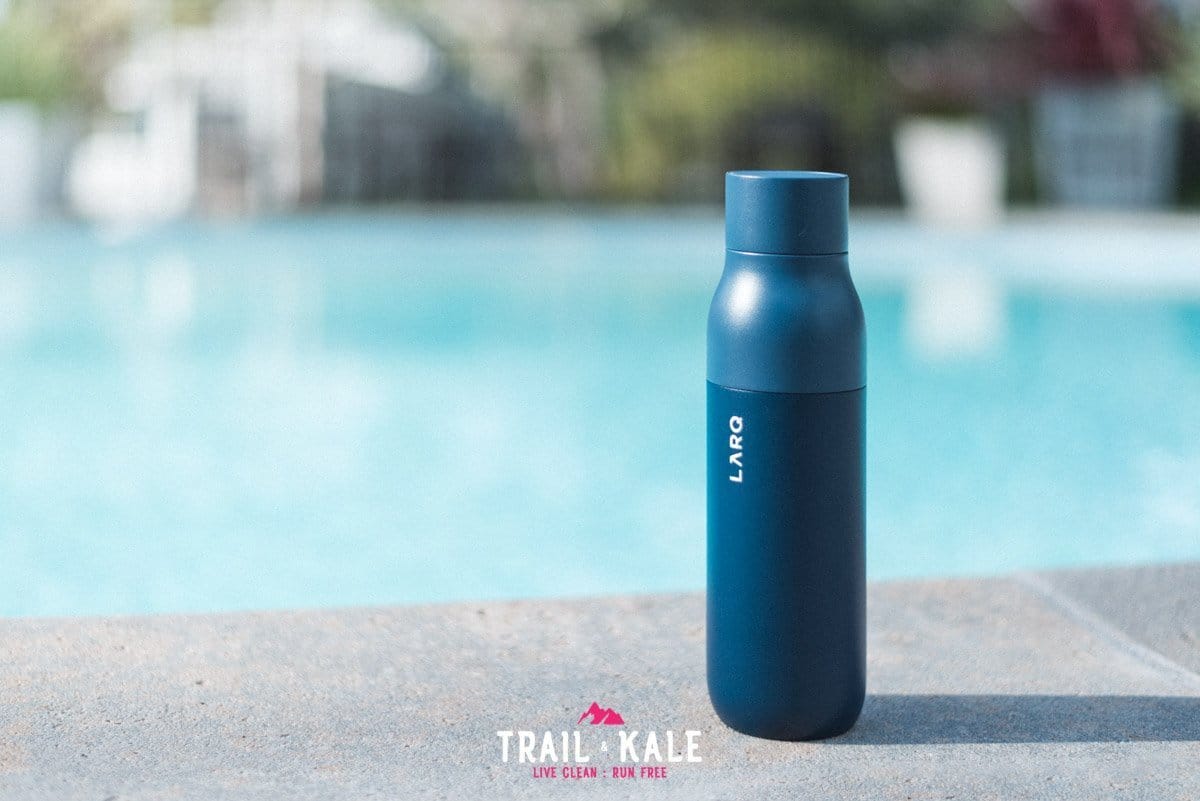 The LARQ water bottle is currently only available in one size, albeit a travel-friendly 500mL / 17oz size. While on the topic of travel, if you hold the top button for 5 seconds the bottle will be put into Travel mode, and the button will be locked. This is to prevent accidentally running down the battery as a result of putting pressure on the button and activating continual cycles.
Available LARQ Bottle Colors
Stainless Steel Mouth
The whole bottle is made from BPA free polished stainless steel. This material helps the bottle stay clean. It also keeps cold drinks, cold for 24 hours and hot drinks, hot for 12 hours, due to its dual-walled insulated construction. If you're putting sugary drinks or coffee in there, the bottle should be hand washed, rather than relying on purifying cycles.
LARQ Bottle Limited Edition Sleeve
The sleeve is made from neoprene with a luxe vegan leather strap. It has been very useful on a number of occasions. For example, when I'm holding too many things at once, I can just grab a strap or even hook it to my bag. The top strap can also be detached if you'd prefer to just have the sleeve and the smaller hand-strap.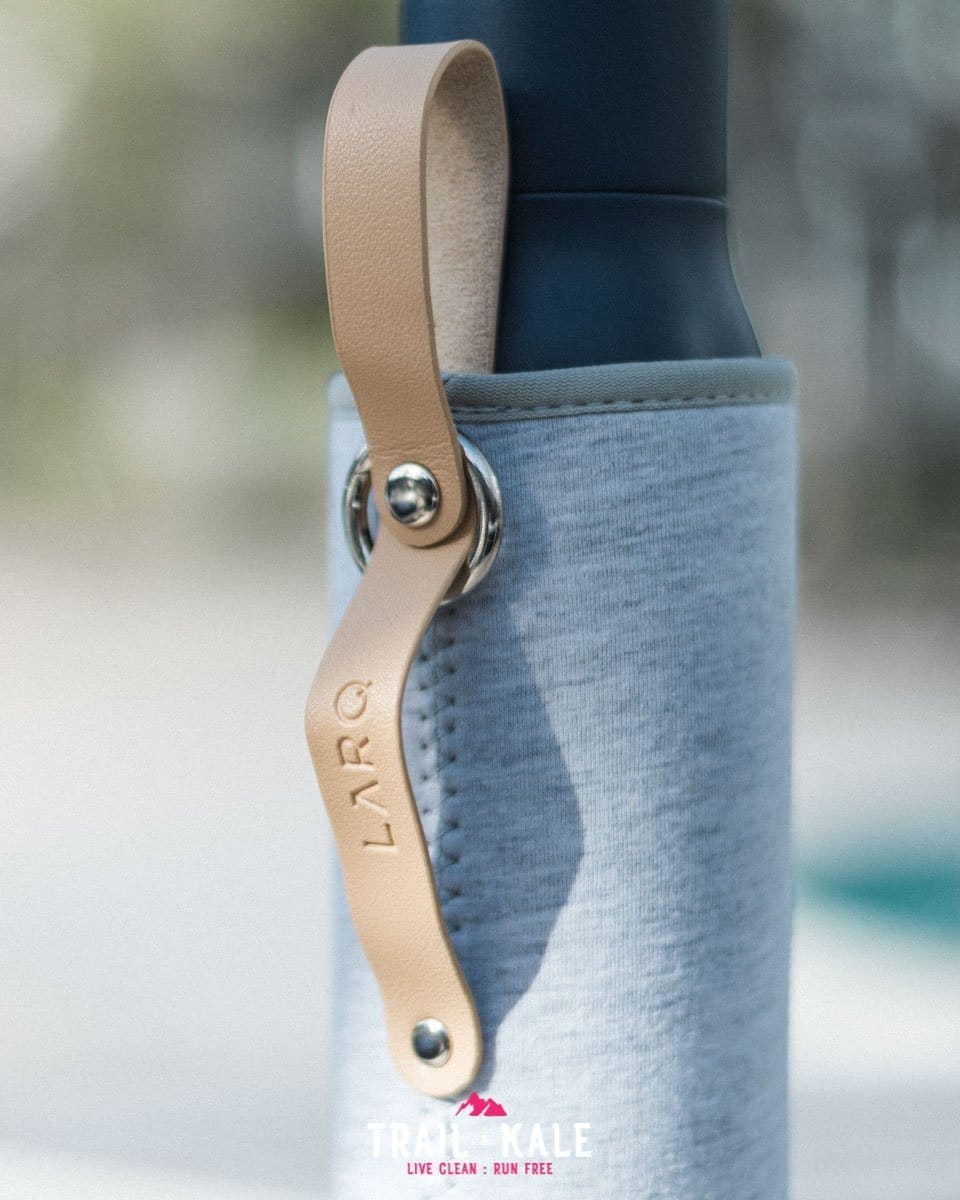 It protects the bottle from scratches when you're travelling and means you won't feel quite so protective over the relatively expensive LARQ bottle. I picked up a couple of scratches on my bottle before I decided to put the sleeve on it permanently. It also makes placing the bottle on hard surfaces much quieter, something Helen appreciates in the middle of the night when I go for a swig of water and put the bottle back on my bedside table.
The sleeve accessory is every bit as high-quality as the LARQ bottle itself, as you can see in the photos above.
Limited Edition Sleeve
See Deal
Livelarq.com
as of 6th July 2020 2:04 am
Designed with you in mind, this neoprene sleeve with a luxe vegan leather strap will keep your LARQ Bottle snug wherever life takes you.
Clean water is not a privilege, it's a right
We love that LARQ sends a portion of proceeds to 1% for the Planet, to benefit the environment and bring safe drinking water to billions. We believe it's important to support businesses that opt for sustainable thinking within their business strategy, It's how we operate ourselves.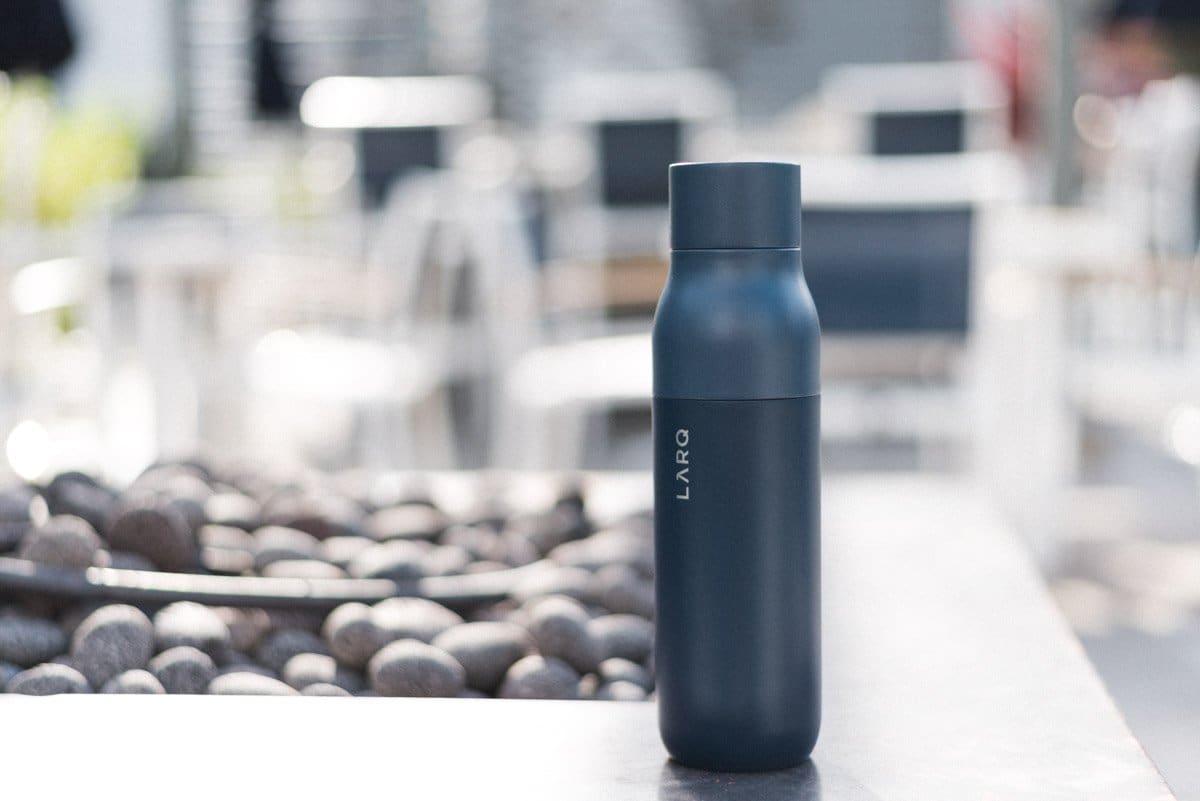 Technical specifications
Height 9.6 inches (243.7 mm)
Weight 13.5 oz (0.38kg)
Material Polished stainless steel (BPA free)
Diameter 2.7 inches (69 mm)
Volume 17 oz (500mL)
Battery Rechargeable (Lithium Polymer)
In the box
The LARQ Bottle
USB charging cable
Quick start guide
LARQ Self-Cleaning Water Bottle
Pros
Water purification works excellently (No more stinky bottle smells!)
5 color options!
Sleeve accessory is very handy!
High quality construction
Insulated bottle to keep drinks cold, or hot
Cons
Only 1 size option available right now (500ml)
Where can I buy the LARQ Bottle?
At livelarq.com – Current price and link below:
Summary
When it comes to water purification and the odor-neutralization process, the LARQ bottle does everything it claims to be able to do. The bottle's build quality is exceptional and has been designed beautifully. The LARQ Bottle is a purifying water bottle for those who want something a little different from all the other insulated water bottles on the market. Yes, it's more expensive than standard water bottles, but those bottles don't offer the convenience and benefit of being able to fill up from almost anywhere and know your water will be pure and 99.9999% bacteria free once you've run a quick purifying cycle.
---