CBD products are a really great addition to any athlete's recovery routine – and in particular, using CBD balms, muscle rubs, lotions and salves is a popular and growing trend in helping runners, cyclists and other athletes with recovery, pain, inflammation and fatigue.
This post shares the best CBD balms, lotions and salves we've come across for athletes that are each designed to provide fast recovery, and temporary pain relief. Keep reading to see the list, or click here to jump down to first learn more about using CBD balms and lotions.
Best CBD Topicals for Athletes – Table of Contents
All the CBD topicals on this list are made with either broad-spectrum or full-spectrum CBD extract, from companies which lab-test their products for purity, third party verification and potency. Read our guide more about the difference between full and broad spectrum CBD products and why competitive athletes should always ensure their chosen CBD brand lab-tests each batch of their products, they know all the ingredients and can access lab test results.
---
Overall Best CBD Balm For Athletes
1. Venga CBD Recovery Balm
CBD Topical type: Balm
Broad or Full-Spectrum: Broad-Spectrum, THC-Free
Lab-Tested: Yes
CBD Contents per 1oz: 500mg
Venga is a CBD company specializing in CBD pain relief and recovery products for athletes and is founded by runners and athletes who know all about pushing your limits when it comes to endurance sports.
I first noticed the power of this CBD balm when I ran a 30k mountain race in the Swiss Alps with the UTMB OCC ultra marathon 5 days later. I rubbed it on my leg muscles after Matterhorn Ultraks and felt repaired and ready to run UTMB OCC 5 days later.
That impressed me but what really blew me away was just how good my legs felt the day after my mountain ultra marathon race – which involved a total moving time of 10.5 hours in the mountains. I can only attribute it to this CBD balm I smothered over my legs after the race. This is why it currently holds the crown as our chosen best CBD balm for athletes. That – and it being THC-free is important for competitive athletes. Read our full Venga CBD review HERE.
GET 20% OFF YOUR VENGA CBD ORDER WITH OUR EXCLUSIVE CODE: 'TRAILKALE20'
Most Potent CBD Pain Relief Salve
2. Chil Wellness Aspen's Maximum Pain Relief Salve
CBD Topical type: Salve
Broad or Full-Spectrum: Full-Spectrum
Lab-Tested: Yes
CBD Contents per 1oz: 1000mg
California-based Chil Wellness offers a range of relatively high-concentration broad and full-spectrum CBD topicals, including their original CBD salve designed for maximum pain relief.
If you're looking for a strong CBD topical for pain relief, whether that's recovery from a running or sports injury or other muscle and joint issues, this balm is a great one to try – it has twice the amount of CBD (in mg/oz) compared to most other CBD balms and salves, including others on this list, and at $60 for a 1oz tub, this is also a great value choice as a little goes a long way. We also love that their salve includes other natural secondary ingredients, including citrus, mint, and a hint of eucalyptus, which can aid with stress relief through aromatherapy.
Chil Wellness also sells a range of other CBD balms and salves, including mess-free roll-on options for pain relief (Aspen's version and a Sports Recovery version) – great for your gym bag! To learn more about their CBD salve and these other products, read our full review.
---
Best CBD Balm With Essential Oils Aroma
3. Beam CBD – 'The Fixer'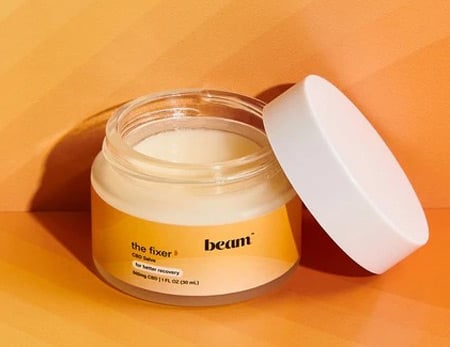 CBD Topical type: Salve
Broad or Full-Spectrum: Broad-Spectrum, THC-Free
Lab-Tested: Yes
CBD Contents per 1oz: 500mg
Beam Organics is another CBD company founded by former professional athletes. As former Ironman triathletes and marathon runners they know a thing or two about pain and the need for effective pain relief products.
Beam's CBD product range is grouped into four categories, 'balance', 'performance', 'recovery' and 'sleep'. Within each of these categories they offer a blend of products, from a CBD powder that you make into a hot drink to aid sleep, to CBD oil and this CBD balm for pain relief (which is part of the 'recovery' range).
I like the soft texture of Beam's CBD salve, and the aromatherapy benefits, as it is infused with organic Lavender and Eucalyptus oils, two of my favorites. Other CBD balms on this list also feature these essential oils, however something about this blend makes it stand out when it comes to the overall aroma. Like the other CBD pain relief topicals on this list, it is designed to not only help with pain relief, but also inflammation.
If you're going to use CBD topicals regularly, it can be more cost-effective to buy them on a monthly subscription, and when you do this with Beam's 'the fixer' balm, the price drops from $75 to $60 a month. Get 15% off your order with code 'TRYBEAM'.
---
Best CBD Lotion Creme
4. CBDPure Muscle & Joint Formula
CBD Topical type: Lotion
Broad or Full-Spectrum: Full-Spectrum
Lab-Tested: Yes
CBD Contents per 1oz: 83mg (250mg CBD in one 3oz tube)
CBDPure's Muscle & Joint Formula 250 CBD Cream is a topical CBD pain relief cream formulated for rapid absorption.
This CBD cream has been developed for those of us with active lifestyles, and it combines the benefits of CBD with botanicals like menthol and white willow bark (aka nature's aspirin). The menthol actually gives a pleasant tingling sensation when applied to the skin which I enjoy.
This CBD cream smells pleasant, and because it's non-greasy, it absorbs into the skin cleanly and quickly. You only need to apply a pea-sized amount of this CBD lotion directly to the affected area too which means the product lasts a good amount of time as the tube has 3oz. of cream in it.
Coming in at $40 for one tube this is also a reasonably priced full-spectrum CBD topical for athletes. The relatively low entry price makes this a smart choice for those on a budget when it comes to trying a CBD topical for the first time (although note that this includes 250mg of full-spectrum CBD in a 3oz bottle compared to other, more potent options on this list.
---
Smooth CBD Topical Recovery Balm
5. Miraflora CBD Recovery Balm
CBD Topical type: Balm
Broad or Full-Spectrum: Full-Spectrum
Lab-Tested: Yes
CBD Contents per 1oz: 500mg
Miraflora's CBD recovery balm is another full-spectrum CBD topical for pain relief, inflammation and recovery, specifically designed with athletes and people with an active lifestyle in mind.
This CBD recovery balm has a really smooth texture and it is not greasy like some CBD balms can be. The ingredients that help provide this texture include shea butter and extra virgin coconut oil.
The smell of this CBD pain relief topical is nice, and not too potent either – part-aromatherapy, part-medicinal, on account of it also including lavender, eucalyptus, and menthol essential oils (similar to the other CBD balms listed above). Read our full Miraflora CBD review HERE.
---
Guide to CBD Balms For Athletes
Why CBD Balms are popular for pain relief among athletes
CBD (Cannabidiol) is a plant-based, all-natural, anti-inflammatory, pain relief supplement that is well-suited for the endurance athletes' therapeutic needs. CBD does this by working in synergy with existing systems within the body to help alleviate pain, inflammation, soreness, loss of mobility, stress, anxiety, and insomnia.
Benefits of CBD balms and salves
There are many benefits of using a CBD balm or muscle rub as it can help alleviate the following issues which are common amongst runners and other athletes:
stiffness and immobility that comes after endurance runs.
pain in your lower back, neck, shoulders, and hips.
joint swelling in your knees, wrists, ankles, and hands due to the anti-inflammatory properties of CBD.
shin splints, plantar fasciitis, arthritis, and tendonitis.
Using a CBD topical for pain and these other issues offers a more targeted and localized manner than using just CBD oils and soft gels – and you use it much in the way you would use other plant-based muscle rubs such as Arnica.
Using CBD muscle rubs after exercise
As an example of when an athlete may benefit from using a CBD muscle rub like this, I will massage a CBD topical balm or pain relief salve into my legs if they've taken a heavy beating during a strenuous run to help reduce inflammation and recover faster. Becoming a stronger runner starts with a good recovery routine and using CBD topicals helps me recover quickly.
Whether you're an ultrarunner, sprinter, cyclist, weight-lifter, crossfit athlete or simply an active person… if you have strained a muscle, are trying to recover from injury or seeking a CBD topical for pain relief, then one of these high-quality CBD balms would make a great choice.
Given the benefits outlined above, it's also easy to see how these CBD salves, balms and lotions can also be beneficial to people with other forms of pain and inflammation, such as those dealing with arthritis and recovery from non-athletic injuries.
The difference between broad-spectrum and full-spectrum CBD topicals
It's important to understand the difference between broad and full spectrum CBD topicals, especially if you are a competitive athlete required to pass drug tests. CBD is legal in the US, however to be legal in the US CBD topicals and other products must have less than 0.3% THC. The reason for this is that THC, the compound found in large quantities in marijuana, occurs in very small quantities in full-spectrum CBD.
Full Spectrum CBD typically includes more hemp plant extracts than Broad Spectrum CBD, and this may include up to 0.3% THC that naturally occurs in the hemp plants used to make the CBD topical.
Broad-spectrum CBD also contains several such plant compounds, but it is typically entirely free of THC as it is not harvested from the whole plant, only certain parts. Therefore if you are looking to avoid THC in any CBD that you ingest (such as oils, gummies and other edibles), broad-spectrum CBD is something to look out for.
Even though our understanding is that CBD topicals won't affect drug tests in the same way anyway (as you don't ingest them and they don't enter your blood stream) many companies offering broad-spectrum CBD will ensure their lab testing process certifies that their CBD topicals as well as any, oils and other products, are THC-free.
It's important to consider that if you are subject to drug testing you may want to avoid using any CBD products, or at least be thoroughly knowledgeable about the contents of the products and the rules of your testing organization to ensure any products you are using do not result in a positive test for THC (for example, if the THC content of your chosen CBD salve is higher than permitted). WADA has some guidance on their website which should be a good starting point, and it's worth consulting with a professional for further advice on the subject.
---
If you're interested in the value of CBD products for anxious or active pets read our post on the benefits of CBD for dogs next!
- Advertisement -