How do you know what to bring on a camping trip? And once you have your list of gear, how do you work out how to use it so you know for when you're out in the woods? This post covers key considerations when planning a camping trip, especially when you are new to camping and planning to go for the first time. We have also included a checklist of the essentials to take camping, as well as some optional luxuries we bring with us on our trips.
If you are currently staying home and unable to get out camping (or anywhere far from home) – which is the case for most of us while we all implement social-distancing, now is a great time to work out what to bring camping and to work on planning your next camping trip, so you are prepared for when you are able to go. Thanks to REI for continuing to support us so that we're able to share this camping advice and essentials list.
---
Choose to #OptInside: Backyard Camping Advice
Backyard camping is something that many parents will be familiar with already, as it's a great way to have some fun with your family, whether you're in your yard or even inside your home. However, some of us may not have given much thought to going backyard camping before social distancing forced us to think differently about how we spend our leisure time.
Going 'backyard camping' is a great way to help work out what to bring on a camping trip, including how to set up your camping gear correctly and efficiently, and also how to pack it up the right way. It's good to be prepared, especially if you have new gear that you haven't yet used – rather than get out on your big camping trip only to find it's dark and you can't work out how to set up the tent 🙂
---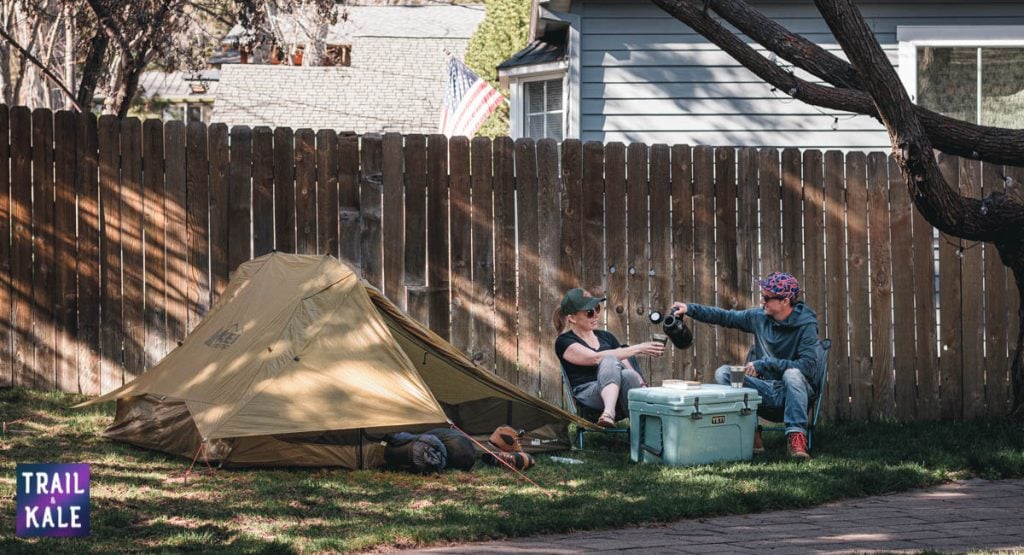 Planning a camping trip – especially when camping for the first time
So, how do you plan a camping trip? Planning is important as it will help you know what to bring camping. Some of the helpful questions to ask yourself are:
---
What to bring on a camping trip – essential gear checklist
Whether a piece of camping gear is essential for you depends on what you have planned for your trip, as well as your personal preferences regarding entertainment, connectivity, cuisine, and level of comfort and luxury you want to enjoy!
---
TOP DEALS FROM THE BRANDS WE LOVE
---
Some people want to take the minimum possible and be as close to nature as possible, whereas others may want a really comfy bed, lots of entertainment and to be able to cook up tasty meals on a grill each day.
It's worth noting that a lot of the gear you may want to bring on a camping trip can have a use at home – not necessarily every day, but for DIY, home emergencies and for your disaster preparedness kit that you may have gathered in case you need to leave home in a hurry, such as in the case of a natural disaster. It saves money in the long run if the camping or emergency gear you invest in is good quality and will last many years, as well as serving multiple purposes, rather than being gear that sits on a shelf for a lot of the time. This is another good reason to go backyard camping!
Setting up a mini campsite in your backyard or living room is a great opportunity to dust off older camping and emergency preparedness gear, check it still works and hasn't deteriorated with age – so you have confidence that it's ready for use when you need it. If you have a garage of 'stuff' that may be useful for camping, it's pretty satisfying to have a rummage and dig up the existing gear you own, rather than feeling you have to go and buy a load of brand-new gear for camping.
READ MORE: The best camping gear to have for an emergency
---
Here is our list of essentials that most people will want to bring on a camping trip:
1. Camping Tent
We have a super lightweight tent, the REI-brand Flash Air 2 Tent, which is perfect for lightweight camping and fastpacking adventures – you can pitch it with its own poles or use hiking poles to save on weight. Even with the poles included, the whole tent only weighs 2lb 2oz!
It sleeps two adults and can fit us and our dog Kepler in (we are not that tall and he fits nicely at the foot-end of the tent, which makes him the perfect foot-warmer 🙂 ). We can also store some of our gear overnight under the large doors at either side.
If you're camping near your car then you do not need to have a lightweight tent, and can get away with a bigger tent and one with double layers to reduce the impact of condensation building up overnight, especially in wetter climates. Also, depending on your tent, it may be worth buying a tent footprint or a tarpaulin to place under the tent, to protect the tent material from snagging on the ground. A great place to look for tents is also on REI's Used Gear website, where you can buy outdoor equipment with a significant discount off the retail price.
---
2. Footwear – hiking boots and sandals
Whether or not you're actually doing any hiking, it makes sense to take a pair of hiking boots, or at least trail running shoes, with you on your camping trip, to protect your feet from obstacles, especially at night whether it's harder to see where you are stepping. We also like to take flip-flops or sandals with us for wearing around camp and giving our feet a breather. Helen has a pair of Danner Boots' 80s-inspired Jag Boots, and I wear the Merrell Ontario Mid Waterproof hiking boots, which have bright red laces – also channeling that retro-hiking-boot vibe.
Also, don't forget good quality natural fiber hiking socks, to wear under your boots/shoes and also at night if you get cold feet. We prefer Merino wool socks for their natural anti-stink and sweat-wicking properties.
---
3. Sleeping bag and sleeping pad
You'll need to bring a sleeping bag on most camping trips, so it makes sense to get a good quality one that will stand the test of time. Unless you intend to camp in conditions below freezing, or in winter, then for most people a good quality three-season sleeping bag will be perfect for camping trips.
To add comfort to your sleeping arrangement, I also suggest getting a sleeping pad, that will insulate you from the cold of the ground, and also provide some padding to help get a good night's sleep when the ground is uneven. Sleeping pads are differentiated by their 'R-value', that is, the amount of insulation they offer. Personally, I am unlikely to go camping again without having a nice inflatable sleeping pad with me – I tend to get cold at night, and like a good night's sleep to recover from the day's adventures, so this is a must!
A less-optimal alternative to an inflatable sleeping pad if you're new to camping and on a budget is to take your yoga mat with you camping (assuming you have one) – it won't protect from uneven ground but will provide an element of insulation.
---
4. Water bottle and accessories
You're spoilt for choice when it comes to quality insulated water bottles to take camping. Hydroflask, YETI, and Stanley are popular brands that make a range of double-walled water bottles and containers. The 64oz Stanley Growler set pictured above is great because you can fill it up with cold beer and not have to worry about it going warm anytime soon.
Even if there should be access to a drinking water source at your campsite, I strongly suggest taking your own water supply just in case. It's also worth having a water purification and filtration device if the water supply where you'll be camping is not from a drinking supply – or at least some water purifications tablets and a filter.
---
5. Food and camp kitchen equipment
Food and camp kitchen equipment is an area where you can add a lot of weight and also luxury to your camping experience! At the most minimal level, you can take food you can eat cold, such as nuts, fruits, bread and toppings for the bread. At the other end of the spectrum, you can take a camping stove and full grill camping, together with a cooler for your cold drinks and perishable food.
We use our YETI 45 Cooler to keep food and drinks cold, and it also doubles as a simple camp table. For cooking meals the BioLite Carbon CampStove 2 Bundle is awesome – with it you can cook not just by boiling water, but also on the built-in grill, and it features a light and battery charger. Read more about this innovative camping stove bundle here.
Alternatively, there are many other simpler camp stove options out there if you don't need all these features. Also, if you're not too into cooking and want some easy, read-to-prepare camping meals, there are loads of freeze-dried options available, most of which can be made just by adding water and boiling up.
Don't forget to take utensils, plates, cups and bowls to eat and drink out of. For lightweight options, a simple mess kit is an easy way to get all of these in one go.
If you're going somewhere in bear country then there are additional special considerations regarding where you store your food and toiletries when out of camp – it needs to be somewhere away from your campsite and out of reach from bears – make sure you do your research before you go to know the rules and guidance, and whether you need to invest in a bear canister.
---
6. Appropriate clothing for camping
Depending on where you're going, the climate and what you're planning on doing, there are a lot of options when it comes to deciding what clothing to bring camping. At the very least, some quick-drying pants, shorts, t-shirts and a warm jacket come with us camping – including items we can sleep in.
We avoid taking cotton clothing camping, as it does not effectively wick sweat, and takes a relatively long time to dry, so we focus on packing wool and technical clothing for our camping trips.
Also, don't forget a good cap and sunglasses combo! Both will protect your head and eyes from the elements – whether that's the sun, wind or rain, it's a good idea to have these with you when camping.
REI Co-op has its own brand of clothing for men and women, which we recently talked about on the blog, here are the links:
---
7. Microfiber towel
Similar to with clothing, we avoid taking cotton towels camping, as they take ages to dry once wet. Microfiber towels are perfect for camping, as they pack down really small, are lightweight, and dry relatively quickly.
---
8. Multi-tool and repair kit
It is my humble opinion that everyone who goes camping should have a good quality multi-tool. It's also a handy thing to have around the house at home, and in your car. By definition, a multi-tool has lots of potential uses, the most obvious being to help make repairs and fix items on the go, as well as simply do things such as cut bread/cheese/food for your camp meals. We're long-time fans of Leatherman, a classic multi-tool brand.
It's also a good idea to have some paracord and duct tape in your camping gear bag, as these can be used to repair clothing, tents, sleeping backs, hiking poles, shoelaces, etc etc.
---
9. Headlamp
Trust me, you'll want a good headlamp for your camping trip. You need to be able to see what you're doing once the sun goes down, when you're in camp, inside your tent, rummaging for stuff in your bag, or navigating your way to a suitable bathroom area in the middle of the night.
A good quality headlamp is another useful item to have at home in case of emergencies, as well as for hiking and trail running. For camping in particular, a headlamp with a red light function is important, as it means you can use that light in the night without unnecessarily disturbing or temporarily blinding other people camping with you. Some of our personal favorite headlamps, which are also ideal for trail running and hiking, are the BioLite HeadLamp 330 and Biolite HeadLamp 200.
Here are my in-depth reviews of both of those headlamps:
If you're in the market for a headlamp, also check out our best headlamps for trail running buyer's guide, which also applies to hiking and other active pursuits including campsite activities.
---
10. Backpack or duffel bag
With all of this camping gear, you need a bag to put it in. If you're hiking then a hiking backpack is, of course, a necessity. We'd suggest taking a backpack camping even if you're car camping because you can use it for day-hikes, it will keep your smaller items organized, and it's easy to carry over uneven ground.
Alternatively, a duffel bag is a good option for stuffing lots of clothing and sleeping gear in, and they fold down small when not in use. REI's own-brand duffel bags are great value and perfect for taking on camping trips – alternatively, REI has an extensive range of both hiking backpacks and day-packs.
---
11. Sanitary and first aid items
Depending on your needs, preferences and where you're camping, the following are important to take with you camping:
---
What else to bring on a camping trip – We also consider these 'luxury' items to be important for our camping trips:
12. Lightweight seating
We have super-lightweight aluminium camping chairs that quickly fold out and pack away. Seriously, these are crazy light, you can pick them up with a thumb and forefinger. Our ones are the Helinox Chair Zero; but REI also sell their own range of lightweight camping chairs called the Flexlite range, which is similar very similar in design and specs but cheaper.
13. Campsite lighting, solar power and battery charging
In addition to a headlamp, other campsite lighting can add to atmosphere as well as make socializing after-dark a lot easier than trying to do so just using the beam of your headlamps. We're fans of solar-powered string light and lantern options, most of which can charge either by USB from a battery bank, or in-built solar panels, to then illuminate for hours at night.
For longer camping trips, having the means to charge your devices may be important to you. If your phone is out-of-signal for a period of time, this can really drain your battery quicker than normal, so it's good to have a backup battery to charge the phone from in case of an emergency.
Companies such as BioLite and Goal Zero offer really cool innovative products that include solar panel-based power stations and charging devices, as well as lighting options – the links on the brands' names take you to two of our favorites.
---
14. GPS device
A bit of a luxury, a good GPS watch can help you track and plan for weather conditions, sundown, and sunrise, as well as of course navigation. It can also be useful in addition to a map and compass, if you're going for a hike or run in the local area, to help you avoid getting lost – for example, you can add a waypoint to set the location of your basecamp so that if you stray from camp it will direct you back towards the campsite. The best GPS watch that has all these features is the Garmin Fenix 6 series, I'm still using the older generation Garmin Fenix 5X and it works perfectly for ultrarunning and all other outdoor sports/activities.
---
15. Entertainment
The options are endless when it comes to entertainment ideas for camping; our preferences include: