The stand up paddleboard featured in this Bluefin SUP review in this post is their bestselling Cruise 10.8ft inflatable paddleboard. Bluefin SUP is a specialist in quality inflatable paddleboards for everyone from beginners to experienced paddlers, and we were very excited when our SUP arrived and the weather became warm enough for us to start heading out and using it on our local lakes and river to gather and share our thoughts with you in this review.
Once you're finished reading this review – definitely check out our best stand up paddle boards buyer's guide to learn more about how to choose the right SUP for you.
---
Bluefin SUP Review: Table of Contents
---
About Bluefin SUP
Bluefin is a specialist SUP company that sells directly to end consumers, with all their SUPs available directly from their website, where you can compare models and specifications and check out special offers.
You can also buy their SUPs from Bluefin via Amazon – although we would recommend ordering it directly from Bluefin so you can be confident you are getting the best deal directly from them – they regularly advertise special offers on their website.
MORE SUP REVIEWS: iRocker Paddle Board Review / BOTE Breeze Aero Review
---
The Bluefin Cruise Stand Up Paddleboard Range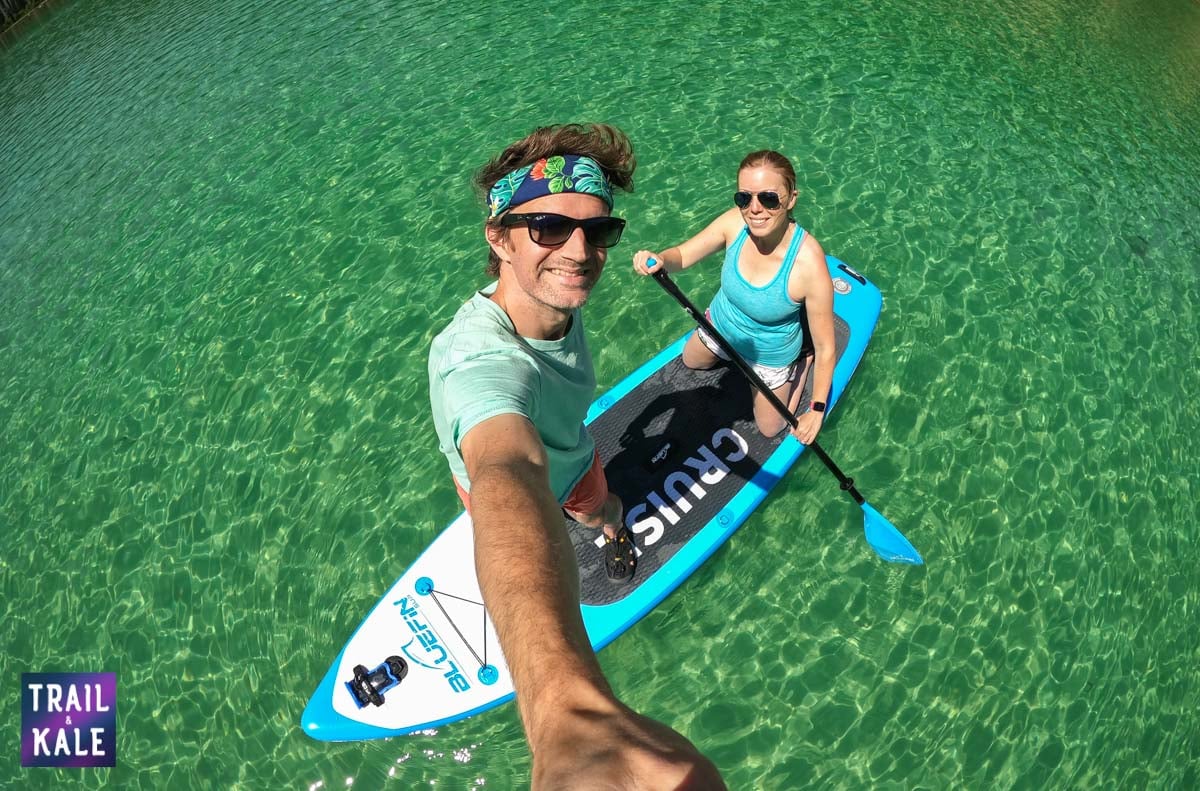 The Cruise range is Bluefin's bestselling range, designed to offer high quality, all-round durable performance for everyone from beginners to experienced paddlers.
These SUPs are made from a rigid laminate PVC material that is designed to be tough and withstand a significant amount of weight, internal pressure, and general use.
Here are the standout features of our Bluefin Cruise SUP:
The grippy padded deck is very comfortable for standing or kneeling on. We recommend KEEN Sandals for SUP'ing as they offer protection underfoot while walking your SUP to the water and they also provide excellent grip while on the paddleboard. We like to use KEEN SOLR Sandals for our SUP Adventures.
A GoPro mount on the nose is perfect for filming.
A corded 'cargo' area on the front for stowing belongings – be sure to put them in a dry-bag if you want to avoid them getting wet. The included waterproof phone case is a nice touch for storing a phone and car key, and this can be attached here or we sometimes attach it to the front carry handle as it fits nicely under there once strapped on.
2+1 fin setup, meaning it has two smaller integrated fins either side and one larger removable fin, which easily clips and locks in. The larger fin is also replaceable if you break or lose it.
Neoprene grab handles at either end and in the center make it easy to carry around (or grab onto if you fall off).
Adjustable length fiberglass shafted paddle is lightweight and easy to use.
Comes with a kayak conversion kit, pump, ankle tether, repair kit, and dry-bag for your phone.
The SUP and accessories all fit into the included backpack, making it easy to store and transport when carried or in a smaller vehicle.
The paddle board itself has a 5 year manufacturer's warranty and Bluefin SUP is widely known for their excellent and responsive customer service, although aside from the ordering process we have not had a need to contact them ourselves – see the comments in their Amazon reviews for what people are saying about them.
The inflatable paddleboard featured in the photos and video of this Bluefin SUP review is the 10.8ft model, which is their most popular size due to its all-round versatility.
---
Some key facts about the 10.8ft Bluefin Cruise SUP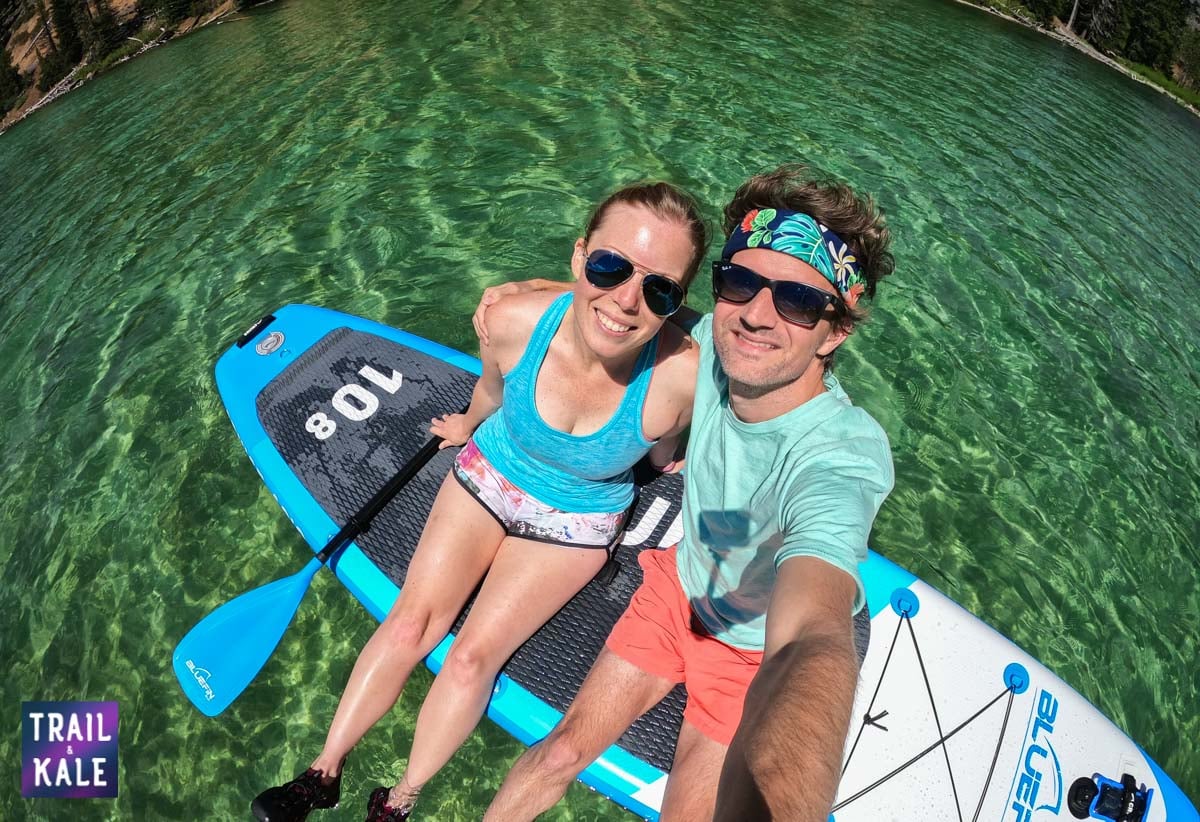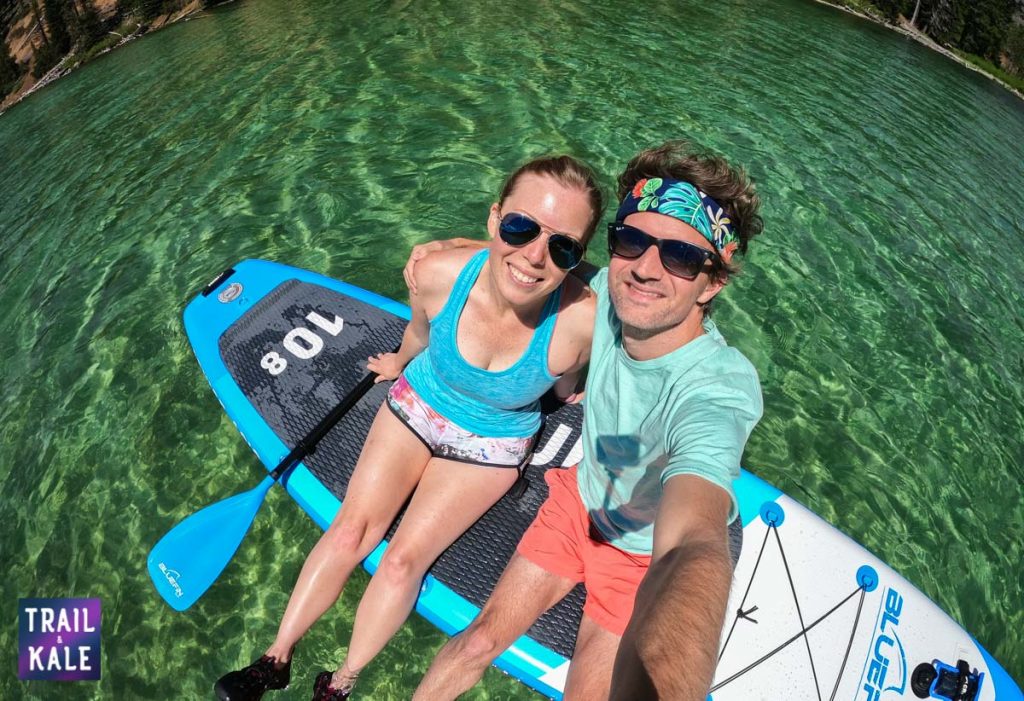 Size and weight recommendations for the 10.8ft length Cruise inflatable SUP:
Maximum user weight 150kg / 330lb
Recommended inflation pressure 15-18 PSI
6 inches thick when fully inflated
32 inches wide at the widest point
According to Bluefin, the 10.8ft length is best for all-round use by people under 6ft tall and 85kg in weight.
However, I have to say that as explained in more detail below, we've had both of us and our dog on this SUP (totaling around 140kg) and we haven't really felt the need for something longer, for general recreational use.
For improved flotation, stability and performance, Bluefin recommends their 12ft SUP model for taller or heavier paddlers, and they also have a 15ft length which is recommended if it's going to be used by two people in tandem, or if you prefer improved glide and even greater stability which can be obtained with the larger size.
---
Bluefin SUP Review: Performance of the Cruise inflatable SUP
We found the Cruise 10.8ft model to be perfect for our needs – that is, recreational paddling, either individually, or for us to both ride around on for fun in and on the water – as demonstrated in the footage in our video review.
10.8ft is pretty long but when you have two people on board, it's a good size to still be maneuverable but provide us with just about enough space and stability to paddle and move around on, especially if we're not planning on going particularly far with us both on board.
This inflatable SUP feels thick and durable even when deflated, and as it inflates and becomes more solid, it is easy to forget that it is inflated.
If you're more used to lilos and pool floats, this is not that – it's very impressive and more like an inflatable RIB boat in terms of the durability of the PVC construction that has gone into it.
This inflatable SUP tracks and glides really well, it was easy to use from the outset and I have no problem spending hours out paddling on it. It's very stable and easy to manoeuver which is what makes it particularly suitable for beginners and the family.
Our main use of our SUP is on lakes and rivers, and it's worth noting that the 10.8ft is a recommended length if you're going to also be taking it into the sea and using it to paddle on surf and ride some small waves.
Off the water, the paddleboard is easy to store and carry in the included backpack.
---
Where to Buy Bluefin SUPs
As mentioned above, Bluefin sells directly to end-users via their website, where you can browse the different sized SUPs and check out any current special offers:
Bluefin also sells their products via Amazon (as explained above though we would recommend buying directly from Bluefin's website so you can make sure you pick up any current special offers).
Last Amazon price update was: 3rd December 2023 9:00 pm
---
Bluefin SUP Review Summary
We have so much fun with our inflatable paddle board, it was definitely a great addition to our adventure gear collection for playing on our local lakes and rivers, as well as being so easy to transport when we travel around either in our car, or in the garage area of our converted Sprinter campervan.
I've been really impressed with the ease of use and quality that this SUP has to offer.
Bluefin SUP Review
PROS
Easy to store and transport
Durable and rugged
Stable and easy to paddle, ideal for beginners and recreational use
CONS
There are lighter SUPs available. However we don't find it to be particularly heavy and value the quality and stability that it offers
---
Bluefin SUP Video Review
---
Frequently Asked Questions – Bluefin SUP Review
How long does this Bluefin inflatable SUP take to inflate?
The Cruise 10.8ft takes us around 5 minutes to inflate. Have a watch of our YouTube video above to see what that looks like. It looks fully inflated well before it is, because you need the extra minute or two to keep filling it to the recommended pressure of 15-18 PSI, by which time it does not look inflatable as it's so rigid!
And how long does the paddleboard take to deflate?
It only takes a minute or two to deflate the paddleboard. You open the valve cap and twist it to allow air to escape. After the initial pressure release, you can start rolling it up in around 1ft-1.5ft sections from the opposite end, which will push the rest of the air out until it's empty and also means that the SUP is then ready to put back into the backpack for storage.
How many people can fit on the Bluefin Cruise Paddleboard?
The 10.8ft model is designed for paddlers with a weight of maximum 150kg and recommended 85kg. As you can see in our video, we both fit on the SUP without overly compromising stability or flotation, so it's great for recreational paddling for two people (although it only comes with one paddle). We also fit our dog Kepler on it, which takes us up to the maximum we would use the 10.8ft size for – both in terms of available deck space and total weight. Bluefin would likely recommend the 12ft length for this type of use, but we are happy with it how it is because it means it's a good size when we want to use it solo.
For longer paddles, we would probably go for the 15ft model, which is specifically designed to be used by two people and could also fit our dog on board comfortably.
How much does the Bluefin Cruise 10.8ft Paddleboard weigh?
While not advertised, we would estimate the weight of the 10.8ft Cruise paddleboard to be around 10kg/22lb. While it isn't the lightest inflatable SUP out there, we highly rate the quality and durability and don't have an issue with porting it to and from the shore.
Is this Bluefin inflatable SUP suitable for using with a dog on board?
Yes, the construction of the Bluefin Cruise inflatable SUP is thick and built to be durable, in our experience we have had no problems with having our dog on the deck of our SUP. As mentioned above, the deck pad is made from a rugged foam material that is soft underfoot and makes it easier for pups to stand on (as well as their humans).
---