The BOTE Boards SUP featured in this review is their bestselling Bote Breeze Aero 10'8″ inflatable paddle board. This particular Bote board has been so successful due to its attractive price point, lightweight build, and good all-around features for beginners new to paddleboarding.
In this Bote Breeze Aero review, I cover the board's standout features compared with the competition, how the board performs out on the water, where to buy it, and I'll also answer some important FAQs.
I've also included a video towards the end of this review, filmed on the water while paddleboarding in tandem with Helen – this is a great way to test out stability, maneuverability, and max weight capacity.
Once you're finished reading this review – check out our best stand up paddle boards buyer's guide to learn more about how to choose the right SUP for you.
BOTE Breeze Aero Review: Table of Contents
---
Key features of this 10ft 8′ BOTE paddle board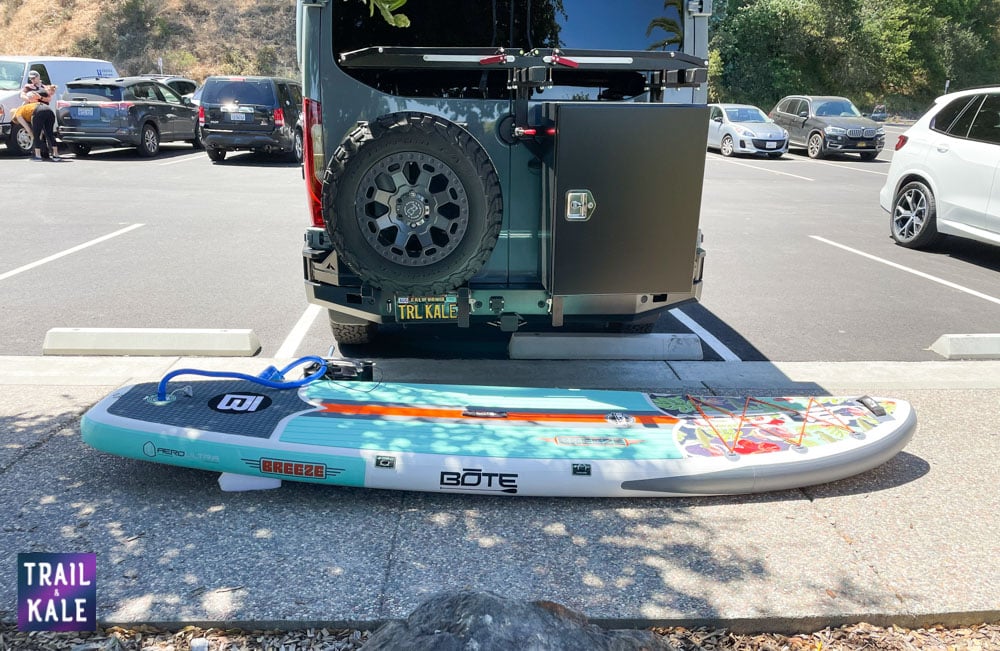 The BOTE Boards Breeze SUP is a really attractive-looking board, and I love the patterns that are available – some paddle board brands completely overlook this.
I recommend you go check out the store to see what colors they have, as they do tend to change them up quite frequently. The one we have has a really nice floral pattern with flamingos, hammerhead sharks, and all sorts of nice marine life on it.
I read many positive BOTE Board reviews before receiving this one to review so I was very excited to take it out for a paddle and put it to the test.
Quick specs at a glance
Let's take a quick look at the key specifications of the Breeze Aero:
LENGTH: 10'8″
WIDTH: 33″
THICKNESS: 6″
BOARD WEIGHT: 20lbs
MAX WEIGHT CAPACITY: 250lbs
There is also a larger 11'6″ version of the Breeze Aero which has a higher weight capacity of 315lbs. If rider weight is within 50lbs of the 250lbs capacity of the 10'6″ board, BOTE recommends sizing up to this larger version.
It's Inflatable!
Inflatable paddle boards are so convenient when compared to solid ones. If you don't really have much space at home and you need to store this paddleboard – then you can simply deflate it, stick it in a bag, and forget about it without it taking up much space in your apartment or house.
Inflatable SUPs are also great if you need to travel with it, whether in your car or on a flight somewhere.
Inflatable paddle boards are also generally more stable on the water – the volume of air inside it really helps with balance when you're paddling, and if you hit a rock or root under the water, an iSUP will tend to just bounce off it.
It's lighter than other paddle boards we've reviewed in this class
Breeze Aero's AeroULTRA technology means it weighs right around 20lbs. That's around 20% lighter than most quality inflatable paddle boards on the market (and other boards we have reviewed).
SO COOL: Did you know BOTE also has an inflatable range called the Hangout Suite? Whether you're doing a lazy river with friends, or just chilling at the pool with some drinks, you need to have some of these inflatable seat rafts in your life.
Breeze Aero bag
The carry bag is a good size, and has plenty of room to fit all the accessories that come with this SUP package (more details on what's included later in this review).
It looks good, and the carry straps are comfortable when carrying everything in the bag including the board, manual pump, and paddle.
Unfortunately, the bag doesn't have wheels on it, like the iRocker paddle board package I recently reviewed but as far as bags for SUPs go, this is a good one for the price.
Before I go on, definitely read our SUP buyer's guide after this review. It will help you choose the best SUP for you. By the end of it, you'll pretty much be an expert in stand up paddleboarding. There's tons of education on there as well. But also our favorite paddle boards, which you can choose from.
3 fins (the center fin is removable)
Okay, back to the BOTE Breeze Aero stand up paddleboard – So the paddleboard has three fins on the bottom which helps with tracking and moving through the water in a direction you actually want to go.
Only one fin is removable – That's the one in the middle. So that's nice and easy preparing the paddleboard for actually paddling in the water because all you've got to do is add that one fin and pump up paddleboard.
These fins give the board stability and allow you to paddle in more of a straight line than if you weren't to have three fins on the bottom of the board with the large center fin.
Extendable paddle that floats
This BOTE SUP does come with an adjustable paddle as well. Although It's pretty nice, it doesn't feel quite as high-quality as some of the other paddle board paddles that we have used.
The adjustment does work but just feels a little bit more flimsy than some of the other paddleboard paddles.
The paddle does float which is great if you were to drop it in the water, and it floated away. It's not going to sink so you will be able to grab your paddle if you can reach it, so that's good.
MORE SUP REVIEWS: Bluefin SUP Review / iRocker Paddle Board Review
Grab Handles and bungee cordage
The board has 3 grab handles in total – all of which are helpful when you're carrying the paddleboard to the water, or simply hanging on in turbulent water.
The handles are soft to the touch, and very well marked – so it's easy to see what you need to grab – important if a large wave comes out of nowhere with little warning.
There's also bungee cordage at the nose which is great if you need to store your dry bag with cooler so it doesn't fall in the water and you can choose to attach it to the handle at the front as well if you like.
I wish there was one right on the end of the nose of the board as well. That would make it even easier for carrying. And I'd like to see one on each side as well. There is one at the rear and in the middle, however.
Handles are a good place to slide your paddle under when you're not using them – that way, it won't fall off the board accidentally.
At the nose of the SUP you've also got some nice D-ring clips that the bungee is attached to. You can use these d-rings for attaching other things like a dry bag mentioned earlier, or even towing the SUP behind a boat if you like.
There are 11 d-rings on the board in total.
There's also some bungee cordage that you can stick a drybag or extra clothing under as well. There's no bungee at the rear of the board, unfortunately.
We have an IceMule cooler dry bag backpack that can carry our cold beverages as well as act as a dry bag for our belongings which keeps them dry should the bag ever get wet. We are able to sling this cooler bag across our shoulders or tie it to the bungee on the board which is a great solution for us.
Manual pump (included) VS Electric 12v Pump ($130)
The electric pump that you see us using in our video review below is actually an iRocker 12V electric pump (not in the package) – BOTE also sells their own electric pump but I don't have any experience using it.
Electric pumps are SO much easier than pumping up the board manually. Oh, they can also deflate your SUP very quickly too!
The Breeze Aero takes around 7 minutes to inflate to around 13 PSI with this electric pump, with zero sweat wasted.
This would likely take a fair bit longer pumping it up with the single-cylinder manual pump. From experience, a single-cylinder pump takes a fair bit longer than a dual cylinder manual pump like the one you get with the iRocker Cruiser package. It will also take more muscle strength than a dual cylinder pump.
It's worth noting that the act of pumping gets more challenging the closer you get to the recommended PSI – be prepared for that.
---
BOTE Breeze Aero performance on the water
The deck on this SUP has a 33″ width which is great for stability – this is a very similar width to the Bluefin Cruise SUP and also the iROCKER Cruiser.
I wasn't sure how stable this board was going to be given the low maximum capacity of 250lbs but to my surprise, it handled the two of us pretty well.
On the deck of the paddle board you've got some nice cushioning here and some grip as well that is nice and padded.
If you were to do some yoga or if you had a dog on here, then hopefully his claws wouldn't puncture the SUP – and to be honest, they shouldn't with a nice, solid deck like this.
The deck has good grip but hasn't got quite as much cushioning as we've seen on the other paddle boards so far.
Wearing appropriate shoes while paddleboarding is important as they provide protection for your feet when wading in the shallows as you mount and dismount the board. They also give you good traction when standing on the board. I recommend trying the KANE Revive shoes as they're waterproof, will float and have large ventilation holes in them.
It's nice that you don't have to worry about slipping so that's good. At the rear, there's slightly different padding on the deck that is more cushioned and more grippy than the main section.
The BOTE Breeze Aero doesn't come with an ankle leash or a safety leash. That's what attaches you to the board – so that if you were to fall in the water, and the board was to get away from you, then you've got that leash to stop the board drifting away.
If you're somewhere where it's windy, or there are strong currents, then that safety leash is really handy. You can get one as an optional extra on the BOTE website, but it doesn't come in the package.
The weight capacity of the BOTE Breeze Aero, is around 250lbs. Our combined weight is actually more than that but I wanted to give it a go, to see if we could actually paddle tandem on this BOTE inflatable SUP.
To be honest, it's doable and feels not much different to the other SUPs that we've actually tandem paddled on before, and the balance seems very similar, albeit not quite as good.
I mean for casual paddleboarding, two people who don't weigh too much over that 250lbs limit, can use this board together.
The iRocker Cruiser, as a comparison, has a weight capacity of 400lbs which is a lot more. So I find it interesting I don't really feel a huge difference between the two in terms of the stability even with the two of us on here.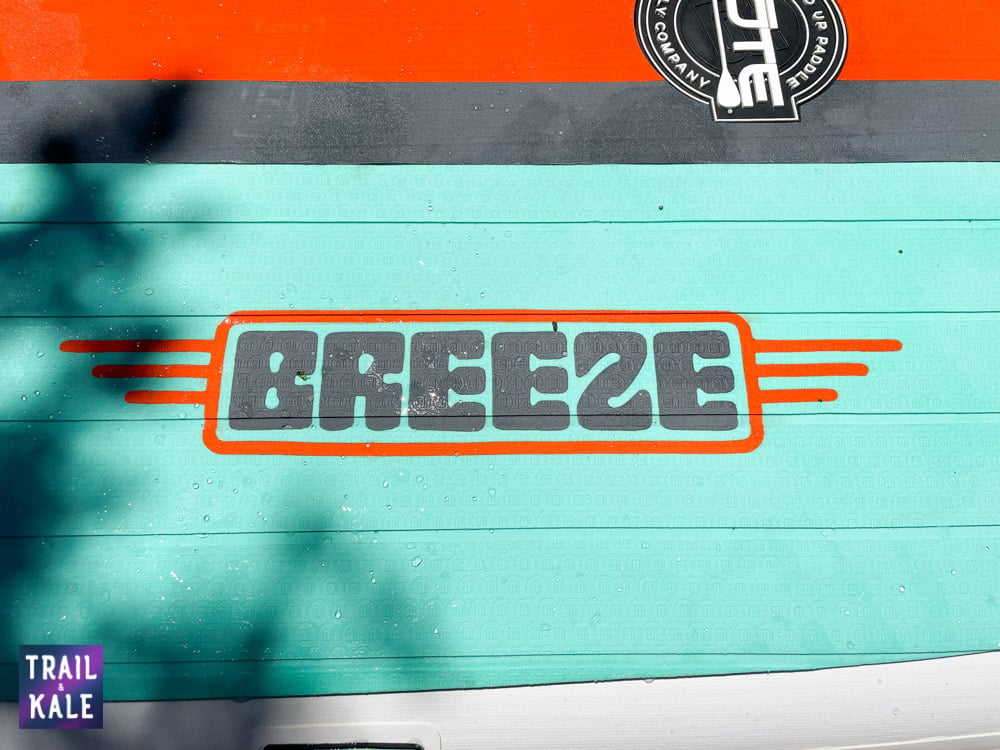 I'd say this is a great paddleboard for just casual cruising around. If you're not going on a mission around some headlands or anything like that then this is a good choice SUP for you.
For casual recreational paddleboarding, this is a great choice and I'd say it's definitely for the beginner, maybe intermediate paddleboarder who just wants to get into paddleboarding and wants a nice pretty board to be able to do it.
The Breeze Aero from BOTE, ticks the boxes for most beginners.
---
What's in the box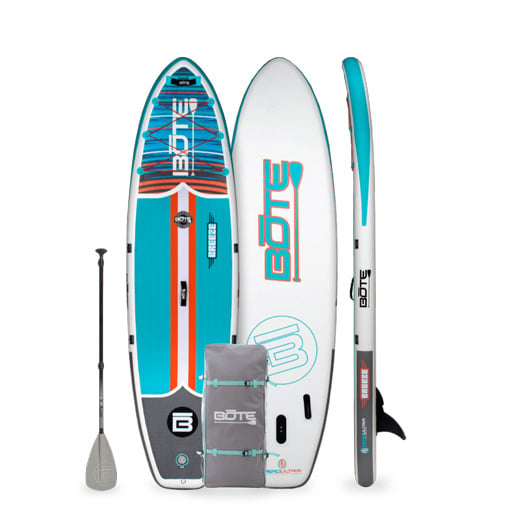 1x Breeze Aero 10′8″ Inflatable Paddle Board
1x 3-Piece Adjustable SUP Paddle
1x 10″ Removable Aero Center Fin
1x Aero Repair Kit
1x Hand pump
1x Travel Bag
---
Where to Buy
The BOTE Breeze Aero is available for a reasonable price of $594 at boteboards.com. If you're a beginner looking for an affordable SUP with most of what you need to get paddleboarding right away, including attractive board color options, then the Breeze Aero is a good choice for you.
There are other BOTE paddleboards available too, so be sure to check them out as well. For example, if you're into fishing BOTE's Rackham series is the perfect SUP for that.
The Breeze Aero is also available from the following stores:
Last Amazon price update was: 3rd December 2023 11:33 pm
---
Video Review
---
BOTE Breeze Aero Review Summary
BOTE Breeze Aero Review
PROS
The board is the lightest we have tested in its class (20lbs)
love the fun colorways
very durable board considering it uses a single layer construction
Included bag fit everything in the package very easily and it comfortable to wear when carrying it
Good grip on the deck
bungy cords at the front are very useful
CONS
More handles would be great for carrying the board to and from the water
Paddle clasp feels a little flimsy but it does work
The deck could have more padding to ensure a more comfortable paddleboarding experience for anyone wanting to kneel on the board
no safety leash included with the package
I hope you enjoyed reading this BOTE Breeze Aero review, if you did, say hello in the comments below 🙂
Oh, and if you have any questions about this iSUP – ask me in the comments.
---
BOTE Breeze Aero Image Gallery
---
Frequently Asked Questions (FAQ)
What is AeroUltra?
Constructed with the same military-grade PVC skin as AeroBOTEs, AeroULTRA technology is highly durable but also lighter in weight. The latest in composite drop stitch production allows these boards to be made with a single layer without sacrificing typical performance. AeroULTRA represents the new way to get into paddling an everyday grab-and-go SUP.
Can I store my Aero board inflated?
Absolutely! If you do store your Aero watercraft while inflated, make sure to drop the air pressure down to 8-10 PSI (or til it's compressible by hand) if you're keeping your board somewhere not temperature controlled; heat causes air to expand. Science.
Breeze Aero VS Flood Aero – What's the difference?
The Flood Aero will have additional innovative features, including Cooler Tie Down points, Rac Receivers, nose and tail bungee tie-downs, and a water-resistant storage bag). The Breeze is best for light paddles while the Flood is equipped for just about any condition or adventure.