Scotland-based home pizza oven company Ooni has been around for more than 10 years, over which time they have become one of the best-known names in the booming backyard pizza oven market.
In this Ooni pizza oven review, I explain the key features of the Ooni Karu 16, the pros and cons of this model, how it compares to other Ooni ovens on features and cost, what it's like to use to cook homemade pizza in your backyard, and whether it's worth the money.
I also compare it to the Solo Stove Pi pizza oven, in case you're reading this review because you're choosing between the two brands and working out which is best for you.
Key Features of the Ooni Karu 16 multi-fuel pizza oven
The Karu 16 is the company's largest multi-fuel pizza oven, capable of stone baking pizzas up to 16 inches in diameter using either gas or wood pellets as fuel.
Out of the box, you can use it as a wood-fired pizza oven to cook restaurant-quality pizzas in your backyard.
However, what sets the Karu apart from other Ooni models is that with the addition of the optional gas burner, you can cook pizza using gas with a propane tank (sold separately), turning it into a multi fuel pizza oven.
The advantages to cooking with gas that attracted me to this model are simply how clean, efficient and easy it is to get the pizza oven on, heated up, and that pizza in the oven faster than you can say 'Bellissimo'.
When you cook with gas, you get a consistent cooking temperature and there's no ash or anything to clean up after cooking.
If you're not fussed about using gas and want to make wood fired pizza, that's pretty easy, too, but you do need to make sure you're managing the burn.
In return, you're then rewarded with that unmistakable taste that comes from cooking using a wood oven.
It's worth noting that Ooni also makes a Karu 12. The Karu 12 is also capable of using gas (with the addition of a gas burner), but it's smaller than the Karu 16 so the maximum recommended pizza size is a 12, rather than 16-inch pizza.
It's also worth noting that unlike the Karu 12, the Karu 16 has a glass oven door, can be used with natural gas (as an alternative to propane) and it features a handy built-in digital thermometer (more on that, later).
The Karu 16 also has the distinction of being the first and only pizza oven (from any company) to be 'Recommended for Domestic Use' by the Associazione Verace Pizza Napoletana, the acclaimed international authority on true Neapolitan pizza.
To learn more about the different types of outdoor pizza ovens from Ooni, including the Karu, Koda and Fyra models, check out their handy pizza ovens comparison guide.
Our experience using this outdoor pizza oven
The cool thing about this oven is that you can totally make delicious pizzas of restaurant caliber with it – and it's actually hard to go too wrong, even if you don't consider yourself a good cook.
Now, I'm not a big cook or gourmet chef who can whip up a great meal out of nothing. I'm just a regular guy who loves pizza and finds it fun to make his own.
So, if you're anything like me, then hopefully my experience using my Ooni will give you some confidence that you can also make tasty pies in your backyard with one.
I mean – pizza is almost the perfect all-in-one meal! And it doesn't take long to prepare, bake, or eat one.
If you need tips on how to do everything from making the dough to turning the pizza while it's in the oven, you can find that information clearly laid out on Ooni's Learn pages – they definitely help you get up the initial learning curve.
But to summarize, you basically make the dough (which uses a few simple ingredients), stretch it out into a thin pizza shape, put the toppings on and bake it in your pre-heated oven for between one and two minutes.
Yes… that's all it takes – it really doesn't take long to cook a pizza!
When I first started making pizza bases at home, it took me a few attempts to get that dough stretched nice and thin.
If you don't stretch it thin enough then you'll end up with a pretty chunky pizza base and crust.
I would say that if you're new to it, then it takes 3-5 attempts to get pretty good at making thin-crust pizza dough bases.
Regardless of the crust thickness, that sub-two minute bake time is one of my few criticisms of pizza ovens in general because it means I have less time to relax and drink beer while I chef, haha.
Joking aside, it's awesome how quickly the pizza cooks in this oven when the temperature is at around 650-750F (the perfect pizza cooking temperature).
They're very different from grilling on a BBQ where the food can take a while to cook through and you spend a lot of time lingering around while food cooks.
Setting up the Ooni Karu 16
First, find a good place to locate your Ooni.
The Karu 16 is fairly heavy, weighing in at 62.6lb. This means I'd highly recommend you buy or otherwise source a sturdy table or outdoor countertop to put it on – preferably one that's not made of wood, given wood is combustible.
It's also large in dimensions – it measures 32 x 19.6 inches, so you need a large enough table to accommodate it.
I happened to have an unused moveable kitchen island that I was ok to use outside, so that's what you see in the pictures throughout this review.
It's the perfect length for the oven, and has a good amount of space next to it for prep and plating up the pizzas.
If you don't have something suitable, Ooni does sell suitable tables, which you can see in the accessories section of their website.
Setup and preparation of the oven is simple. I found myself really appreciating the craftsmanship and material quality as I put the few pieces together.
From simple things such as how well the screws fit in their designated slots, through to how smooth the door is when you clip it on.
These things matter, and it's something we see so many other companies fall down on – but not Ooni, this oven construction is top notch.
Be sure to fold out the legs first. Then, if you plan to use the oven, make sure you have either the wood or gas burning parts installed.
Remember to remove the chimney top!
One other note on setting up the oven, and that's you do probably want to get some other accessories to help with the overall cooking experience.
As well as the gas burner, we have a cover, pizza peel and turner for ours, for example.
Cooking pizza
Your pizza oven's Cordierite stone needs to get to a high temperature of around 750 degrees Fahrenheit to effectively stone bake.
It's easy to see the ambient temperature as it displays the oven temperature clearly on the front, underneath the door.
I love this feature – and it means you don't need a separate infra-red thermometer which is a way to check the temperature of the pizza stone itself.
I've timed how long our Ooni takes to heat up, on a mild-weather day, using gas, and that's around 10 minutes.
With gas, the timing is pretty reliable, so you don't want to get it warming up until your pizzas are almost ready to launch, as that would be a waste of gas!
One thing you really notice with this oven is how large the door area is.
This makes it really easy to launch, peel, and turn your pizza, which you need to do a few times as it cooks.
The fact that you have a pizza peel and turner with long handles and a very large door means I don't really feel like I need to wear the Ooni pizza oven gloves.
This is certainly a subjective thing, and I'm sure plenty of people out there wouldn't dream of cooking a pizza without oven gloves when such high temperatures are involved.
The Ooni pizza oven gloves cost $34.99 if you do feel you may need to use them.
It also means if you do cook large pizzas in there, there's room to deal with them. Or, you can cook multiple mini pizzas in there at the same time.
Speaking of the door, it's a really nice feature and differentiates this particular Ooni model. You can easily see through the glass to check on the cooking progress, and the door helps keep the heat in and at an even temperature.
It opens and closes smoothly, too. You have to lift it up to unhook it, then the door can be opened out and down to access the oven interior.
When the pizza's cooked, the crust looks crispy, there may be bubbles in it and some lightly blackened bits. The cheese will be melted but nothing should be burned! So you have to watch closely.
If you're new to pizza making and baking, then you'll be surprised at how quickly the pizzas cook – they take around 2-3 minutes, and that's it, and the learning curve to operating the oven is not steep at all, you'll get the hang of it in no time.
I've been really happy with the results of our pizza bakes to date. One of my latest efforts is pictured below. It's a classic pepperoni pizza, with mozzarella, tomato sauce and fresh basil.
This one was a little cheese-heavy, which you have to watch out for, because you want the pizza dough to cook through, and it's harder to do that if the toppings are a little thick.
Cleaning
I haven't had to clean my Ooni too much. The main thing you need to do with these pizza ovens is avoid getting grease on the pizza stone.
Otherwise, it's usually just a matter of cleaning up the ash if you cook with wood, and giving the rest of it a wipe with a clean, damp cloth (once the oven is cooled, of course).
I don't clean the pizza stone assuming it's just dusted with flour.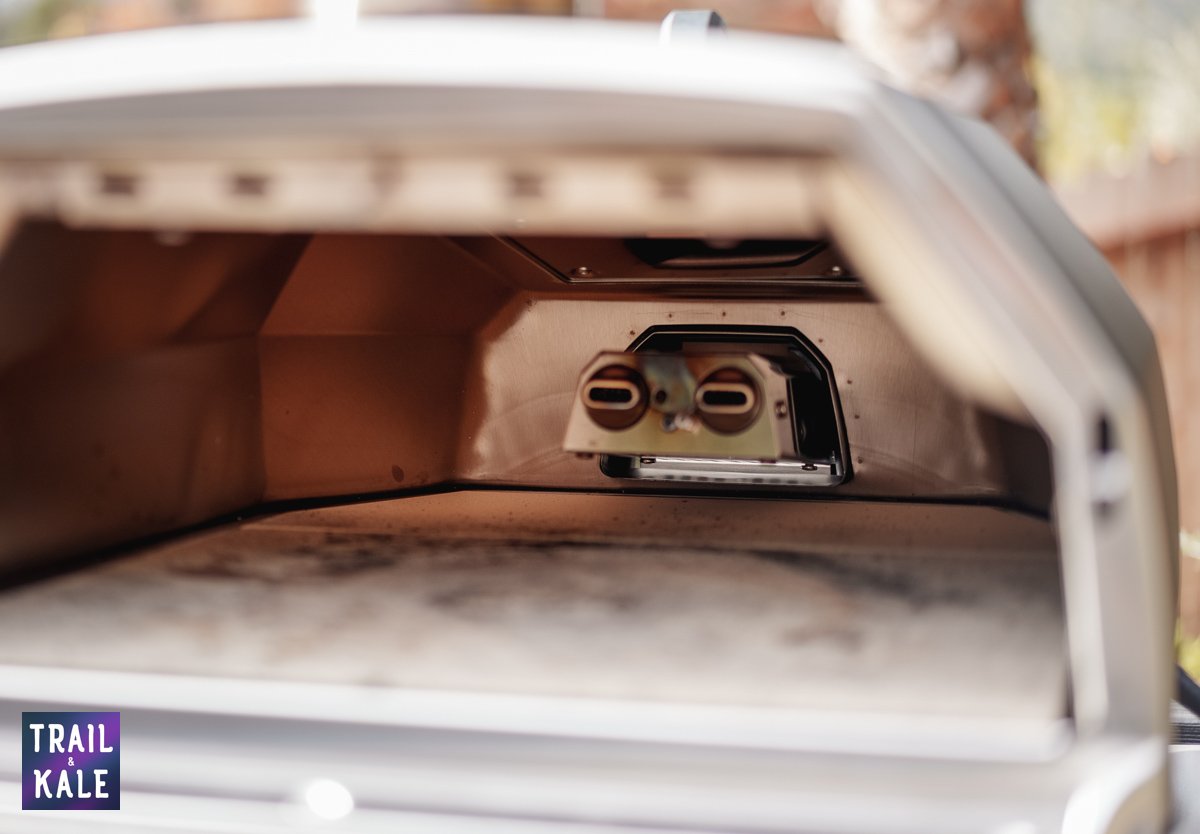 I'm pretty diligent about covering it up when it's not in use.
You obviously have to wait for it to cool down enough before you put the cover on. This is another reason that having the attached thermometer is helpful.
Is it worth getting the Ooni Karu 16 vs. the Koda or Fyra?
Which model to get really depends on your preference, planned usage, and budget.
All Ooni pizza ovens are for outdoor use only.
The Karu 16 is undoubtedly a premium pizza oven. Not only when it comes to its large capacity, but also the multi-fuel capability, door, thermometer and powder-coated construction.
All this does come at a price, however. This is the most expensive Ooni oven. However, if you're planning to get a lot of use at it and don't want to be limited by fuel type or oven size restrictions, then it makes a good investment in your backyard kitchen setup.
If you want to cook using wood pellets, and you're not fussed about having the larger size capacity, then definitely consider the Fyra 12.
Alternatively, if this low-mess gas cooking has you excited, then you could also look at getting a Koda 12 or 16.
If you like the dual-fuel option, you could also look at getting the Karu 12, although it doesn't have the glass door, or a built-in thermometer, so you would need to buy Ooni's infrared one (one of their best selling accessories)… and it can't handle those big family-sized pizzas.
So, it depends on whether or not those additional features you get on the Karu 16 are important enough to you.
It's worth noting that Ooni has a great returns policy in conjunction with their 60-day money-back guarantee, so if you're not a fan after trying your oven for a month or so then you can arrange a return. But… I don't think you will (and I'm guessing they don't, either).
Ooni vs. Solo Stove Pi, compared
I really enjoyed using the Solo Stove Pi pizza oven. It looks freakin' cool, and it makes a delicious pizza. You can read more about that oven in my Solo Stove Pi review.
You may also be interested in Solo Stove's firepit pizza oven, if you already have one of their firepits or are interested in getting one. If that sounds like you, also check out my Pi Fire firepit pizza oven review.
Like the Karu, the Pi can be used to cook with wood, or gas as a fuel, if you get the dual-fuel option.
The access on the Karu 16 is bigger, which also makes it easier to turn your pizzas while they bake.
The Solo Stove Pi takes up less space on the table, and doesn't have a large chimney like the Ooni has. It is, however, only designed to bake up to 12 inch size pizzas, so it's more directly comparable with the smaller Karu 12.
What's great about that smaller pizza oven is how much more portable it is! This would be the ideal size for taking with you on camping trips.
The Karu 16 is better suited as a backyard pizza oven as it can cook larger pizzas, and is more sturdy due to its overall weight.
When you compare the two based on size alone, the Karu 12 is a more cost-effective purchase, at $399 MSRP plus a gas burner ($99), vs. the Solo Stove Pi's ~$600.
However, if you like the capacity and extra features of the larger version, as described in this review, then expect to pay more – $799 MSRP plus the gas burner ($99).
Cost and where to buy Ooni Pizza Ovens
Ooni pizza ovens cost between $349 for the Fyra 12 to $799 for the Karu 16, excluding the gas attachment and other accessories you may need or want. It's certainly worth the hype in my opinion and I think this price is very reasonable for the quality engineering you get.
The best place to go for the full selection of Ooni pizza ovens, accessories and pizza-making groceries that can be delivered to your door is Ooni's website, where you can also check for any current deals or promotions.
Ooni offers free shipping on orders over $50 – which means all ovens, and many accessories. They also have a 60-day guarantee that you'll love it or you can send it back to them for free.
Image gallery
Ooni Pizza Oven Review Summary
Ooni Karu 16 Review
PROS
Super high-end build quality and design
Ooni's top-of-the-range pizza oven has all the space and features you could want
Easy to turn on, use, and clean up after use
CONS
This is a large, heavy backyard pizza oven - make sure you have the space and a suitable table for it
You will likely want to also buy some accessories to maximize enjoyment, so budget accordingly!