DOD Outdoors is a leading Japanese camping gear company that's been around since 1997, however, it's only in recent years that DOD Outdoors tents and other camp gear have become available to buy in the US and EU.
ADVERTISEMENT
This is an exciting development in the US and EU camping gear markets given the trendy design and innovation that goes into their products.
In this post, we're highlighting some of DOD's most popular tents and camping gear, including some we've been testing for review, and other products that caught our eye.
This cool camping gear is definitely worth checking out if you're looking to level up your camping game this season.
---
DOD Outdoors Camping Tents
DOD offers a range of camping tents, tarps, and shelters for different styles of camping and group sizes.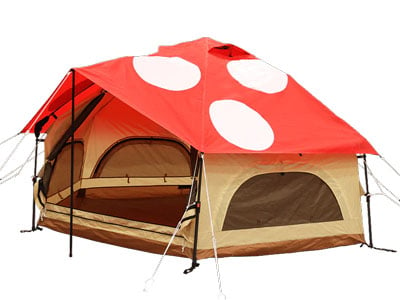 Kinoko Mushroom Tent
Perhaps their most famous tent is the Kinoko Mushroom Tent ($499).
Yes! A tent that looks like a mushroom – how very 'Mario'! 🙂
But, not just that, it's easy to set up with the pull of one cord (no threading of poles) and super versatile in its potential uses.
You can use this tent for anything from a family camping trip (it will sleep two adults and two small children) to music festivals – it will be easy to spot your tent in a crowd and you'll likely be the envy of all the other festival goers.
---
Ichi One Pole Camping Tent
Other tents that caught our eye are DOD's Ichi one pole camping tents, which are designed in a similar way to classic teepee / tipi tents. By the way, 'ichi' in Japanese translates to 'one' in English in case you were wondering.
The Ichi Tent comes in Medium and Large sizes, costing $299 and $499 respectively.
The Large Ichi One Pole Tent is big enough to sleep up to eight adults!
Plus, there's plenty of headroom (10ft in the center) so you can stand up fully inside – see image below.
Although it can sleep a lot of people, this tent is surprisingly easy for just one person to set up quickly and that's due to its smart design.
These tents come with a full mesh inner, a waterproof fly sheet, and floor, and will pack down into a small duffel-sized bag for ease of transporting it to your campsite, and storing it when not in use.
---
Other DOD Outdoors Japanese Camping Gear
DOD also sells a whole range of innovative camp furniture, sleeping systems, and camp kitchen gear that all make great additions to your camping setup.
They also make for unique camping gifts if you're looking to surprise someone!
Sugoi Camp Chair
Highlights from the camp furniture range include the Sugoi Camp chair ($149), which we have been testing here at T&K HQ.
The Sugoi camp chair is not your average camping chair! The Sugoi chair is one of the most versatile out there, and deservedly features very highly in our camping chairs buyer's guide, as a result!
'Sugoi' roughly translated from Japanese to English means Tremendous.
If you're wondering how I know these translations, well I actually know a select amount of the Japanese language, thanks to my Mother's Homestay business in the UK.
She would place Japanese students in homes with wonderful families across the Cotswolds, England while they learned English in the UK.
This meant I grew up surrounded by Japanese culture – it was so much fun to learn all about it and get to meet so many wonderful people from Japan! 🙂
The Sugoi chair is lightweight (5lb including their carrying bag), yet sturdy to sit on.
What makes it particularly great is that you can adjust the legs on the chair to position it in four different positions, depending on how high or low you want to sit on the ground, and how upright vs laid back you want to lie.
It really is endlessly customizable and possibly more importantly extremely comfortable!
A helpful GIF on DOD Outdoors' website demonstrates the various positions so you can see what I mean.
---
Soto Self-Inflating Sleeping Pad
We have also been testing out DOD's Soto self-inflating sleeping pad ($379), which is made with 4 inches of memory foam and gives you the option of having it inflated to varying levels of firmness!
It's so comfortable and is another DOD Outdoors camping product that has made it onto one of our other popular buying guides; the best double sleeping bags and pads for couples.
The Soto inflatable camp mattress comes in several sizes and ships with a sheet, pillow, pillow cover, and carrying bag.
This self-inflating camp mattress is not only great for camping, but it's a handy guest bed at home, too – always thinking.. see ;).
---
DOD Campfire Blow Poke
DOD Outdoors' range of camp kitchen and campfire accessories includes a full camp kitchen cooking station, and quality campfire accessories such as the wonderfully-named brass Shuriken 'blow poke' ($99).
Yes, Ninja star, baby – or more accurately translated to 'hidden hand blade' but that sounds a little darker and not quite as in keeping with the camping vibe!
What is a blow poke, you may ask?
It might sound a little bit naughty to the untrained ear but it's actually a pole for stoking your campfire that you can blow into to introduce more air into the fire and hence help it rage hotter.
If you like a good campfire, then one of these is your new best friend!
As well as allowing you to blow air into areas of the fire by blowing through the pole, the star on the end of DOD's Shuriken blow poke is particularly useful for poking and rearranging logs around in the fire.
---
I hope you enjoyed learning about DOD Outdoors camping gear and our mini reviews of the Sugoi and sleeping pad which you can learn more about in the buyer's guides I linked to in this post.
Check out the full range of DOD's Japanese camping gear on the DOD Oudoors website.