The camping chair is a staple in our outdoor adventures, whether we're deep in the forest or cooking restaurant-style pizzas in our backyard. The YETI Trailhead chair is so much more than the average camp chair, however.
In this YETI Trailhead Camp Chair review, I'm going to be sharing my experience using this robust, versatile and comfortable chair, and I'll also explain my favorite features that make this sturdy chair such a great companion to any serious outdoor enthusiast.
About the YETI brand
Before I get into this review, here's a little information that you may not know about the YETI brand.
YETI was born in 2006 with a vision to create top-tier outdoor gear for those of us who live for the thrill of exploration.
The founders aspired to design products (starting with some of the best Ice chest hard coolers) that could stand up to the rigors of any wilderness journey, whether you're hunting in the wilds of Alaska or fishing along the Gulf coast.
Today, YETI continues to be driven by hands-on experience and necessity, rather than data analysis; and it seems to be working well for them.
Their products, including the Trailhead collection's 'Camp Chair', and our resident adventure dog, Kepler's favorite dog bed the 'Trailhead Dog Bed' are a testament to this dedication.
---
The key specifications of the YETI Trailhead camp chair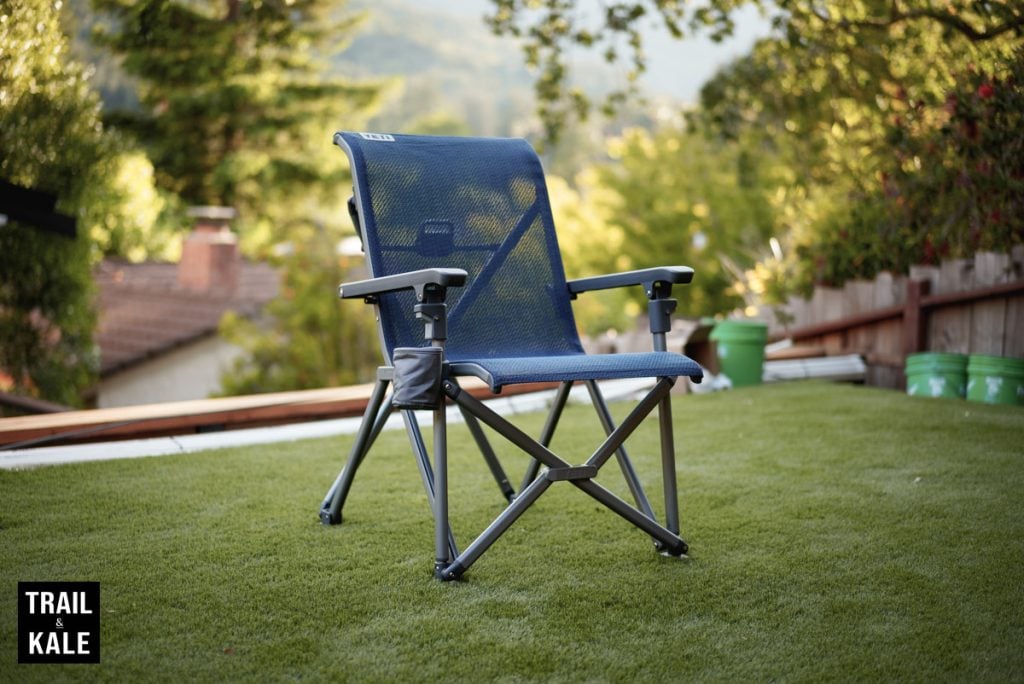 Here are the standout specs of the Trailhead Camp Chair:
Price: $300
Weight: 13.3 lbs
Total capacity: Supports up to 500 lbs with Ultra-supportive FlexGrid™ Fabric
Two color options
Includes one cup holder
Easy-to-clean design
Includes a convenient carry bag
---
5 noteworthy features of the Trailhead camp chair
1. It's very comfortable thanks to the thoughtfully designed seating ergonomics and supportive FlexGrid fabric
When we review camping chairs, there are numerous features that need to be considered and tested to determine whether it's worth the cost, but one of the most important features is comfort; because without comfort, most people would prefer to resort to standing or improvising a makeshift seat.
The YETI Trailhead Camp Chair really excels in this department, and it's clear YETI had this front of mind when designing this chair.
One of the standout features of this chair is its highly supportive FlexGrid Fabric found on the seat and back rest (see my photo below); it's this material and the ergonomic seating position (including arm rests) that makes this chair so comfortable.
This material not only provides support for a weight capacity of up to 500lbs but it also offers an elasticity that adjusts to your body, making it a very comfortable landing zone.
The Trailhead Camp Chair is designed to allow you to sit in it for extended periods, which is great for those long nights around the campfire, or when you're just unwinding after a long day of hiking for example.
It truly is one of the most comfortable camping chairs out there right now.
The fabric is also UV-resistant, adding to the chair's durability while ensuring it won't heat up uncomfortably under the sun.
2. It can be set up very easily, and in a matter of seconds
The next feature that really stood out to me is the simple and quick set-up, which is a dream for any camper.
There's nothing worse than getting to your campsite after a long drive (or hike) only to wrestle with a chair that's hell-bent on staying folded, haha.
Fortunately, YETI has designed this chair to be as user-friendly as possible and as a result the setup process is as simple as this:
Take the chair out of the carry bag
Push down on the arms until they make an audible click, as they lock into place
Push down on the handle at the rear
It is as simple as those 3 steps above, and you're ready to sit down, crack open a cold one, and relax – oh yes, and there's a cup holder for that cold one to sit in when you need it too (see photo below).
To fold it away, simply pull up on the handle at the rear to release the tension lock, and then push the buttons under each handle to release the tension on them, and the chair will then easily push together, ready to be stored away in its carry bag.
The 3 photos of me below demonstrate the sequence of events to make this happen.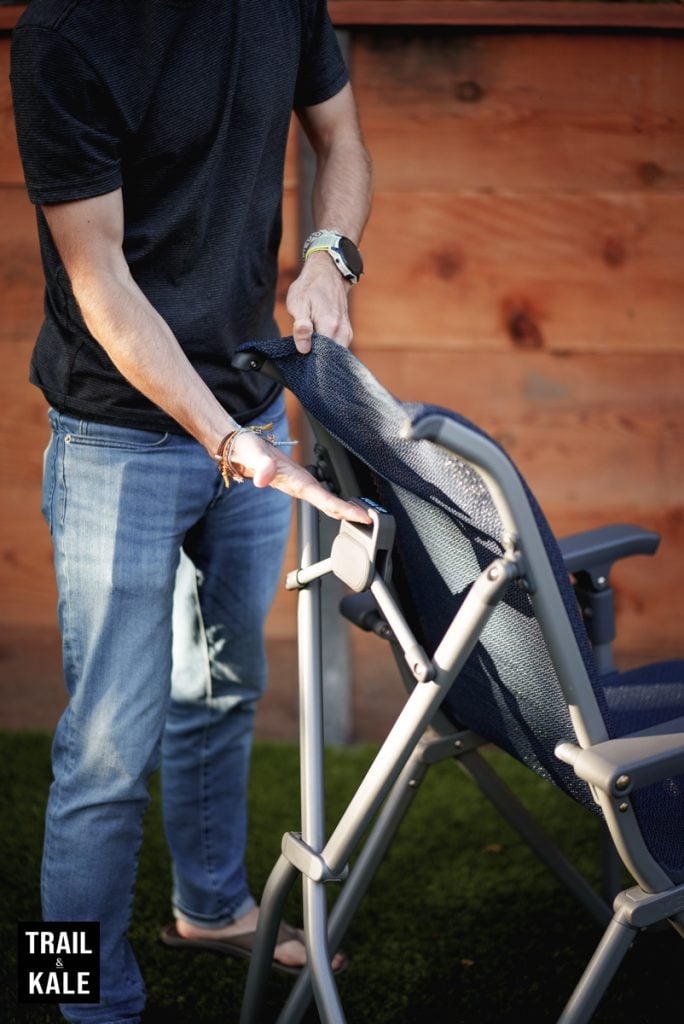 Those instructions will be listed on a sticker on each of the chair's arms, if you buy it, so once you've got the hang of it, just take those stickers off (you can see them in the image gallery below).
3. Its build quality is exceptional, and it's very durable and sturdy to sit on; the most durable chair we have ever tested in fact
When it comes to outdoor gear, durability is as import as comfort is to chairs :), and in this respect, the YETI Trailhead Camp Chair is also a winner.
The exceptional build quality is evident from the moment you unpack it, and it's really what you hoped your $300 is getting you; this chair has really been designed with the outdoors in mind.
The frame, crafted with high-quality materials, offers an impressive sturdiness that reassures you this chair is built to last, and handle more weight than most could ever give it.
Whether it's used on a rocky terrain or sandy beach, the Trailhead Camp Chair can withstand various environments without compromising on its stability or comfort, thanks to it's sturdy large feet and solid geometry.
4. It can hold 500lbs which means it will be suitable for a wide range of body types; This is the highest capacity chair we have tested
Another key highlight of the Trailhead Camp Chair is its high weight capacity. Due to the FlexGrid Fabric and the sturdy frame, this chair can comfortably hold up to 500 lbs, which is a substantial figure, especially when compared to most standard camping chairs.
This means that the chair can comfortably accommodate a wide variety of body types, offering a reliable and sturdy seat for everyone.
Whether you're a heavier set individual, or if you have kids who love to pile on your lap around the campfire, this chair has got you covered.
5. I really like the carry bag; the chair fits in there easily, it's durable, and it's very comfortable to wear as a backpack
Lastly, the chair comes with a two-strap carry bag that's as durable as the chair itself. Despite the chair's slightly heavier weight compared to some alternative camp chair models, the carry bag design makes transportation very easy.
You can easily sling it over one shoulder, which is how I like to transport it, or wear it as a backpack, evenly distributing the weight and making it feel surprisingly lightweight.
With its roomy design, the carry bag allows the chair to fit easily without the usual battle of trying to stuff it back into a too-tight bag.
The bag is very strong and durable, so you won't have to worry about any wear and tear from carrying it around either, and while this feature might seem small, it significantly enhances the overall convenience and user-friendliness of the YETI Trailhead Camp Chair.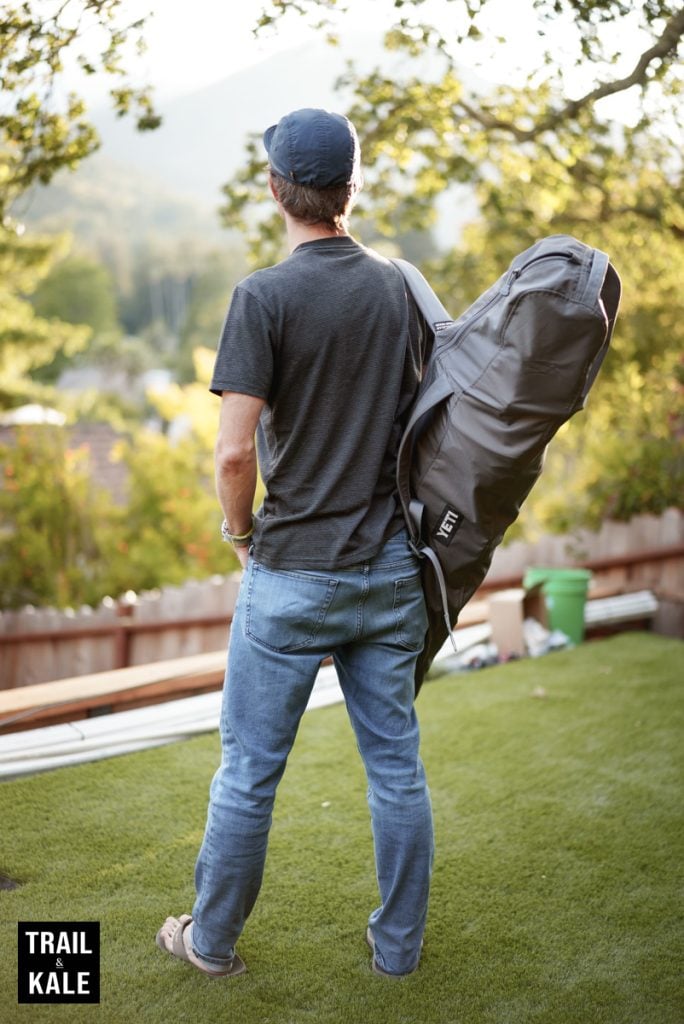 The carry bag also takes into account the outdoor nature of its use. It's resistant to elements like water and dirt, which means it can take a good deal of roughing up without showing signs of wear.
The features that could be improved
While it's one of the best we've tested, the Trailhead Camp Chair has a couple of minor flaws.
Its price tag may deter those on a budget, and it's slightly heavier than some competitors.
However, this weight is a testament to the chair's robustness and durability, and with the comfortable carry bag, it still feels lightweight to carry.
Is it worth buying?
The YETI Trailhead Camp Chair is a premium piece of outdoor gear, so if you're into buying durable, comfortable, easy to set up, and built to last products then you should certainly consider this chair.
Yes, it's expensive but I feel like you get good value for money as it's a premium, rugged product that will last the test of time.
YETI stands by its products, offering free returns for a refund within 30 days of purchase if you're not satisfied, ensuring your purchase is risk-free.
Amazon.com
$300.00

3 new from $300.00

See Deal
Rei.com
$300.00
See Deal
Yeti.com
$300.00
See Deal
Last Amazon price update was: 24th September 2023 8:30 am
---
YETI Trailhead Camp Chair review summary
YETI Trailhead Camp Chair review
PROS
The FlexGrid fabric and ergonomic seating design make this one of the most comfortable camping chairs we've ever tested.
A straightforward and intuitive design allows you to set up the chair within seconds.
Built with high-quality materials, this chair is designed to last and withstand various outdoor environments.
With the capacity to hold up to 500 lbs, it's suitable for a wide range of body types.
Comes with a durable, comfortable-to-carry bag that makes transportation easy, despite the chair's slightly heavier weight.
The FlexGrid fabric is UV-resistant, adding to its durability and comfort in sunny conditions.
CONS
At $300, this chair is pricey but a high-end investment; it may not suit those on a tight budget.
The robust build comes with a bit of added weight, however, the well-designed carry bag helps to offset this.
Only 1 cup holder; some users might prefer more drink storage, especially when using the chair for extended periods.
All in all, the YETI Trailhead Camp Chair is a well-designed, premium piece of outdoor gear.
Its high price tag corresponds to its high-end features – outstanding comfort, user-friendly design, exceptional durability, high weight capacity, and the inclusion of a highly functional carry bag.
Whether you're an avid camper or a backyard relaxer, this chair brings a level of comfort and reliability that sets it apart in the market.
It is, without a doubt, a chair that's built to last, and accompany you on countless adventures.
---
More photos of the YETI Trailhead Chair