With a top speed of 20 MPH, a range of 40 miles, front suspension, and a folding design, the Aventon Sinch electric fat tire bike can be taken anywhere and cycled over any terrain – it really does sit in a class of its own.
This folding bike is called the Sinch for a reason, and that's because it's supposed to be this really fun, easy-to-ride e-bike than can very quickly be folded down into something that doesn't take up much space in your house.
In this Aventon Sinch review, I'm going to share my experiences riding this electric all-terrain fat tire electric bike, give an overview of its key features, and what makes it stand out from the competition.
I'll also share the best places to buy it with advice on choosing the step-over or step-through version, and finally my review summary with pros and cons and a score out of 10.
Keep reading to the end of this post where I'll answer some FAQs and leave you with some more photos of this versatile, rugged folding bike for adventurous riders. These photos give a closer look at the components and the bike's overall build quality.
There's also a hands-on video review demonstrating the Aventon Sinch's acceleration, top speed, and noise levels, plus a walk-through of all the key features.
More Aventon Reviews: Aventon Soltera Review: The Stylish, Lightweight Commuter E-Bike / Aventon Aventure Review: The All-Terrain, Electric Beast / Aventon Level 2 Review: The Commuter eBike With Insane Range, Top Speed And Smooth Ride
To read our other electric bike reviews, visit the Trail & Kale e-Bike reviews page.
Grab a drink, sit back, and enjoy this in-depth Sinch electric bike review.
---
Things to know about the Aventon Sinch
The Aventon Sinch pictured in this review and video (at the end of this post) is the Cloud Grey color and the frame size is the only one they sell, yes, it's a one-size-fits-all frame – which is awesome as it means anyone in the family can ride it!
At the time of writing this review, there's only this color available in the step-over frame but 2 colors are available in the step-through version, 'red' and 'moss green'.
By the way, if you're wondering, I'm 5'8″ and the bike fits me very well. Aventon suggests the Sinch will fit riders of any height between 5′ and 6'3″.
The step-through version can accommodate slightly shorter riders from 4'11" to 6'3″.
The Aventon Sinch really doesn't look like any other bike out there, and I certainly haven't reviewed anything quite like it before.
One of the most similar folding e-bikes that I've reviewed is the Rad Power Bikes Expand, and it's certainly a viable alternative if you're shopping around for folding bikes.
I love the frame on the Aventon Sinch, it just looks really unique and has a silhouette that screams "FUN!".
What's especially cool about this e-bike is the fact you can fold it in half, in order to store it in small spaces. It's basically a mini version of the Aventon Aventure!
I really like folding e-bikes as I don't have a very large house or garage for storage – 'convenience is king' sometimes.
The Aventon Sinch folds at the center of the frame, on the handlebars stem, and even at the pedals. I'll demonstrate how to fold this bike properly, and most efficiently towards the end of this review in a helpful video.
The Aventon Sinch also has a throttle which means you can power away without even having to pedal. One press of the throttle on and you'll be away, with a huge smile on your face.
The Sinch also has five levels of pedal assist which makes the process of pedaling much easier when you're riding up hills or if you just want to go faster without putting in any real effort.
On top of those 5 levels of pedal assist, the Aventon Sinch also comes equipped with seven manual gears so that you can pedal efficiently with or without using the pedal assist from the electric motor.
The Aventon Sinch has a top speed of 20 miles per hour, and I'll demonstrate what that looks like in my video near the end of this review, as well as show you its acceleration, stopping speed, and noise levels from the electric motor.
This versatile $1600 e-bike has an average mileage of around 40 miles which does depend on what kind of terrain you're riding, if you're going up hills or down, and that also depends on your weight.
If you're heavier than average, then it won't go quite that far but if you're lighter you'll get a bit more distance out of the battery. So you've got to think about those things. But on average, in Aventon's tests, it came out to roughly 40 miles.
What's it like riding the Aventon Sinch?
Okay, so how does the Aventon Sinch actually perform and feel when using it in real-world situations?
Well, it's SO much fun and has a very comfortable riding position.
Like I said earlier, you can ride over pretty much anything and that means you'll get a lot of use out of this bike as you won't be worrying whether or not you can take a particular route or not.
The Aventon Sinch has a really interesting riding style due to the handlebar stem being very upright. With this stem, combined with the shape of the frame and low saddle, it will fit a wide variety of rider heights.
I did feel a little bit over the front wheel at first but it wasn't long until I found a riding position that suited my style of riding really well, which is kind of like a Harley-Davidson style. That being a low-seat position and a lot of throttle usage :).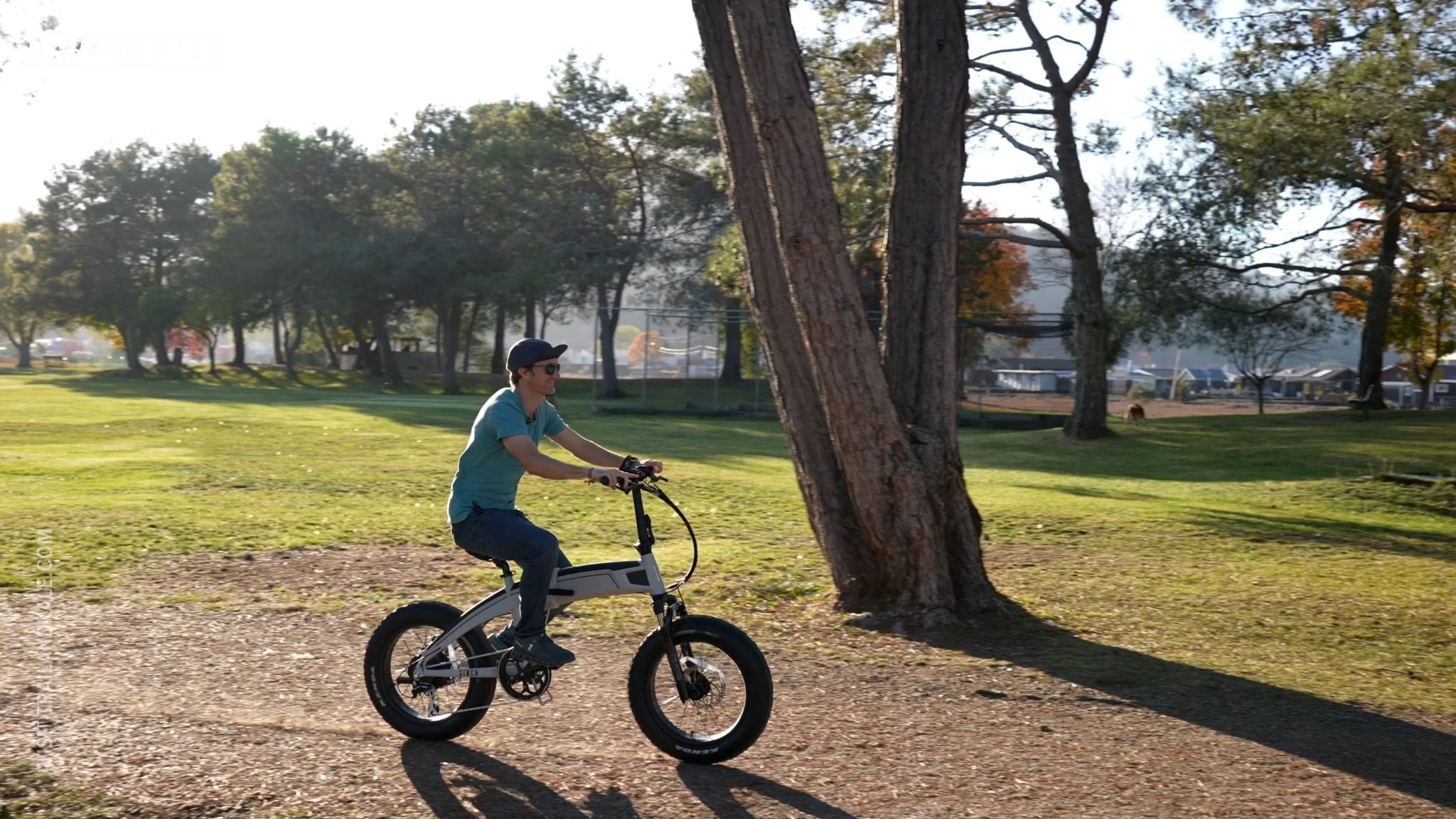 Putting the saddle down a little bit lower than you may usually do, seats you further away from the handlebar stem – and it's really a comfortable ride. I can just kind of relax on the Sinch much more than some of the other Aventon Bikes I have reviewed.
Watch my video towards the end of this view to see what I mean.
The fat tires with suspension on the front mean that it's very fun just to ride over bumps or off curbs – anything you want to take this fat tire e-bike on, you can, and you'll get a nice smooth ride.
There isn't any suspension at the rear of this bike, but you can buy a suspension seat post as an accessory if you wish to give yourself a smoother ride on rough surfaces.
It's a very comfortable ride overall, however, on all terrains, thanks to the seating position, front suspension, fat tires, and soft, wide saddle.
The Aventon Sinch has a very punchy acceleration when using the throttle, and oddly it feels more responsive than some other Aventon bikes I have reviewed, like the Soltera 7 and Level 2.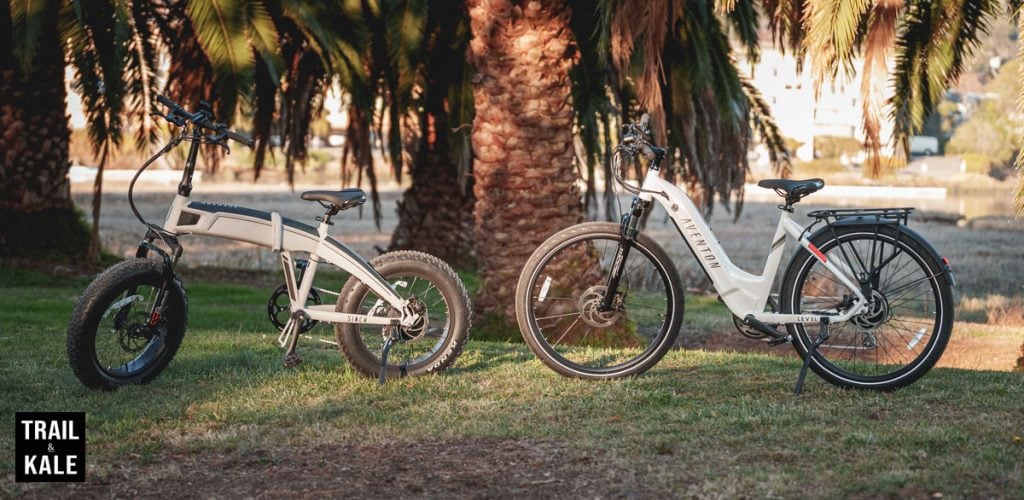 So, if you do need to get across the road very quickly when the lights turn green for pedestrians and bikes, then you can very easily just press the throttle and get that boost you need, from a standstill, with no peddling required.
One word of advice is you do need to have a pedal assist level enabled for the throttle to work.
If pedal assist is on zero then the throttle does nothing, if it's on any other level, it's going to pull away with a lot of punch to it – and that's an awesome experience to feel, for a heavy bike that weighs 68lbs.
The Aventon Sinch can also operate with the throttle unplugged and removed, should you want to ride in an area where throttles are prohibited.
To learn more about electric bike laws around the world, and to see what power/speed options are allowed in your country, read this helpful Wikipedia article.
Watch my video below to get a better understanding of what the ride position is like – and don't forget to subscribe to our YouTube Channel for more eBike and outdoor gear reviews just like this one.
Accessories for the Sinch
I don't have any accessories for my Aventon Sinch yet but you can buy all sorts from their online store including fenders, lights, a saddle post with suspension, a rear rack, and more!
The noise level of the rear hub motor is pretty standard for an electric bike like this. Nothing stands out as being loud or super quiet, to be honest.
To get an understanding of the noise levels, check out my video at the bottom of this review.
It comes with a kickstand which is very useful!
So who is the Aventon Sinch for?
Well, I think it's for anyone who wants to have fun, whether you're a commuter or simply want to take the Aventon Sinch on the road, gravel, grass, or on light trails.
There is a front suspension fork with 45mm of travel – that's not a huge amount but any more and the front end of the Sinch would feel uncomfortably high off the ground.
You can take the Aventon Sinch on pretty much any terrain thanks to the 4-inch width fat tires with a tread that extends around the edge of the tire walls.
With these wheels, I have been getting excellent traction on terrain with gravel and loose while cornering. The bike gives me total confidence in cornering fast on otherwise sketchy surfaces.
The Aventon Sinch is also a foldable bike, which makes it a great choice for anyone who might be traveling in an RV/campervan and needs some way to get around town when parked up at your campsite.
This is simply because it's so effortless to fold it up and store it in your van or car while traveling or at night to deter those rascal thieves. You don't need a bike rack when you can fold your bike in half.
It's also a great e-bike if you don't have much storage at home because when it's folded, you'll have no trouble storing it in a small garage, or cupboard in your home if necessary.
Key features that really stand out for me
1. Battery power, max speed, and mileage is great for such a small electric bike
The Aventon Sinch battery is stored in the front part of the main cross tube and can be removed by folding the bike in half, as seen in the image below
More pictures of this are available in my gallery below and in my video.
You can get a lot of usage out of the removable integrated Lithium-ion 48V, 14Ah (672 Wh) battery.
You can typically go roughly 40 miles on one charge, depending on rider weight, terrain, incline, and level of power assist being used. 40 miles was the average that Aventon came up with during their testing.
That's pretty incredible for a bike that weighs 68lbs and runs on fat tires, which aren't as efficient as thinner-walled tires.
The Sinch's battery is also removable should you need to take it into your home/ office to charge.
The bike can reach 24MPH (4mph more than the factory default speed) effortlessly with pedal assist and the upgrade hack – ask me in the comments if you'd like to know how to do this.
Because it has small diameter fat tire wheels (20 inches), it really feels like a fast bike when you're on it.
2. The throttle is so much fun with these fat tires
The pedal assist levels add a fun dynamic to the riding experience but for me, it's the throttle that really elevates the joy of the Aventon Sinch.
It's so much fun being able to push a lever on the handlebars, and just zip away effortlessly on a bike with fun fat tires!
3. The LCD display panel
The LCD display is very premium with easy to read color backlit display. It also connects to the Aventon App for ride stats should you wish to monitor your ride data.
I love how large and clear the Aventon displays are, and this core, consistent feature among their e-bikes really helps the brand stand out from competitor electric bike brands, putting them in high regard within the e-bike industry.
See my video below on how to operate the display with the control panel.
4. This fat tire bike with front suspension provides a fun and smooth ride
The Aventon Sinch comes with 4″ wide fat tires that have a relatively small diameter of 20 inches.
These durable, puncture-resistant Kenda Krusade tires also give the bike a really smooth ride and make it possible to ride on bumpy dirt trails effortlessly.
For an even smoother ride, you can buy a saddle post with built-in suspension from aventon.com.
They also make riding on terrain like gravel a confident and enjoyable experience – they also look damn cool!
If you've ever had a scary moment where your front wheel has slipped out from under you due to riding on gravel with narrow wheels, you'll know what I mean there.
If you haven't tried the fat tire experience yet, you're going to absolutely love it if you get this bike – especially when you're using the thumb throttle while off-roading.
5. It's a folding e-bike
I love that the Aventon Sinch is a folding e-bike – and one who is familiar with electric bikes will know they can be fairly bulky and somewhat pesky to store unless you have plenty of space in your home or garage.
Fat tire bikes that also fold are pretty rare in e-bikes so the Aventon Sinch really does sit in a league of its own here.
Watch my video below for a full demonstration of how to fold the Sinch.
6. Front and rear lights are, unfortunately, not included
Unfortunately, the Aventon Sinch doesn't come with any built-in lights which would have been a really nice touch but you can buy lights as accessories for Aventon Sinch if you plan on riding the bike in the dark.
So although you could use this electric bike for commuting, there are probably better Aventon bikes available for commuters, like the Level 2, and the Soltera, for example.
Neither of those electric bike options can fold, however, which may be important if you lack storage space, or need to be able to take the bike with you on a train.
---
The Aventon Sinch also has a step-through version – Here's what you need to know about it
The Aventon Sinch is also available in a step-through edition which would be a better option if you have mobility issues and cannot lift your leg up high enough to get over the frame and onto the bike.
Shorter people including many women and young adults with a slight build may also prefer step-through versions of e-bikes but that doesn't mean men can't ride them of course!
The Step-Through version comes in 2 other colors, mentioned above.
The step-through version also comes in one frame size but caters to shorter people from 4'11" to 6'3″ due to the dropped frame position. They both cater to larger riders up to the height of 6'3″.
It's also the same price as the Aventon Sinch step-over version.
The rear hub motor is slightly different however according to the Aventon Bikes website. The step-through uses a 48v, 500w Brushless rear hub motor, whereas the Step-over version motor has the same power output but with a 750W peak output.
This peak power provides more punchiness when using pedal assist level 5, and the throttle.
They both have mechanical disc brakes, with 180mm rotors too. Hydraulic disk brakes are pretty essential when you're riding a fast electric bike model and need to come to a dead stop quickly.
---
Where to buy the Aventon Sinch e-bike
You can buy the Sinch at aventon.com for $1,599, which is great value for an electric bike that offers all these features.
If you ride a lot in areas that include trails, gravel, and anything other than just road surfaces, and are looking for an e-bike that can fold away for easy storage, has a fast max speed, a punchy acceleration with pedal assist or throttle, high mileage, good hill-climbing ability (with the 7 gears), then the Aventon Sinch is most likely the e-bike you've been searching for.
Having 7 gears makes riding uphill so much easier, and will likely increase your average total mileage because you'll be able to assist the Sinch's motor with more power from your legs at times, thanks to the range of gears.
The Sinch is one of my favorite e-bikes I have ever tested because it's just so nimble, agile, and punchy!
The best way I can describe it in one word would be FUN.
When you order online, the bike arrives in a box, so you do have to assemble some of it yourself, but it's very easy to do.
Aventon makes their e-bike assembly process super easy for any experience level. It took me about 20 minutes to assemble, and everything you need comes in the bike box at delivery, including a multi-tool.
It should take the average person half an hour to assemble.
Shipping was also very quick from the Aventon store, so all in all, I feel like this electric bike is excellent value for money, especially as Aventon Support is very good should you ever need to contact them for help.
---
Video demonstration
---
Aventon Sinch Review Summary
Aventon Sinch review
Performance & reliability
9
PROS
It folds, which means its much more convenient to store!
Love the design.
Throttle is punchy.
fat tires and suspension provide a nice smooth and stable ride - plus you can take it on light trails.
Having 7 gears helps you support the motor during hill climbs.
CONS
Doesn't come with any lights.
Quite heavy for its size (68lbs).
---
Image Gallery
---
I really hope you enjoyed this Aventon Sinch review – hopefully, it gave you an idea of what this e-bike is like to ride, some of the cool features that it has, and that it helps make your buying decision a little bit easier.
If you have any questions about this bike, please ask me in the comments below – or just say "hello" to show your appreciation for this review 🙂 – Happy riding!