The Aventon Level 2 has been designed with the city commuters in mind, and this is clear from the bike's smooth handling, comfortable ride, astonishing mileage on a single charge, and impressive max speed statistics.
I'm really excited to share my insights with you in this Aventon Level 2 review because this might actually be my favorite Aventon electric bike yet.
"Why? It looks like such a traditional and unassuming bike" you say… YES, exactly and that's what I love about it, and why I think commuters will love this flagship e-bike too! Let me try to explain…
It IS a very traditional and unassuming bike until you actually get on the saddle and begin to ride it. The Aventon Level 2 just does everything really well, for the most part in an elegant and sophisticated way.
It does all this while not looking overly bulky or like some other e-bikes you see on the roads that are obviously electric bikes which can draw a certain type of unwanted attention on the streets.
I really enjoy the step-through frame that I chose – yes, there is a step-over edition available too if you prefer to ride that way.
Having a step-through frame while riding an electric bike, which are heavier than traditional bikes, makes the process of getting on and off much easier.
The Level 2 e-bike is a lot of fun to ride and the components down to the mechanics of them all working together is very well refined.
In this Aventon Level 2 review, I'm going to share my experiences riding this electric commuter bike (Aventon's flagship commuter by the way), give an overview of its key features, and what makes it stand out from the competition.
I'll also share where you can buy this bike for the best price with advice on choosing the right frame size for your height, and finally my review summary with pros and cons and a score out of 10.
At the end of this review, I have included a photo gallery of this stylish and functional commuter e-bike to give you a closer look at some of the components and their build quality.
There's also a hands-on video review demonstrating the Aventon Level 2's acceleration, max speed, noise levels, and a walk-through of all its features.
More Aventon Reviews: Aventon Sinch Review: The Small, Folding eBike With Fat Tires / Aventon Aventure Review: The All-Terrain Beast / Aventon Soltera Review: The Lightweight Stealth Commuter
To see all of our electric bike reviews visit here: Trail & Kale eBike reviews. Grab a drink, sit back, and enjoy this in-depth Aventon Level 2 review.
---
Aventon Level 2 Review: Table of Contents
---
The Aventon Level 2 pictured in this review and video (at the end of this post) is the step-through edition and it is the 'Polar' color – which I LOVE! There is 1 other color available which is a pinky color called 'Himalayan'.
The Level 2 also comes in a step-over version for anyone who prefers to ride those style of frames, which ordinarily would be me but for electric utility bikes like this, I prefer the easy access that a step-through frame offers.
I'll share more on the step-over version later in this review, as there are a few differences to consider.
There are also 2 different frame sizes to consider with the Level 2 step-through edition – Small/Medium for people between 4'11" – 5'7″ tall, or the Medium/Large frame for anyone between the height of 5'7″ – 6'1.
What's it like riding the Aventon Level 2 eBike?
As I mentioned earlier, the Level 2 has a really refined ride to it. One of the things I like most is that it feels and handles much like a non-electric bike due to the fact it only weighs 53 lbs (that's relatively lightweight for an electric bike like this).
The other thing is that it has a really nice gearing ratio with its 8-speed cassette when blended with Aventon's new torque sensor which feeds level-assisted power from the rear hub motor depending on how hard you're pedaling.
It's a very smart system that carries over wonderfully when you're riding the bike.
The Level 2 also rides very much like a standard bike when you're not using any of the 5 levels of electric pedal assist too – which is great to see and something you'll be thankful for should you ever run out of battery power one day.
It's a very classy-looking bike so people do tend to give it a little nod of approval when you cruise past them too but it's also quite stealthy, much like the Aventon Soltera 7 stealth commuter, in that it doesn't look like an electric bike due to its sleek frame and well-hidden battery.
I really like the mid-width 27.5" x 2.1" hybrid tires with reflective sidewalls that give just as smooth a ride when riding on the roads, as they do on gravel and light trails.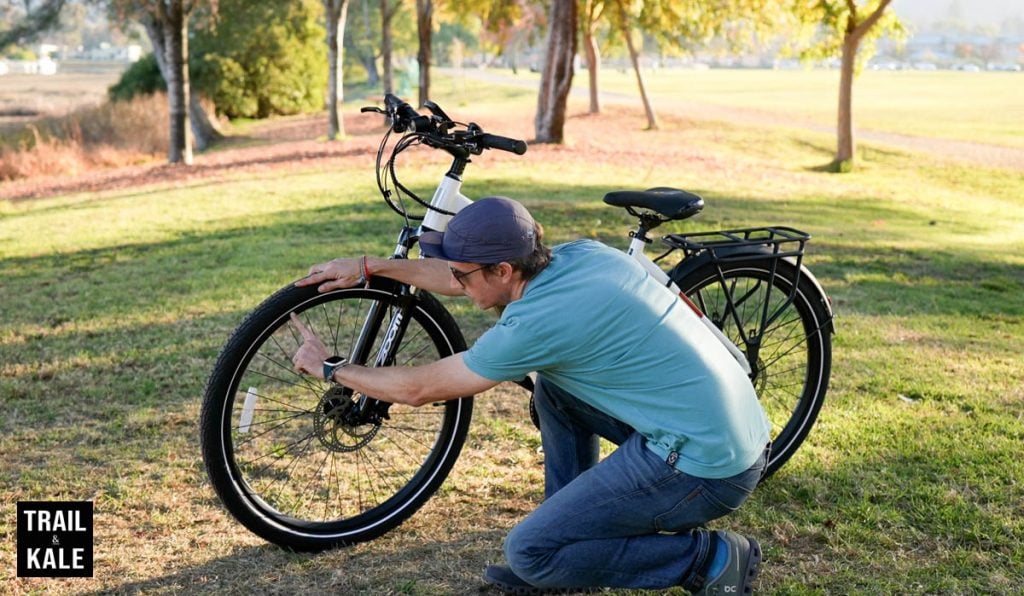 The wheels also help the bike reach an average of 60 miles per charge, which by the way is insanely awesome when compared to other electric bikes that I have reviewed to date.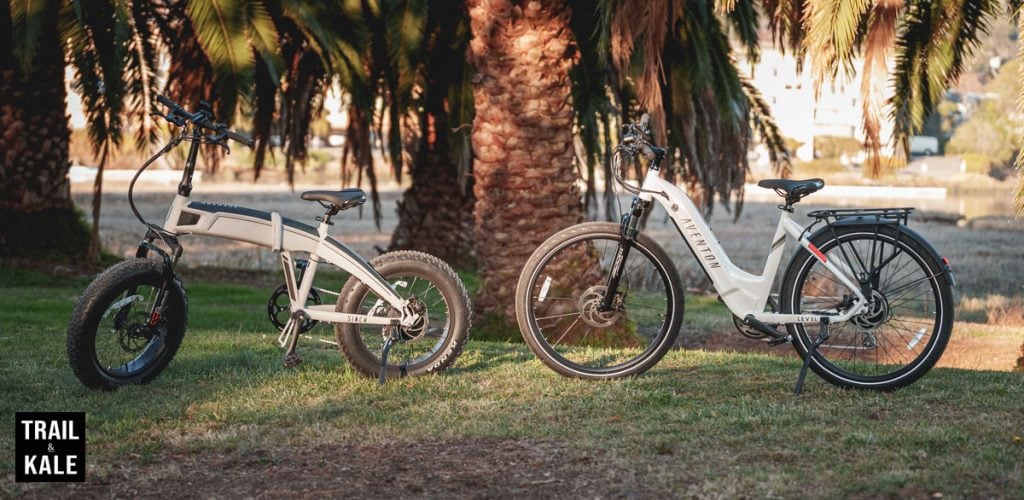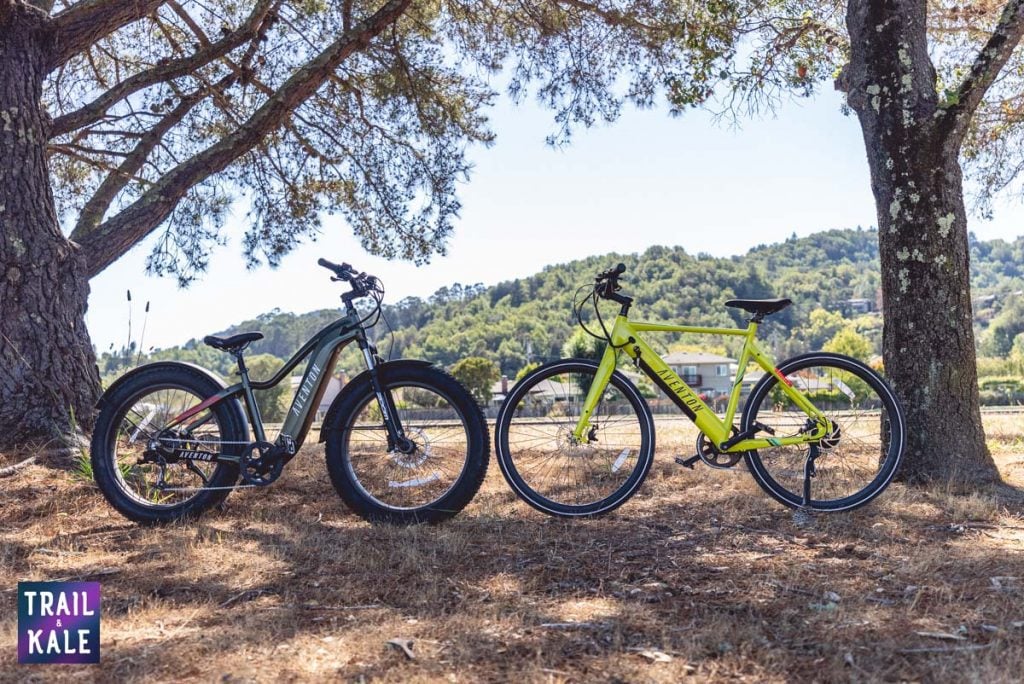 If you plan to ride over more gnarly terrain with your e-bike, I'd recommend checking out the Aventon Aventure or the Aventon Sinch as they both have 4″ fat tires (albeit with different diameters) and front suspension forks which make them both a joy to ride on any surface.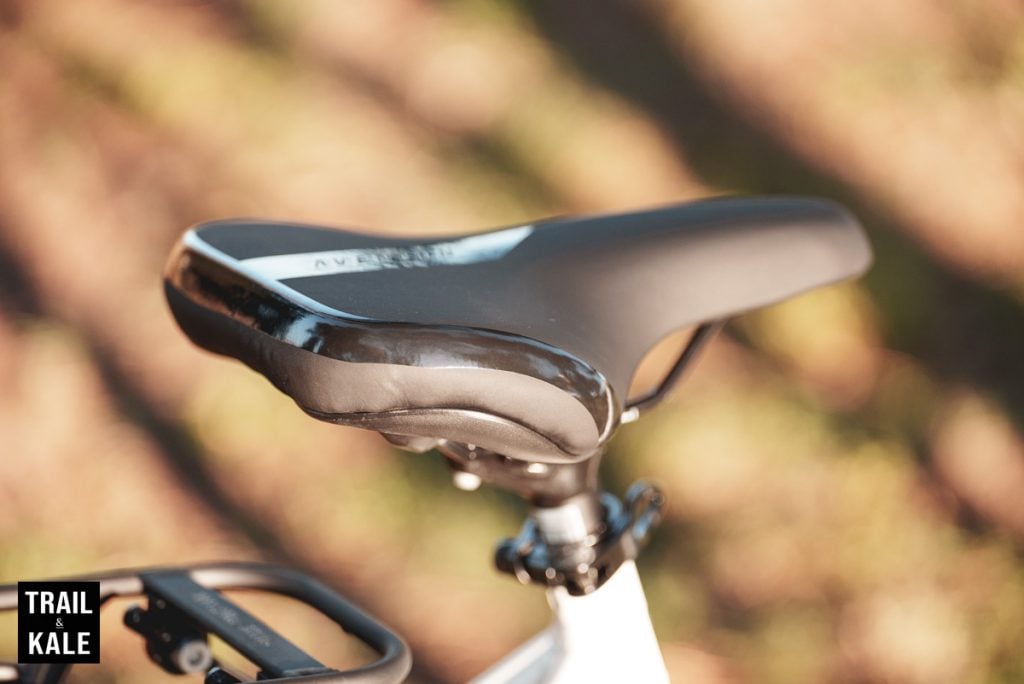 It also has a comfortable riding position, and the quick-release saddle provides a nice soft platform to sit on.
The Level 2 has front suspension on the bike, which makes the ride a huge improvement over the Soltera commuter which doesn't have any – this gives you options when it comes to choosing routes to cycle, and reduces the risk of sore bottom syndrome when you get to work, ha!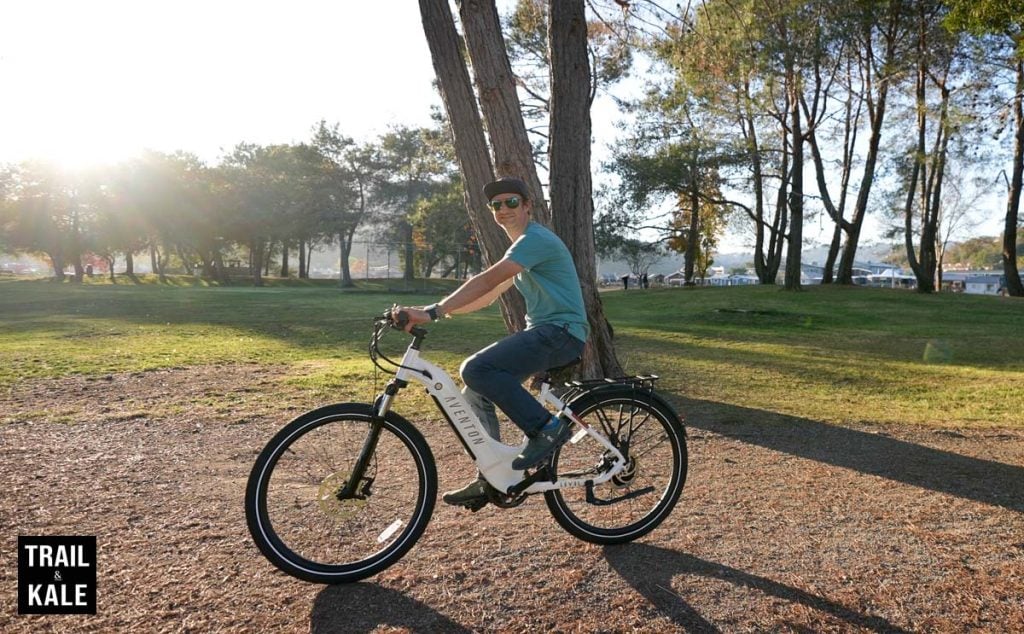 In addition to cycling, and cycling with pedal assist, you can also use the throttle which allows you to power along up to 28mph with some peddling involved or a flat 20mph with no peddling – this is an awesome feature that I use a lot!
The throttle is nice and responsive which contributes to the smooth riding experience. I tend to use the throttle a lot when pulling away from a dead stop as I can get up to speed effortlessly and quickly.
This is a great feature for anyone who tends to wobble a bit whilst getting going, and I think you'll love using it to get up to speed if that is you.
The bike does not come with a bell but you can purchase one as an accessory if you feel like you need one. I am surprised Aventon hasn't included one in the package, considering it is a commuter bike.
The kickstand is adjustable and very effective at holding this bike up when you need to stand it up in your garage or whilst you pop into a shop.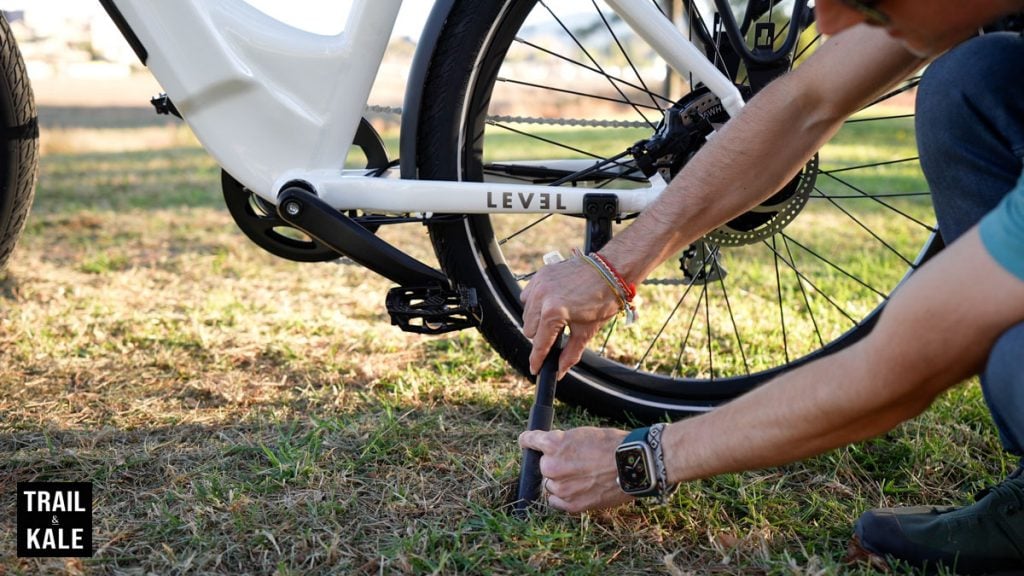 A lot of the time I find myself using the pedal assist setting of 4 or 5 (it goes up to 5) in conjunction with the bike's gears, as I find it's a good balance between me wanting to do some exercise (without getting too sweaty).
I can also get more than enough speed and still feel like I'm respecting other cyclists/pedestrians when I pass them on the cycle path, by not riding too fast.
I mention being courteous because the Level 2 is a Class 2 electric bike, with a throttle going up to 20 mph. It can be unlocked to a Class III ebike and can go up to 28 MPH on pedal assist.
The Level 2 can also operate with the throttle unplugged and removed, should you want to ride in an area where throttles are prohibited.
Unplugging and removing the throttle from the Level 2 will meet the requirements needed to be classified as a Class I ebike.
To learn more about electric bike laws around the world, and to see what power/speed options are allowed in your country, read this helpful Wikipedia article.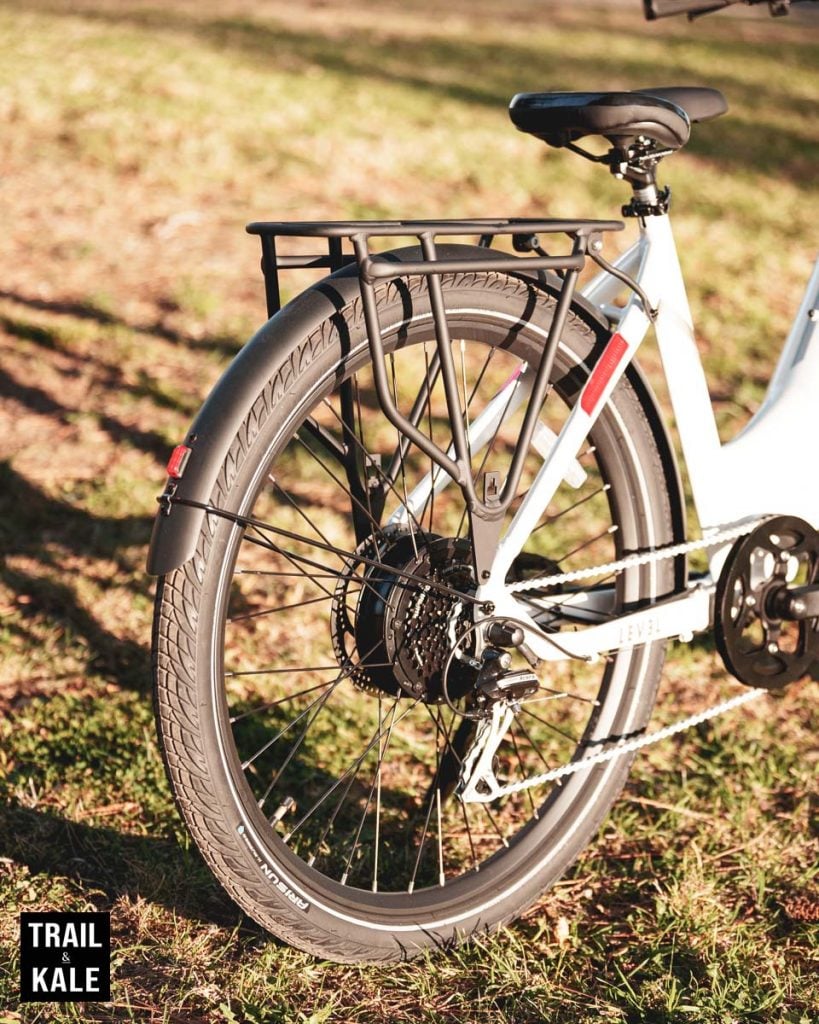 The Level 2 uses hydraulic disc brakes, 180mm rotors and it stops very responsively when I need it to. This is an essential safety feature when the bike is capable of reaching 28MPH.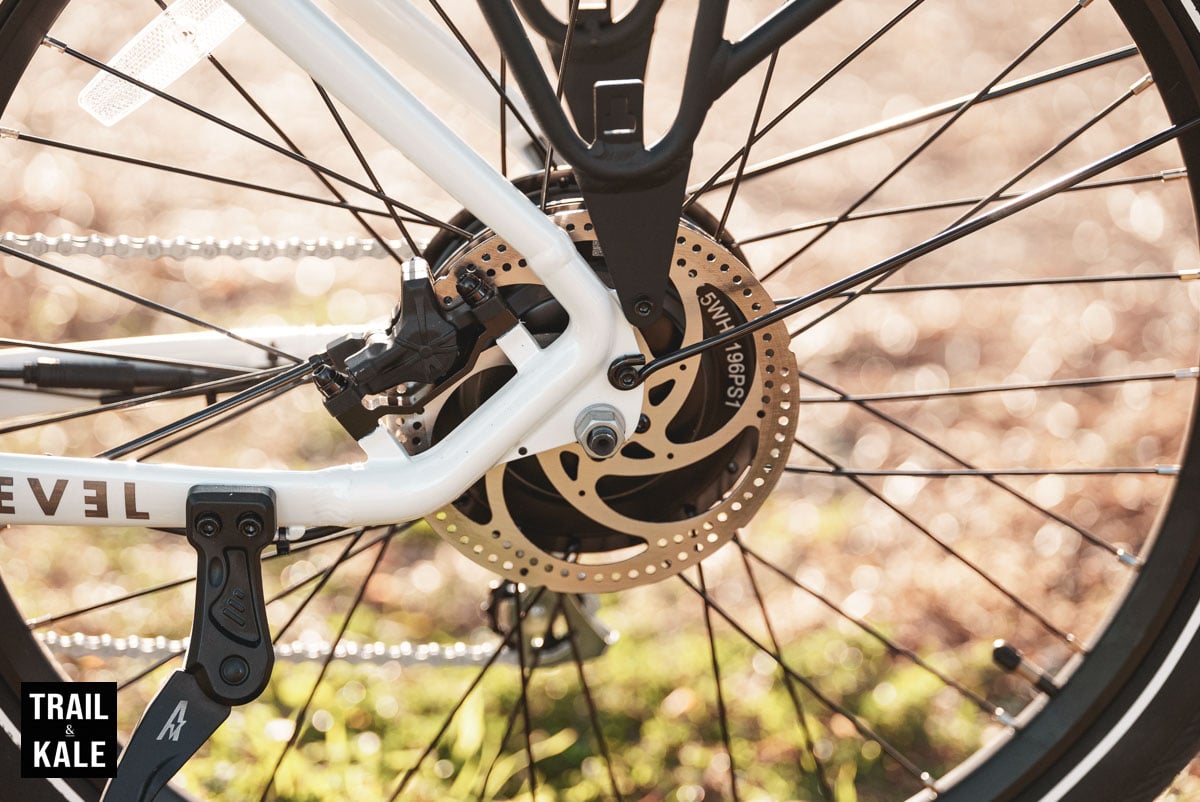 The Aventon Level 2 has a great riding position that is comfortable when using it as a commuter bike with a full backpack on your back.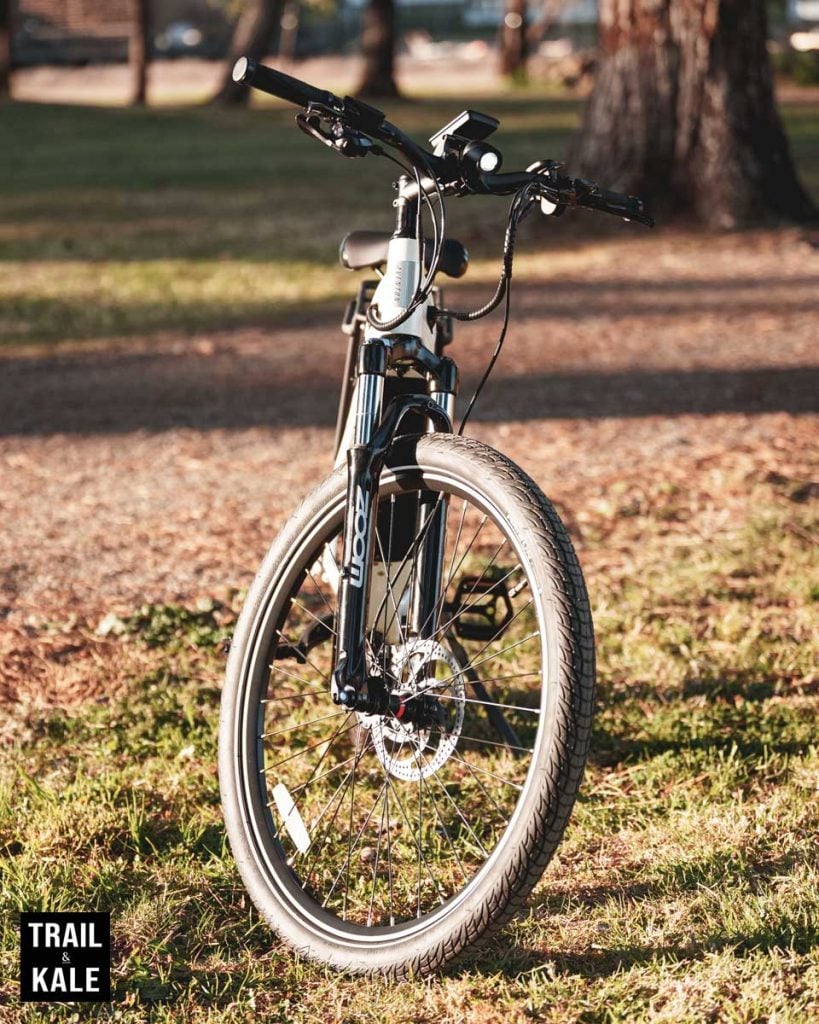 The saddle is adjustable up, down, front, and back as you would expect and handlebars can also be adjusted up and down, so this should give most people enough flexibility to get a riding position that works well for them.
Watch my video below to get a better understanding of what the ride position is like – and don't forget to subscribe to our YouTube Channel for more eBike and outdoor gear reviews just like this one.
I don't have any additional accessories for Level 2 yet as it comes with much of what you need like fenders (already installed when shipped), a rear rack, and lights – but Aventon's $10 bell would be very useful to have!
Are the handlebars comfortable?
The handlebars are quite comfortable thanks to the silicone grip but I think they would be more comfortable if there was a more ergonomic shape to be able to rest your palms on the end while cycling.
How stable is this electric bicycle when riding off-road?
The Level 2 handles off-road terrain surprisingly well but it's not designed for anything too gnarly. I'd recommend sticking to the roads and light trails. It does also go over gravel surprisingly well.
If you're looking for an electric bike from Aventon that can ride on pretty much anything, check out the badass Aventon Aventure ebike or the mini folding alternative, the Sinch!
Is the electric motor noisy?
The noise level of the motor is much quieter than other electric bikes I have reviewed to date. I do a ride test in my video review at the end of this post, which shares noise levels from the rider's perspective, so make sure you watch that after this review.
---
Key features and specifications that matter
1. Battery power, range, and max speed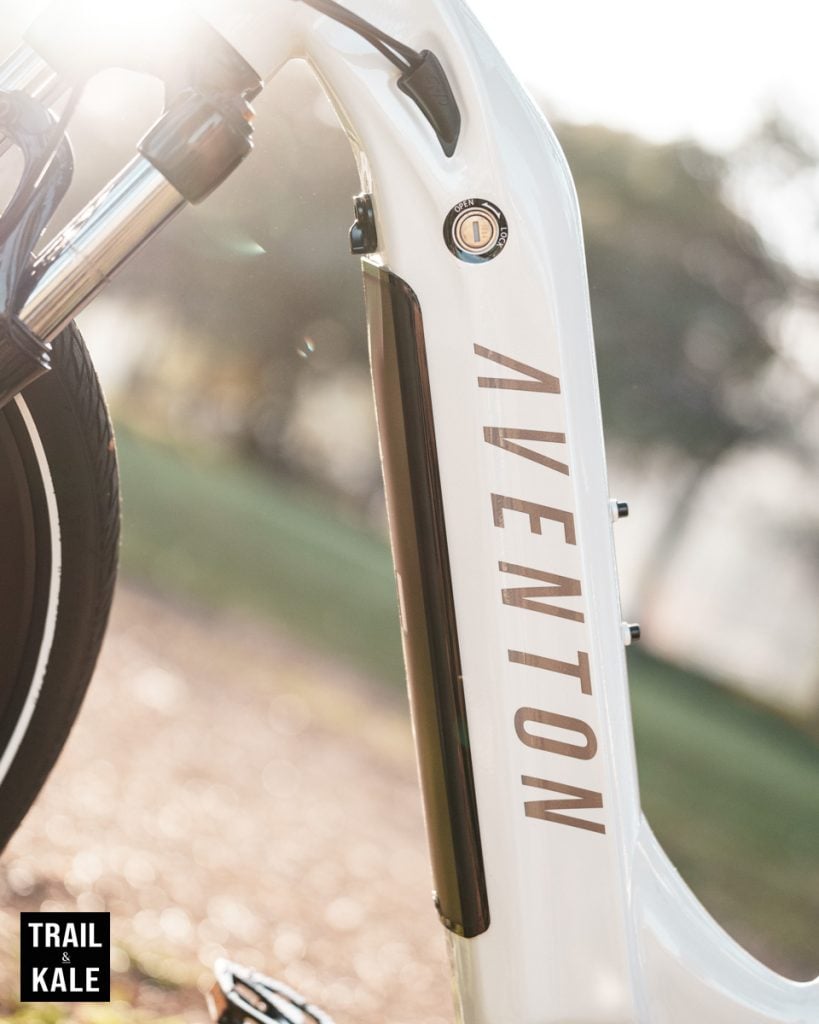 You can get a lot of usage out of the removable internal Lithium-ion 48V, 14Ah (672Wh) battery
You can typically go roughly 60 miles on one charge, depending on rider weight, terrain, incline, and level of power assist being used.
If you plan to just use the throttle then Aventon says you can get 30 miles out of the Level 2 on a single charge – now that's impressive!
The battery is also removable via the lock on the frame. See my video below for a demo on how easy it is to remove, should you need to take it into your home or office to charge.
The Level 2 has a maximum speed of 28MPH with pedal assist, when unlocked and 20MPH just be using the throttle, with no peddling required.
2. It' doesn't look like an e-bike's stealthy and relatively silent & lightweight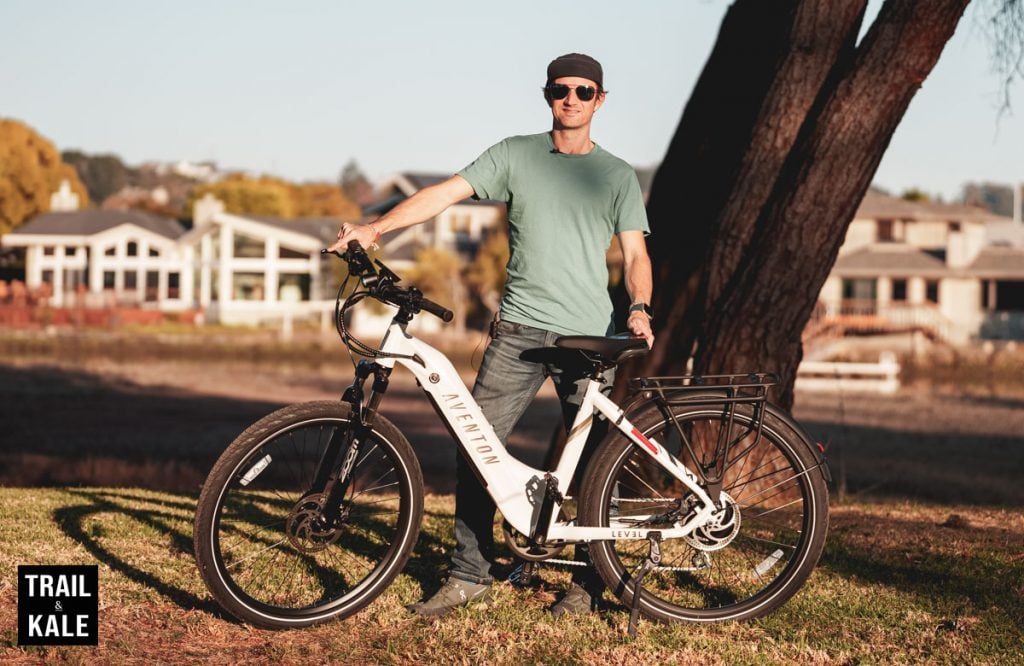 As I illuded to earlier, the Level 2 doesn't look like a typical bulky electric bike and this is one of the things I love about it because e-bikes are notoriously more attractive to bicycle thieves.
So ,the less you can make a bike look like an e-bike, the less likely you'll be a target to the common bike thief when parking your bike in the city.
The Aventon Level 2 weight is 53lbs (and can take a total payload capacity of 300lbs), which to me is very impressive because most of my electric bike experiences to date (apart from the single-speed Ride1Up Roadster and Aventon Soltera) has been with more bulky-style bikes which are considerably heavier.
Lightweight bikes, like this Aventon commuter bike have the advantage of being able to pick them up more easily when mounting them to a bike rack on your car or garage wall, or lifting them onto public transport for example.
3. The LCD display panel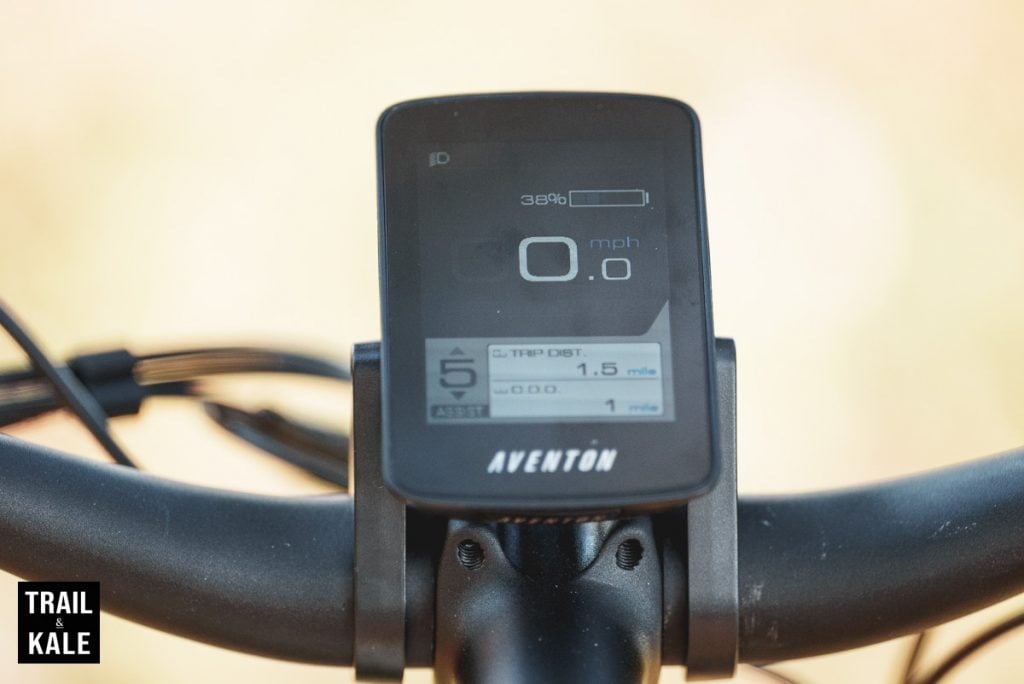 See my video below on how to operate the display.
4. Integrated brake lights and included fenders
At the rear of the Level 2, the brake lights are built into the frame which looks really premium.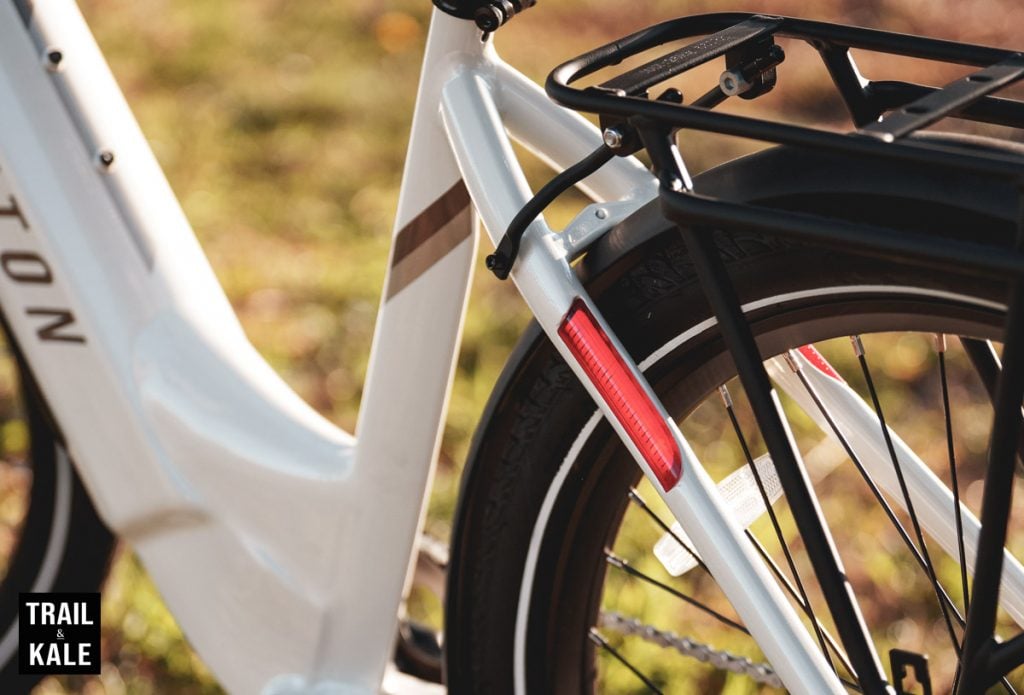 It's these stylish design touches that gives Aventon extra class over some of the other electric bike brands out there right now.
The Level 2 goes one step further at the rear and includes an integrated rear light built into the rear fender – see the image below.
These rear lights and front light can also be turned on with the dial on the left handlebar – there's a picture of that in my photo gallery below. Here's the front headlight:
And…the Level 2 comes with front and rear fenders as standard, and the best part is that they are already installed. This is a good thing as it means you can get riding much quicker when your bie arrives. 🙂
---
The Aventon Level 2 also has a step-over version – Here's what you need to know about it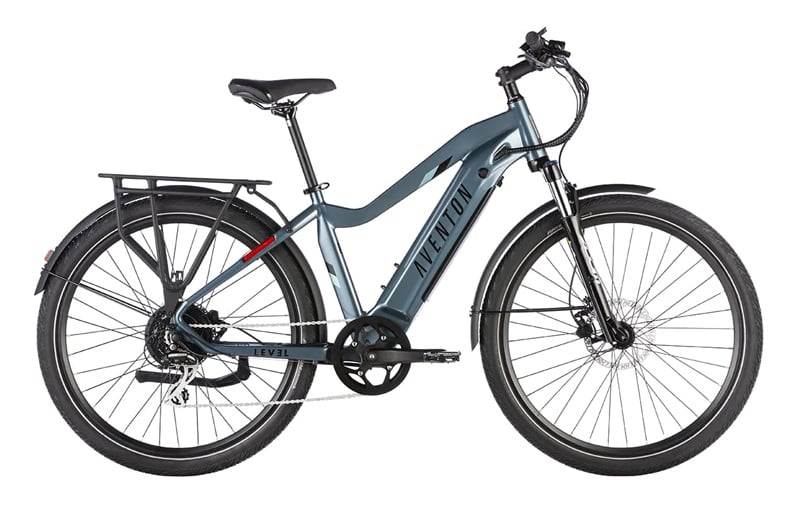 The Level 2 also comes in a step-over edition which may be a more popular option for some but if you have mobility issues and you're unable to lift your leg up high enough to get over the frame and onto the bike.
The step-through version is generally a better choice if you want an easier way to mount and dismount the bike in general.
Shorter people including many women and young adults with a small build may also prefer step-through versions of bikes but that doesn't mean men can't ride them of course!
The Step-over version comes in 2 colors; 'clay' and 'glacier'.
The step-over version comes in two different sizes but caters more toward taller riders where as the step-through also comes in two frame sizes but the smaller frame will suit smaller riders better.
The small frame for the step over will cater to shorter people down to 5'3″ whereas the small frame on the step-through caters to people as short as 4'11".
---
Where to buy the Level 2 Commuter e-bike
You can buy the Level directly from aventon.com for $1,799. I see this as great value for money for an electric bike package that offers so many features including full lighting, front and rear fenders, suspension, 60 miles of range, and a top speed of 28MPH.
If you ride a lot in urban environments that may include light trail or gravel roads, and are looking for an electric bike that offers a high maximum speed, great mileage on a single charge, great hill-climbing ability (with the 8-speed gears), and a stylish frame with premium components, then the Aventon Level 2 is the commuter you've been holding out for.
If you're wondering whether to go for the step-through version like I have, or the step-over version, well that's totally up to you based on the style, how you like to ride, and potentially your height.
I would personally recommend the step through however due to how easy and convenient it is to get on and off.
Having 8 gears and 5 levels of pedal assist from the electric motor will also make riding up hills easier, and will increase your average total mileage because you'll be able to assist the motor with more power from your legs when you feel like it.
When you order online, the bike arrives in a box, so you do have to assemble some of it yourself, but it's super easy to do and the instructions are good.
It should take the average person half an hour or less to assemble it, and the package comes with the tools required.
Shipping was also very quick from the Aventon store, so all in all I feel like this bike is excellent value for money and I'm having lots of fun riding it.
---
Video review
---
Aventon Level 2 Review Summary
Aventon Level 2 review
PROS
A range of up to 60 miles on a single charge.
28MPH top speed when unlocked.
A very comfortable riding position helped by suspension, a cushioned saddle, and good adjustability.
Integrated lighting is all included.
Front and rear fenders included and they are assembled on delivery.
Assembly of the bike on delivery is very easy to do. Good instructions and tools included.
Torque sensor improves smooth ride when using pedal assist.
Quiet ride from the motor when using throttle and pedal assist.
8 gears as well as pedal assist for riding up hills more easily.
CONS
Would be nice to see some more colors.
No bell included.
---
Image Gallery
---
I hope you enjoyed this Aventon Level 2 review, if you have any questions for me about this electric bike, let me know in the comments below.