With a top speed of 28 MPH, an average range of 45 miles on a single charge, 4″ fat tires, and front suspension with 80mm of travel, there's no end to the places you can take the Aventon Aventure e-bike.
Being able to take this bike on any terrain, I think, is at the essence of why I get on so well with this bike, and why I believe it will suit most types of riders, but not all.
Those speed, mileage, and ride-comfort stats listed above are especially impressive when you consider this $2000 rugged yet versatile ebike also has a throttle, 8 gears, and front/rear lights, all as standard.
The Aventon Aventure electric bike has a look about it that I haven't seen on other electric bikes. Because of its unique design, I get so many comments about it while out riding.
People will frequently say "cool bike, is it electric?", or "what bike is that? I love the look of it".
Read my Aventon Sinch review next if you're curious about this mini version of the Aventure which can also fold in half! 🙂
I'm not even joking, the only other time I have gotten this much attention with an ebike was with my heavily kitted out Rad Power Bikes RadRunner, and more recently, the Aventon Soltera, for its vibrant citrine color.
In this Aventon Aventure review, I'm going to share my experiences riding this electric Aventon all-terrain Ebike, give an overview of its key features, and what makes it stand out from the competition.
I'll also share the best places to buy it with advice on choosing the right size frame, and finally my review summary with pros and cons with a score out of 10.
Keep reading to the end of this post where I'll answer some FAQs and leave you with some more photos of this versatile, rugged e-bike for adventurous riders. These photos give a closer look at the components and overall build quality.
There's also a hands-on video review demonstrating the Aventon Aventure's speed, acceleration, top speed, plus a walk-through of all the key features.
More Aventon Reviews: Aventon Level 2 Review: The Commuter eBike With Insane Range, Top Speed And Smooth Ride / Aventon Sinch Review: A Small, Folding eBike With Fat Tires / Aventon Soltera Review: The Stylish, Lightweight Commuter E-Bike
To read our other electric bike reviews, visit our Trail & Kale eBike reviews page.
Grab a drink, sit back, and enjoy this in-depth Aventon Aventure review.
---
Aventon Aventure Review: Table of Contents
---
The Aventon Aventure pictured in this review and video (at the end of this post) is the Camouflage Green color and Medium frame size which fits me, at 5'8″ very well.
There are 2 other colors available; 'sand' and 'fire black', both of which also look really nice.
The Aventure also comes in a step-through version for those who may have mobility issues, or have a shorter stature – more on the step-through version later in this review.
What's it like riding the Aventon Aventure eBike?
Okay, so how does the Aventon Aventure actually ride when using it in real-world situations?
Well, it's tons of fun, and I don't say that lightly!
Like I said earlier, you can ride over pretty much anything and that means you don't really have to pick a bike for the terrain you plan to ride on if you own one of these bikes.
You can take the Aventure on gravel, dirt trails, light trails, roads, concrete, or cycle paths; anything you want to ride, this bike will comfortably take you over it.
So, it's a pleasure to ride in terms of comfort, and also peace of mind knowing your bike won't be a limitation on your rides.
The bike comes with 4-inch fat tires, a nice wide saddle, and front suspension forks with 80mm of travel – all of these features add to that comfortable ride.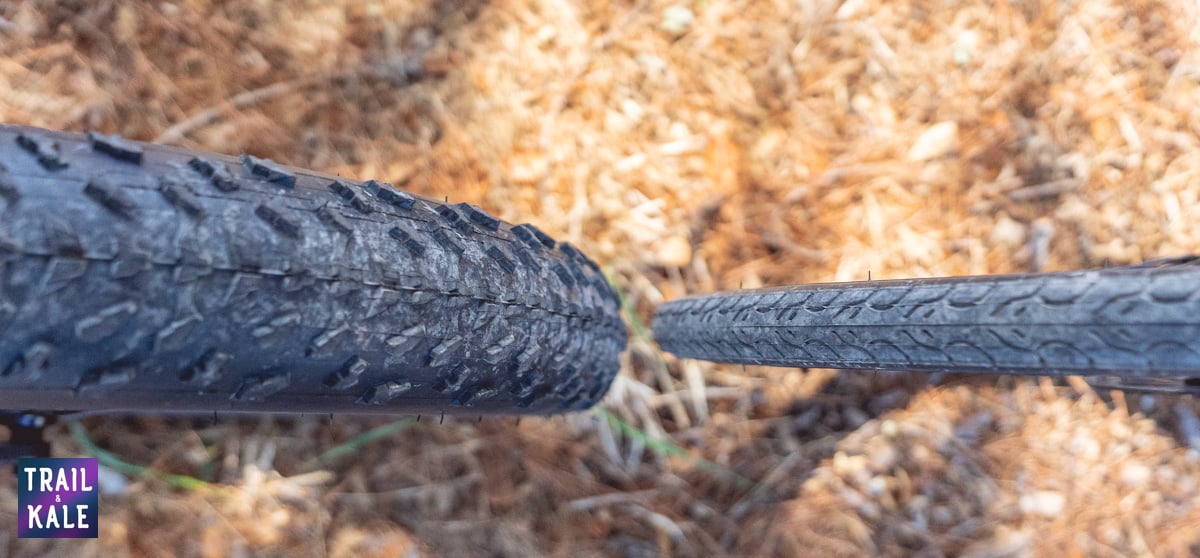 The fat tires really inspire confidence when riding over otherwise challenging terrain, especially if you ride lots of gravel routes because the 4″ width and nobbly tire walls provide excellent traction.
With fat tires, you'll also notice a much smoother ride to what you may be used to if you haven't tried them before.
The bike weighs a whopping 73lbs, which is heavy, so it's not the sort of bike you easily pick up and carry upstairs.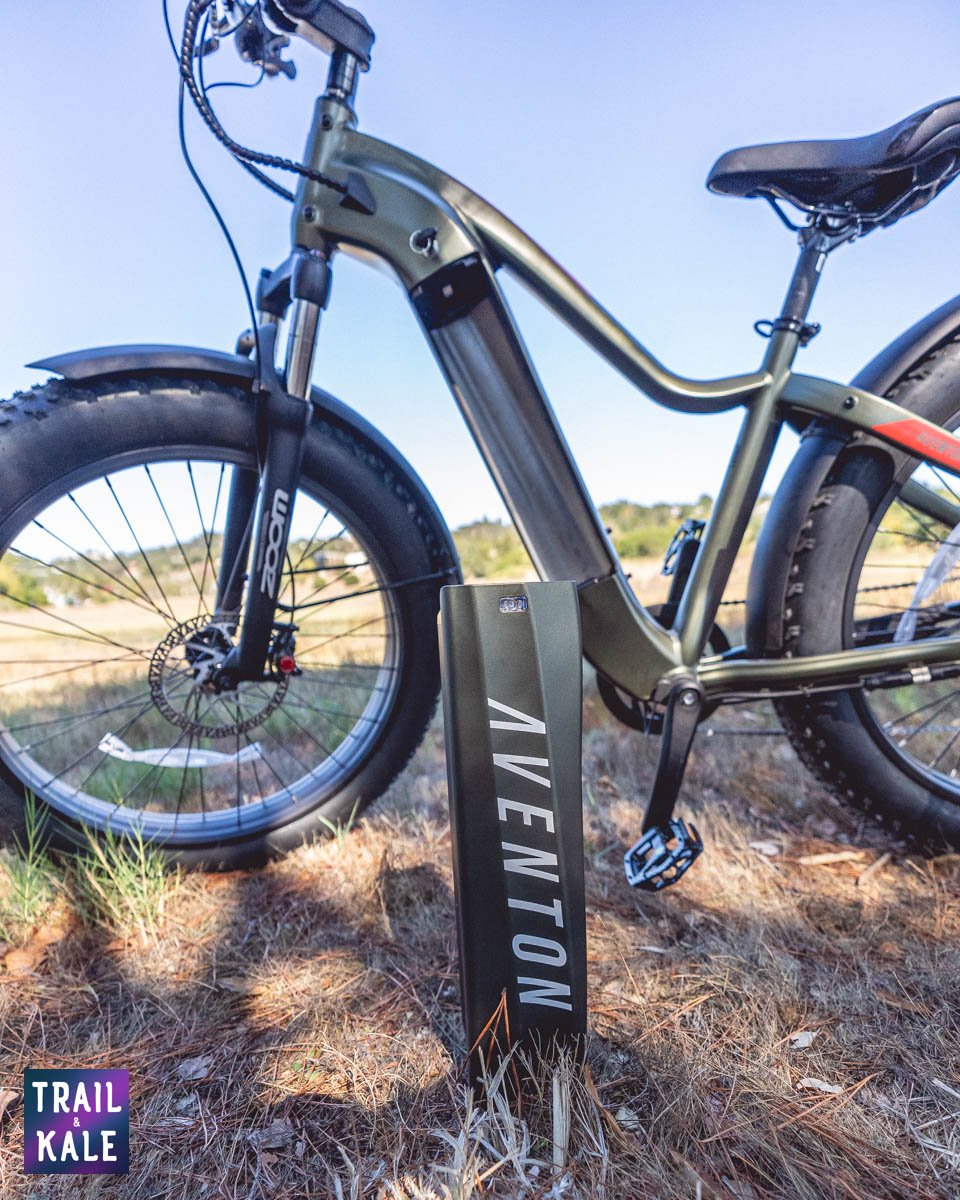 To this point, the battery is detachable, so if you're using the bike to commute to work, then you can secure the bike on a lower level, and take the battery up to your office for charging.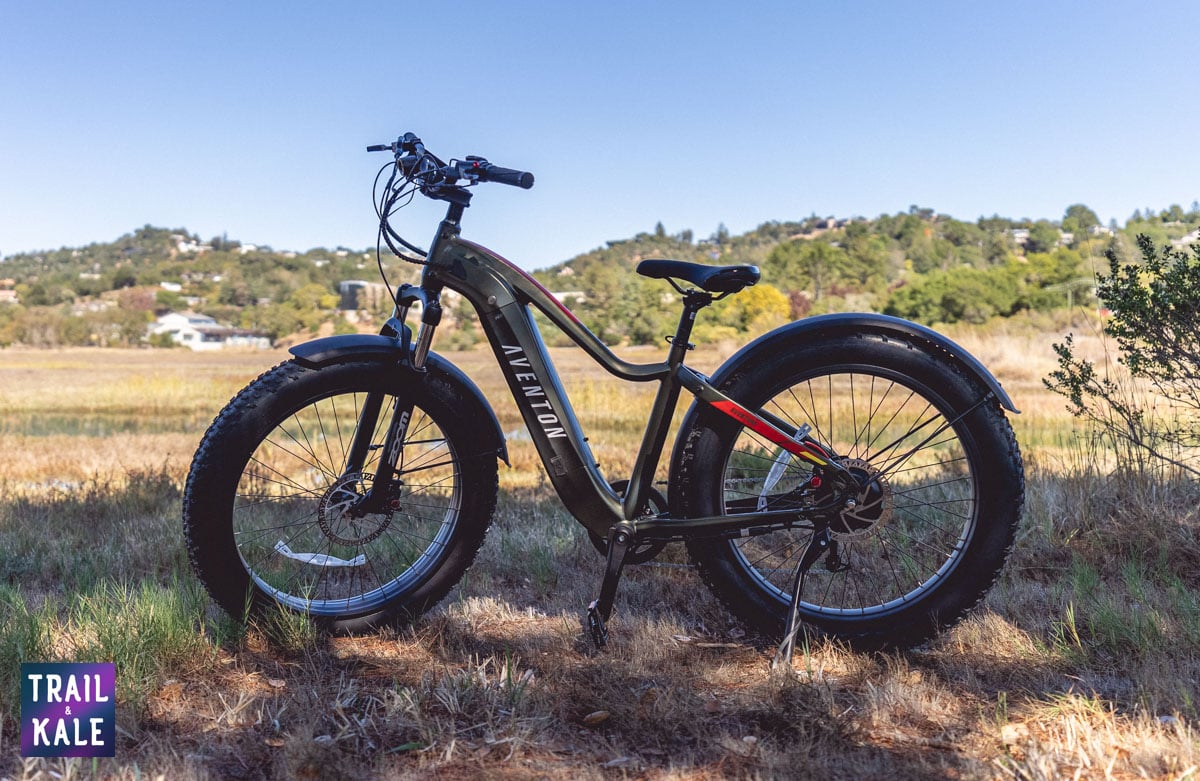 It's an attractive-looking bike with audacious wheels, so people do give it a nod of approval when you cycle past them, that's if they don't comment to say "nice bike!" :).
It also has a comfortable riding position, and the quick-release saddle provides a nice soft platform to sit on.
The saddle gives a nice riding platform to sit on and is fully adjustable via quick release for the height and bolts for front/back and tilt tweaks.
In addition to cycling, and cycling with pedal assist, you can also use the throttle which allows you to power along up to 20mph without even having to pedal – this is an awesome feature that I use a lot!
The top speed of the bike when modified into a class III ebike, can go up to 28 MPH when using pedal assist.
Ask me how to modify it to be a class 3 bike in the comments, and I'll be happy to share.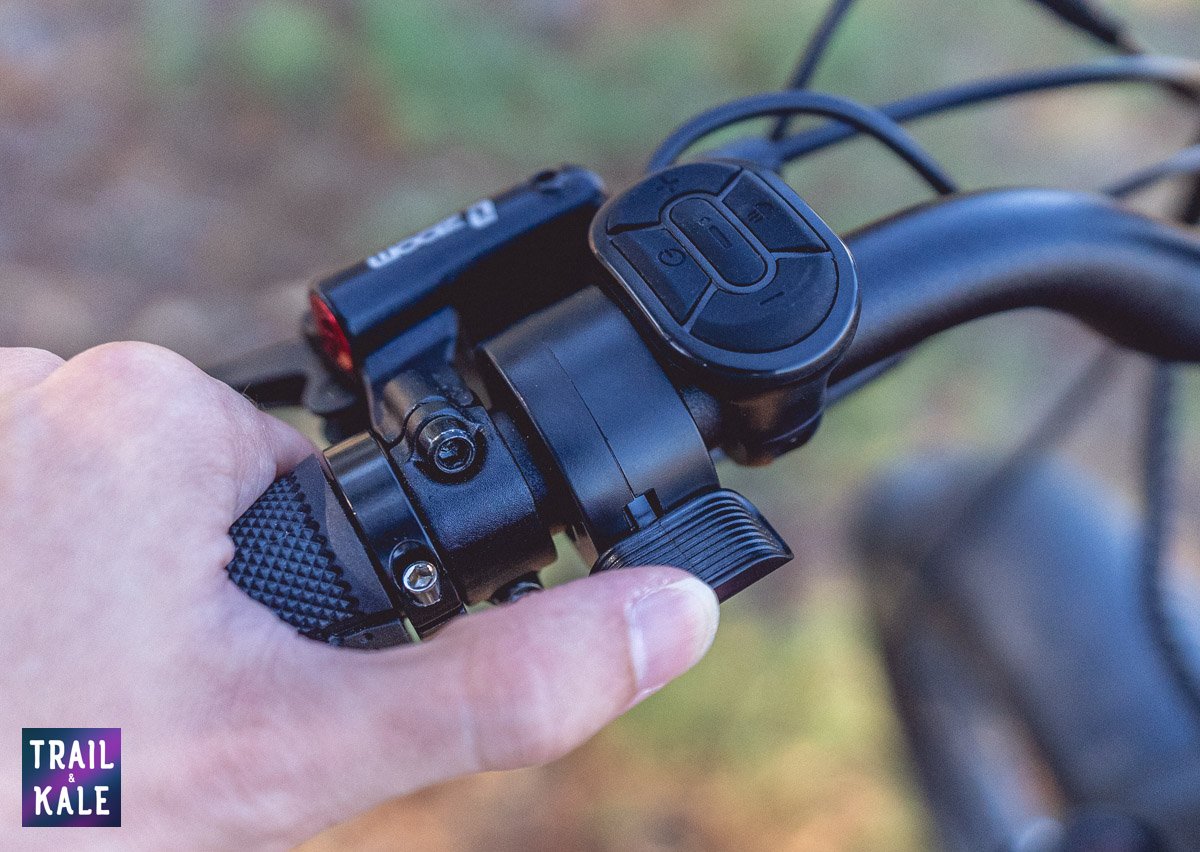 The throttle does take a second or two to kick in, which is good because it makes your ride nice and smooth, but it would be nice to be able to change how this works so that the throttle is more responsive when you want/need it to be.
Unfortunately, the bike doesn't come with a bell which would be useful to alert other road/cycle path users of your presence.
Now one thing I noticed when riding the Aventure is a bit of rattle coming from the rear fender – which is annoying but easily fixable with some tape or padding.
Watch my video after this review to see what I mean when referring to the small rattling noise – this could also just be an issue with my bike in particular.
A lot of the time I find myself using the pedal assist setting of 3 or 4 with this bike (it goes up to 5), and fifth gear, as I find it's a good balance between me wanting to do some exercise (without getting sweaty).
The Aventure can also operate with the throttle unplugged and removed, should you want to ride in an area where throttles are prohibited.
To learn more about electric bike laws around the world, and to see what power/speed options are allowed in your country, read this helpful Wikipedia article.
What's the riding position like?
The Aventon Aventure has a great riding position that is comfortable when using it over a variety of terrain types from gravel to the trail.
There are 3 different frame sizes available, Small, Medium, or Large, and as a quick way to know which one is for you, go for:
Small if your height is in the range 5'1″ – 5'9″
Medium if your height is in the range 5'7″ – 5'11"
Large if your height is in the range 5'11" – 6'4″
The Aventon Aventure product page has full details on things like handlebar height, reach, maximum/minimum seat height, stand-over height, and seat tube length.
You can adjust the saddle up, down, forward, and back, as you would expect.
The handlebars can also be adjusted up and down, so this should give most people enough flexibility to get a riding position that works well for them.
Watch my video below to get a better understanding of what the ride position is like – and don't forget to subscribe to our YouTube Channel for more eBike and outdoor gear reviews just like this one.
I don't have any accessories for the Aventure ebike yet but a bell, a rear rack, and maybe a mirror would be pretty useful to have!
Are the handlebars comfortable?
The handlebars are comfortable thanks to the soft sticky grip pattern, as seen in the image above.
How stable is this electric bicycle when riding off-road?
Well, it's called the 'Aventure' for a reason, it's so much fun to ride off-road, and that's essentially what it was built to do – to have adventures with!
Is the electric motor noisy?
The noise level of the motor is pretty standard for an electric bike like this. Nothing stands out as being loud or super quiet, to be honest.
To get an understanding of the noise levels, check out my video at the bottom of this review.
---
Key features and specifications that matter (and some that don't perform)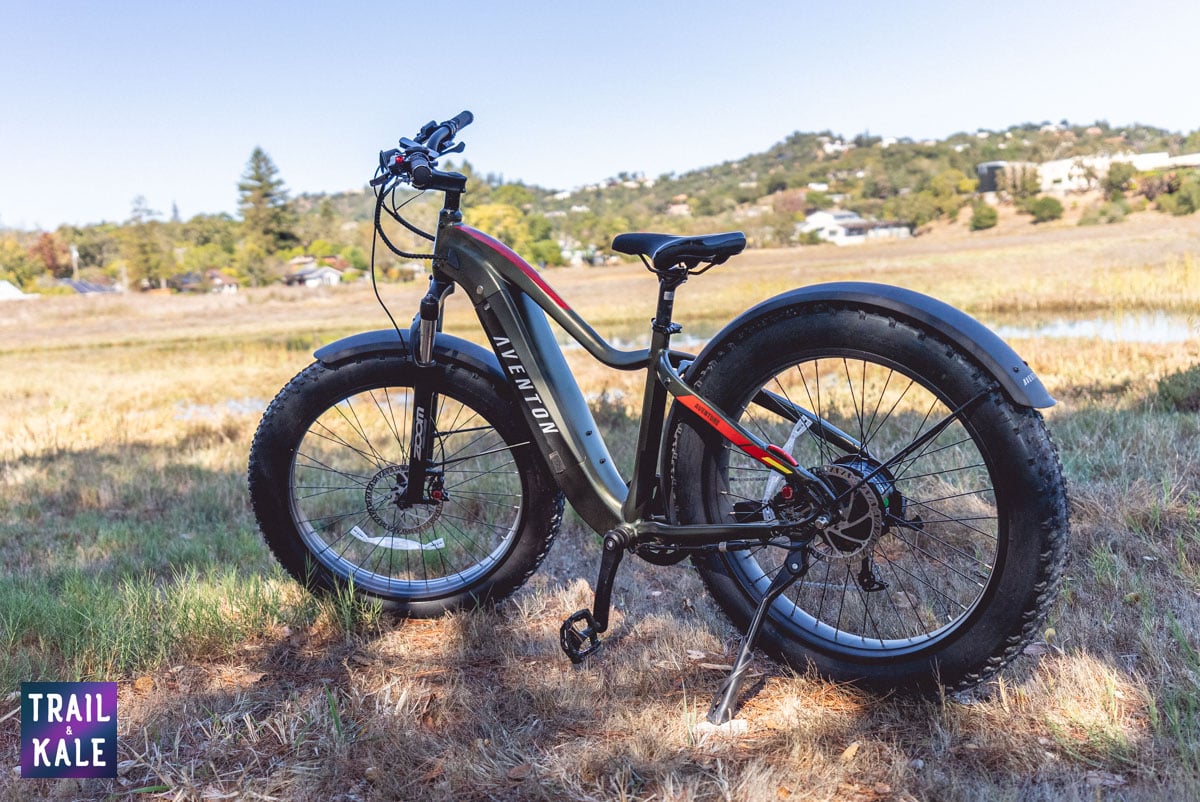 1. Battery power, top speed, and mileage is epic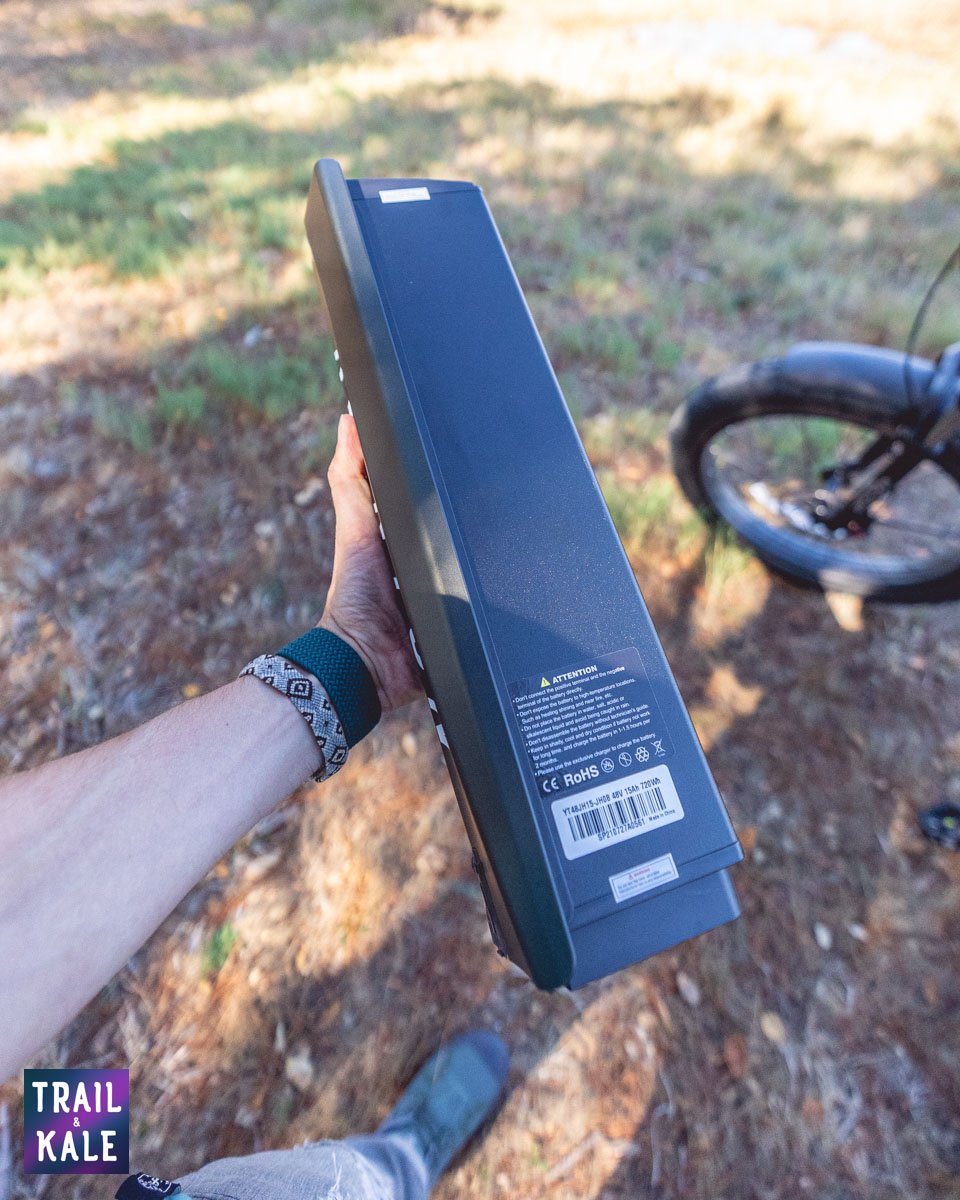 You can get a lot of usage out of the removable integrated Lithium-ion 48V, 15Ah (720Wh) battery.
You can typically go roughly 45 miles on one charge, depending on rider weight, terrain, incline, and level of power assist being used. 45 miles was the average that Aventon came up with during all their testing.
That's pretty incredible for a bike that weighs 73lbs and runs on fat tires, which aren't as efficient as thinner-walled tires.
The battery is also removable via the lock on the frame. See my video below for a demo on how easy it is to remove, should you need to take it into your home/ office to charge.
The bike can also reach 28MPH effortlessly with power assist and the Class 3 upgrade hack mentioned above.
2. The LCD display panel
I love how large and clear the Aventon displays are, and this is a feature that helps the brand stand out from competitor electric bike brands.
See my video below on how to operate the display.
3. 4″ fat tires and front suspension makes the ride fun AND smooth
The Aventure comes with 4″ fat tires which give the bike a really smooth ride but also make it possible to ride on bumpy dirt trails effortlessly.
They also make riding on terrain like gravel a confident and enjoyable experience.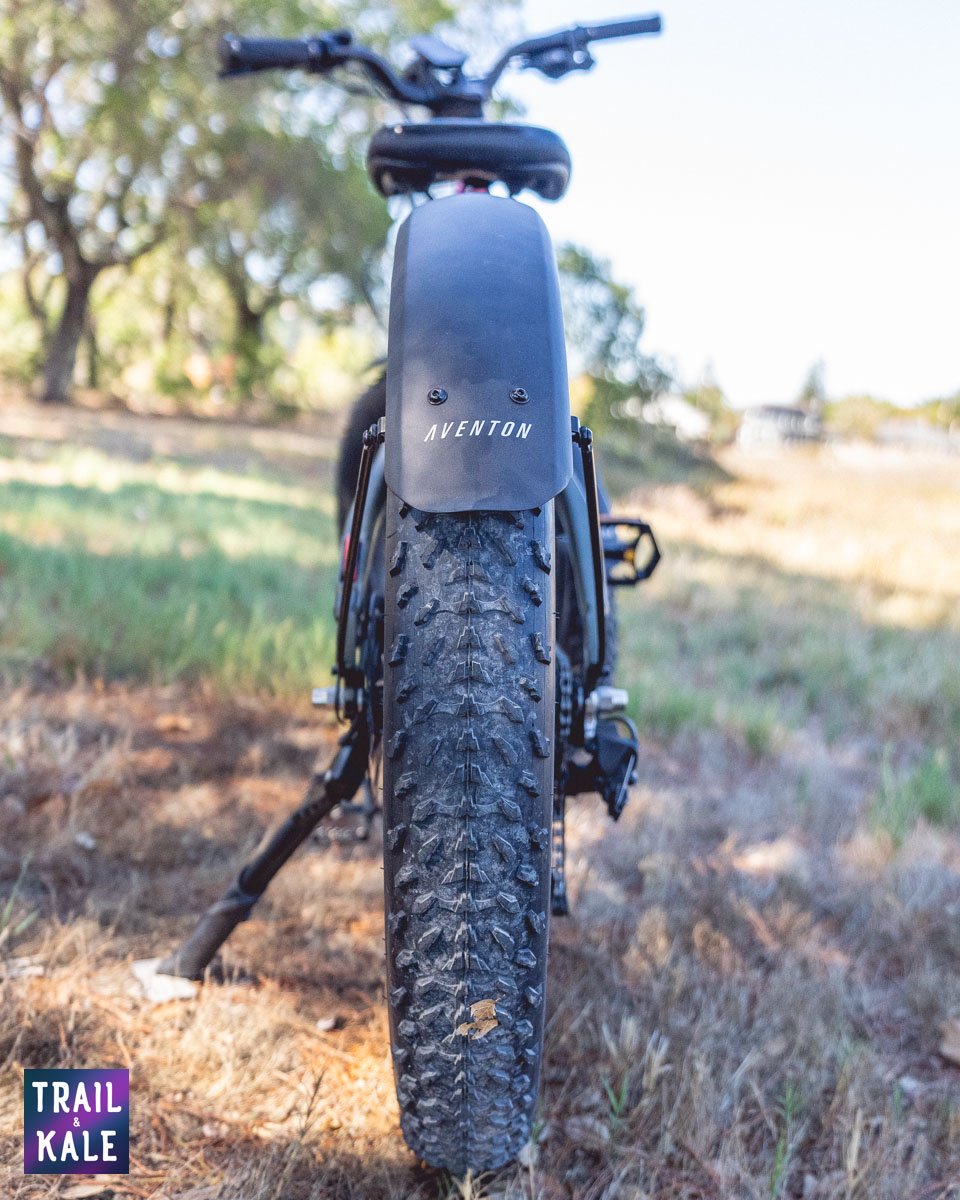 If you've ever had a scary moment where your front wheel has slipped out from under you due to riding on gravel with narrow wheels, you'll know what I mean there.
4. Included front and rear lights.
The front headlight is compact but lights up the way well enough when riding at night.
These rear lights and front lights can also be turned on with the dial on the left handlebar – there's a picture of that in my photo gallery below.
At the rear, there's a single brake light which is a great safety feature to have when riding at night.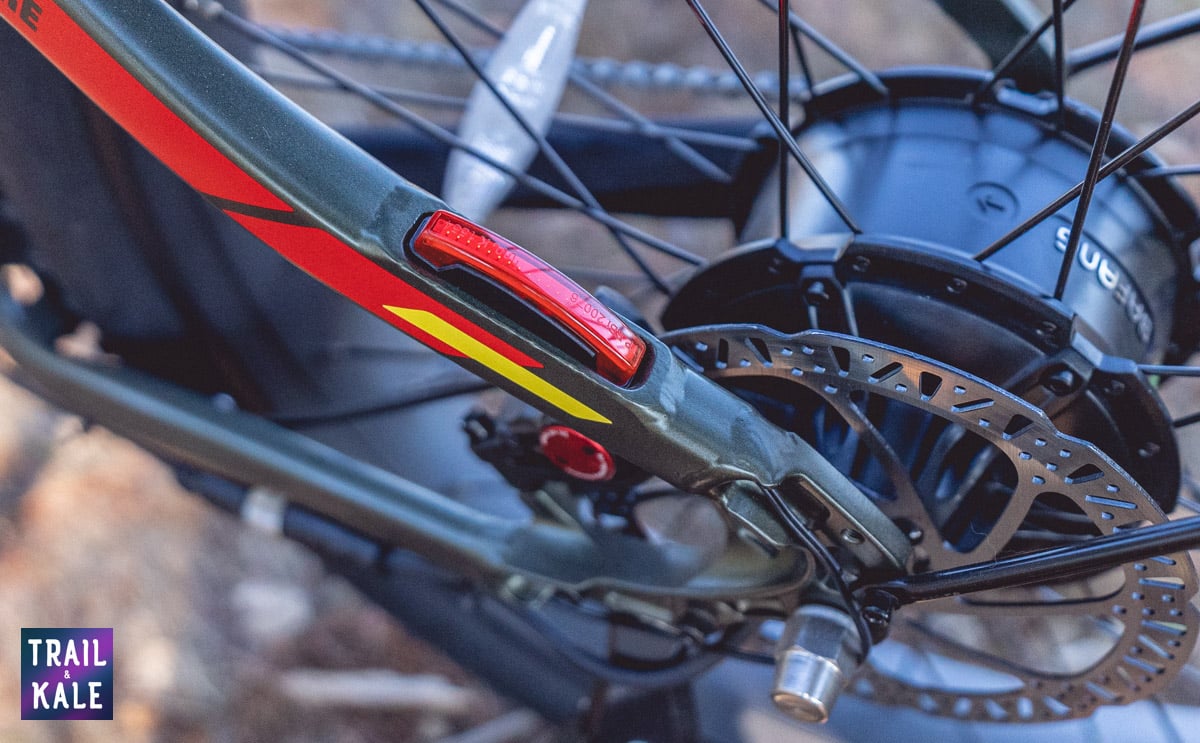 ---
The Aventon Aventure also has a step-through version – Here's what you need to know about it
The Aventon Aventure also comes in a step-through edition which would be a better option if you have mobility issues and cannot lift your leg up high enough to get over the frame and onto the bike.
Shorter people including many women and young adults with a slight build may also prefer step-through versions of bikes but that doesn't mean men can't ride them of course!
The Step-Through version comes in 3 other colors which are all very attractive.
The step-through version comes in two different sizes but caters more toward shorter heights due to the dropped frame position.
The Small/Medium frame is for those between the height of 4'11" and 5'7″, and the Medium/Large frame is for those who are 5'8″ – 6'2″ tall.
It's also the same price as the standard Aventure.
---
Where to buy the Aventon Aventure ebike
You can buy the Aventure at aventon.com for $1,899, which is great value for an electric bike that offers all this one does.
If you ride a lot in areas that offer trails, gravel, and anything other than just road surfaces, and are looking for an ebike that offers a fast top speed, high mileage on a single charge, good hill-climbing ability (with the 8 gears), then the Aventon Aventure is most likely the ebike you've been searching for.
Having 8 gears makes riding uphill so much easier, and will likely increase your average total mileage because you'll be able to assist the motor with more power from your legs at times, thanks to the range of gears.
When you order online, the bike arrives in a box, so you do have to assemble some of it yourself, but it's very easy to do.
It should take the average person half an hour to do it, and the package comes with the tools required.
Shipping was also very quick from the Aventon store, so all in all I feel like this bike is good value for money.
---
Aventon Aventure review Video
---
Aventon Aventure Review Summary
Aventon Aventure review
Performance & reliability
9
PROS
Pure joy to be able to ride a large comfortable bike like this over any terrain, effortlessly. Thanks to the powerful battery, fat tires and front 80mm travel suspension.
28MPH top speed with pedal assist is fun on a bike like this!
Average mileage of 45 miles on a charge is impressive for a large bike like this.
It has a throttle which is a lot of fun when you want a break from peddling.
Expensive but good value for money for all the features and performance you get.
The most fun I've had on an adventure fat tired bike yet.
CONS
My rear fender had some rattling going on.
Heavy bike weighing in at 73lbs
---
Image Gallery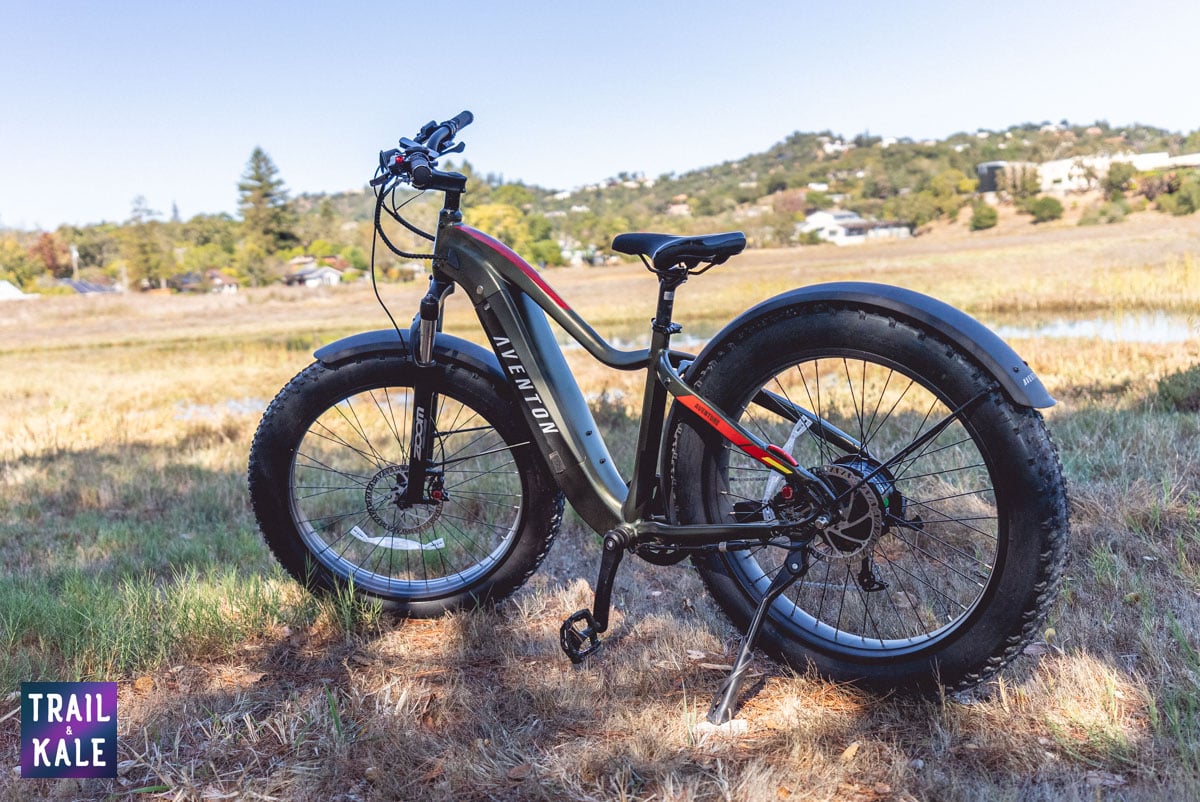 ---
I hope you enjoyed this Aventon Aventure review, if you have a question for me about this ebike, please share it in the comments below – or just say "hello" to show your appreciation for the revide :). Happy riding!!