When I joined my family they gave me a dog bowl that came in a silicon stand… you know, the ones that are advertised as non-skid, non-tip. Well, I may have been small, but I have always been mighty.
After repeatedly flipping my bowl, getting water all over my crate, and then pulling the silicon stand into pieces, my parents had to get me a new water bowl.
Ha, see, I know how to get what I want, and I really wanted a YETI Boomer dog bowl.
So my parents invested in the dog water bowl of a lifetime (hopefully).
We say hopefully because it was quite expensive for a dog bowl, and so you may be reading this wondering if you should spend all that money on a YETI dog bowl.
This post covers my review of the YETI Boomer Dog bowl, the pros and cons, and whether, in my parents' opinion, buying a YETI dog bowl is worth the money, to help you decide whether it's worth it, too.
---
YETI Boomer Dog Bowl Review: What's unique about YETI dog bowls?
One of the key features of my YETI dog bowl is its durability – YETI pet supplies are all incredibly durable.
YETI Boomer dog bowls are made from non-insulated stainless steel, with a double-wall construction, which gives them a solid, high-quality feel.
This is the same for the large and small versions (Boomer 8 and Boomer 4 bowls) – either one of these dog bowl sizes would make good gifts for dog owners because they last a lifetime.
These things are literally indestructible – not even I can dent them! It reminds me of my favorite dog bed in how durable the YETI company makes their pet supplies.
My YETI bowl is therefore very sturdy and not appealing to bite, because of the thickness, hard and smooth materials, it just doesn't interest me as something to grab or chew.
I did try to chew this bowl initially, but my attempts didn't even leave scratch marks on the metal, so I found something else to chew on instead.
Although it seems obvious, it's really important to have regular access to fresh water, and my parents couldn't trust that I would actually have any water if I flipped my old bowl repeatedly, almost as soon as I was given a fresh drink.
They were also concerned that I could also have swallowed some pieces of silicon from the 'foot' that the bowl stood in, to (apparently) stop me flipping it over.
My parents also tried one of those 'Snap-y-Fit' dog crate bowls that you attach to the inside of a wire crate, which therefore can't be flipped.
Although I couldn't turn it over, I decided to try and chew on the bowl constantly, and that was noisy and also probably not great for my teeth.
So finding a bowl I can't try to eat or flip was really important! My humans don't like it when I chew through all my dog supplies.
---
Can you flip over the YETI Boomer dog bowl?
Well, speaking from personal experience, no. I haven't been able to get under it to flip it. For starters, the bowl is pretty heavy – it weighs 1.9lb when empty.
It doesn't appeal to me to pick it up by the edge because of the thick, smooth walls mentioned above. Someone who was much more determined and boisterous than me could probably manage it, though.
The YETI Boomer dog bowl also has a non-slip foot, which means it's hard for me to push it around, and the shape of the bowl's design makes it difficult to get a paw or nose under the edge to actually flip it over.
I can still put toys or my paws in the YETI bowl and then shake them around when soaking wet with water, though, but I'm sure I could do that with just about any dog water bowl.
---
Is this the best-looking dog bowl?
Well, my parents seem to think so. It matches their YETI Ramblers so we can all feel like part of the same pack when having a drink together 🙂
It's available in a range of attractive colors, as well as plain stainless steel. My bowl is the 'seafoam' color. The other color I really like is the 'river green' version, which is a darker green.
---
How big is the YETI Boomer dog bowl?
The YETI Boomer 8 bowl holds eight cups of water and measures 8 inches in diameter by 3.5 inches tall.
It's been a perfect size for me, I first used my bowl when I was around three months old, and it's good to know I won't outgrow it when I'm fully grown (when I'll be a large Border Collie and around 45lb).
Its large size means I don't create a mess outside the bowl too, it makes my whole eating experience a mu cleaner one. My humans like it when my food goes in my belly and not our kitchen floor.
My feline brothers and smaller dog buds will be pleased to know that the brand also makes the Boomer dog (or cat) bowl in a smaller size, called the YETI Boomer 4 dog bowl.
I am also pleased about this and hope my brothers get their own water bowl, as they seem to like drinking out of mine ("PAWS OFF, KITTY!").
The Boomer 4 measures 6 4/5 in diameter by 3 1/9 in height, weighs 1.2lb when empty and holds up to four cups of water.
---
Is the YETI Boomer easy to clean?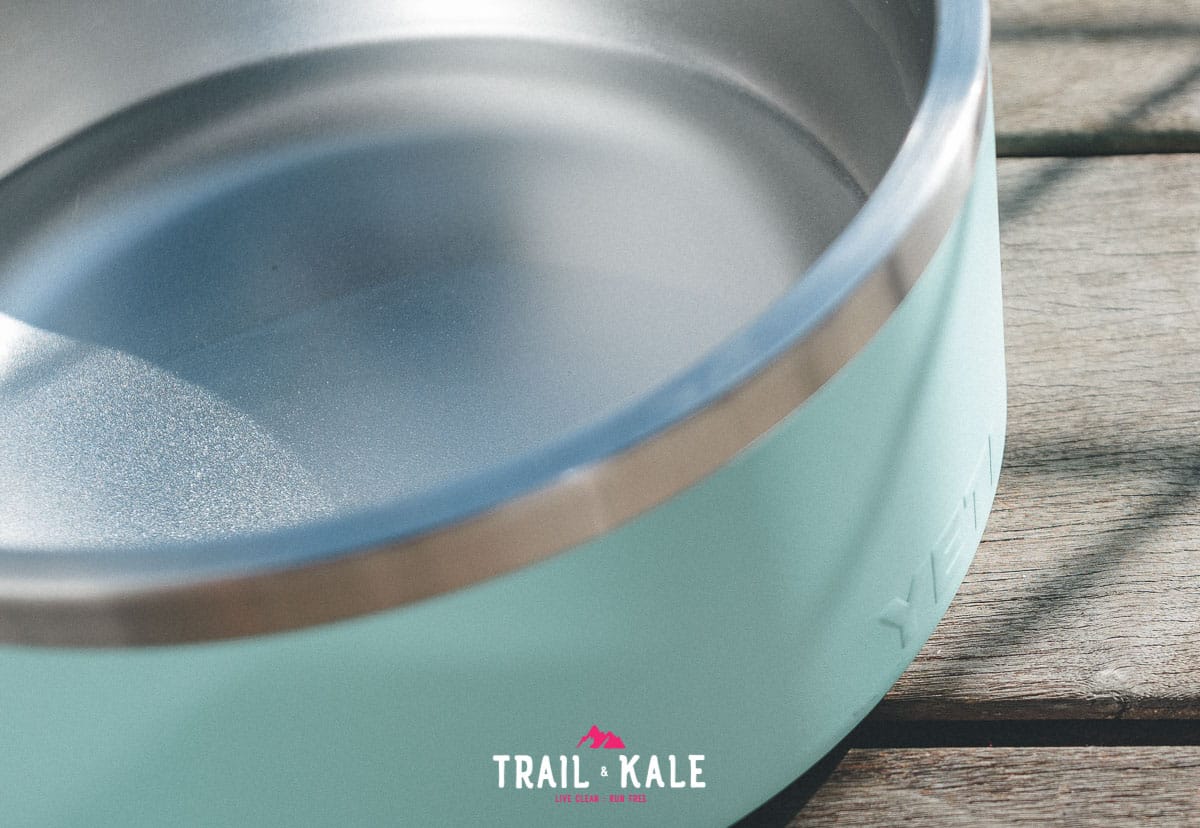 Yep. It is dishwasher-safe, which is great – although because my bowl is used as my water bowl and doesn't get dirty enough to need to go in the dishwasher, my parents just give it a handwash when they fill it up in the morning.
YETI states that the color is built to last, and should not peel or crack – my bowl still looks like new after a few months – time will tell if this bowl lasts me a lifetime, but early indications are good that it will last a long time.
---
Why do dogs like to drink out of these YETI bowls?
Why we love drinking out of this bowl is a mystery. I'm not the only one, others reviewing the bowl on YETI's website (and on REI) agree with me. My theory (based on personal experience) is that:
It tastes nice to drink cool water out of a chunky metal bowl
The bowl is big enough to get my face right in there
It looks good and so makes me want to interact with it!
The bowl is BPA free and my parents tell me that is a very good thing for any product that you either eat or drink out of.
---
Is it a good outside dog bowl?
Yes, YETI designed this dog bowl to be puncture and rust-resistant, which means it would be suitable for outside use.
I use mine inside, but that's because I eat and drink indoors. If we go on adventures then my parents bring a smaller, lightweight bowl instead.
---
Is the YETI Boomer dog bowl worth the money?
At an RRP of $49.99 (and $39.99 for the smaller version) this is definitely an investment but a worthwhile one none the less.
They make great gifts for dog owners because they last forever, and get daily use – what could be better than that?
Based on my parents' experience of buying a cheaper alternative, which needed replacing after a week, it seems like with most things that buying a 'bargain' product is often a false economy and you get what you pay for.
So often in such cases, we end up with the more premium product eventually anyway, when a lesser-quality alternative fails and we can have confidence that the premium option will last a long time and be practical and enjoyable to use.
I use my dog bowl multiple times a day, every day. I enjoy using it, it's standing up to my puppy behavior, and my parents like it because it looks stylish, doesn't make a mess, and it's easy to clean.
So in summary, we like it, we like it a lot, and we aren't alone, looking at the YETI website other customers have left wonderful reviews too.
For an essential dog product such as a water bowl, I don't think you can go wrong with this product.
---
Where to buy
The best place to buy these bowls and get the widest choice of colors in both sizes is directly from YETI on their website.
Last Amazon price update was: 24th September 2023 6:31 am
---
Review summary
YETI Boomer Dog Bowl Review: Is It Worth The Money?
PROS
Durable, suitable for outdoor and indoor use
Attractive design
Dishwasher-safe and BPA-free
CONS
Too heavy to take traveling
Price may put some off