I admit I am a very lucky boy. My parents brought home this high-end YETI Trailhead Dog Bed for me, which I've been snoozing on for the past couple of months, and thought it about time I shared some pictures and what I think of it.
ADVERTISEMENT
Read on for my YETI Dog Bed review, including the key features, how to wash it, and whether it's worth the money.
Oh, and if you like the look of this luxury dog bed, you should definitely read our luxury dog bed buyer's guide next – there are more great dog beds on there that you may also like.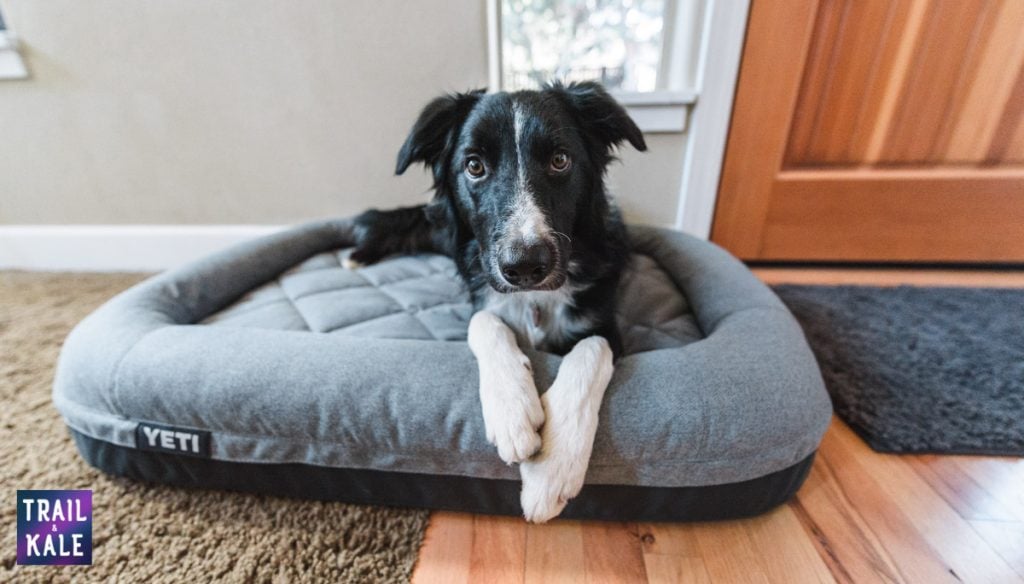 YETI Dog Bed Review: Table of Contents
---
Key features of the YETI Trailhead Dog Bed
YETI Dog Bed: a bed of two parts
The YETI Trailhead dog bed was designed by YETI to be in two parts, the 'Home Base' and the removable interior 'Travel Pad'.
This is intended so that the Home Base can stay… at home, and the travel pad can come on the road with you, in the car, and on outdoor adventures like camping.
For size reference, I weigh around 40lb and at 8 months old in the picture below, I'm a not-quite-fully grown Border Collie.
I won't outgrow my YETI dog bed, and could be very comfortable if I was a fair bit bigger. Maybe one day my feline brothers will come and join me on it, who knows?
At least there will be enough space on it for that eventuality.
How much does the YETI dog bed weigh?
My YETI dog bed weighs around 10lb. So it's heavy and sturdy enough that it won't rumple up or get easily flipped over.
While it is designed so that you can take the travel pad camping, the YETI dog bed is not intended to be a lightweight bed for backpacking, etc because it's rather large, has a good weight to it, and does not fold up.
What is the YETI Dog Bed made from?
My YETI dog bed has a molded plastic base, which is waterproof. The rest of the bed is made from a durable fabric, that zips on and off.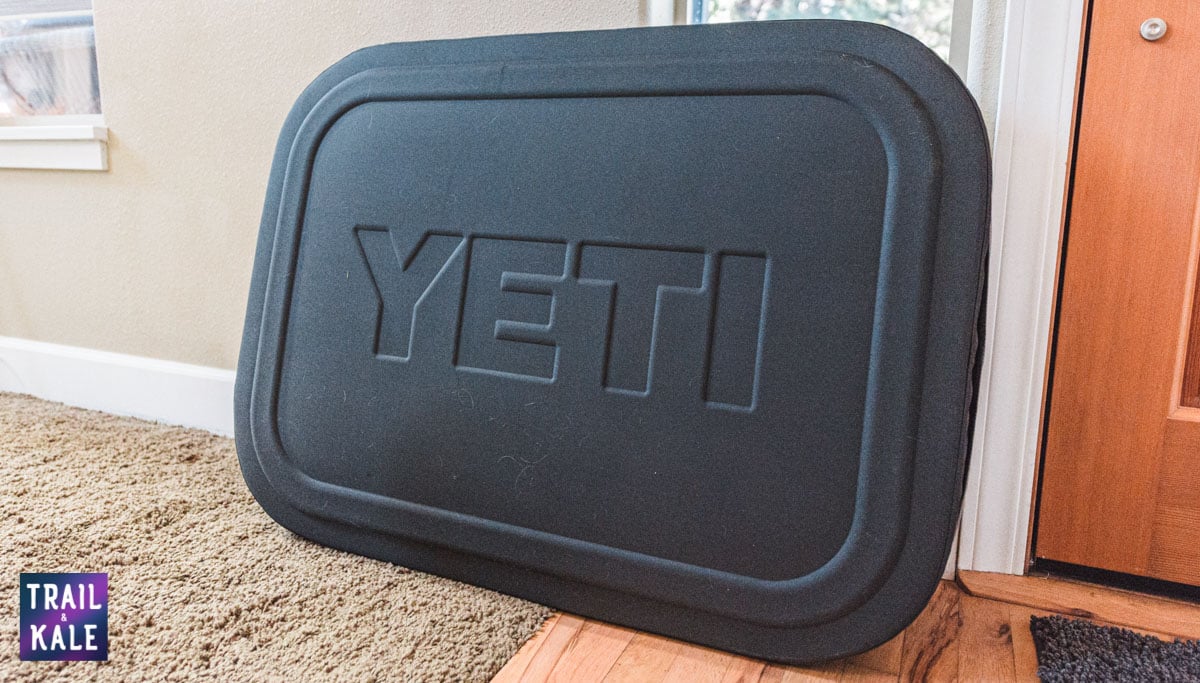 The Travel Pad (pictured below) is made from firm, dense foam, which is perfect if you like a firm bed that doesn't sag or envelop you – especially if you're a heavy dog.
The exterior is very high-quality too with a zipper so that the cover can be cleaned when necessary.
The bolster around the edge of the Home Base is the same. I like to rest my chin on it when snoozing, just like YETI's website said I would!
Also apparently my parents like it because it looks attractive in the living room, and not like a saggy dog den in the corner of the room.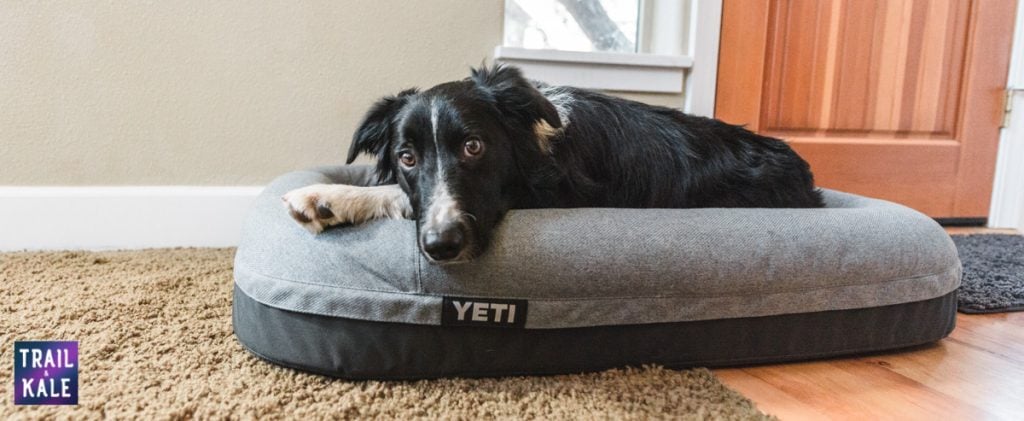 ---
Is the YETI Dog Bed washable?
The fabric parts of the dog bed are machine washable. My parents washed it on a cool wash in their machine and it turned out like new.
Fun fact: the first time I was shown my new YETI dog bed, I peed on it.
I guess I needed the bathroom and it was a very exciting time for me. So, anyway, it needed washing early on in its life, so it's good that it was easy to clean!
Even when the bed doesn't actually need washing, my hair brushes or vacuums off easily rather than clinging to the material.
I never see this cleaning take place because brushes and vacuums are a bit exciting for me right now 😉
---
Is the YETI Dog Bed worth the money?
Like with other YETI products, the Trailhead Dog Bed is a premium product, and that comes at a price (around $300).
For something I use every day and is designed and built to last a lifetime, the average price per use will be low and helps justify the cost.
That, and that my parents already spent some money on other, less expensive dog beds, and I have broken them, to varying degrees.
The bed I destroyed the most is also the cheapest; the $15 fleecy crate pad they got me lasted about an hour until I broke its elastic and chewed holes in the foam on the bottom.
Whereas this $300 bed looks like new… So, YES, in my opinion, it's totally worth it, thanks mum and dad!
One word of caution, however, from personal experience. When you're a puppy and you're teething, you pretty much can't help yourself.
Even if you have good chew toys and distractions, any dog bed, even a high-quality one, won't stand up to a determined chewer.
I had no dog bed for the first six months of my life, after the fleecy pad incident – I also chewed a small-ish hole in my next bed, until I stopped teething and didn't bother anymore.
So it may be worth your parents holding out until you have your big-dog teeth before investing in this YETI bed, just in case you cause some expensive damage!
---
Where to buy the YETI Trailhead Dog Bed
The Trailhead Dog Bed is sold on the YETI online store, where they also have the full range of colors for their other dog products, including their Boomer Dog Bowl, which I am also a proud owner of (and reviewed here: YETI Boomer Dog Bowl Review).
Last Amazon price update was: 5th February 2023 12:01 pm
---
YETI Dog Bed
PROS
Very High quality
Multi-use two-in-one bed
Durable
It looks great and I love using it which is all that matters 🙂
CONS
Expensive but I believe you get what you pay for with this YETI Dog Bed
May be a little too firm if your dog likes a bed to sink into
---
YETI Trailhead Dog Bed Video review
YETI Dog Bed photos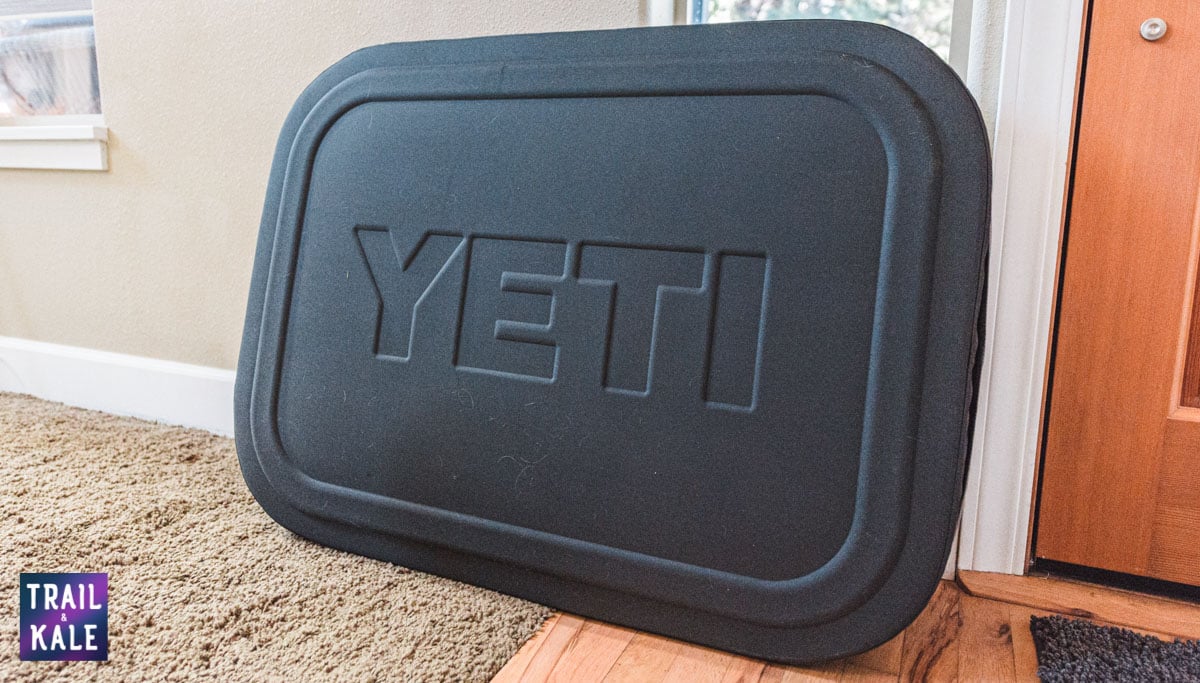 I hope you enjoyed my YETI Dog Bed review. If you have a question for me, please leave it down below in the comments.